[This article is part of a roundtable on the relationship between engineering, technopolitics, and the environment in the Middle East and North Africa. Click here to read the introduction and access links to all entries in the roundtable.]
Seen from above, Cairo's vast urban landscape is broken by a winding Nile that runs through the city from the peri-urban south to its northern environs. In the east and west, a gradually disappearing desert rubs close to the city's urban limits. In recent decades, the effort to green the desert has been at the core of state-led water engineering and urban policies. In this roundtable, I expand notions of traditional engineering and urban infrastructure used by the state by exploring bottom-up water governance practices in two northeastern districts in Cairo.
In the past years, I have had conversations about Cairo's urban waterscapes with community groups, government officials, policymakers, and urban activists. These discussions revealed how top-down approaches are disconnected from grounded realities. Instead, I witnessed a steady stream of anecdotes on the alternative ways water flows in the city. In particular, since 2013, I engaged in research with community groups in Ezbet al-Haggana about auto-engineered infrastructure in the area. The state has labelled this settlement, located on the northeastern fringe of Cairo, as "informal" since its inception in the early 1970s. For years, the state deemed connecting public services to the area illegal. Communities living there were therefore responsible for installing their own off-grid infrastructure. However, things in Haggana were about to change. 
In 2013, the government delivered state-led water supply for the first time to the settlement's southernmost district, reversing decades of exclusion from the formal water network. This entailed the installation of official piping, which opened the doors to registration and water meter installation. Residents were excited to finally connect to the city not just materially, but also to be seen by the state as legitimate urban citizens.
In the same year, as I walked Haggana's streets with community leaders from a local Community Development Association (CDA), they were quick to point out the different types of pipelines in place. In many cases, there were two different types of pipes leading into homes. On multiple occasions, members of the CDA pointed to the green pipes explaining that "these are gehood zateya... these are ours." They proudly showed off the auto-constructed community pipe system that they had installed prior to the state's intervention, indicating the state's piping as the secondary system. They stressed "gehood zateya" (literally translated as self-made efforts) as the individual and community efforts they engaged in to develop and operate infrastructures seemingly without the state, along with their efforts to negotiate and "speak to the state" and non-state actors.[1]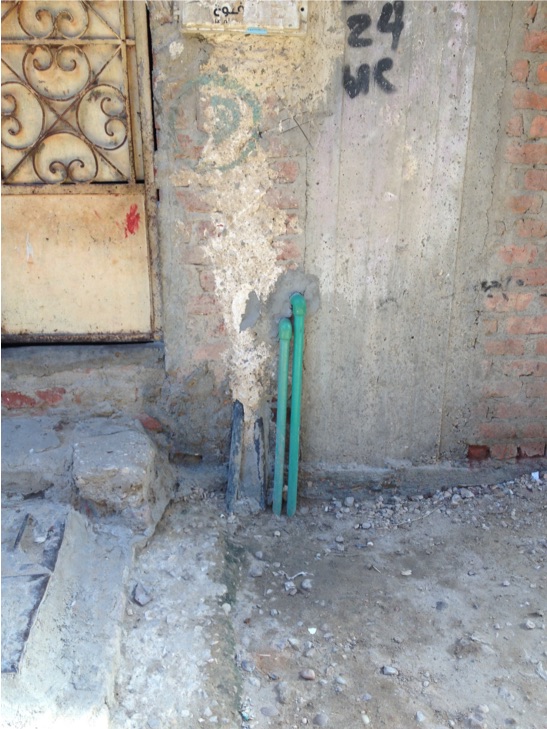 Photo by author.
Years later, a few kilometres further south from Haggana in the satellite city of New Cairo, "elite" upper class residents worked through residential committees to negotiate their own water infrastructures. Since its establishment in the 1990s, the satellite city of New Cairo was promoted by the state and real estate developers as a green oasis in the desert and a chance for elevated living for Cairo's elites and middle classes. Although it remained largely uninhabitable for several decades, recently, Cairo's rich residents and international capital decidedly moved in. The city's Fifth Settlement district, al-Tagammo' al-Khames, has been at the forefront of this luxury development with gated compounds like Hyde Park, Palm Hills, and Katameya Heights and headquarters of multinational companies and banks such as General Electric, al-Futtaim, and the Arab African International Bank.
But elite residents' dreams of easy living are fractured by water malfunction. For instance, during the summer months from 2015 to 2017, water shortages and breakdowns affected the young infrastructures systems in the suburb's rich neighbourhoods; the winters of 2018 and 2019 brought flash floods that drowned cars, villas, and streets, revealing cracks in a supposedly well-engineered state water supply network. These failures have caused New Cairo residents to join residential committees, boards of gated communities, and other coalitions to organise self-help systems to rectify the state's failures. Their improvements to the settlement's physical and institutional landscape required their own brand of gehood zateya. Residents use privileged connections, wealth, and legislative lobbying to negotiate water access and maintenance. Their combined efforts have revealed the complexities of infrastructure governance in the desert that the state cannot do alone.
Whereas in my current book project I focus on debates of uneven waterscapes, infrastructural informality, and contention, for this roundtable, I center my contribution around traditional engineering and urban infrastructures. I focus on how traditional engineering shapes and is shaped by the flows of cross-cutting gehood zateya in both formal and informal urban areas and infrastructures.
Gehood Zateya and Infrastructure from Below

In my research, these patterns of gehood zateya have led me to think about engineering and infrastructures in new ways. Drawing on urban political ecology (UPE) scholarship, I argue that engineering and infrastructure are neither static nor linear processes of installment and maintenance. Engineering today no longer simply fills in a gap in public services in a complex world filled with formal/informal and legal/illegal configurations. Instead, the relational character of engineering is revealed with a focus on power relations and governmentalities produced and embedded in infrastructure. This approach opens up the space for us to question seemingly rigid and apolitical practices associated with the field, like calculation, corporatization strategies, and central single systems. Instead of a polished set of formal engineering projects, infrastructure being implemented today is local, malleable, and plural.
From this standpoint, I use the politics of gehood zateya to see water in Cairo as a collective, multifarious project rather than a top-down corporatized commodity. Water engineering from below becomes a space that is being pluralized, guesstimated, and informalized daily. This shift allows us to acknowledge how traditional technical experts, like state engineers, municipal bureaucrats, and water collectors, play a dual role of imposing the state's disciplinary order through infrastructure, but also form part of informal practices that support communities' gehood zateya practices.
Frontline bureaucrats already know that a traditional top-down approach to infrastructure is not realistic in cities like Cairo." As early as 2013, one water bureaucrat exclaimed to me: "this [water access in Cairo] is all gehood zateya! Half of Giza is self-built." The narrative of traditional engineering as a linear top-down process falls apart when faced with grounded realities like deviations from so-called objective standards and systems imbued with failure and breakage. Instead, grounded research highlights everyday practices of plurality, hybridization, and informality as central modes of water governance. We learn to see cities like Cairo as infrastructural patchworks built with and away from central supply systems.  Engineering, in this way, becomes an incremental, open, contextual, and multi-stakeholder process.
Pluralized Infrastructures

Infrastructure envisioned by engineers fills a void, provides a conduit of supply, and creates systems where none exist. In cities, official water systems, state-led or privately owned, are laid underground to connect areas recognized by authorities. However, in areas marginalized and criminalized by the state for reasons such as tenure disputes or social stigma, there is a notable lack of state-led engineering. But this exclusion from official systems does not mean a lack of supply. Where engineering excludes, community systems of provision and supply soon emerge.
Egypt's recent neoliberal urban policies regard these criminalized areas as spaces for potential capitalization. Urban upgrading programs and formalization of "illegal" spaces have provided citizens with differential tenure rights, some infrastructure rights, and different forms of urban citizenships. Formalization has meant the installment of state-led engineering in marginalized spaces, where cables and pipes are being laid on top of already existing systems. This is a significant development as it demonstrates that the starting point for engineering works is no longer a single network, but instead a multiplicity of existing systems. In this case, state-led engineering is not filling a void, but it is succeeding and dependent upon auto-constructed systems. These dimensions of hybridity and temporal succession are crucial in understanding infrastructures from below.
UPE scholarship is again helpful for taking stock of what hybridity and heterogeneity in infrastructure means. A collective of UPE scholars situate "heterogenous infrastructures" as part of "socio-technological configurations" that are diverse in their sources, actors, artefacts, temporalities and governance structures.[2] Across Global South cities, infrastructure scholarship demonstrates that residents do not depend solely on the state for water access, maintenance, and expert knowledge. Instead, they develop pluralized ways to secure water such as using informal providers, buying jerrycans, relying on artefacts like storage tankers and pumps, installing autonomous systems, or use bodies that in themselves act as infrastructure.[3] This porous system holds different governance forms, ownerships, and socio-technical assemblages of supply.
This porous system is evident in Haggana's southernmost district, where in the last two decades, community residents have accessed water from community-installed piping systems. In the late 1990s, community leaders, with the blessing of state bureaucrats, tapped into nearby official water systems to avoid the expensive chokehold on water by local informal providers. The residents used left-behind piping from electoral campaigns, bribed state water engineers for engineering expertise, and tapped into the local labour network of plumbers, diggers, and maintenance workers. They also employed a permanent "valve man" to direct the flow of water to streets connected to this "ashwai'' network. Their gehood zateya efforts installed what the state denied them—a fully networked water system. Much like their marginalized counterparts elsewhere in Cairo, this community was able to break the illusion of a state-led engineering monopoly. 
In the late 2000s, state-led infrastructures were introduced across Cairo. Bureaucrats tasked with putting in state-owned infrastructure place shallow pipes hurriedly to avoid disrupting community systems. In a reversal of roles, they have even used local community leaders' expertise to navigate underground engineering, and avoid breakages in the older systems. These actions created a deep reliance of formal engineering on bottom-up interventions, and firmly established a regime of interdependency between the two structures.
Similarly, in my research in New Cairo, I saw how privatized actions constituted another form of pluralized systems that forces interdependency across infrastructures. While Deborah Cowen reminds us that "the very act of organizing autonomous infrastructure is itself profoundly criminalized" in global histories of solidarity movements, similar acts of elite organization are treated differently. Everyday extra-legal practices in wealthy neighbourhoods, such as in New Cairo, mostly remain unnoticed; they are accepted and normalized as ways to "fix" unreliable state systems. 
For instance, most private compounds in New Cairo have official piping delivered right to their gates by the state. However, private developers claim responsibility internally for residents' household connections, setting water tariffs, performing maintenance, and even installing private wastewater treatment plants to reuse water. Similarly, residents outside gated communities living in private family homes and apartments in Tagammo' al-Khames install their own household connections from the state's systems in the main roads. This means that pipes are being laid by developers, the water company, the municipality, and contractors hired by residents in just one area. In cases of water shortages and flooding, the state has to navigate these multiple governance structures and ownerships, and ultimately rely on privatized knowledge in order to intervene and provide solutions. Their stronghold on one centralized system is fragmented by the privatization of supply.
Gehood Zateya as Infrastructural Governance

By recognizing that infrastructural engineering is plural in access, supply, and repair, I contend that a different type of politics emerges from these hybrid systems. In my work, I use the concept of informality as an epistemological approach to understand the everyday functioning of space, people, and practices. Informality as a mode of urban governance helps us to develop a relational understanding of inequalities in infrastructure across class dynamics and interrogate the boundaries of traditional engineering. Informal acts and processes are not just the purview of the poor, but point to how the state, elites, and powerful private actors all act beyond the rule of law. This approach allows us to unravel the ways in which experts, bureaucrats, and engineers' power is dynamic, contextual, and embedded in socio-technical infrastructural assemblages. 
Gehood zateya has emerged as a type of politics that is a melange of informal and formal tactics. These tactics work through the actions of accessing and repairing water through economic, social, political, and material tools. Gehood zateya becomes both the physical and social organization of infrastructure from below. But it is important to point out that these actions do not take place without state-led engineering and infrastructure. On the contrary, community and individual action is very much intertwined with top-down logics of provision, calculation, and maintenance.
I use the dual role played by frontline bureaucrats in municipalities and water companies as one way to understand how these standards of engineering are expanded from below. For instance, in Haggana, state water workers relied on community knowledge instead of their maps to navigate the hilly topography and crowded underground piping systems. Water workers had to engage in these informal conversations and adapt their formal systems to the locally formed waterscape. Similarly, the water bureaucracy itself uses discretionary practices to establish standards of calculations in marginalized areas. In my research, I explore governance by "guess-timation," which explains how water meter readers, collectors, and investigators perform mathematical aerobics with water tariffs. Water meter readers base their calculations on subjective and learned perceptions of what community members should be paying, if debt restructuring should be approved, and even establish special committees for negotiation for informal areas (legan khelsa).
This reconceptualization is also apparent across waterscapes in Tagammo' al-Khames of New Cairo. Various bureaucratic institutions, like the municipality and water company, are entangled in extra-legal practices that favor elite interests. These practices include allowing developers to use potable water for construction and establishing differentiated governance schemes and water tariffs based on the privilege of developers (like the ever-powerful Talaat Moustafa Group). Elite residents have turned to wasta and networks of privilege to gain rapid access to water infrastructure, receive priority repairs, and even manipulate their own metered supply. Residents indicate that using gehood zateya guarantees their water security. Frontline bureaucrats are integral to these processes. 
Incremental Infrastructure from Below

In conversations with Cairo's infrastructure experts, they claim the state's ultimate authority over water systems and insist that there is only one source of legitimate supply. In a similar fashion to the state's recent assault on informal building in the city, these experts neglect to mention the lack of state investment in marginalized areas, along with the impunity of elite extra-legal practices in privileged districts like New Cairo. Top-down state engineering, infrastructure, and experts are used time and again as conduits to securitize knowledge, exclude low-income areas, and make Cairo's informal water infrastructures legible for privatization efforts.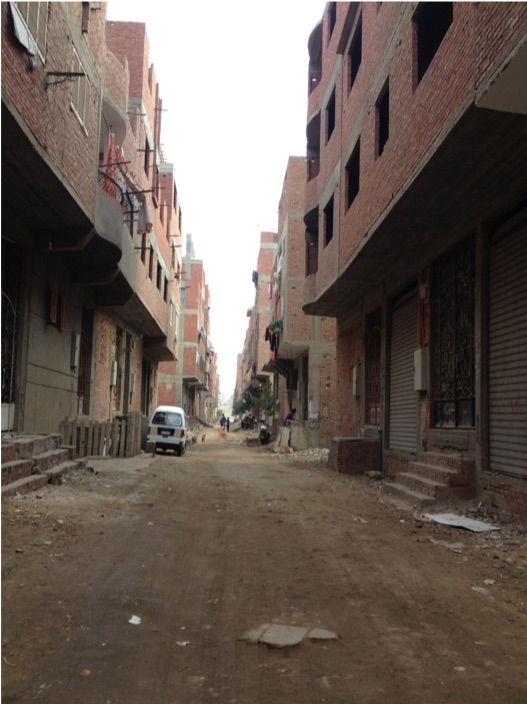 Photo by author.
Yet these claims are in stark contrast to the slow counterforce of gehood zateya by individuals and community groups. These everyday practices have long been intertwined with top-down engineering at the interface of bureaucratic frontliners in water companies and municipalities.
In this roundtable, I argue that an expanded notion of engineering and infrastructure can be read as a situated and relational process, which is shaped by informal urban governance practices. I understand this ongoing process, first, through the lens of pluralized infrastructures and, second, through the informal politics engendered by gehood zateya. These forms of governance practices at the local level are not merely articulations of everyday grounded relations around infrastructure. It is not merely a question of scale. Instead, I echo Eric Verdeil in asserting that these practices envision a reconceptualization of engineering itself and its governance. 
It is important not to romanticize gehood zateya, which represent years of emotional, difficult, and often risky labour, especially by those marginalized in the city. These practices renew questions about the legitimacy and control of the state and its experts on infrastructure. In reality, the state is no longer the only sovereign, engineers are not the only source of technical knowledge, and relations of inequality are made and unmade across and within class in the desert periphery. Under conditions of hybridity and informality, questions of power become central to reconceptualizing engineering and infrastructure across Cairo's uneven urban waterscapes.
---

[1] Noura Wahby, "The Role of the State in Urban Development: The Case of Urban Waterscapes in Cairo, Egypt" (Ph.D. diss., University of Cambridge, 2019). I owe this phrasing to Dr. Maha Abdelrahman from our discussions.
[2] See Mary Lawhon, David Nilsson, Jonathan Silver, Henrik Ernstson, and Shuaib Lwasa, "Thinking through heterogeneous infrastructure configurations," Urban Studies 55, no.4 (2018): 720–732.
[3] See AbdouMaliq Simone, "People as Infrastructure: Intersecting Fragments in Johannesburg," Public Culture 16, no.3 (2004): 407–429.