These two panels are part of a series by the collective project "Ten Years On: Mass Protests and Uprisings in the Arab World." This is the first in a year-long series of events and knowledge production by the collective. Each of the panels addresses reflections by the speakers on the politics and knowledge production related to the uprisings during the past ten years. This first event is intended to herald the yearlong conversation/activities.
Look out for an event in February on teaching the Arab Uprisings and an event in March on archives and the Arab Uprisings. 
View Part 1 Here

You can also watch via Youtube 
Part 1 Speakers

Amaney Jamal

Professor of Politics and principal investigator for the Arab Barometer Project at Princeton University.
Asli Bali

Professor of Law at UCLA School of Law and Faculty Director of the UCLA Law Promise Institute for Human Rights.
Rochelle Davis

Associate Professor of Cultural Anthropology in the Center for Contemporary Arab Studies at Georgetown University.

Ahmad Dallal

Dean of Georgetown University in Qatar.
Ziad Abu-Rish

Co-Director of the MA Program in Human Rights and the Arts, and Visiting Associate Professor of Human Rights, at Bard College.
Lina Abou Habib
Senior Gender Advisor at the Asfari Institute for Civil Society and Citizenship at the American University of Beirut.

Adam Hanieh

Professor in Development Studies at the Institute of Arab and Islamic studies at Exeter University.
Rashid Khalidi

Professor of Modern Arab Studies and director of the Middle East Institute of Columbia's School of International and Public Affairs.
Moderated by Bassam Haddad
View Part 2 Here

You can also watch via Youtube
Part 2 Speakers

Bassam Haddad
Associate Professor at the Schar School for Policy and Government at George Mason University.

Sherene Seikaly
Associate Professor of History at the University of California, Santa Barbara.

Rabab Al-Mahdi
Assistant Professor of Political Science at the American University in Cairo.

Muriam Haleh-Davis
Assistant Professor of History at the University of California, Santa Cruz. 

Amr Adly
Assistant Professor in the department of political science at The American University in Cairo.

Nadje Al-Ali
Professor of Anthropology and Director of the Center for Middle East Studies at Brown University.

Lisa Wedeen
Professor of Political Science and the Co-Director of the Chicago Center for Contemporary Theory at the University of Chicago. 


Mohammed Bamyeh
Professor of Sociology and Religious Studies at University of Pittsburgh.

Moderated by Amaney Jamal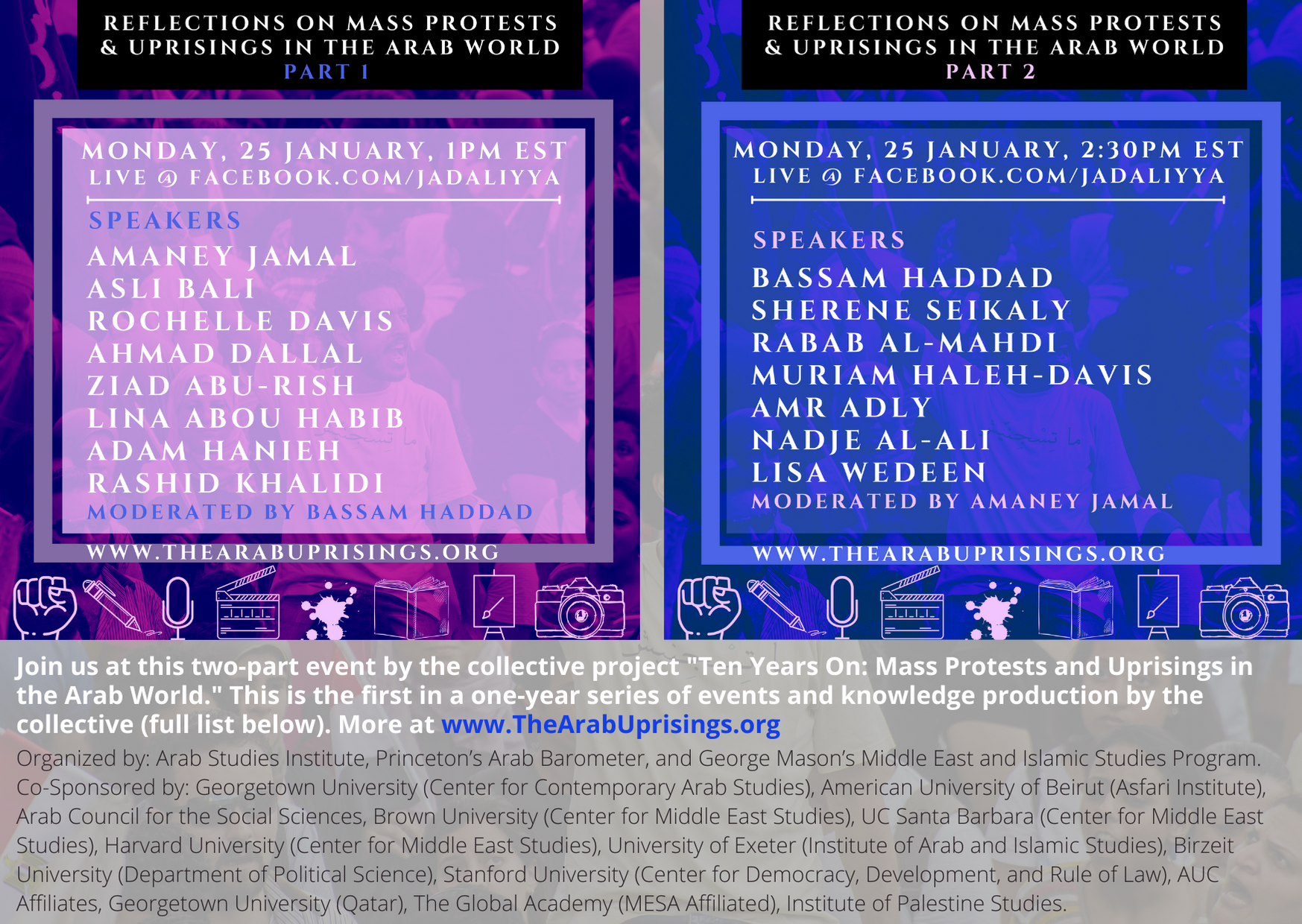 The "Ten Years On" collective includes: Arab Studies Institute, Princeton's Arab Barometer, GMU's Middle East and Islamic Studies Project, Georgetown University (Center for Contemporary Arab Studies), the Arab Council for Social Sciences (ACSS), American University of Beirut's Asfari Institute, Brown University's Center for Middle East Studies, UC Santa Barbara'sCenter for Middle East Studies, Harvard University's Center for Middle East Studies, University of Exeter's Institute of Arab and Islamic Studies, Birzeit University's Department of Political Science, Stanford University's Center for Democracy, Development, and Rule of Law, AUC Affiliates, Georgetown University (Qatar), The Global Academy (MESA Affiliated), and Institute of Palestine Studies.
••• 
Ten Years On
Mass Protests and Uprisings in the Arab World

December 17, 2020 marked the tenth anniversary of the start of the Arab uprisings in Tunisia. Beginning in 2011, mass uprisings swept North Africa and the Middle East, spreading from the shores of Tunisia to Egypt, Libya, Syria, Yemen, Bahrain, and the Eastern Province of the Arabian Peninsula. A "second wave" of mass protests and uprisings manifested during 2019 in Sudan, Algeria, Lebanon, and Iraq. The persistence of demands for popular sovereignty even in the face of re-entrenched authoritarianism, imperial intervention, and civil strife is a critical chapter in regional and global history.
In an effort to mark, interrogate, and reflect on the Arab uprisings, we launch a yearlong set of events, reflections, and conversations. We hope to produce resources for educators, researchers, students, and journalists to understand the last decade of political upheaval historically and in the lived present.
Over the past decade, a plethora of events, texts, and artistic and cultural productions have navigated the last decade's spectrum of affective and material registers. We hope to contribute to these efforts through a historically grounded, theoretically rigorous approach that collaboratively interrogates the multiple questions the Arab uprisings continue to pose.