Theory Buzz Podcast
Book Discussion with Wendy Brown


In the Ruins of Neoliberalism
The Rise of Antidemocratic Politics in the West
(Columbia University Press, 2019)


Thursday, 18 February 2020
2 PM EST


Hosted by Bassam Haddad and Libby Anker
Join us for our first episode of Theory Buzz Podcast (TBP), a monthly podcast that brings authors, books, theory, and the world together in a dynamic way. Away from both lofty pretenses and empiricist disdain, we cut through the jargon to elucidate important ideas and emphasize their significance to our moment. Every month, we hold a friendly but productive conversation with an author of a recent book in social theory, broadly conceived (don't hold us to account on "recent"). Our conversations will address the history and trajectories of these works, while emphasizing their relevance to, and impact on, the worlds we live in. Visit 
www.TheoryBuzz.com
for more information.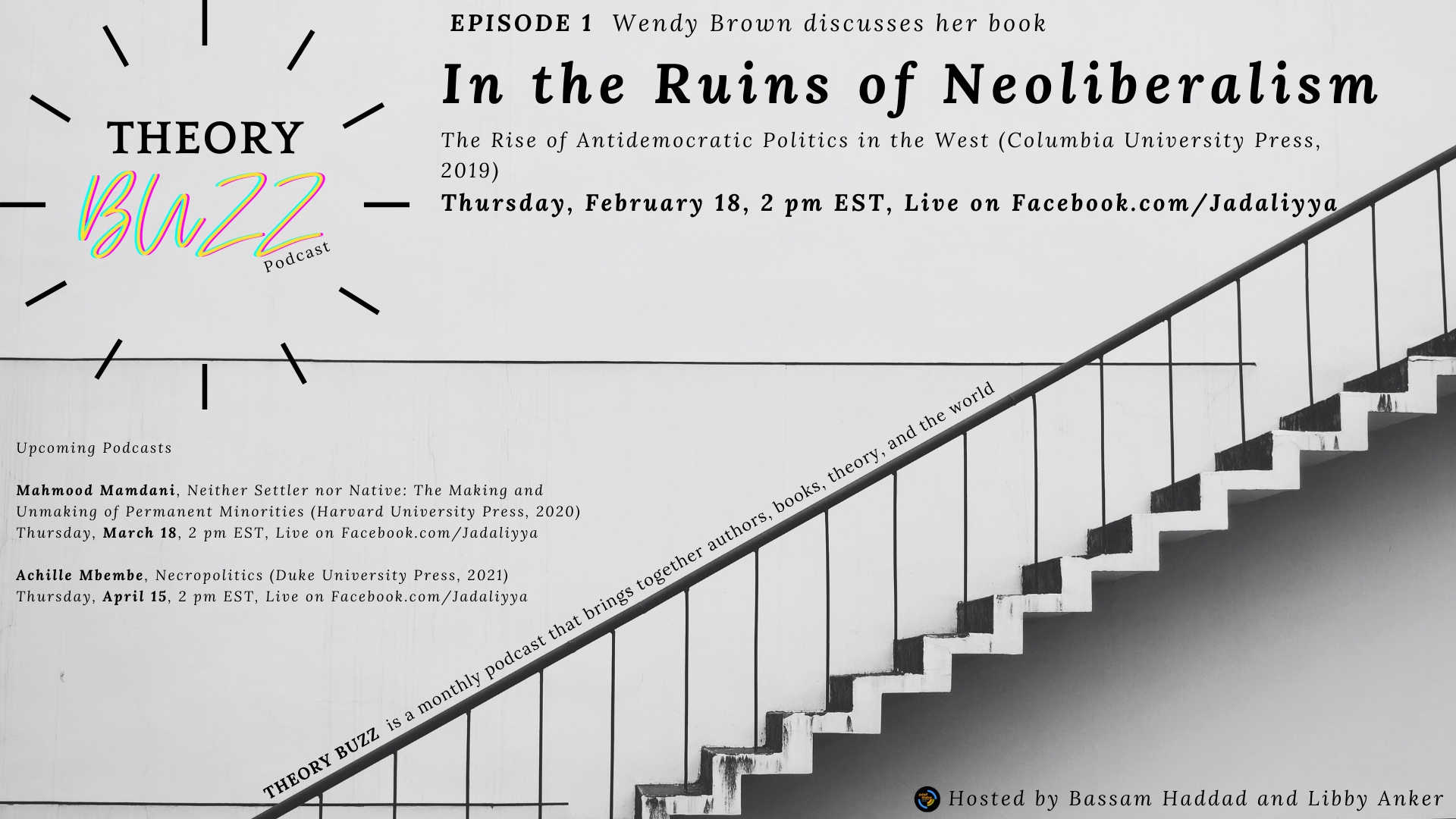 Wendy Brown
is a renowned political theorist and The Class of 1936 First Chair in Political Science at UC Berkeley. Her work on power, political identity, and neoliberalism has influenced a generation of scholarship on contemporary democratic politics. Her most recent books include 
Undoing the Demos: Neoliberalism's Stealth Revolution

 
(Zone 2014) and
In the Ruins of Neoliberalism: The Rise of Antidemocratic Politics in the West
(Columbia, 2019). Her books have won many prizes and have been translated into 20 languages. 
Hosts
Elisabeth Anker 
is an Associate Professor of American Studies and Political Science at George Washington University. She is the author of 
Orgies of Feeling: Melodrama and the Politics of Freedom 
(Duke, 2014) and the forthcoming book 
Ugly Freedoms

 
(Duke, 2022 expected).
 She is also co-editor of the journal 
Theory & Event, 
and
a frequent contributor on international television and radio news.
@libankerDC
Upcoming Podcast Episodes
Mahmood Mamdani, Neither Settler nor Native: The Making and Unmaking of Permanent Minorities (Harvard University Press, 2020)
Achille Mbembe, Necropolitics (Duke University Press, 2021)