It's been a year since COVID-19 brought the world to a standstill and shifted the configurations of our lives the world over. In this time, at Status, we have focused on the fallout from these cataclysmic changes across the Middle East and North Africa and beyond. With hundreds of hours of programming that traverse topics and topographies, we have attempted to bring worlds and experiences closer despite the growing gulfs between these worlds. The schisms created by the global pandemic exacerbated pre-existing power dynamics and disparities while at the same time showcased the ingenuity and perseverance of the human spirit. The Status issues of the past year are a testament to these divergent dynamics. All the while, we too have grown to accommodate so much of these transformations.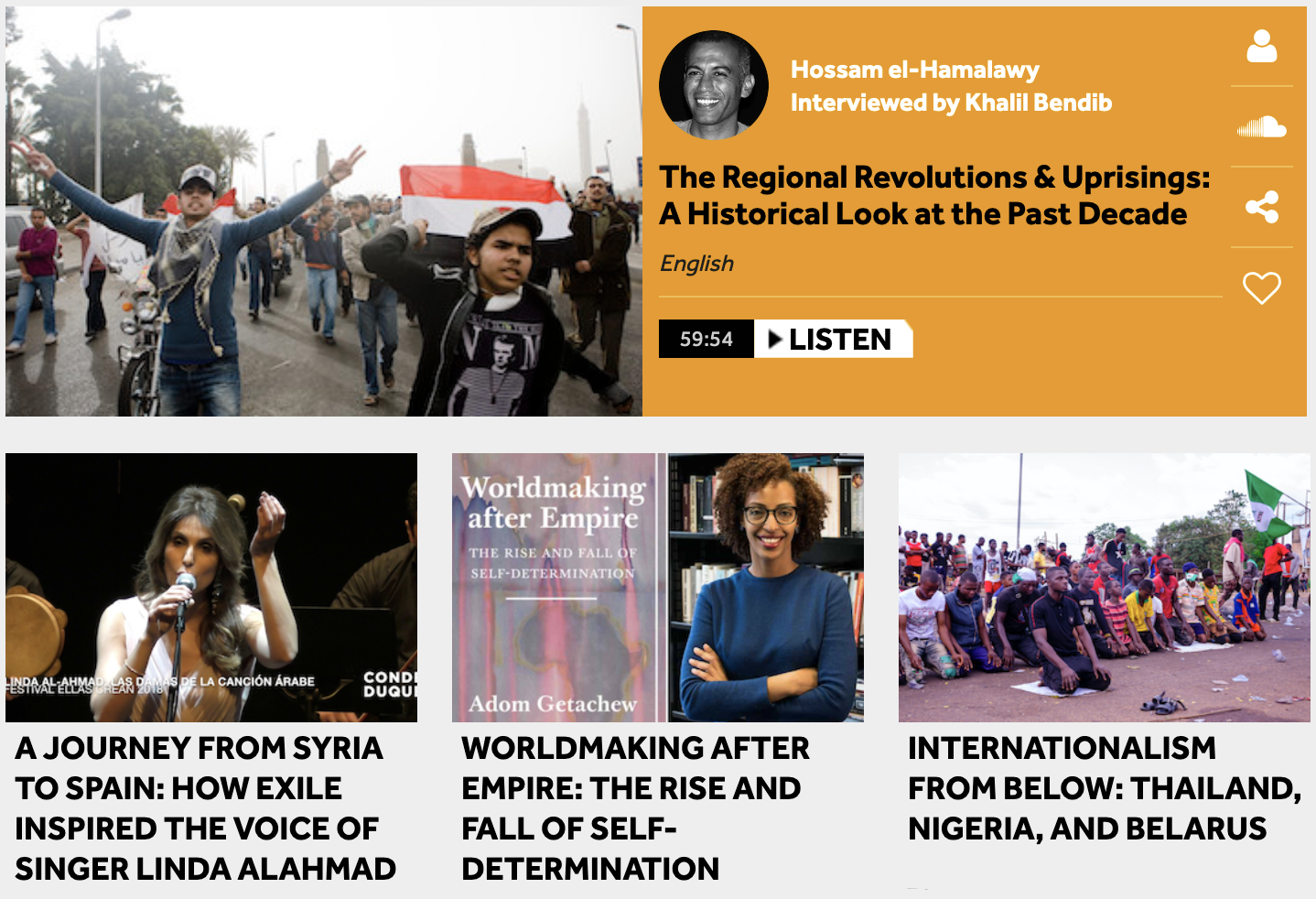 At Status, we have expanded our collaborations, grown our roster of programs, and had amazing new team members join our independent free-wheeling intellectual project. All of this with the determined aim is to heighten knowledge and raise the calibre of deliberation—not to mention challenge mainstream media tropes—on the greater Middle East and North Africa as well as the diasporas from this region. 
In a continuation of our programming on vital issues affecting locales across the region, this issue includes a Voices of the Middle East and North Africa (VOMENA) interview with legal advisor Diana Buttu on the Palestinian struggle and the viability of the one-state solution. Another compelling interview is with singer Linda Alahmad on her Journey from Syria to Spain and the role that exiled played in her musical life. 
This latest issue marks an advancement in our medium from a predominantly audio format to an increasingly audiovisual platform. This is the result of a growing collaboration with our umbrella organization, the Arab Studies Institute (ASI). This shift allows us to have more interactive curated discussions with compelling interlocutors across the world. The flagship show of this novel audiovisual broadcasting dimension of Status is the monthly program "Live with ASI" hosted by Bassam Haddad and MK Smith, which curates and spotlights some of the most intriguing works produced by ASI operations Jadaliyya, Status, The Arab Studies Journal, Tadween, Quilting Point, and the Forum on Arab and Muslim Affairs. The episode of "Live with ASI" featured in this issue of Status includes an interview Carly Krakow conducted with Muriam Haleh Davis about Radio Corona International. Another very timely and incisive program we are proud to include this issue is "Between the Lines: Everything your Medical School Didn't Teach You About Health Equity" which is conducted by Downstate Students for HEAL (Health Equity Advocacy and Leadership) and features conversations about the decriminalization of mental health and the crisis of health care in the prison system.

We are also thrilled to announce some ground-breaking programs that join the Status roster of shows. "Theory Buzz Podcast" is a monthly podcast that brings authors, books, and theory together in a dynamic way. Away from both lofty pretenses and empiricist disdain, we cut through the jargon to elucidate important ideas and emphasize their significance to our moment. Hosted by Bassam Haddad and Elizabeth Anker, this very first episode features an interview with Wendy Brown on the ruins of neoliberalism and antidemocratic politics in the West. "Europe and the Middle East" is a bi-monthly podcast addressing matters of significance to both regions and is hosted by Alain Gresh and Thomas Serres. The inaugural episode featured in this issue tackles "'Eurabia' and the Great Replacement" in a conversation with Liz Ketefe on the theories promoted by far-right thinkers Bat Ye'or and Renaud Camus, their appropriation by far-right terrorists in Europe, and their connection to the American notion of "white genocide." 
Another stellar program is "Scholars in Context" which delves into the oeuvre of academics. This issue includes interviews with Evren Altinkas on Turkey's Hidden History and Issam Eido on the Epistemology of Hadith. "Environment in Context" is a show dedicated to exploring the ecological dimensions of geopolitical issues in the region. This issue features episodes that address the forest fires that ravaged Syria in late 2020, the environmental changes created by a political economy of phosphates in Tunisia, and a special panel on environmental reclamations. "Alternative Frequencies" presents episodes on neoliberal urbanization in Beirut, the Fall of the Bisri Dam Deal, and the financial crisis in Lebanon. Finally, "In Their Own Voices" showcases the reflections of Syrian poet Firas Sulaiman on his recently published divans and her meditations on prose and poetry.

On the horizon, we look forward to launching several new programs, "Pressing Matter" with Malihe Razazan and Adel Iskandar on critical issues in the media and "Booked" which is an extensive book review and author interview show. 
Status also continues to serve as a home for some of the most intriguing and timely panels, lectures, webinars, and conferences about a plethora of perspectives on the region. Our collaboration with Northwestern University continues to bear fruit with timely and provocative sessions on archival studies in Arab women's film with Habibi Collective Founder Róisín Tapponi, on indigeneity and U.S. Power in science fiction classics (a talk by Daniel Immerwahr), and a discussion with Adom Getachew on worldmaking and self-determination. Haymarket Books and the Democratic Socialists of America (DSA) International Committee also feature prominently in this issue with events addressing grassroots internationalism in Thailand, Nigeria, and Belarus, how crisis and uprising inform the Beirut explosion, and teaching uprising and counter-revolution in Iraq. Finally, ASI and George Mason University collaborate in delivering a landmark keynote lecture by Suad Joseph on Middle East Studies between 1966 and 2020.
Moving forward, our listeners (and watchers) can expect our future directions to deliver more variety and greater depth in future programming that reflects the kaleidoscopic complexity and nuance of the topics and communities we are in dialogue with. We do this while being mindful of the growing responsibility to build an accessible archive of voices in our content that will be a testament to our times in years to come.

Happy Listening!