This panel marks the tenth anniversary of the Syrian uprising with a conversation among three artist-journalist-curators who participated in the exhilarating initial days of the Syrian revolution. The speakers discussed the struggle over narrativizing the revolutionary past and producing a sense of transformative ongoingness in the present, the relevance of different forms and genres of artistic and journalistic expression (specifically, documentary and feature filmmaking, visual arts, theater, curation, reportage, and cultural critique), and more general reflections on the relationships between aesthetics and radical politics.
Speakers include Mohammad Al Attar, a playwright and dramaturge; Alma Salem, a curator and cultural advisor; and Lina Sinjab, a journalist and filmmaker. 3CT co-director and Jadaliyya co-editor Lisa Wedeen will moderate the discussion.
Presented by the Chicago Center for Contemporary Theory (3CT) and co-sponsored by the Arab Studies Institute and the Ten Years On: Mass Protests and Uprisings in the Arab World Project.
Panelists

Mohammad Al Attar is a Syria Playwright who has been dealing with the Syrian Revolution and the resulting conflicts since 2011. Al Attar was born in Damascus in 1980. At university, he completed a degree in literature, followed by a master's degree in applied theatre at London's Goldsmiths University. Today, he is considered an important chronicler of war-torn Syria and lives in Berlin. Shortly before the outbreak of protests in Syria, he wrote the play Withdrawal – a chamber play staged in a small Damascus apartment where a couple live and find refuge from the social control mechanisms of society. In 2011, after the first large wave of arrests in the country, his play Could You Please Look into the Camera? followed. In it, torture experiences are relayed directly into a camera. The pieces Withdrawal (2007), Look at the Streets... This is What Hope Looks Like (2011), Online (2011), Could You Please Look into the Camera? (2012) A Chance Encounter (2013), Youssef Was Here (2013) have been shown on various international stages and festivals. His play While I was Waiting, premiered at the Kunsten Festival, Brussels in 2016, and was selected for the official programme of the 70th edition of Festival D'Avignon.
Alma Salem is an independent curator and cultural advisor with 22 years of knowledge and expertise in producing hundreds of cultural projects across all arts forms. Her work has spanned international cultural relations, heritage protection , visual, digital and new media arts, performing arts, cultural policies, cultural Leadership, creative economies, industries and entrepreneurship, arts for development of communities and social change, arts in conflict, arts strategies, management, monitoring and evaluation, coaching and mentorship for artists and cultural institutions, capacity building, training and educational curricula design, arts grants management and judging and cultural translations. She is a recognized cultural expert, working with the British council from 2006 to 2015 in a variety of positions, including 5 years of leading the Middle East North Africa regional arts programmes, overseeing over 800 arts projects across 17 Arab countries—from the Levant to North Africa and the Gulf regions, to the U.K. and Europe during Arab Spring, with a co-curated exhibition entitled Syria Third Space. In 2008, she was a national expert on the EU ISMF-ICT (Institutional and Sector Modernization Facility) project (funded by the European Commission), a software development and technical assistant for e-Government and ICT Standards Applications, where she designed the rehabilitation, branding, and launching of the first e-government CSC in Syria (at the Syria Citizen center). From 1995 to 2006 she worked at the IFPO The Near East French Institute as the cultural resources manager. Here, she created the "First Digital Levant Bank of Images," a ten-year project that aimed to preserve the visual heritage of the Levant in partnership with EU, France (CNRS) and different museums. She has also worked in an advisory capacity to archaeologists and historians, and, in 2000, she published the book "Photographies du Levant". Providing arts management consultancies, coaching, and mentorship to artists and cultural institutions, she is currently an instructor to KWN Education, an online learning platform for digital arts and design, and a fellow of DEVOS Institute For Arts Management at Maryland University in Washington DC. She is the Founder of Alma Salem Bureau for Curation and Cultural Advisory, and Syria Sixth Space Contemporary Arts Touring Curatorial platform.
Lina Sinjab is a Syrian journalist and Middle East correspondent at the BBC. In 2013 she covered the Syria peace talks in Geneva as the BBC's World Affairs reporter and before that, from 2007, she was the BBC's Damascus-based correspondent. Lina has extensively covered the Syrian uprising since its beginnings in 2011 and continues to follow developments in Syria and the region.
Lisa Wedeen (Moderator) is the Mary R. Morton Professor of Political Science and the College and the Co-Director of the Chicago Center for Contemporary Theory at the University of Chicago. She is also Associate Faculty in Anthropology and the Co-Editor of the University of Chicago Book Series, "Studies in Practices of Meaning." Her publications include three books: Ambiguities of Domination: Politics, Rhetoric, and Symbols in Contemporary Syria (1999; with a new preface, 2015); Peripheral Visions: Publics, Power and Performance in Yemen (2008); and Authoritarian Apprehensions: Ideology, Judgment, and Mourning in Syria (2019). Among her articles are the following: "Conceptualizing 'Culture': Possibilities for Political Science" (2002); "Concepts and Commitments in the Study of Democracy" (2004), "Ethnography as an Interpretive Enterprise" (2009), "Reflections on Ethnographic Work in Political Science" (2010), "Ideology and Humor in Dark Times: Notes from Syria" (2013), and "Scientific Knowledge, Liberalism, and Empire: American Political Science in the Modern Middle East" (2016). She is the recipient of the David Collier Mid-Career Achievement Award and an NSF fellowship, and is currently completing an edited volume with Joseph Masco, entitled Conspiracy/Theory.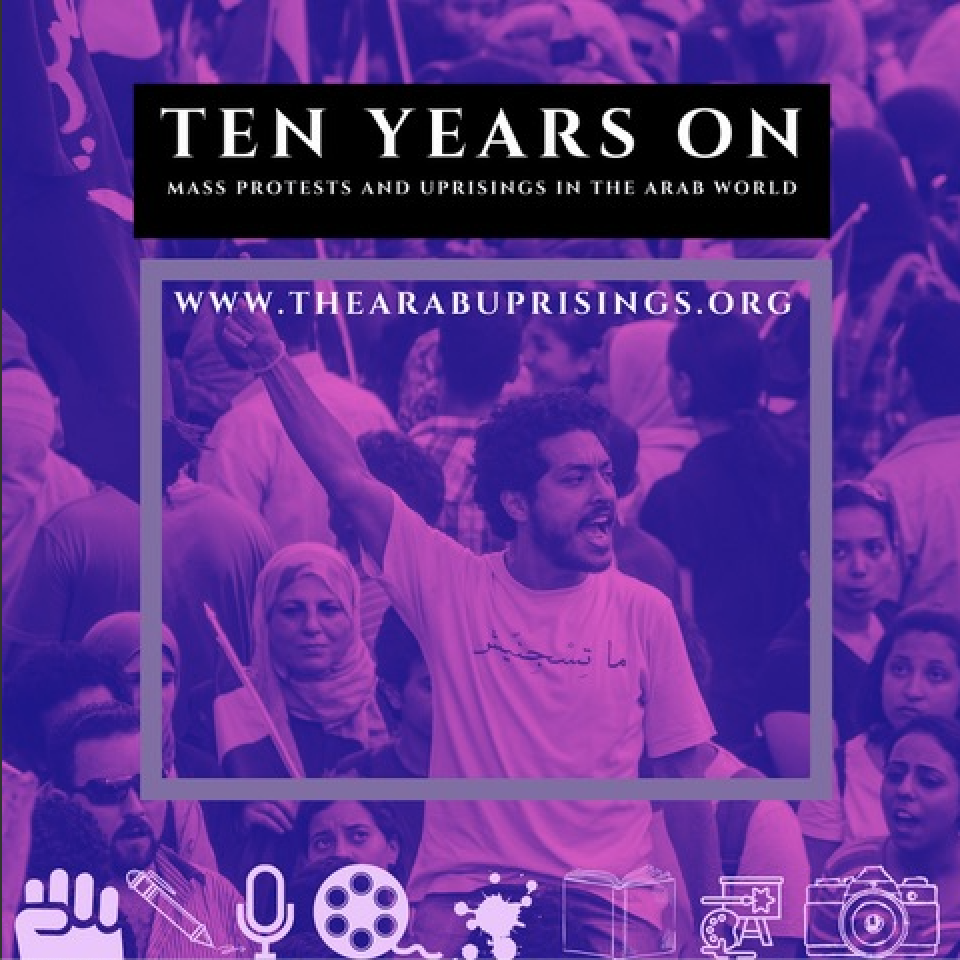 This event is part of the Ten Years on Project, a year-long series of events, reflections, and conversations created to commemorate the tenth anniversary of the start of the Arab uprisings in Tunisia. We launched this project in order to interrogate and reflect on the uprisings, with the hope of producing resources for educators, researchers, students, and journalists to understand the last decade of political upheaval historically and in the lived present.
Watch all of our previous Ten Years on events here:
Organizers: Arab Studies Institute, Princeton's Arab Barometer, George Mason's Middle East and Islamic Studies Program.
Co-Sponsors: Georgetown University (Center for Contemporary Arab Studies), American University of Beirut (Asfari Institute), Arab Council for the Social Sciences, Brown University (Center for Middle East Studies), UC Santa Barbara (Center for Middle East Studies), Harvard University (Center for Middle East Studies), University of Exeter (Institute of Arab and Islamic Studies), Birzeit University (Department of Political Science), University of Chicago (Chicago Center for Contemporary Theory), Stanford University (Program on Arab Reform and Democracy, Stanford University), AUC Affiliates, Georgetown University (Qatar) Center For International And Regional Studies (CIRS), The Global Academy (MESA Affiliated), Institute of Palestine Studies.