[This Engaging Books belongs to ASI and MESPI's year-long effort to mark, interrogate, and reflect on the Arab uprisings by producing resources for educators, researchers, students, and journalists to understand the last decade of political upheaval historically and in the lived present. To check out other publications and events from the Ten Years On project visit The Arab Uprisings Project and MESPI.
Engaging Books is a monthly series featuring new and forthcoming books in Middle East Studies from publishers around the globe. Each installment highlights a trending topic in the MENA publishing world and includes excerpts from the selected volumes.
This installment involves a selection from New York University Press on the theme of the Arab Uprisings. Other publishers' books will follow on a monthly basis.]
Table of Contents
Women Rising: In and Beyond the Arab Spring
Edited by Rita Stephan and Mounira Charrad
About the Book
About the Editors
In the Media/Scholarly Praise
Additional Information
Where to Purchase
Excerpt
Call for Reviews 
Arab New York: Politics and Community in the Everyday Lives of Arab Americans
By Emily Regan Wills
About the Book
About the Author
In the Media / Scholarly Praise
Additional Information
Where to Purchase
Excerpt
Call for Reviews
The Reawakening of the Arab World: Challenge and Change in the Aftermath of the Arab Spring 
By Samir Amin
About the Book
About the Author
In the Media
Scholarly Praise
Additional Information
Where to Purchase
Excerpt
Call for Reviews
Women Rising: In and Beyond the Arab Spring 
Edited by Rita Stephan and Mounira Charrad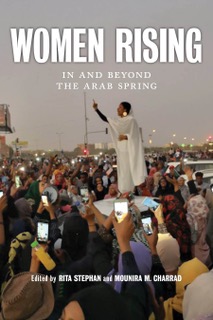 About the Book
Groundbreaking essays by female activists and scholars documenting women's resistance before, during, and after the Arab Spring
Images of women protesting in the Arab Spring, from Tahrir Square to the streets of Tunisia and Syria, have become emblematic of the political upheaval sweeping the Middle East and North Africa. In Women Rising, Rita Stephan and Mounira M. Charrad bring together a provocative group of scholars, activists, artists, and more, highlighting the first-hand experiences of these remarkable women.
In this relevant and timely volume, Stephan and Charrad paint a picture of women's political resistance in sixteen countries before, during, and since the Arab Spring protests first began in 2011. Contributors provide insight into a diverse range of perspectives across the entire movement, focusing on often-marginalized voices, including rural women, housewives, students, and artists.
Women Rising offers an on-the-ground understanding of an important twenty-first century movement, telling the story of Arab women's activism.
About the Editors
Rita Stephan is a Research Fellow at The Moise A. Khayrallah Center for Lebanese Diaspora Studies at North Carolina State University and the Director of the Middle East Partnership Initiative at the U.S. Department of State. She is the co-editor of In Line with the Divine: The Struggle for Gender Equality in Lebanon and the author of several publications on Lebanese women's movement, social movements, social networks, and Arab-Americans.
Mounira Charrad is Associate Professor of Sociology at the University of Texas, Austin and a Non-Resident Fellow at the Baker Institute, Rice University. She is author of the award-winning book, States and Women's Rights: The Making of Postcolonial Tunisia, Algeria and Morocco, as well as the editor or co-editor of Patrimonial Power in the Modern World, Patrimonial Capitalism and Empire, Women's Agency: Silences and Voices, and Femmes, Culture et Société au Maghreb.
In the Media/ Scholarly Praise for Women Rising
"An amazing, timely, and spectacular contribution to the scholarship on women's empowerment in the context of the Arab world. The volume brings together works by the field's most renowned experts. It captures theoretical debates, empirical nuances and a remarkable and sophisticated lens that captures the daily lives and experiences of Arab women. This is a must-read! Stephan and Charrad have assembled a masterpiece!" ~Amaney A. Jamal, author of Barriers to Democracy: The Other Side of Social Capital in Palestine and the Arab World
"In Women Rising, activists, scholars, politicians, and artists tell a compelling story of women's mobilization before, during, and after the Arab uprising of 2011. Well written and analytically powerful, these essays show us the important role women have played in the struggle for democracy, social justice, and women's rights across the diverse communities in the region. Pushing the boundaries of the study of feminist resistance, this book will inspire students, scholars, and activists." ~Verta Taylor, co-editor of Feminist Frontiers
"A rich collection that records the life and efforts of women during a critical point of history for Arab women as they struggle against odds that often seem insurmountable." ~Amira Sonbol, author of The New Mamluks: Egyptian Society and Modern Feudalism
"The message of this inspiring collection of personal reflections from Arab women activists of various types is that the Arab Spring is far from over - even bloody civil wars are not extinguishing women's efforts to be heard in calling for reform, resistance and even revolution! The activist chorus so effectively captured here includes poetry, academic essays, accounts of organizing experiences and political reflections from more or less successfully democratized countries. Each contribution is a striking solo, but they harmonize nicely, pointing together to the variety of roots of women's rebellions in 2010 and the diversity of blooms still opening since!" ~Myra Marx Ferree, author of Varieties of Feminism: German Gender Politics in Global Perspective
"A uniquely stimulating and timely compendium teeming with Arab women's voices and multiple forms of activism before, during and after the Arab uprisings. Using varied forms of expression, from art and literary production to political commentary, this volume offers a definitive challenge to misrepresentations of Arab women's agency and their ongoing roles in democratic struggles." ~Deniz Kandiyoti, co-editor of Gender, Governance, and Islam
"This exciting and unique collection of essays by Arab activists, politicians, scholars, and others is remarkable in its breadth, covering a wide range of Arab countries and contexts to explore the activism of women before, during and after the Arab Spring uprisings. This important and impressive contribution to the study of women's activism in the region reveals distinctive features of Arab women's struggles and the national and local origins of their protests. It shows how women, through their very presence in protests, transformed the relationship of women to public space. Women were emboldened through their organizations; they increased political representation; and made legislative changes. But they also asserted their creative agency through literature, film, street art, the photographic lens, and many other forms of expression." ~Aili Mari Tripp, author of Seeking Legitimacy: Why Arab Autocracies Adopt Women's Rights
Excerpt

When women flamed in protests from Tunisia to Yemen calling for political reforms, the world was quick to proclaim that Arab women had finally risen. Some claimed that "this was the first time so many women from so many different backgrounds had joined demonstrations."1 Unfortunately, the world had not paid attention to Arab women protesting, voting, running for office, and leading organizations since the 1920s, through the Arab Spring years, and up until today. The events of the Arab Spring, a period during which women's activism intensified, were only a historical marker that brought women's activism to the forefront.
The Arab Spring gained prominence in international politics with the 2011 Egyptian protests in Tahrir Square against the Mubarak regime, following the protests in Tunisia, where the Arab Spring started. After a month of protest, much of which was captured on social media, Mubarak fled Egypt and both the Parliament and the constitution were dissolved (Clarke 2011). For many casual Western observers, Tahrir Square events were unique, if not surprising. However, for those who have been following the region's history, the 2011 Egyptian revolution marks only one dynamic part of a larger series of events known as the Arab uprisings. These uprisings, arguably, accumulated the social tension that has been rising in the region since the 2004 Kefaya Egyptian Movement for Change (Clarke 2011) and the 2005 Lebanese Cedar Revolution (Stephan 2018). Frustration heightened by the end of 2010, and spread quickly throughout the region.
The spark that started the Arab Spring was the one with which the young Tunisian man, Mohamed Bouazizi, set himself on fire in response to police brutality, on December 17, 2010. This event triggered notable public agitation and drove supporters to protest and topple the regime in Tunisia. The domino effect of protests followed in Bahrain, Egypt, Jordan, Kuwait, Libya, Morocco, Saudi Arabia, Syria, and Yemen, with shy endeavors in Algeria, Iraq, Oman, and Palestine. Some protests achieved a change of regimes, as in Tunisia, Egypt, and Lebanon (in 2005). Others developed into violent encounters that left the protesters in a deadlock with their governments, as in Bahrain; and others turned into bloody civil wars, as in Yemen, Libya, and Syria. In some countries, major reforms were implemented, as in Morocco, Kuwait, and Jordan. Minor reforms were also introduced in Algeria, Oman, and Saudi Arabia—ending these protests shortly thereafter,2 though they reignited in 2019 in Algeria, Iraq, Lebanon, and Sudan.
Several years after the Arab Spring, Tunisia, a budding democracy, continues to fight corruption and extremism; Syria, Libya, and Yemen are torn between war and Islamic extremism; Egypt is slowly sliding into becoming a dictatorship and a sexually dangerous environment for women; and the Gulf countries continue to be preoccupied with their crowns' stability and with containing dissident voices. Morocco, Jordan, Lebanon, and Algeria are trying to appease their constituents by introducing social, economic, political, and legal reforms, on the one hand, while managing their financial crises and curbing the appeal of extremism and emigration on the other.
Some have been quick to write democracy's obituary in the region, but we argue that the democratic transition to consolidation is messy, lengthy, and problematic. Like us, however, the contributors to this volume believe that there is no going back. Social and political norms that have traditionally rewarded compliance are now changing to encourage innovation; male-dominated social structures and powers are now shaken; and women have gained confidence in their ability to influence politics and to challenge the secular-Islamist power poles. We believe that a social revolution has made women more self-assured of their collective power to fight exclusion, silence, and oppression.
Women Rising: In and Beyond the Arab Spring features women fighting for reforms; resisting oppression; and engaging in protests and revolutions to change the status quo. The volume also takes these terms beyond the chronological, geographical, and thematic spaces of the Arab Spring and explores women's agency before and after the events of the Arab Spring themselves. While the majority of the pieces in this volume focus on women's activism during the Arab Spring uprisings, ten chapters emphasize the expressions of women's agency that predate this era. By providing historical context for women's political activism long before the Arab Spring, these contributions shake the claim that Arab women just "woke up" in 2011. In the same vein, women's struggle for rights extends beyond this historical marker, and seven pieces continue into the aftermath of the Arab Spring, viewing subsequent events from a variety of angles.
The voices of Women Rising include those of activists, politicians, scholars, and many others. We bring to the fore voices we rarely hear, such as those of filmmakers, poets, students, and artists, as well as those who have been silenced, like rural women, queer feminists, and housewives. In their own voices, women give testimony on how their activism shaped the fight for democracy, liberty, and human rights. This volume creates a space for multiple forms that include literary expression, street art, photographic discourse analysis, interviews, critical biography, testimonies, ethnographic interpretation, and political commentary.
The forty essays in this volume bear witness to women's activism, and to the way women mitigated the threats and obstacles that they faced in Algeria, Bahrain, Egypt, Iraq, Jordan, Kuwait, Lebanon, Libya, Morocco, Palestine, Saudi Arabia, Sudan, Syria, Tunisia, Yemen, and even the Arab diaspora. The essays combine analysis and testimony by authors from diverse communities in the region as well as Australia, Japan, Canada, Europe, and the United States.
The forty chapters reflect questions posed by local, national, and transnational activists on the topics of beliefs, identity, agency, mobilization, and resistance.
The pieces vary in the type of discourse with which they engage, the type of data they use, and the type of subjects they address. While Western media and the world community have focused on popular political topics such as the toppling of regimes and the occupying of popular places like Tahrir Square, contributions to this volume take readers to remote spaces and introduce them to unusual topics. Contributors tell their stories from their personal experiences as activists or participant observers, and analysts weave first-hand accounts of activism with analytic commentary to answer important questions, such as what Arab women fought for or believed in and how they expressed their agency, mobilized through space, and organized these movements.
[...]
Building on their experiences in mobilizing for women's rights, and on their analyses of women's activism, the authors in this volume provide a rich and nuanced understanding of women's agency and mobilization before, during, and following the Arab Spring. They offer the reader a unique perspective on what may be one of the most significant historical developments of our times. We aim for this volume, with women's agency as its central focus, to give voice to Arab women as they tell their own stories of activism for democracy, social justice, and women's rights.
Call for Reviews
If you would like to review the book for the Arab Studies Journal and Jadaliyya, please email info@jadaliyya.com 
Arab New York: Politics and Community in the Everyday Lives of Arab Americans
 By Emily Regan Wills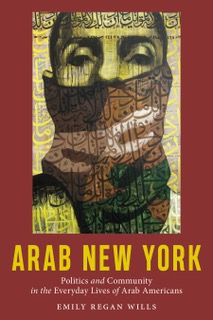 About the Book
In Arab New York, Emily Regan Wills looks outside the traditional ideas of political engagement to see the importance of politics in Arab American communities in New York. Regan Wills focuses on the spaces of public and communal life in the five boroughs of New York, which are home to the third largest concentration of people of Arab descent in the US. Many different ethnic and religious groups form the overarching Arab American identity, and their political engagement in the US is complex.
Regan Wills examines the way that daily practice and speech form the foundation of political action and meaning. Drawing on interviews and participant observation with activist groups and community organizations, Regan Wills explores topics such as Arab American identity for children, relationships with Arab and non-Arab Americans, young women as leaders in the Muslim and Arab American community, support and activism for Palestine, and revolutionary change in Egypt and Yemen.
Arab New York draws from rich ethnographic data and presents a narrative, compelling picture of a community engaging with politics on its own terms. Written to expand the existing literature on Arab Americans to include more direct engagement with politics and discourse, Arab New York also serves as an appropriate introduction to Arab American communities, ethnic dynamics in New York City and elsewhere in urban America, and the concept of everyday politics.
About the Authors
Emily Regan Wills is Associate Professor of Political Studies at the University of Ottawa.
In the Media/Scholarly Praise for Arab New York
"Wills has written an extraordinary book that captures the politics underlying the everyday lives of Arab Americans. By focusing on the ways in which Arab Americans understand and assign meaning to their political roles in society, [she] offers a compelling, rich and fascinating account of Arab American political experiences." ~Amaney A. Jamal,Author of Of Empires and Citizens: Pro-American Democracy Or No Democracy at All?
"A solid example of how ethnographic research can help political leaders, scholars, and the public to understand the reality of Arab American communities in urban America. Arab New York provides a credible picture of a community interacting with politics while also celebrating its ethnic values. Through her interpretive research and participation in everyday social spaces, Wills played a role closer to an insider and accessed public and private moments of contestation and conversation. She provides a multidimensional perspective on American Arab communities and highlights how politics impact their everyday lives." ~Journal of Urban Affairs
"A highly readable ethnographic account offering a refreshing perspective on everyday politics and Arab American communities. It has much to offer scholars in a wide range of disciplines, as well as those who are curious about the ways silenced communities find and raise their voices." ~Louise Cainkar,Author of Homeland Insecurity: The Arab American and Muslim American Experience After 9/11
Excerpt
Freedom was a key rallying cry for all of the Arab Spring movements, and this was invoked constantly during protests supporting them. A young woman who had worked as a journalist in Sana'a spoke about the Yemeni people teaching her "the value of freedom," which she had never previously understood. Another protester yelled, "Raise your voice and call for freedom forever, now or never." Protesters also chanted "hurriyeh, hurriyeh"(freedom, freedom) and were led from the dais in chanting "What do you want? Freedom! When do you want it? Now! Al-sha'ab yurid isqat al-nizam" (the people want the downfall of the regime). One protester held a sign which communicated a complicated argument about preferences:
All Yemenis want
*Freedom
*Civil Rights
*"No" to Communism
*Stop Killing People It Is Enough!
Egyptians also used the idea of freedom as central to their explanations of their actions. A news story quoted one man as saying, "While it was 'extremely sad' to see the violence . . . 'freedom has a price,'" while another protester said, "It's a struggle for freedom, it's a struggle for values." A handmade sign held up at that protest read "Egyptians have earned their Freedom, Mubarak must go!" Many protesters invoked the notion of freedom together with the idea of rights: a chant at a #right2vote protest declared, "We are Egyptians / we have rights," and a speaker at the January 29 protest said told that crowd that "we want our free rights as anybody in the world, we don't need Mubarak no more." What the Egyptian people wanted and what the protesters supported them in demanding was freedom.
Freedom may be a generic rallying cry for political organizers in a wide variety of types of struggles, but in the United States it is strongly associated with American values. "They hate usforourfreedoms,"GeorgeW.Bushsaid,andmanyAmericansagreed:freedomisoneof those things that make America America. So this identification of freedom as the goal in Arab uprisings legitimizes those transitions in the eyes of American interlocutors. When Yemenis protesting against Saleh's stay in New York for medical treatment held up a sign reading "Land of Liberty Hosts Dictator," they repeated the notion that freedom should be identified with America—and that Saleh's presence on US soil violated that natural association. The speaker who asked participants to call for "freedom forever" followed that call by saying, "Raise your voice and don't be afraid. Here, you live in a country that is ruled by law, so take advantage and let your voice be heard." The sign quoted above demanded not only a generic freedom but also civil rights and denounced communism, in an even more American-friendly register. And the letter that YACC wrote to President Obama, asking him to stop Saleh's trip to New York, asked him to "adopt . . . a policy toward Yemen that honors the principles that Americans hold dear—principles of equality, justice, and freedom from tyranny." When Ibrahim Al Qatabi said in the New York Times that "Obama is still siding with dictators instead of those who stand for freedom," he presented it as an immanent critique: America should have nothing to do with dictators and everything to do with freedom. Freedom and America are repeatedly associated, which legitimates calls for freedom coming from the Arab world in the eyes of American interlocutors.
Closely bound up with freedom as a rhetorical element is democracy. Democracy and freedom are often presented as synonyms in American political discourse that define what it means to be American. And plenty of the claims made in Egyptian and Yemeni (and other) protests in New York joined these together. An Egyptian protester quoted in one news story said, "We want people who know democracy. We want somebody we voted for, we never vote for him. He just fake the election and they think this is freedom. This is not freedom," evoking Mubarak's history of vote fraud (and the fundamentally rigged nature of elections in a one-party state). The EAC shared an invite on Facebook for a protest called "Rally in Solidarity for Democracy in the Middle East," which specifically called for people to support "the brave protestors in Syria, Libya, Yemen, and Bahrain as they struggle for democracy and freedom in their respective countries."
Both Yemeni and Egyptian demonstrators evoked a demand for democracy as intrinsic to what they (and protesters back home) were demanding. A large sign carried at the march through Brooklyn for Yemen read first irhal (get out) in Arabic, and then "The People Want Democracy" in English. Saleh was repeatedly labeled a dictator, the exact opposite of a democratically elected leader. In the same letter to Obama quoted above, the YACC argued that "we believe that by denying President Saleh sanctuary in the United States, we can demonstrate to Yemenis in good faith that we affirm democratic principles in this country." Here again the association between the United States and democracy was reaffirmed.
Talk about revolutionary changes in Egypt also invoked the primacy of democracy. A sign posted outside the Islamic Center of Bay Ridge calling people to protest before Mubarak stepped down in Egypt read, "Come support democracy and human rights in Egypt," according to a reporter visiting the mosque.15 More telling is the role that invocation of democracy played in the way Egyptian American support for the revolution was presented in the press. A piece in the New York Post said an Egyptian American activist "has spent years fighting to bring democracy to her native land."16 A later Post piece on Marty Markowitz, Brooklyn Borough president, raising the Egyptian flag outside Borough Hall had Markowitz saying that he "stood in solidarity with Egypt's pro-democracy protestors," "drawing similarities between the Egyptian Revolution and the American War of Independence," and saying "the American Dream is now the Egyptian Dream."17 The demands continued to be used even after Mubarak had fallen: a sign at a #right2vote protest read simply, "This is what democracy looks like."
These comparisons are unsubtle, lack any substantive engagement with what democracy means (for instance, they do not engage with the future probability of Islamist government), and compare apples to oranges in terms of democratic transition. But they are rhetorically powerful, connecting Arab protesters to American icons and ideals and making space for Egyptian or Yemeni Americans to be proper democratic subjects while still being substantive advocates for their countries.
In addition, the clearest and most specific demands put forward by the protesters are well in line with frames about democracy. The YACC was closely involved in calling for Saleh to be removed from the United States, which involved specific calls on the US government to do something within their power (to revoke his diplomatic immunity or not issue him a visa) and to match American values. EAC's call for Egyptians abroad to have the right to vote in Egyptian elections was also fundamentally about democratic values, even if the demand was focused abroad. (Egyptians in diaspora did gain the right to vote while abroad, but participation was high only in the Gulf states; only about 5 percent of Egyptian Americans who were eligible to vote did so.)
Throughout these protests, the status of the protesters as American, as well as Egyptian or Yemeni, was reaffirmed. Sometimes this was through the recourse to American legitimizing norms, such as democracy or freedom. In fact, one speaker at a Yemeni protest did it through recourse to the discourse of antiterrorism, calling Assad and Saleh "the biggest terrorism [sic] of humanity." But others did it through active invocations of their Americanness. The letter by the YACC began by saying, "We write as concerned American citizens," and framed their demand for Saleh's visa being revoked by saying, "As American citizens, we see no reason why a man with as much blood on his hands as President Ali Abdullah Saleh should continue to enjoy the protection and support of the United States." A protester against Saleh at the Ritz even was quoted as saying, "I pay 30% taxes, and my money goes to protecting a dictator?," invoking an incredibly American political voice, that of the taxpayer.
At the same time, they also spoke as patriotic Egyptians or Yemenis. There was no rejection of their national origin identities. Yemeni and Egyptian flags were as omnipresent at
these protests as Palestinian flags are at Palestine protests. Yemeni protests even began with the playing of the Yemeni national anthem, and a protester at one of them began his talk by invoking,"Balady yaman wa suriya al habibatain"(my beloved countries Yemen and Syria).A sign at a #right2vote protest read, "misr lilkul al-misriyeen, mughtirbeen wa fii al-miyadeen" (Egypt for all Egyptians, abroad and in the squares), while others said, "Egypt for all Egyptians" in English or "We are Egyptians too." Participants in these movements admitted the hyphenated nature of their attachments and legitimated their political action with regard to both of their identities. They were proper Americans and proper Egyptians/Yemenis at the same time.
Call for Reviews
If you would like to review the book for the Arab Studies Journal and Jadaliyya, please email info@jadaliyya.com 
The Reawakening of the Arab World: Challenge and Change in the Aftermath of the Arab Spring
By Samir Amin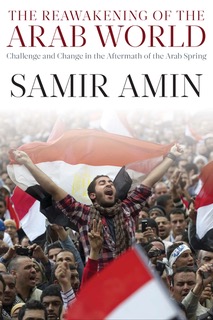 About the Book
According to renowned Marxist economist Samir Amin, the recent Arab Spring uprisings comprise an integral part of a massive "second awakening" of the Global South. From the self-immolation in December 2010 of a Tunisian street vendor, to the consequent outcries in Cairo's Tahrir Square against poverty and corruption, to the ongoing upheavals across the Middle East and Northern Africa, the Arab world is shaping what may become of Western imperialism – an already tottering and overextended system.
The Reawakening of the Arab World, published by Monthly Review Press and distributed by NYU Press, examines the complex interplay of nations regarding the Arab Spring and its continuing, turbulent seasons. Beginning with Amin's compelling interpretation of the 2011 popular Arab explosions, the book is comprised of five chapters – including a new chapter analyzing U.S. geo-strategy. Amin sees the United States, in an increasingly multi-polar world, as a victim of overreach, caught in its own web of attempts to contain the challenge of China, while confronting the staying power of nations such as Syria and Iran. The growing, deeply-felt need of the Arab people for independent, popular democracy is the cause of their awakening, says Amin. It this awakening to democracy that the United States fears most, since real self-government by independent nations would necessarily mean the end of U.S. empire, and the economic liberalism that has kept it in place. The way forward for the Arab world, Amin argues, is to take on, not just Western imperialism, but also capitalism itself.
About the Author
Samir Amin was one of Africa's leading Marxists and world-systems analysts. He is well known for his work on non-Eurocentric Marxism, imperial rent, the global monopoly phase of capitalism, delinking; his call for a Fifth International of workers and peoples and his anti-imperialism.
In the Media/Scholarly Praise for The Reawakening of the Arab World
"Samir Amin has given us another of his refreshingly intelligent, deeply historical, and structurally analytic books. Even when one doesn't agree, one is forced to rethink one's assumptions. This is an indispensable guide to the political struggles of the contemporary Middle East." ~ Immanuel Wallerstein, Yale University
"Exceptionally well organized and presented, The Reawakening of the Arab World: Challenge and Change in the Aftermath of the Arab Spring is very highly recommended for community, college, and university library International Studies reference collections in general, and Contemporary Arab Political Science supplemental reading lists in particular."~ Midwest Book Review
"Samir Amin's latest book on the revolutionary foments in the Arab world, The Reawakening of the Arab World: Challenge and Change in the Aftermath of the Arab Spring (2016), provides a timely voice in contrast to the obfuscated discourse of the Western media regarding the Arab Spring and its ensuing political developments." ~ Marx & Philosophy Review of Books
Excerpt
What I have wanted to show in this book is that depoliticisation has been decisive in allowing political Islam to come to the fore. This depoliticisation is certainly not confined to Nasserite Egypt. It has been the dominant practice in all the national popular experiences in the first awakening of the South and even in the historical socialisms after the first phase of revolutionary fervour had passed. The common denominator has been the suppression of democratic practice (which I do not reduce to the holding of multiparty elections), in other words the lack of respect for the diversity of opinions and political proposals and, possibly, their organisation. Politicisation requires democracy. And democracy cannot exist except when liberty is given to the 'adversaries'. In all cases its suppression, which is thus at the origin of depoliticisation, is responsible for the subsequent disaster. This may take the form of nostalgia for the past (religious or otherwise), or the adoption of 'consumerism' and the false individualism encouraged by the Western media, as was the case for the peoples of Eastern Europe and the former USSR. It was also the case, not only within the middle classes (possible beneficiaries of development) but equally within the popular classes who, lacking alternatives, aspire to benefit from it, even on a very small scale (which is perfectly understandable and legitimate).
In the case of Muslim societies, this depoliticisation is the principal form of the apparent 'return' of Islam. The articulation linking the power of reactionary political Islam, comprador submission and impoverishment through the informal bazaar economy is not specific to Egypt. It is already to be found in most Arab and Muslim societies, as far as Pakistan and beyond. The same articulation operates in Iran: the triumph of its bazaar economy was clearly, right from the start, the main result of the 'Khomeini revolution'. This same articulation of Islamic power and the bazaar market economy has devastated Somalia, which has now disappeared from the map of existing nations (Amin 2011b). 
The strategy of contemporary imperialism for the region (the 'great Middle East') does not aim at all at establishing some form of democracy. It aims at destroying the countries and societies through the support of so-called Islamic regimes which guarantee the continuation of a 'lumpen development' (to use the words of my late friend A.G. Frank), that is, a process of continuous pauperisation. Eventual 'high rates of growth', praised by the World Bank, are meaningless, being based on the plunder of natural resources, associated with fast-growing inequality in the distribution of income and pauperisation for the majorities.
Iraq provides the model for the region. The dictatorship of Saddam Hussein has been replaced by no less than three (perhaps more) terror regimes, in the name of religion (Sunni and Shia) and of ethnicity (the Kurds), which are associated with the systematic destruction of the infrastructures and industries and the planned assassination of tens of thousands of the elite citizens, in particular engineers and scientists, as well as the destruction of the education system (which was not bad in the time of Saddam) so that it is reduced to the teaching of religion and business. These are also the aims for Syria.
The next target is Iran, under the pretext of its nuclear development, using to that effect Israel, which is unable to do the job without the active involvement of US forces. Iran, whatever one may think of its regime (associating the rule of Islam and the market economy) does constitute an obstacle to the deployment of US military control over the region, so this country must be destroyed.
The final real target of contemporary imperialism is containment and thereafter the rolling back by pre-emptive war of the most dangerous emerging countries (China first). Add here Russia, which, if it succeeds in modernising its army, can put an end to the exclusive military power of the US.
That implies the total subordination of all other countries of the South with a view to ensuring exclusive access to the natural resources of the whole planet by the societies of the Triad (US, Europe and Japan), their plunder and waste. It implies therefore further lumpen development, further pauperisation and more terrorist regimes. Contemporary capitalism has nothing else to offer.
What, therefore, could happen if this political Islam takes power in Egypt and elsewhere?
We are swamped by reassuring discourses about this, which are incredibly naïve – whether sincere or false. 'It's fate, our societies are impregnated by Islam. This has been ignored and it is now imposing itself ', some say, as if the success of political Islam was not due to the depoliticisation and the social degradation that is deliberately ignored. 'It is not so dangerous; its success is only temporary and the failure of political Islam in power will lead to loss of support among the public.' This is what Washington pretends to believe, as do the opinions fabricated by the dominant media and the cohorts of Arab intellectuals, either through opportunism or lack of lucidity.
No, this is not true. Reactionary political Islam's exercise in power may last, say, 50 years. And while it helps to sink the societies that it subjugates each day into insignificance on the world chessboard, the others will continue their advance. At the end of this sad 'transition' these countries will find themselves at the bottom in the world classification.
The question of democratic politicisation is, in the Arab world as elsewhere, the central theme of the challenge. Our era is not one of democratic advances but, on the contrary, of regression in this field. The extreme concentration in the capital of the generalised monopolies permits, indeed demands, the unconditional and total submission of political power to its orders. The accentuation of presidential powers seems to be highly individualised but in fact it is integrally subordinated to servicing the financial plutocracy. This is the form taken by the drift that is annihilating the defunct bourgeois democracy (which was once reinforced by the conquests of the workers), replacing it by a democratic farce.
In the peripheries, the embryos of democracy, where they exist, go hand in hand with a social regression that is still more violent than in the centres of the system and they are thus losing their credibility. The retreat of democracy is synonymous with depoliticisation. Democracy implies the arrival on the scene of citizens capable of formulating alternative projects for society and not just envisaging alternance (alternation, with no change) through meaningless elections. As citizens who have creative imagination have disappeared, they are being replaced by depoliticised individuals who are passive spectators of the political scene, consumers modelled by the system, who (wrongly) believe that they are free individuals.
Progress towards the democratisation of societies and the repoliticisation of the peoples are indissoluble. But how to start? The movement can begin from one or the other of these two poles. Nothing can substitute the detailed analysis of actual situations, in Algeria and in Egypt, as in Greece, China, Congo, Bolivia, France or Germany. If there are no visible advances in this direction, the world will be caught up (as already it shows signs of doing) in the chaos caused by the implosion of the system. In that case, the worst is to be feared.
Call for Reviews
If you would like to review the book for the Arab Studies Journal and Jadaliyya, please email info@jadaliyya.com