[This article is part of "An Interdisciplinary Roundtable on Climate." Read the other contributions to the roundtable here.]
A recent article in the New Republic titled "Climate Change is Going to Hit Palestine Particularly Hard" [1] rehearses a cluster of arguments that are familiar to scholars and activists working on climate change in Palestine. These arguments are that Palestinians are and will be more vulnerable to climate change because they are also subject to Israeli occupation; and that Palestinians will suffer more under Israeli occupation than they might under normal circumstances because they are vulnerable to climate change. [2]  
This is a powerful argument. It calls attention to less obvious ways in which occupation damages Palestinian lives and futures. The argument encourages us to think about how Palestinians are vulnerable not only because they are subjects of occupation, but also because they are exposed to challenges like drought and floods. In other words, Palestinians' sources of suffering are multiple. They are also interconnected. The New Republic author's argument simultaneously calls attention to the ways in which, in Israel/Palestine as in the rest of the world, climate change impacts communities unevenly. That unevenness throws into question the universality of what less critical approaches to the Anthropocene tend to think of as a global phenomenon. 
Both of these points are important to make. Yet I find myself uncomfortable with leaving the conversation there. One source of discomfort derives from what I think of as dangerous commensurations that take place when the environment and Palestine are thought about together, including when it comes to climate change. By commensuration, I mean processes of rendering two ontologically incomparable entities interchangeable, and therefore equivalent to one another. This piece describes two commensurations I have observed as part of my long-term fieldwork on waste and environmental issues in Palestine, and why I think they are dangerous. One is the commensuration of Israel and Palestine. I discuss this commensuration in my recent book, Waste Siege: The Life of Infrastructure in Palestine (2019) [3], which focuses on the politics and everyday experiences of waste in the West Bank. The other is the commensuration of climate change-related environmental challenges, on the one hand, and occupation, on the other. I learned about this second commensuration while researching for a recent article on Palestinian Authority climate change adaptation strategies. [4]
Commensuration Number One: An Environment "Blind" to Politics

The first commensuration I want to discuss came up repeatedly during my fieldwork wherever Palestinians were trying to secure permission, support, or funding for a waste-related project from Israel or international aid agencies. The commensuration was embedded in the discourse describing Israel and the territories it occupies as a single, "shared environment." My interlocutors in the West Bank were compelled to perform their care and consideration for the shared environment—for example in speech and in the kinds of infrastructures they applied for permissions (from Israel) and support (from donors) to build. Performing care for the "shared environment" was a technique for bringing their projects to fruition because this performance of care was held to be a moral good by the people upon whom Palestinians relied to build infrastructures to protect ecosystems and public health alike.  
The idea of a shared environment was put forth in the 1990s and promulgated by supporters of the Oslo arrangement, which has quite obviously been unfavorable to the Palestinians. In other words, the idea was politically positioned in support of the Oslo configuration of political authority and territory that gave Palestinians very little control over their lives and spaces, while also creating the appearance of a new, standalone Palestinian government. The idea of the shared environment has enjoyed its greatest support among people who do not see Israel as a settler colonial state, and who think it is right and necessary for Israel to continue its occupation and control over Palestinians, including with regard to how they interact with their physical environments. Yet, despite being positioned firmly in a specific ideological camp, the idea of a shared environment continues to be as powerful nearly three decades on precisely by masking its positionality. It has come to appear, as the environment has elsewhere: as an abstract, universal, and most of all politically and nationally unmarked object. (For other regional examples of how contingent and interested processes come to appear universal and abstract, see for example Mitchell 2002 [5]). 
The most powerful evidence of this concept's hegemony was that, among my interlocutors, supporting the shared environment made speaking in terms of settler colonialism taboo. Good environmentalists didn't think about "history." They thought about (and like) the land—or environment—itself, as if those could be divorced from human interference into, and perception of, them.
As I argue in my book, this idea of a shared environment falsely commensurates Israel and what people tend to call "Palestine," where what they really mean is the government (the Palestinian Authority) in its only partial jurisdiction over roughly thirty percent of the West Bank. [6] The two entities—Israel and the Palestinian Authority—are framed as "countries" that "share" a single environment that is vulnerable to pollution by both, that deserves protection from both, and that is "blind" to who protects or does damage to it. The environment's "blindness" makes it apolitical and makes prioritizing it a moral good. 
This is a version of the argument that Dipesh Chakrabarty and many others in the humanities and social sciences have made: that the most useful unit for attributing accountability for climate change is humanity as a whole. [7] Humanity as its own coherent unit becomes the custodian of its material mirror and support: the environment, which in turn is its own coherent, and ontologically distinct, unit. Both humanity and the environment are understood to be above the political fray. They are understood to lack inherent hierarchies and conflict. Andrew Barry defines politics as the opening up of what he calls the "space of disagreement." [8]  The environment and humanity are understood as vulnerable to politics in these terms. People who live politically—opening up spaces of disagreement—vis-à-vis the environment are subject to judgment for not suspending disagreement in order to prioritize custodianship over the environment. Paradoxically, the shared environment concept also bolsters the bifurcated understanding of two people sharing one land. In other words, it frames Israelis and Palestinians as identical in their humanity by calling upon them to ignore their differences in the name of the human obligation to protect the environment. But that same framing that diminishes (or even purports to dissolve) the line that distinguishes the one group from the other also judges the moral worth of members of either group for holding onto what gives those differences social and political meaning for them. The shared environment framing thus became a powerful rubric against which my Palestinian interlocutors' moral worth was being gauged.
Let me return for a moment to the article in the New Republic about Palestinians' double and compounded vulnerability—to occupation and, because of occupation, to climate change. My point in highlighting the shared environment concept as it has functioned for occupied Palestinians is to say that thinking of the environment as "blind" to politics unhelpfully commensurates the powerful Israeli state with an occupied, non-sovereign, interim (now expired!), toothless, and feeble bureaucratic entity and a colonized population. a false equivalency based upon a process of commensuration that is erased, normalized, and moralized at the same time. [9]  When thinking about climate change as a "shared," global phenomenon, we must therefore beware of the capacity of "sharedness" thinking to equalize relations that could not be further from being equal.
Commensuration Number Two: Climate and Occupation

The idea of a shared environment is part of a longer genealogy of thinking about "planetary crisis" . [10] Inspired to understand the effects in Palestine of thinking at the scale of the planet, and specifically at the level of the planetary crisis of climate change, in the late 2010s I conducted research among the planners of the Palestinian Authority's national strategy for adapting to climate change. The strategy was submitted to the United Nations Framework Convention on Climate Change (UNFCCC). It was designed to make the most compelling appeal for funds from international donor bodies to Palestinian infrastructure projects. The projects would ideally help Palestinians cope with the challenges that climate change was going to pose for them and that the New Republic article sought to bring to the attention of English-speaking readers. 
Application for climate-related funding required an assessment of Palestine's risks and vulnerabilities. Risk assessment involves projecting into the future. The UNFCCC's required timeframe for climate planning is roughly ninety years. The timeframe is designed, unsurprisingly, for countries understood to be organized into stable nation-states that can imagine themselves as planning at that timescale. In one century(the UNFCCC's rough timeframe), West Bank Palestinians had seen their territory and destinies change hands four times. It was clear to all planners involved in the PA strategy that predicting the status of Palestinian sovereignty, including Palestine's population size, ninety years from the time of writing, was going to be impossible. But they were committed to participating in this international exercise, which among other things promised to be a fruitful channel for funding Palestinian development. So the planners proceeded with analysis that would present the least risk to their prospective funders because it was the most likely scenario: that the occupation was likely to still be the structuring condition of Palestinian life ninety years from that time. The planners' decision to treat the occupation as a "constant" in risk assessment led to another politically dangerous commensuration.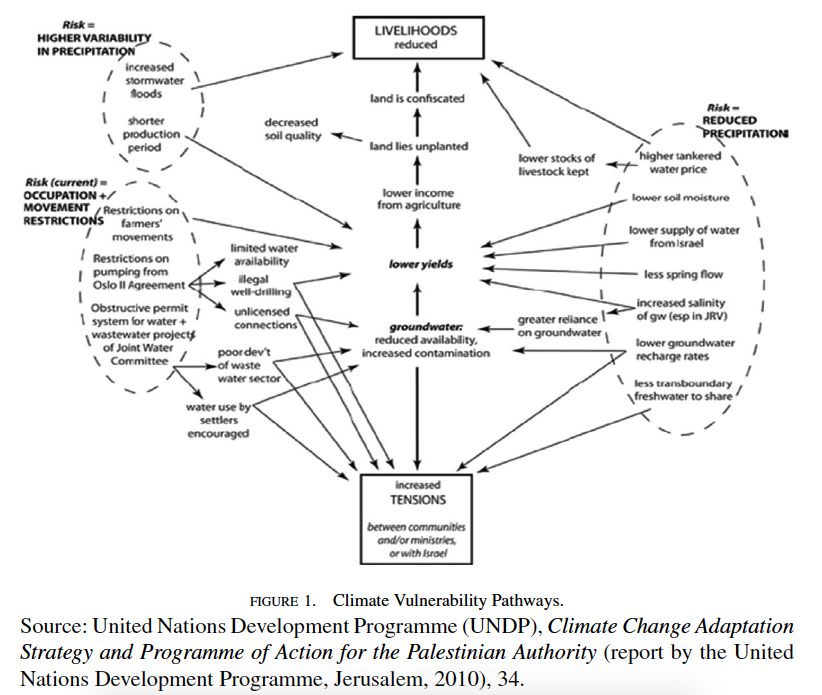 The diagram above appeared in the PA's strategic plan. It is a model based on vulnerability (to livelihoods)—at the top—and "tensions" (among Palestinians or between them and Israel)—at the bottom. The ovals contain the "risk factors" that are understood to lead to negative outcomes for livelihoods and tensions. Two of the ovals—reduced precipitation and higher variability in precipitation—originate from climate change. The third—occupation—is Israeli-made. Rain and occupation are represented in such a way as to lead the reader to understand that the two phenomena make each other's effects worse, as the author of the recent New Republic article suggested. This type of argument can have the effect of alerting readers to the ways in which Palestinians are unevenly impacted by climate change because of their occupation. It alerts readers to a political fact in that it raises questions about who is accountable for that uneven vulnerability.
Yet thinking in terms of risks and vulnerabilities in the strategy had another effect. It rendered the occupation and climate change commensurate. From the perspective of livelihoods and tensions, occupation became equivalent to the rain. Viewing climate and occupation together through a risk framing is ultimately depoliticizing, much like the shared environment framing that continues to have a grip on environment-related infrastructure planning and other programming for Palestinians in the West Bank. 
A risk framing makes it hard to say that one source of risk is in some fundamental sense more acutely and morally wrong, for example, which I believe it is our duty to say. Climate change is anthropogenic, there is no question. But I am arguing for a nuancing of different forms of accountability such that depriving people of their sovereignty can be understood as a different category of wrong from producing emissions that change people's climatic conditions. I say this because commensuration of the two causes of harm diffuses accountability into the ether of the Anthropocene—a term that many have compellingly argued can have its own depoliticizing effects. Commensurate  makes the causes of various forms of risk so broad and amorphous that problems of (continuing) historical injustice are permitted to recede out of political consciousness and mobilization. Commensuration opens up space for the replacement of attention to righting historical wrongs by hopes for technical solutions—what Gökçe Günel (2019) calls "technical fixes"—to climate change, for example. This runs the risk of leaving both the conditions that led to the change, and to the historical injustice, largely unchanged. [11]
Conclusion

I would like to conclude by laying bare some of the assumptions I see embedded in my own analysis of how some have been thinking about the relationship between Palestine and climate change. I do so because my hope is that this essay, and this roundtable more broadly, will be generative for anyone concerned with the future of justice for the Palestinians and with justice for our planet as a whole. 
I think that I am right to worry about the commensurations that take place when environmental issues, including climate change, are thought about alongside Palestine, for the reasons I have briefly outlined above. But I will close by admitting that my critique of commensurations is based upon a commitment to the goal of liberation for Palestinians—and for all those who are oppressed—based, in this case, on an idea of national belonging. By this I mean that it is based on thinking of Palestinians as a national unit first, and on thinking of Palestinians as a part of humanity on a shared planet, second. To stagger a view of a Palestinians, or anyone, in that order is a dangerous move, not least because it can take the "human" out of the "Palestinian" for anyone inclined to discriminate against this national group. My worry about commensuration is also based on a commitment to a certain order of events that begins with liberation and justice for Palestinians and then takes on climate issues as a second order of concern. 
To expose these assumptions is not to try to uphold them. Rather, it is to try to interrogate the spatial scales and temporalities that underlie my own political commitments and analytical proclivities. It is also to encourage anyone trying to think about the Middle East and other places where non-sovereignty, military occupation, and violence are everyday and enduring phenomena, to lay bare their own assumptions while working toward the most just and accurate approach possible to pairing analyses of climate and longstanding inequalities. The climate and other environmental issues facing Palestine are too great, and too clearly already having negative effects, for us to abide by thinking in that order of events. I hope that with this piece, and with this roundtable, I can contribute to issuing a call for us to collectively find ways to think more about what a liberatory, and yet non-commensurating, way of thinking about climate change in Palestine and in other places of unfreedom could look like.
___________________________________
References
[1] Eric Margolis, "Climate Change is Going to Hit Palestine Particularly Hard," New Republic, 3 (June 2020), https://newrepublic.com/article/157914/climate-change-going-hit-palestine-particularly-hard.
[2] Michael Mason, Mark Zeitoun, and Ziad Mimi, "Compounding Vulnerability: Impacts of Climate Change on Palestinians in Gaza and the West Bank," Journal of Palestine Studies 41, no. 3 (2012): 38–53.
[3] Sophia Stamatopoulou-Robbins, Waste Siege: The Life of Infrastructure in Palestine (Stanford, CA: Stanford University Press, 2019).
[4] Sophia Stamatopoulou-Robbins, "An Uncertain Climate in Risky Times: How Occupation Became Like the Rain in Post-Oslo Palestine," International Journal of Middle East Studies 50, no. 3 (2018): 383–404.
[5] Timothy Mitchell Rule of Experts: Egypt, Techno-Politics, Modernity (Berkeley, CA: University of California Press, 2002).
[6] Research I conducted on the dominant form that environmentalist discourse takes at the level of the Israeli government, of foreign donors to Palestinian projects, and of popular support for both, revealed that the Israeli state and "Palestine" are usually rendered equivalent—ontologically comparable. See Stamatopoulou-Robbins, Waste Siege, 172–206. 
[7] Dipesh Chakrabarty, "Postcolonial Studies and the Challenge of Climate Change," New Literary History 43, no. 1 (2012): 1–18.
[8] Andrew Barry, "The Anti-Political Economy." Economy and Society 31, no. 2 (2002): 268–284.
[9] For a similar process of erasing, normalizing, and moralizing of the occupation, see also: Neve Gordon, Israel's Occupation (Berkeley, CA: University of California Press, 2008), 7.
[10] Joseph Masco, "Bad Weather: On Planetary Crisis." Social Studies of Science 40, no. 1 (2010): 7–40. 
[11] Gökçe Günel, Spaceship in the Desert: Energy, Climate Change, and Urban Design in Abu Dhabi (Durham, NC: Duke University Press, 2019).