Global Carceral States: Violence, Transgressions, and Technologies of Imprisonment

Sponsored by the Orfalea Center for Global and International Studies at the University of California – Santa Barbara (UCSB), USA, and Muwatin Institute for Democracy and Human Rights at Birzeit University, Palestine.
(28 – 30 May 2021, to be held online) 

Please use this Zoom link to register for the conference, or visit the Orfalea Center for Global and International Studies YouTube page and Muwatin Institute for Democracy and Human Rights YouTube page for the live stream.  
Imprisonment has long been a central tactic for managing and confining members of populations deemed to be risky, hostile, or superfluous. Today, we are witnessing the expanding reach of carcerality with effects extending beyond prison walls. Our conference is an invitation to reflect upon this current globalized carceral reality, including imprisonment as a tactic of control, subjugation and dispossession; and on ways in which carcerality might be countered. 
The three-day conference features presentations by scholars and activists to contribute to our collective understanding of themes intrinsic to global experiences of imprisonment, and the ways in which people attempt to counter the violence inflicted upon them in confined and surveilled spaces. The keynote addresses and panels will touch upon ways in which the management and control of imprisoned populations are enacted; on varying modes of violence and torture; on prisons' intersections with regimes of race, gender and sexuality; on the effects of imprisonment; and on creative responses to, and from, captivity. This engagement with global experiences of imprisonment and violence that are often kept in the dark might bring us closer to imagining a more just world. All presentations will be translated into English, Arabic, and Spanish. 
Day One: Friday, 28 May 2021 

8.30 PDT/ 15.30 GMT/ 18.30 Jerusalem: Introductory Statements 
9.00 PDT/ 16.00 GMT/ 19.00 Jerusalem - Keynote Address by Mohamedou Ould Salahi
Guantanamo Inside and Out: One Man's Tale of Violence, Survival, and the Redemptive Power of Writing. 
10.00 PDT/ 17.00 GMT/ 20.00 Jerusalem - Discursive Resistance: Writing Across Bars
Claudia Alarcon: Literary Topographies of Subjectivities in Resistance: A Lens into the Destigmatization of Criminality 
Doran Larson: Prison Witness, Prison Resistance: Working with the American Prison Writing Archive
Widad al-Barghouthi: My Story with Prison Literature
Mohsen Abd al-Mohsen: Time as Contradictory Accumulations 


11.30 PDT/ 18.30 GMT/ 21.30 Jerusalem – Global Prison Industrial Complexes 
Bruce Stanely: Fortified Urban Carcerality: Assembling a Middle East Carceral Armature
Shalaka Thakur and Maitreyee Avachat: UAPA: Dissent, Criminality and Consent in Contemporary India
Maya Wind: Colonial Entanglements: American Policing and Israeli Expertise
Nalya Rodriguez: The Race Against Crime: Public Opinion of Crime Prevention in Honduras, Guatemala, El-Salvador and Mexico Between 2012 - 2016


Day 2: Saturday, 29 May 2021

9.00 PDT/ 16.00 GMT/ 19.00 Jerusalem - Keynote Address by Aida Seif el-Dawla
Prisons in Egypt: Punishment and Ongoing Violations  
10.00 PDT/ 17.00 GMT/ 20.00 Jerusalem – Postcolonial States & Colonial Carceral Legacies 
Martino Miceli: Imprisoning Youth: Penal Institutions in the Making of a Kanak Underclass 
Kellie Moss & Kristy Warren: Resisting Carceral Confinement in Guyana: Legacies of a Colonial State
Jaber Baker: The Syrian Gulag: Syrian Prison History 1970 – 2020
Walid Daka: Control Through Time  


11.30 PDT/ 18.30 GMT/ 21.30 Jerusalem – Carceral Management and Confrontation 
Lucia Bracco, Ana Sofia Carranza, Adriana Hildenbrand & Valeria Lindley: Resisting COVID-19 and Centering the Voice of Inmates: An Analysis of Letters Written by Imprisoned Women in Lima, Peru
Gurgen Tadevosyvan & Lillian Avedian: Prisoners of War: Dehumanization & Resistance in the 2020 Nagorno-Karabach Conflict
Carla Vargas: The Multiple Prisons: Reflections of Imprisonment 
Perla Arianna Allegri: Electronic Monitoring: From Mass Incarceration to Mass E-carceration 


Day 3: Sunday, 30 May 2021

9.00 PDT/ 16.00 GMT/ 19.00 Jerusalem - Keynote Address Corina Giacomello
Women Children and Prison: The Gender Dimensions of Incarceration in Latin America  
10.00 PDT/ 17.00 GMT/ 20.00 Jerusalem – Afterlives of Incarceration 
Sophie Lachapelle: Feeling Risky? The Subjugation of Emotional Knowledge and the Affective Violence of 'Risk' in the Lives of Formerly Incarcerated People in Kingston, Ontario, Canada
Stéphanie Latte Abdallah: An Endless Prison Web: Post-Mortem Detentions in Palestine
Hassan Fatafta: The Psychological and Social Impacts of a Father's Imprisonmnet on His Children 


11.15 PDT/ 18.15 GMT/ 21.15 Jerusalem – Race, Gender and Sexuality. 
Carol Fadda: Gendered State Surveillance, Detention, and Incarceration in Relational and Transnational Frameworks
Alicia Alonso: The Disciplinary Regime in Women's Prisons as a Patriarchal Device of Oppression
Chloé Constant: Postcarceral Precarity: a Critique of Social Reintegration Based on the Experiences of Trans Women in Mexico City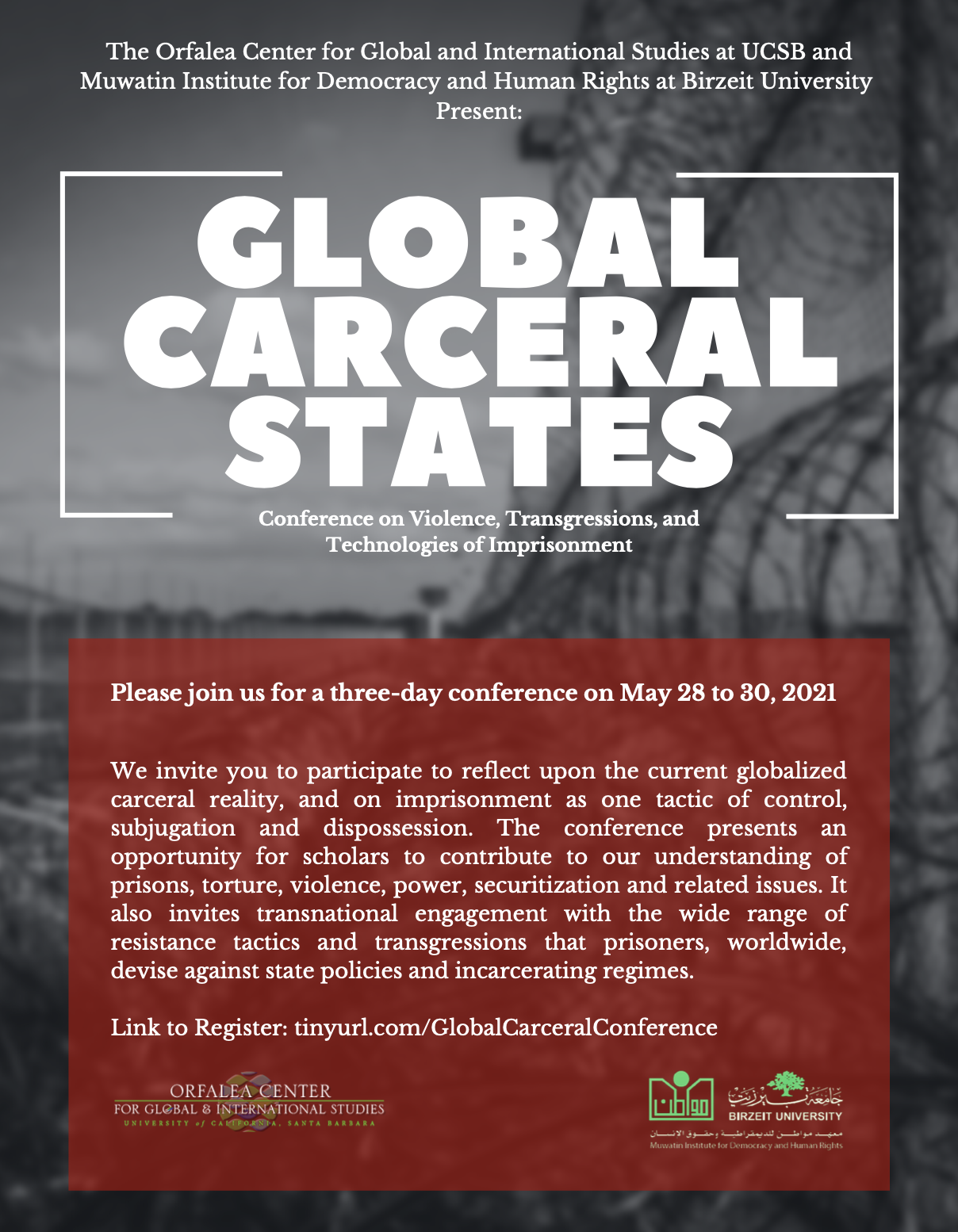 [Click image to download program.]