Ongoing Nakba
Reflections on Palestine from Sheikh Jarrah to Gaza

Wednesday, 19 May 2021
12:00 PM CDT

Presented by 3CT, the Global Studies Program, the Pozen Family Center for Human Rights, the Center for Middle Eastern Studies, and the Arab Studies Institute.
The ongoing attempts to expel Palestinians from their homes in Sheikh Jarrah are not new, but they have brought fresh attention to the movement for Palestinian liberation worldwide and triggered mobilizations across Palestine unlike anything that has been seen in recent years. New and amplified mobilization across Palestine has created a variegated landscape of resistance connecting Palestinians on either side of the Green Line, in Gaza, and in exile, along with massive crowds of supporters and a surprising cast of liberal journalists and politicians.
Join us as we bring together panelists to discuss the latest developments and various mobilizations across Palestine.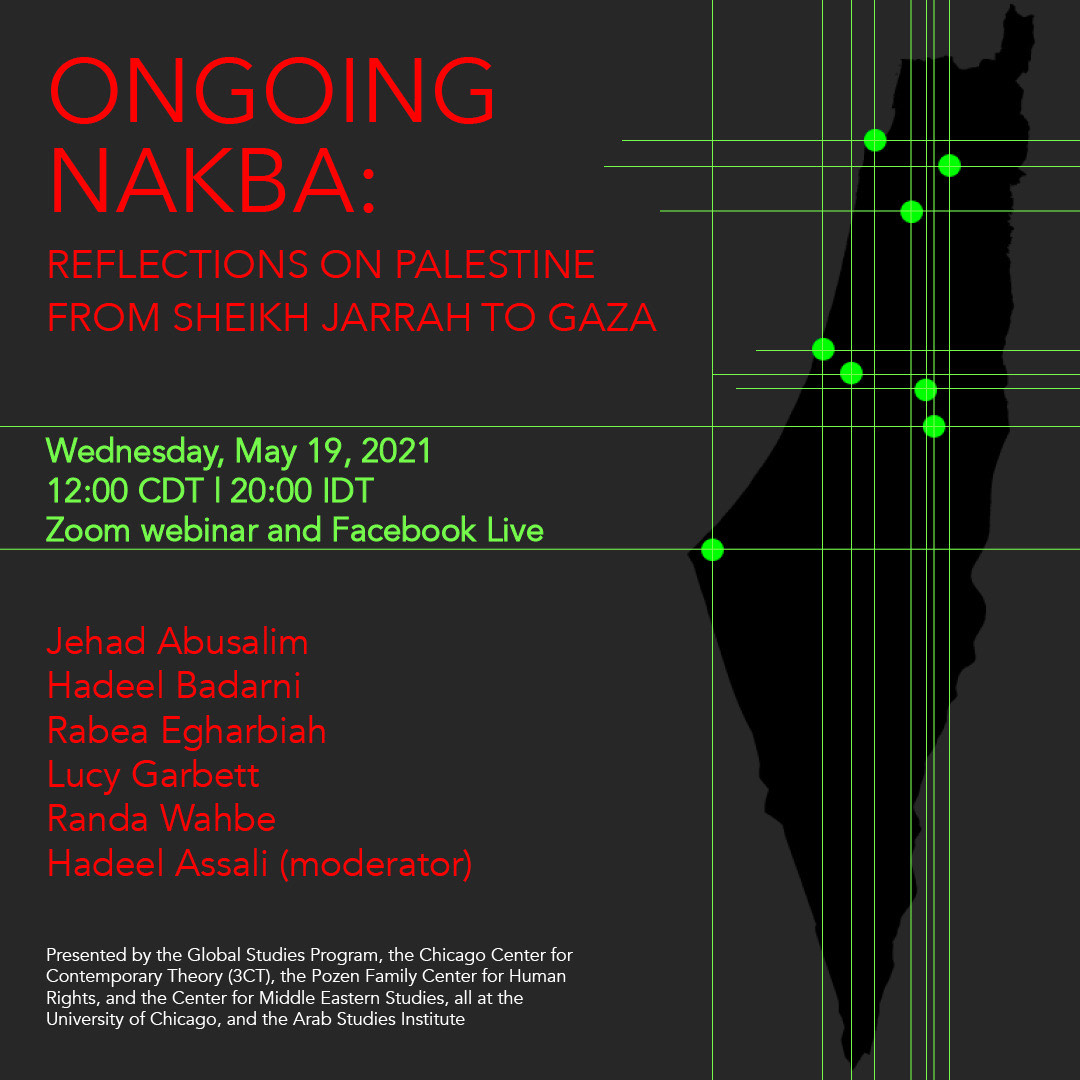 Panelists

Jehad Abusalim is a PhD candidate in the History and Hebrew and Judaic Studies joint program at New York University. His main area of research is Palestinian and Arab perceptions of the Zionist project and the Jewish question before 1948. An accomplished speaker and writer, Jehad combines his passion for history with his commitment to activism and policy change work. Jehad's family continues to live in Gaza.
Hadeel Badarni is a PhD student in the department of Anthropology at the University of Chicago. She holds a Law degree in Israeli law (Hebrew University of Jerusalem) and an LLM in International Law (Georgetown University). Her research work explores technoscientific entanglements within agricultural economies and productions of high-tech ecologies in Israel/Palestine.
Rabea Eghbariah is a doctoral candidate at Harvard Law School and a human rights attorney at Adalah, the Legal Center for Arab and Minority Rights in Israel.
Lucy Garbett is a researcher at the London School of Economics and Social Science based in Jerusalem. 
Randa Wahbe is the advocacy officer at Addameer Prisoner Support and Human Rights Association. 
Hadeel Assali (Moderator) is a former chemical engineer with nearly ten years of experience working in the petroleum industry. She left the corporate world to pursue graduate studies in anthropology with a particular interest in the science of the underground (Geology) and its relation to power. Her PhD research combines this interest with her interests in the legacies of colonialism in Southern Palestine, which includes Gaza, the Naqab and Sinai. Hadeel is also a filmmaker working on her first feature-length documentary.