Nakba Today
A Conversation with Sherene Seikaly, Bashir Abu-Manneh, and Nadia Abu El-Haj

Monday, 24 May 2021
1:00 PM New York | 8:00 PM Palestine 
Join the Columbia University Center for Palestine Studies for a conversation with Jadaliyya co-editor Sherene Seikaly (University of California Santa Barbara), Bashir Abu-Manneh (University of Kent) and Nadia Abu El-Haj (Columbia University) about recent events in the ongoing Nakba.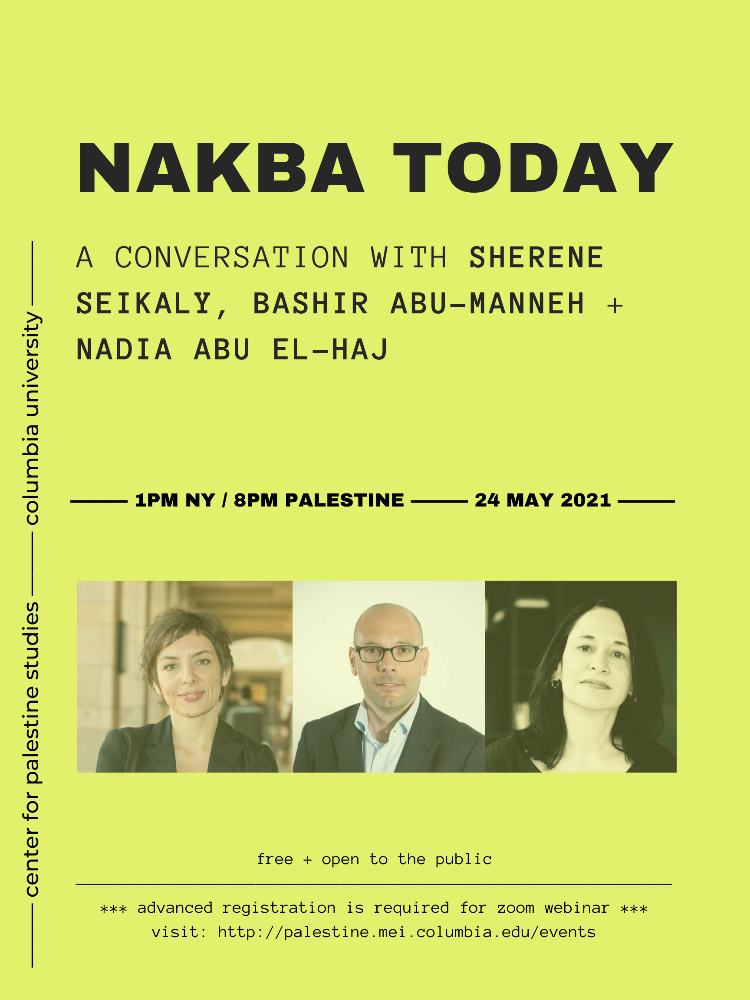 Panelists

Sherene Seikaly is Associate Professor of History at the University of California, Santa Barbara. She is the editor of the Arab Studies Journal, co-founder and co-editor of Jadaliyya e-zine, an editor of Journal of Palestine Studies, a policy member of Al-Shabaka, the Palestinian Policy Network, and an advisory member of R-Shief Online Archive Project. Seikaly's Men of Capital: Scarcity and Economy in Mandate Palestine (Stanford University Press, 2016) explores how Palestinian capitalists and British colonial officials used economy to shape territory, nationalism, the home, and the body. She has published in academic journals such as International Journal of Middle East Studies and Journal of Middle East Women's Studies as well as in online venues including Jadaliyya, Mada Masr, and 7iber.
Bashir Abu-Manneh is visiting assistant professor in comparative literature at Brown University. He is author of Fiction of the New Statesman, 1913– 1939 (2011) and is completing a monograph on the Palestinian novel. 
Nadia Abu El-Haj is Professor in the Departments of Anthropology at Barnard College and Columbia University, and Codirector of the Center for Palestine Studies at Columbia. The recipient of numerous awards, including from the Social Science Research Council, the Wenner Gren Foundation, the MacArthur Foundation, the Harvard Academy for Area and International Studies, the Institute for Advanced Study at Princeton, and the Harry Frank Guggenheim Foundation, she is the author of numerous journal articles published on topics ranging from the history of archaeology in Palestine to the question of race and genomics today. Abu El-Haj has published two books: Facts on the Ground: Archaeological Practice and Territorial Self-Fashioning in Israeli Society (2001), which won the Albert Hourani Annual Book Award from the Middle East Studies Association in 2002, and The Genealogical Science: The Search for Jewish Origins and the Politics of Epistemology (2012). While Abu El-Haj's two books to date have focused on historical sciences (archaeology, and genetic history), her third book, tentatively titled Soldier Trauma, The Obligations of Citizenship, and the Forever Wars (Verso, forthcoming) examines the field of (military) psychiatry, and explores the complex ethical and political implications of shifting psychiatric and public understandings of the trauma of American soldiers.