[On 26 March 2021 the Centers for Middle East Studies at Harvard University and the University of California, Santa Barbara, as part of the yearlong collaborative project "Ten Years On: Mass Protests and Uprisings in the Arab World," held a roundtable titled "Archives, Revolution, and Historical Thinking." The persistence of demands for popular sovereignty throughout the Middle East and North Africa in the past decade, even in the face of re-entrenched authoritarianism, imperial intervention, and civil strife is a critical chapter in regional and global history. The following is one of several written contributions elaborating on the discussion and addressing the relationship between archives, historical thinking, and revolution—both past and present. Click here to read the remaining contributions to this roundtable.]
Sitting in Beirut, amidst the wreckage of economic and financial collapse, the repercussions of the August 4, 2020 explosion, and a healthcare system that has—along with other sectors—succumbed to these forces and to the ongoing pandemic, I wonder how the countrywide uprising that began in October 2019 will be archived. How will this uprising that gave so many people in Lebanon long-lost, if tempered, hope be remembered? How will it be remembered in the wake of the rolling catastrophes that have no doubt fueled it but that nonetheless continue to interrupt, puncture, and eat at it? 
It was this very question of remembering that moved Bassam Haddad, Ziad Abu-Rish, and I to put together The Dawn of the Arab Uprisings: End of An Old Order? in late 2011.[1] This collection of Jadaliyya articles, written in the first few months of the 2011 Arab Uprisings, sought to memorialize that early phase, filled as it was with hope and endless possibility. Far from envisioning an end to the status quo, as the question mark in the subtitle indicates, we sought to archive this hopeful phase. It was obvious, even a few weeks into the uprisings, that the moment of hope was ephemeral and soon to be eclipsed by darker days. Too often, the scholarship on revolutions glosses over sentiments and visions that inspired people on the ground. Instead of understanding the latter's place in political and social history, scholarship has primarily centered ideology and well-rehearsed arguments on why revolutions, especially in the Middle East, "fail." That most world revolutions, ultimately, fail to capture the state and yet profoundly impact society, politics, and economics escapes the attention of these scholars, who continue to exceptionalize the Middle East. As result, we know little about what gave people the strength to take to the streets, how they endured against great odds, and the multiple futures they aspired to and fought for. 
The horizon seemed infinite in the opening months of 2011, before counterrevolutionary forces consolidated. I was in Riyadh at the time, and this sense of possibility was palpable everywhere, behind closed doors but also in cafes and on the streets. Traffic came to a standstill as young and old—mostly but not only men—walked out of their cars, chanting and dancing to the news of Egyptians toppling Hosni Mubarak on February 11. These acts of solidarity were expressions of hope for a different Saudi Arabia. I remember the early days well, as I imagine many who lived, wrote about, or closely followed these events still do. But I know from my students, who were too young then, that the emotions, dreams, and aspirations that sustained the first few months of the uprisings have not been adequately preserved. The various regimes have since then suppressed, confiscated, or destroyed the few physical and digital repositories that archived peoples dreams and actions. Archives, and their absence, are only part of the story. For many, the early, short-lived hope was eclipsed by realities and memories of pain, loss, and dispossession. Does it matter then if we remember the earlier, more hopeful moments? Or are they nostalgic reclamations that merely serve to romanticize alternative pasts that could have been, no less from a present that seems to be ever worsening?  Do these moments of possibility, of openings, and of hope in fact change how we write about the past and how we understand the alternative futures that people fought for?  
Today, in Beirut, I am haunted by different concerns, questions, and emotions. Instead of hope, I am preoccupied with its absence, with hopelessness and its histories, hopelessness and its multiple futures. I wonder how historians will write about contemporary popular movements in Lebanon. Will they capture the depth and complexities of our struggles, laden as these are with paradoxical and overlapping emotions and allegiances? Will they capture the contradictions, the rage, the surrender, and the disbelief that animate our political imaginaries? Or will they simply laud our resilience and steadfastness, as many before them have done? Does it matter if they do?
As I imagine writing the history of the present, I understand the impossibility of the task. I now better understand the impossibility of the task I set out for myself in the early 2000s, when I began to research popular mobilizations in mid-twentieth century Saudi Arabia.[2] My foray into Saudi Arabia's social history also began from a place of emotion, of loss and mourning. My distant uncle, a fledgling socialist in 1950s Saudi Arabia, hesitantly described to me how he lost his young son to the cause, a price he never imagined his child would have to pay for his own politics and youthful idealism. He retreated, as did many of his comrades, each paying a price for daring to imagine a different future. The grief was too much for my uncle to bear. He envied the more common if still violent fate meted out against many prisoners of conscience in Saudi Arabia, the likes of a family friend who languished in prison for years for his political beliefs and activism. The details of the torture that this friend endured resembled those I heard from several others I interviewed for my research years later. Yet my uncle never really threw his hands up. From the sidelines of political struggle, he immediately began to record and to collect, leaving behind several decades' worth of written materials, photographs, and testimonies on Saudi Arabia's various movements. It was his way of "contributing to memory," he often insisted, offering evidence of his activist days that were fading into view as Saudi state institutions destroyed private libraries, dominated means of knowledge production, and penalized those who transgressed the country's state-sanctioned history. 
These early first-person accounts guided my work on the understudied mid-twentieth century mobilizations in Saudi Arabia.[3] I sought to capture the hopes, dreams, and struggles of ordinary Saudi Arabians in the midst of scholarly and journalistic landscapes dominated by gross generalizations and vulgar stereotypes of the country and its people. Multi-year archival, ethnographic, and oral history research in Saudi Arabia helped me narrate a sociopolitical history subject to state and scholarly erasure. The Saudi weekly al-Adwa' newspaper, published from 1957 until Aramco lobbying shut it down in 1959, was especially informative. It provided invaluable insight into the intellectual and political battles that people waged. From its issues, I gleaned the development and growth of these ideas and practices, as they intensified with the passing of time or moved in progressive or reactionary directions. 
Al-Adwa' was notorious for exposing Aramco's discriminatory practices and for critiquing imperialism and oil capitalism more broadly. Like several other newspapers of its time, it covered a range of topics that helped me better understand the context of these revolutionary times (Figure 1). Al-Adwa' tackled literary criticism, philosophy and morality, slavery and abolition. It covered issues of national economy, industrialization, food equality, self-sufficiency, and social and economic rights. Some writers supported a capitalist system, others did not. The paper regularly published articles and op-eds on different political systems and on the importance of elections. A regular column critiqued municipal corruption and ineptitude, targeting the Jeddah municipality in particular. Scathing critiques of contractors like the Saudi Binladin Group and of urban development adorned al-Adwa's pages.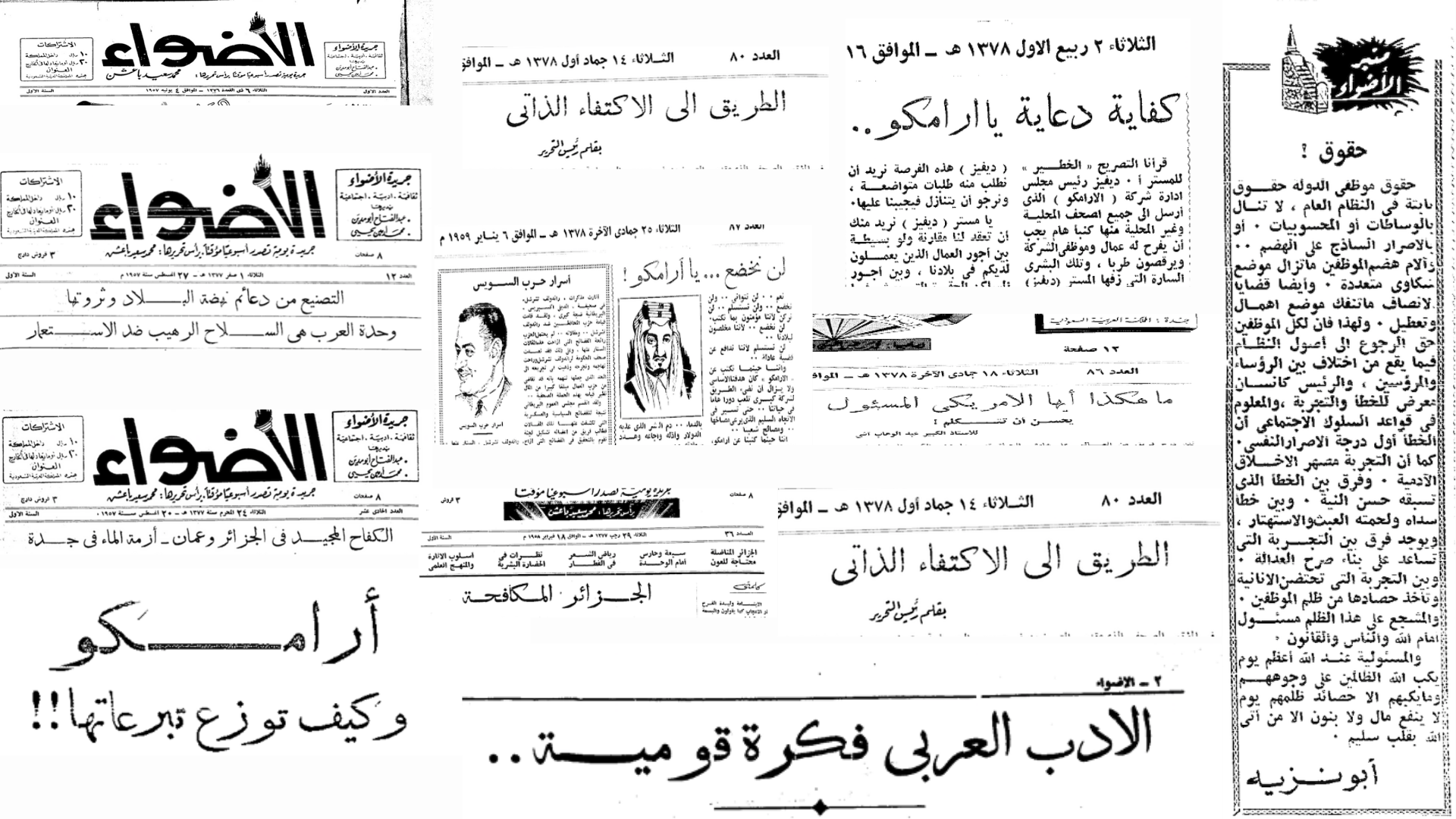 Figure 1. A selection of headlines from al-Adwa' newspaper



In addition to mid-century newspapers, pamphlets and announcements distributed in different Saudi cities—as well as in Beirut and Cairo—located in different archives, further contextualized Saudi Arabians' domestic and exilic mobilizations. They shed light on the shifting and dynamic political currents that people espoused: socialist, communist, Baathist, Arab nationalist, and others. These movements were a "red line," as various Saudi archivist, politicians, and historians insisted to me time and again. They could not be archived. If anything, the materiality as well as any remaining memories of these mobilizations needed to be destroyed. Successive Saudi Arabian regimes spared no effort to accomplish this task. Yet, until I concluded my archival research in 2014, Saudi government and diplomatic records were replete with traces of these movements and struggles. In the end, despite the Saudi regime's concerted, multi-million-dollar efforts to cleanse the archival record, I was able to write about some of these movements using these same archives. 
Archival records alone, however, tell a particular history. To narrate the sociopolitical history that I eventually wrote, I also relied on oral histories and literary texts—novels in particular.[4] These allowed me to better understand the diverse ideological currents that inspired people at the time, how they adapted these ideologies to fit their particular contexts, the collaboration as well as the in-fighting that occurred between and among groups—especially in prison—and the switching from one political group to another, among other things.   
Together, these sources evinced class, sectarian, gender, regional, and ideological differences as well as solidarities. Yet they said little of people's complex emotions and how these shaped their politics. Hope was relatively easy to ascertain through the victories and acts of solidarity that stitched together diverse and multi-sited struggles, Leftist, Arab nationalist, or others. Pain, too, was evident in various photos, oral accounts, and testimonies. The impossibility of language under circumstances of duress and inflicted physical pain complicates the writing of these histories and the analytical work that engages oral accounts.[5] My early research, focused as it was on countering dehumanizing accounts of Saudi Arabians, did not capture people's anxieties and uncertainties, or their hesitation, bitterness, and hopelessness. Surely, the people I write about in the 1950s and 1960s experienced these overlapping emotions, as we do in Lebanon today. Surely their fears, anxieties, fatigue, and hopelessness in the face of authoritarian and imperial counterrevolution equally shaped their political praxis and imaginaries. Perhaps it was these emotions, and not simply their ideological stances, that further radicalized some or alienated others like my uncle. What of those in between? What of actors on the ground who chose reform from within as a result? What of their parents, siblings, children, and lovers, how did witnessing such political praxis and the hopelessness it engendered shape their own experiences and political beliefs?
In attending to hope as well as hopelessness as categories of analysis in social history, we can start peeling the layers of complexity that animate our positionality, our politics, and our struggles, both past and present. To go back to the question I started with, how will future historians write about our contemporary uprisings? Will they altogether ignore our hopelessness? Will they judge us for it, the way many scholars continue to judge those who came before us, in places like the Arabian Peninsula, deeming them apolitical subjects, outside of history?[6] Or will they use it as a place from which to understand the complexity of political praxis and of the oppressive political and economic forces that will do anything to maintain the status quo?
---
[1] Bassam Haddad, Rosie Bsheer, and Ziad Abu-Rish, The Dawn of the Arab Uprisings: End of An Old Order? (London: Pluto Press, 2012).
[2] Rosie Bsheer, "A Counter-Revolutionary State: Popular Movements and the Making of Saudi Arabia," Past and Present 238, no.1 (February 1, 2018): 233–77.
[3] Rosie Bsheer, Archive Wars: The Politics of History in Saudi Arabia (Stanford: Stanford University Press, 2020).
[4] Al-Karadib—the third of Turki al-Hamad's trilogy, Atyaf al-Aziqqah al-Mahjoura (Phantoms of the deserted alleys)—was especially pertinent. Al-Karadib [The prison cells ] (Beirut: Dar al-Saqi, 1998). As were the following works: Ghazi A. Algosaibi, Shiqqat al-Hurriyya (An apartment called freedom), 5th edition (Riyadh al-Rayyis li-al-kutub w-al-nashr, 1999); Ali Al-Dumayni, Zaman lil sijn . . . azmina lil hurriyya [A time for prison . . . times for freedom] (Beirut: Dar al-Kunuz, 2004); and Ahmad Adnan, Al-Sajin 32: Ahlam Muhammad Saʿid Tayyib wa hazaʾimoh [Prisoner 32: The dreams of Muhammad Saʿid Tayyib and his defeats]. 2nd ed (Al-Dar al-Baydaʾ, Morocco: al-Markaz al-Thaqafi al-ʿArabi, 2011).
[5] Elaine Scarry, The Body in Pain: The Making and Unmaking of the World (Oxford University Press, 1988).
[6] Bsheer, "A Counter-Revolutionary State."