[The 2021 Independent Iraqi Film Festival (October 1-6) is currently broadcasting films virtually that are free and open to all here.]
The Basra-based director Hussein al-Asadi debuted his short film, She Was Not Alone "لم تكن وحيدة", at the first Independent Iraqi Film Festival in August 2020. His nine-minute film is a subtle portrait of a female protagonist named Fatima, who lives alone with her animals in an undisclosed location in the southeastern Iraqi marshlands. The first scene opens with the call of a rooster at sunrise. Fatima walks across the frame, from left to right, carefully balancing a plastic container of water. (Fig. 1) Behind her, there is a body of still water and islands of reed that stretch across the horizon. As the audience watches her walk to her dwelling, they hear her narrative voice explain that people do not understand what it means to be a woman. She explains that she lives as a man "انا رجل."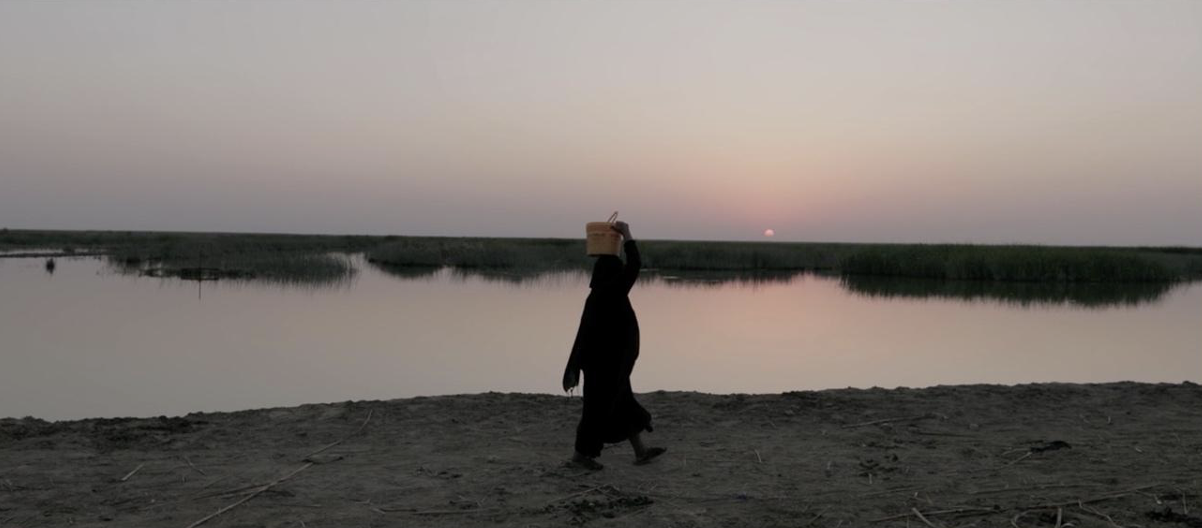 (Fig. 1) A woman walks across the frame, from left to right, carefully balancing a plastic container of water.

Next, the frame shifts to an aerial view of her home. (Fig. 2) In the midst of green wetlands, a small dirt road extends out to a small island. There are a number of water buffaloes, goats, a cat, piles of brick, and a few wooden boats and cars in the scene. Fatima's clothes hang from a clothesline. The largest visible structures are an open-air shed for the animals and a t-shaped earth and reed mat dwelling.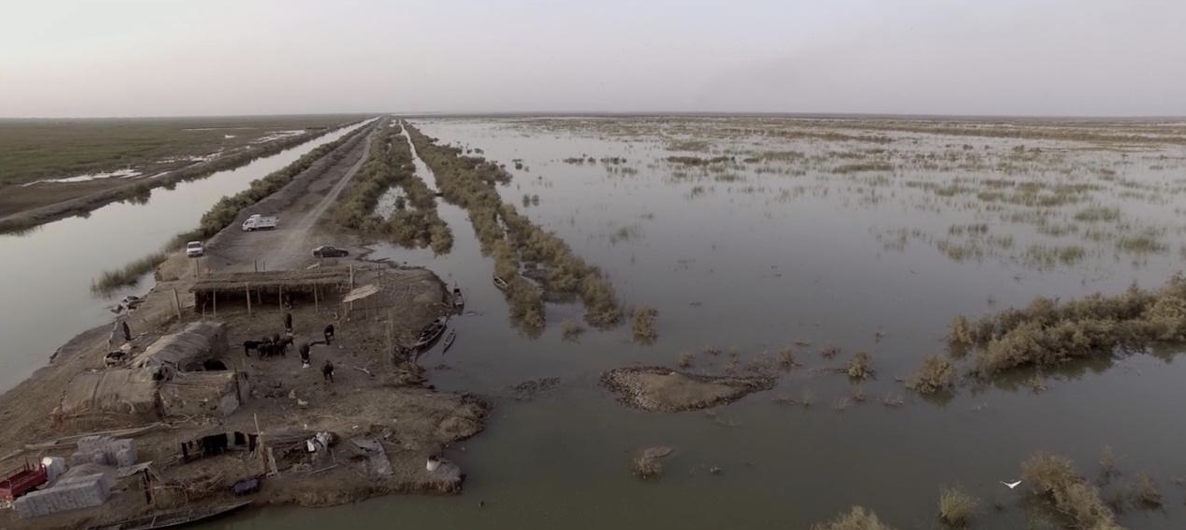 (Fig. 2) Aerial shot of the southeastern Iraqi marshlands.

Her day begins with prayer at 4am, which is followed by giving fodder to the river buffaloes and cows as the sun rises. As the day proceeds, she sometimes milks them if she has the energy, and then sends them to wade in the shallow marsh waters. Every few days, she bakes bread in a tannur (clay oven), rinses dishes, and washes her clothes. The camera lens frequently focuses on her hands and her acts of making as an implicit argument for the productivity of her reproductive labor. However, Fatima is very clear about her limitations and expresses no guilt at taking days of rest or simply not working if she does not feel ready or up for something. Her autonomy affords her the luxury of rest. (Fig. 3)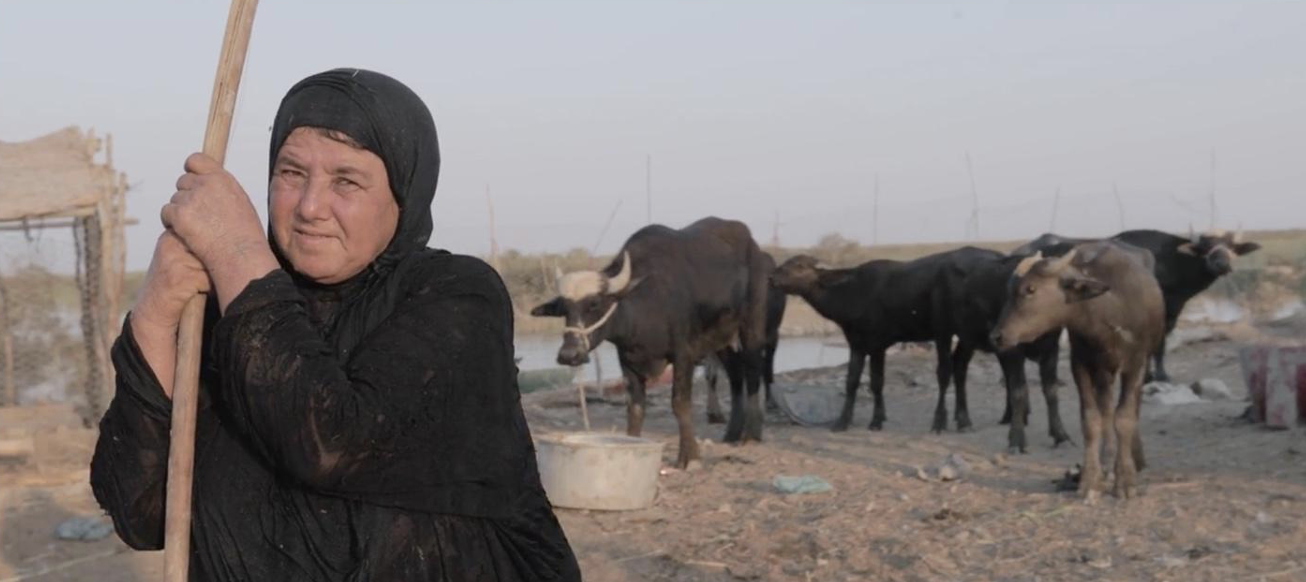 (Fig. 3) A woman tends to river buffaloes.

The quotidian rhythms of Fatima's day are accompanied by a soft, whimsical instrumental soundtrack composed by the Egyptian musician Khaled al-Kamar. In an interview, al-Asadi told me that the soundscape of the film was carefully designed to evoke empathy for the main character, her inner life, and her lifeworld. Fatima was fifty years old when the film was shot. She explains how she spent her life caring and sacrificing for her five brothers and four sisters, who are now grown up, married, and settled with their own families. At the age of forty, when family members continued to pressure her to get married, she simply refused. Instead, she exclaims that she is afraid of no man, nor beast. Rather, her fearlessness is a gift from God, who made her as lonely as the jinn of Shuaib. Fatima has come to accept her loneliness.
However, her life is not without struggle. She has to hire people or recruit volunteers to help build her house, which is fabricated from reed mats, wooden poles, and earth. Her electric motor broke, so she needs to use a stick for pushing or a paddle to propel herself through thickets of reeds in the marshy landscape. There, she harvests some reeds to sell to a local buyer. Despite her struggles, when people encourage her to sell her animals, leave the marshes, or rent a room in the city, she responds that leaving would be akin to death. As someone who has lived her whole life in the marshes, taking her somewhere else would be like taking a fish out of water.
But thousands of people did leave the marshes over the past century, and not always by choice. Many faced and continue to face conditions of deprivation or drought, while others simply prefer to settle in urban centers. Not to mention the thousands of people who were displaced after Saddam Hussein ordered the draining of these wetlands across 15,000 square kilometers in the 1990s. Many former inhabitants never returned after the marshes were incrementally re-flooded at the behest of a number of international aid and environmental agencies following the 2003 US occupation of Iraq. 
Fatima is someone who follows her own sensibilities, however. She seems self-possessed. While it is not clear what her financial circumstances are, she appears to be an autonomous figure who is not beholden to anyone through debt, structures of patriarchy, an imposed segregation from animals, or a culture of consumerism. She just is. And she seems to accept both the hardships and the advantages of this life as a choice she has made in her own best interest. This portrayal greatly varies from mainstream representations of marsh inhabitants, who are either presented as victims who lack agency or as actors frozen in historic time inhabiting an exquisite environmental diorama. 
Al-Asadi's positioning of Fatima, a lone human living amidst countless birds, animals, plants, and insects, diminishes the outsized looming figure of the human with respect to other beings, bringing us down to a more manageable conception of ourselves. At the same time, he does not present the marsh as an exceptional environment. Through the use of an unsaturated color palette that does not seek to virtually enhance the landscape, the filmmaker normalizes the wetlands as a place of habitation, not tourism. In contrast to mid-century neocolonial Iraq Petroleum Company cine-magazine episodes, which used idyllic shots of traditionally dressed people in rural landscapes to represent Iraq's prototypical developmental subjects, and which continue to shape promotional depictions of the marshes, Fatima is not someone seeking to be remade by the state or even her own kin.[1] One of the reasons that al-Asadi wanted to make this film was to counter prejudices among urbanized Iraqis who stereotype marsh inhabitants as primitive and uncivilized without ever having much contact or conversation with them.
The film concludes with a profile of Fatima sitting and tending a fire by the water. Her image slowly fades into a wide-angle aerial shot of the sun setting at dusk. As the camera rises above the marshes, she disappears. But the final frame reminds the viewer that wherever she is, she is not alone. (Fig. 4)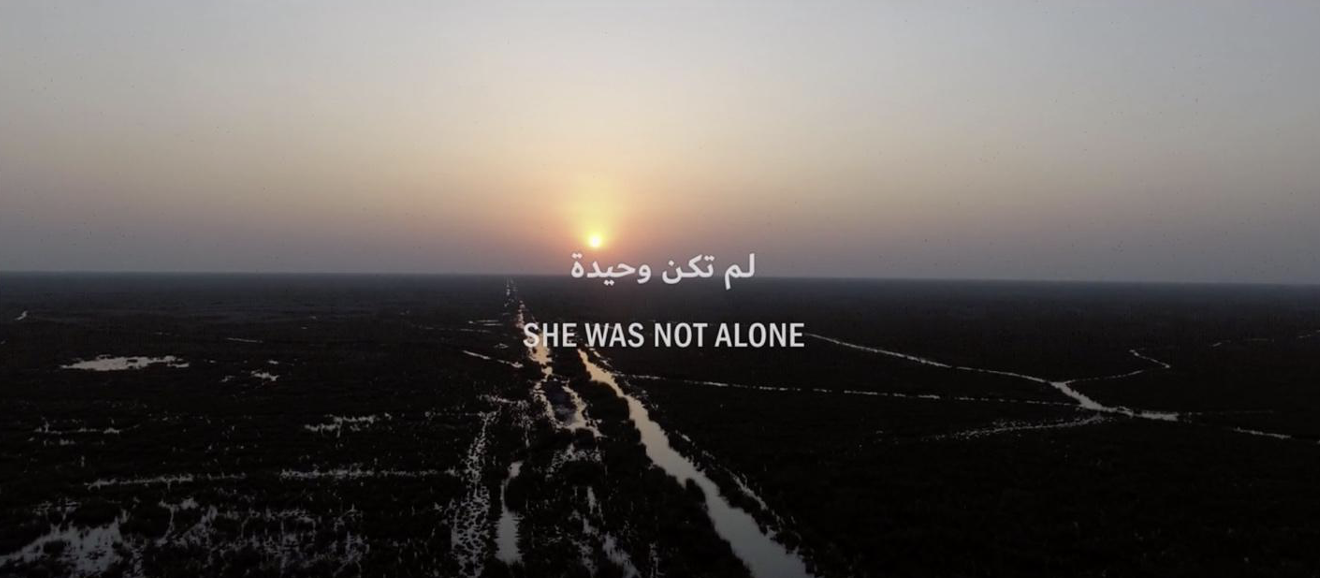 (Fig. 5) Sun setting on the southeastern Iraqi marhslands.

[If you are interested in arranging a viewing of "She Was Not Alone" (2020), please send the filmmaker Hussein al-Asadi a message on Instagram.]
---
[1] Mona Damluji, "Visualizing Iraq: Oil, Cinema, and the Modern City," Urban History 43, no. 4 (2016), accessed October 1, 2016, http://scalar.usc.edu/anvc/urban-sights-visual-culture-and-urban-history/index; Ageless Iraq Reel 1 (1950-1959), Iraq Petroleum Company, Dir. Graham Wallace, 1954, 9:15-9:50, available: https://www.britishpathe.com/video/ageless-iraq-reel-1/query/ageless+iraq.