[This article is part of a dossier on Tankra Tamazight, Amazigh Revival, and Indigeneity in North Africa, edited by Brahim El Guabli. To read other articles in this dossier, read the introduction here.]
The fact that Amazigh is one of the world's most ancient languages has not resulted in the production of significant written literature. As a matter of fact, aside from the existence of a few works transcribed in Arabic characters,[1] notably during the medieval period, Amazigh literature remains an exclusively oral tradition.
The first collection of Amazigh literature dates back to the colonial period. General Hanoteau's 1867 work was not disinterested in the sense that it fulfilled an imperial need at the time,[2] namely to use knowledge as a tool of hegemony.[3] Notwithstanding, this collection has passed down to future generations many poems about colonial shock and Kabyle resistance. As an example, we will cite here some extracts of a poem about the French campaign against Kabylia:
Ɣaḍent-iyi tidma msakit,
n Ccerfa, widen n lɛali.
Ass n lɛid, qbel ad tenqer,
Fkant ɣef leǧri n tikli,
Kecment lɣaba am yilfan,
Nsant yakk deg lexlawi.
[…]
Amalah ! ya Faṭma n Sumer !
Lal mm lemzur d lḥenni !
Isem-is inuda leɛrac,
Yewwi-tt, tɣab ur telli,
Ahat deg Bni Sliman
Sil, ay iẓri, d leḥmali.[4]
I pity the miserable women
The Sharfa, those occupying high ranks
The day of celebrations, before the sunrise,
They began running by foot
And threw themselves in the bushes like boars,
All spent the night in the fields
[...]
Ill-fated Fatma n Soummeur!
The lady with bands and henna!
Her name was known to all tribes,
The enemy abducted her, she disappeared,
Here she is at the Beni-Slimanes,
O my tears, flow like torrents.
It took three decades for a native teacher to collect Kabylia's oral-literary heritage in one place. Si Amar Boulifa completed his collection of Kabylian poems in 1904.[5] This work aims to deconstruct the narrative present in colonial texts, namely in Hanoteau's collection. Si Boulifa tackles the issue in his introduction: "Mr. Hanoteau's collection of poems is an important document and far from us the desire to diminish its high authority. Nonetheless, in the course of our research, and this is a personal opinion that we express in all sincerity, it seemed to us that the poems that he picked and classified have but a relative value. They are for the most part the work of secondary poets…"[6] 
Si Boulifa challenged only the approach of Hanoteau, who focused on "secondary poets," but another teacher, Brahim Zellal went as far as challenging, albeit implicitly, the "literary domination" of the French colonizer. In 1964, Zellal published a collection of fables titled "The Jackal's Novel" [Le Roman du Chacal] in Les Fichiers de Documentation Berbère, a work he began in 1920. Tassadit Yacine writes about him: "He seems to adhere to the values of the learned and conquered culture [...]; but after the "rupture" he made a return to maternal, oral culture, that of childhood… This could refer to a search for identity and to a subconscious rejection of the dominant culture. To use a recognizable title is not entirely innocent and can mean many things, in particular, to claim equality or to question taught values, which, in the context of the time, was heretical."[7] To make herself very clear, Tassadit Yacine continues his argument by writing: "Brahim Zellal refers to Roman de Renart [Renart's Novel] to highlight an equivalency of 'culture' (the Jackal's Novel is worth Renart's Novel is what the author appears to suggest) thereby denouncing the inequality of status that characterizes both cultures."[8]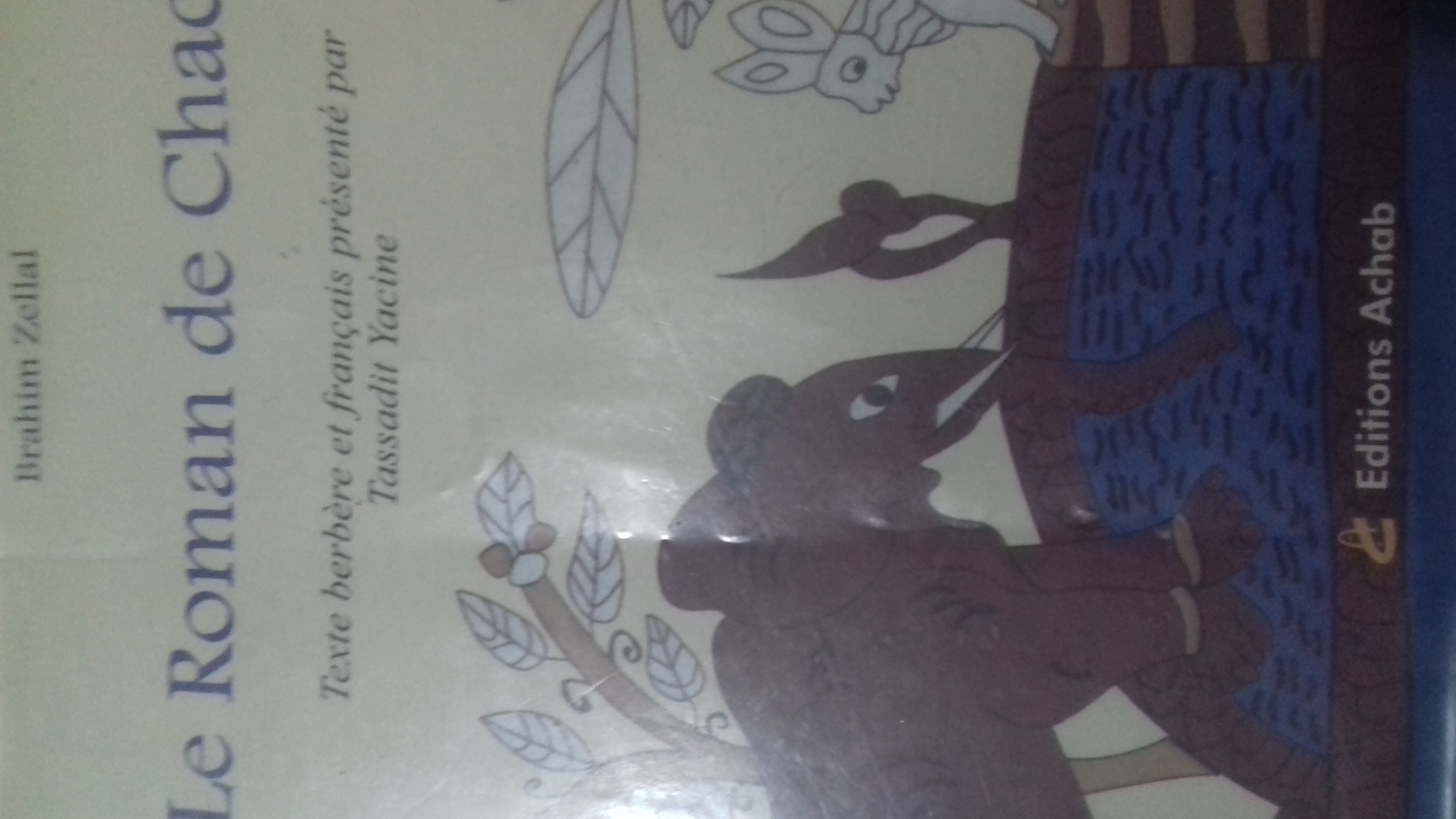 Another scholar who left his mark on Algerian francophone and Amazighophone literature, Mouloud Mammeri, belongs in this same circle of collectors of oral literary heritage.[9] Mammeri produced three works of crucial importance: Si Mohand's Isefra (1968), Ancient Kabylian Poems (1980), and Inna-yas Ccix Muhend (1992). His concern, as an anthropologist,[10] was the preservation of his disappearing oral culture.[11] By bequeathing us his work, he immortalized such poets as Si Mohand Ou Mhand, Youcef Ou-Kaci, Ali-ou-Yousef, Mouh Aït-Messaoud, Sidi Kala, Yemma Khlija Tukrift, and the amusnaw (polymath) Cheikh Mohand Ou-Lhocine.[12]  The themes dealt with by these poets differ depending on the time periods during which they lived. Youcef Ou-Kaci remains a crucial source of the relationship between Kabylians and the Regency of Algiers while, through his poems, Si Mohand Ou Mhand relates to us the turmoil that Algerian society underwent following the colonial shock.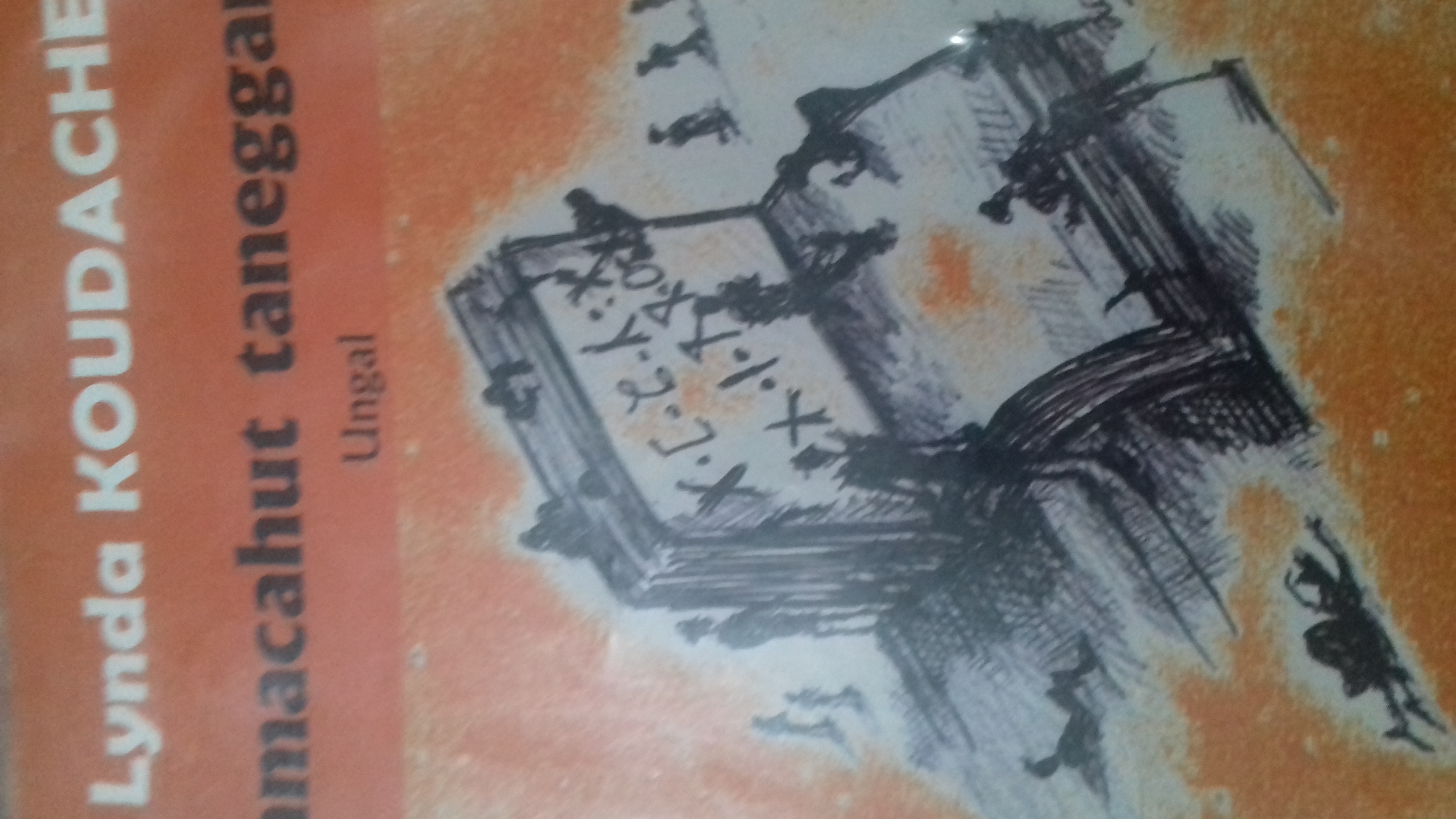 Specialists in Amazigh literature unanimously agree that the transition to written Tamazight dates back to the 1940s, specifically 1946, when Bélaïd Aït-Ali published his Notebooks in Les Fichiers de Documentation Berbère.[13]
Bélaïd's Notebooks are a collection of tales, stories, and poems. In this collection, one work, in particular, stands out, "Lwali n Udrar" [The Mountain's Saint]. The author himself considers this story to be a tale, though its structure resembles that of a novel more than any other literary genre. Without realizing it, Bélaïd Aït-Ali wrote the first Amazigh novel. This discovery was only made some four years after his disappearance in 1950.[14]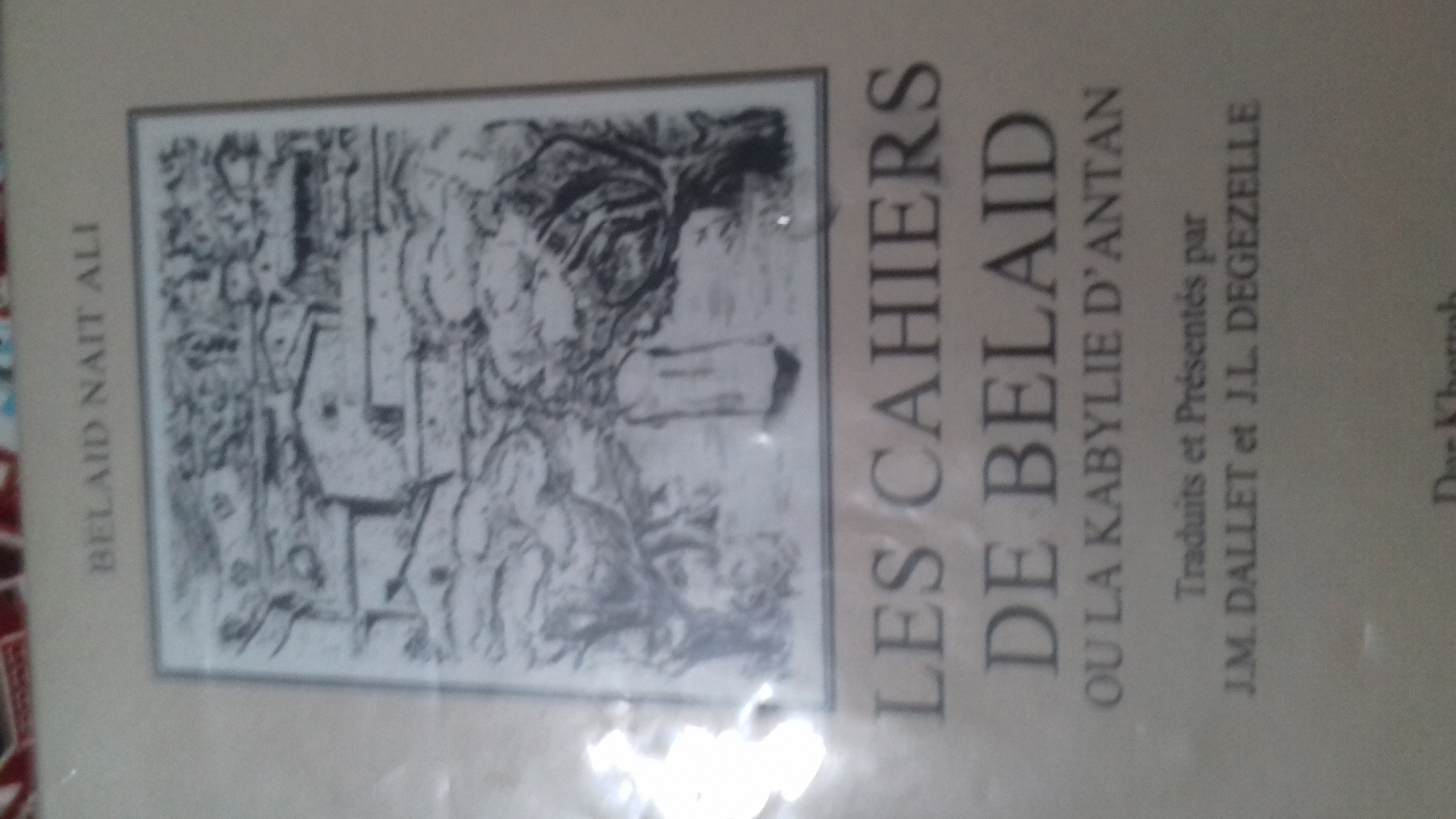 After Algeria's independence, Tamazight was the subject of a deliberate marginalization on the part of the Algerian state for ideological reasons. This situation dealt a serious blow to Tamazight literary production. For nearly forty years, no work was produced in Tamazight.[15] It was only in 1981, one year after the Berber Spring, that Rachid Alliche published "Asfel"[16] [The Offering], the second Tamazight novel after Bélaïd Aït-Ali's. From this point on, Tamazight novelists began to make their way in an ideologically hostile environment. In 1983, Saïd Sadi published his only novel "Askuti" (The Boy Scout);[17]  he was followed by the prolific author Amer Mezdad, who published five novels,[18] and another promising author, Salem Zenia, who published three novels.[19] Much the same happened in Morocco, where young Moroccans pushed for the inclusion of Tamazight in the community of novelists by publishing their work. We cite here "Ussan Semmidnini" by Lmoumen Ali Safi and "Isekraf" by Mohamed Mestaoui.[20]
From then on, Tamazight novels multiplied, especially after Algeria's democratization,  following the events of October 1988, and the creation of the High Commission of Amazighity in 1995, which strongly contributed to the publication of more than a hundred texts. These publications include novels, short stories, collections of proverbs and poetry, and numerous translations, notably in the collection "Idlissen-ney" (Our Books). Tamazight also became a national language in 2002, which contributed to the change of its status.  
As is evident, thirty-five years passed between the publication of "Lwali n Udrar" (1946) by Bélaïd Naït-Ali and "Asfel" (1981) by Rachid Allich. In other words, an entire generation. The reasons for this are not intrinsically linked to the Amazigh language itself, or to some intrinsic incapability of producing an aesthetically pleasing and coherent literature. In fact, Maghrebi states were hostile towards Amazigh culture in general.[21] But how can we then explain the blossoming of Tamazight novelistic output in the 1990s?[22]
Except for "Lwali n Udrar," which we can read as a parody of the marabout phenomenon in Kabylia, the dominant theme in the first Algerian novels written in Amazigh revolves around the struggle for identity. In their own ways, "Asfel", "Askuti", "Iḍ d Wās" and "Tafrara" touch on Amazigh identity in the first two decades following Algeria's independence.
Themes in Amazigh novels changed over time and with the emergence of a new generation of young novelists on the Amazigh literary stage who dealt with issues other than the search for identity.[23] 
In "Nayla,"[24] Brahim Tazaghart deals with the issue of the impossible union between two people. Through this union rejected by tradition, he examines intolerance and inacceptance of the Other. Luni Husin touches on the view that society has of art in his novel "Asebbay" [The Painter].[25] In "Yezger Asaka" by Lyes Belaïdi,[26] the author addresses the hardships that African immigrants face in journeying to the European El Dorado. It must be noted that the theme of immigration was already addressed in 1986 by Rachid Alliche in his novel "Faffa," a derogatory term used to refer to France. 
History makes its first appearance in Amazigh novels courtesy of Aumer U Lamara, who published five historical novels of a high linguistic and aesthetic quality. He published his first novel "Tullianum. Taggara n Yugurten" through the High Commission of Amazighity in 2009. As the title suggests, his novel tells the story of the Numidian king of Jugurtha. 
Clearly, the Amazigh novel was radically reinvigorated by the political renaissance that Algeria underwent in the 1990s. The emergence of some publishing houses, like Achab and Tira, which specialize in Amazigh writing, also contributed to this reinvigoration. This newfound dynamism is also the result of the rise of a new generation of novelists who learned Amazigh in school and university, namely Rachida Ben Sidhoum and Chabha Ben Gana. Finally, the fact that Amazighophone authors use their mother tongue has facilitated the transition to written literature. 
U Lamara did not stop there; he continued to unite history and literature in his novels. Take for example Omaha Beach. Ass-a d wussan,[27] "Akkin i Wedrar," "Timlilit di 1962," and more recently Agadir n Ruma. In Timlilit di 1962  he describes war crimes committed by the French army during the Algerian war of independence:
Yuli wass mi d-kecmen lɛesker taddart. Ur ǧǧin yiwen ad yeffeɣ. […] Seg yal tama ikeccem-d lɛesker zun d aweṭṭuf. Mi gan tubrint i taddart, tarbaɛt tameqqrant tuɣ abrid n tezribt n ufella. Ur unifen akin neɣ akka. Abrid-nsen yiwen. Mi wwḍen sdat wexxam n Feṭṭa, zzin-as lɛesker-nni seg yal tama. […] Deg yiwet n tegnit, afrag-nni n Feṭṭa yefreg s tizzegzewt n yiserdasen […].
Send ad kecmen wid yellan deg ufrag, winna yessuffeɣ-d ayen yufa deg tesraft-nni : iceṭṭiḍen n yiserdasen isebbaḍen imqefflen n « Pataugas »,tibwaḍin n ddwa, snat n teɛlamin n waggur d yitri.
Ur zzin lɛesker-nni ugar deg ufrag n Feṭṭa. Mi wwin Feṭṭa akked Yamina, skecmen-tent akken cuddent, ɣer utemmu-nni. Mi yessuli awal-is lqebṭan-nni, syen yerna ṭṭerjman aḥerki yessewzel aseglef-ines, yiwen n uɛeskriw yessaɣ-as times i utemmu-nni. Acemma kan yewweḍ igenni uḥeǧǧaǧu-nni n tmes. Mi yettali wabbu ɣer yigenni, imezdaɣ , taddart ẓẓan allen-nsen deg tmes-nni […].
Mi yeffeɣ lɛesker taddart, ur nufi ayen ara nenṭel. Deg yiɣed n utemmu yegra-d uceṭṭiḍ n tqendurt-nni n tubart n Feṭṭa akked tezweɣ n tesfifin n Yamina.
At-taddart sdduklen iɣed n Feṭṭa akked win n Yamina deg yiwen n uẓekka. Tesddukel-itent tmeddurt, tesddukel-itent taggara. [p. 5]
[When the day rose, the soldiers had already besieged the village; no one was allowed to leave. [...] The soldiers entered from all sides, it seemed like an ant invasion. When they besieged the village, the majority of the military personnel took the "tazribt n ufella" road; they did not hesitate a single second, they headed towards Fetta's house which they besieged from all sides[...]. In the blink of an eye, Fetta's house's courtyard became green with all the soldiers' uniforms[...].
Before any of the soldiers in the courtyard entered the house, he who was inside took out all that he found in the hiding place: military uniforms, Pataugas shoes, boxes of medication and two flags with a crescent and a star [...].
The soldiers did not waste time staying in the courtyard. When they brought Fetta and Yamina, they made them enter, hands tied, in Rabah's gourbi situated in the "tamazirt n usammer"; they then brought all the villagers in front of the gourbi. Once the captain's speech was over and the harki translator stopped his barking, a soldier lit a fire in the gourbi. Only a moment later, the fire grew in a spectacular manner, until it reached the firmament. As the villagers watched the smoke reach the sky, they fixated their gaze on the fire, standing still.
Once the soldiers left, we could not find any remains to bury. In the ashes of the fire remained Fetta and Yamina's clothes.
The villagers gathered Fetta and Yamina's ashes in the same grave. They were united in life and would be in death.] [p.5] 
Throughout his five novels, U Lamara sends us back to the different historical periods of North Africa: to the antiquity in Tullianum and Agadir n Ruma ; to Kabylia's resistance to the colonial shock in Akkin i Wedrar; to the war of independence in Timlilit 1962.[28] In his novel Omaha Beach. Ass-a d wussan, the author, through three different characters, an American, a German, and a Kabyle, examines three different spaces into which Kabylia is incorporated. U Lamara remains, for now, one of the rare Amazigh novelists who chose history as the exclusive frame of his novels.
Literature written by women has emerged later on in the Amazigh literary scene. Koudache Lynda paved the way with her first novel 2009 Aɛeccciw n Tmes. She published her second novel Tamacahut taneggarut in 2016.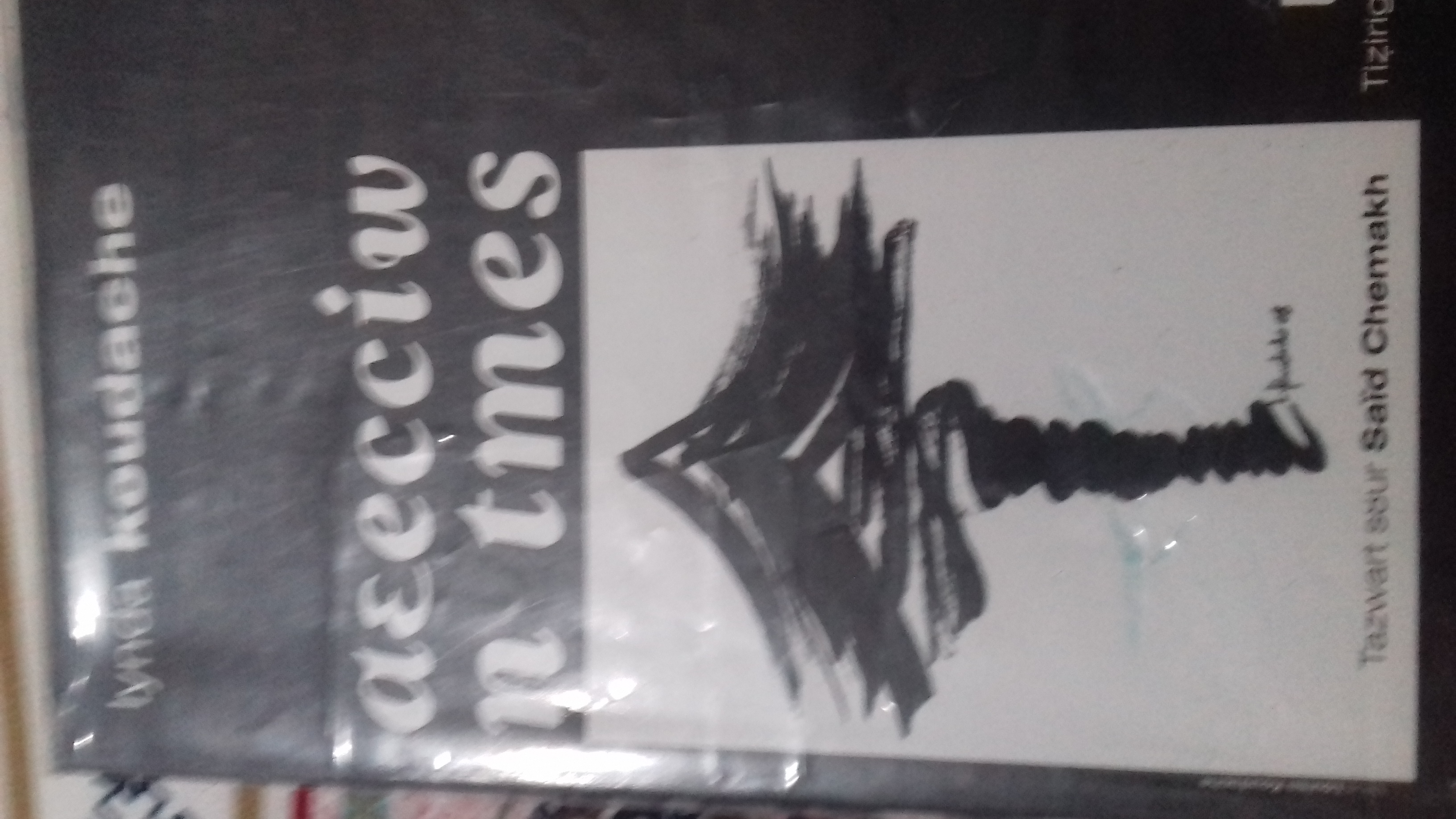 Koudache's novels revolve around the theme of the Kabyle woman and address topics relevant to their status and familial conflicts in Kabyle society. In her first novel, she touches on the female struggle for power within the family through the story of Fatma, a young orphan; in her second novel, she tells the story of a woman who, due to the vicissitudes of life, the different people she  encounters, and her accumulated woes through the years, becomes wiser and turns into a sort of philosopher. In this long and complex story, she breaks a lot of taboos. 
Other female novelists, many of them very young, followed the path paved by Koudache. As an example, we will cite here Dihya Lwis who published Gar igenni d tmurt (2017), Khalifi Kaissa who edited Iḥulfan (2017), Ben Gana Chabha who wrote Amsebrid (2018), and more recently Rachida Ben Sidhoum, who edited Icenga n talsa [(2020). 
The production of novels in this Tamazight continues to gain momentum despite  all the challenges faced in the publication in this language. The number of published novels continues to grow year after year. Moreover, Amazigh novel writing is no longer the prerogative of a generation caught in an identity crisis, but has passed into  the hands of the youth who lived  through an exciting period in their history, but who remain attached to a language that has been marginalized for so long. This augurs well for novels in Tamazight. Nna Ɣni (2020) by Djamel Laceb and Kawitu (2020) by Zimu, winners of two prestigious literary prizes  (the Assia Djebbar and the Mohamed Dib) are here to prove it.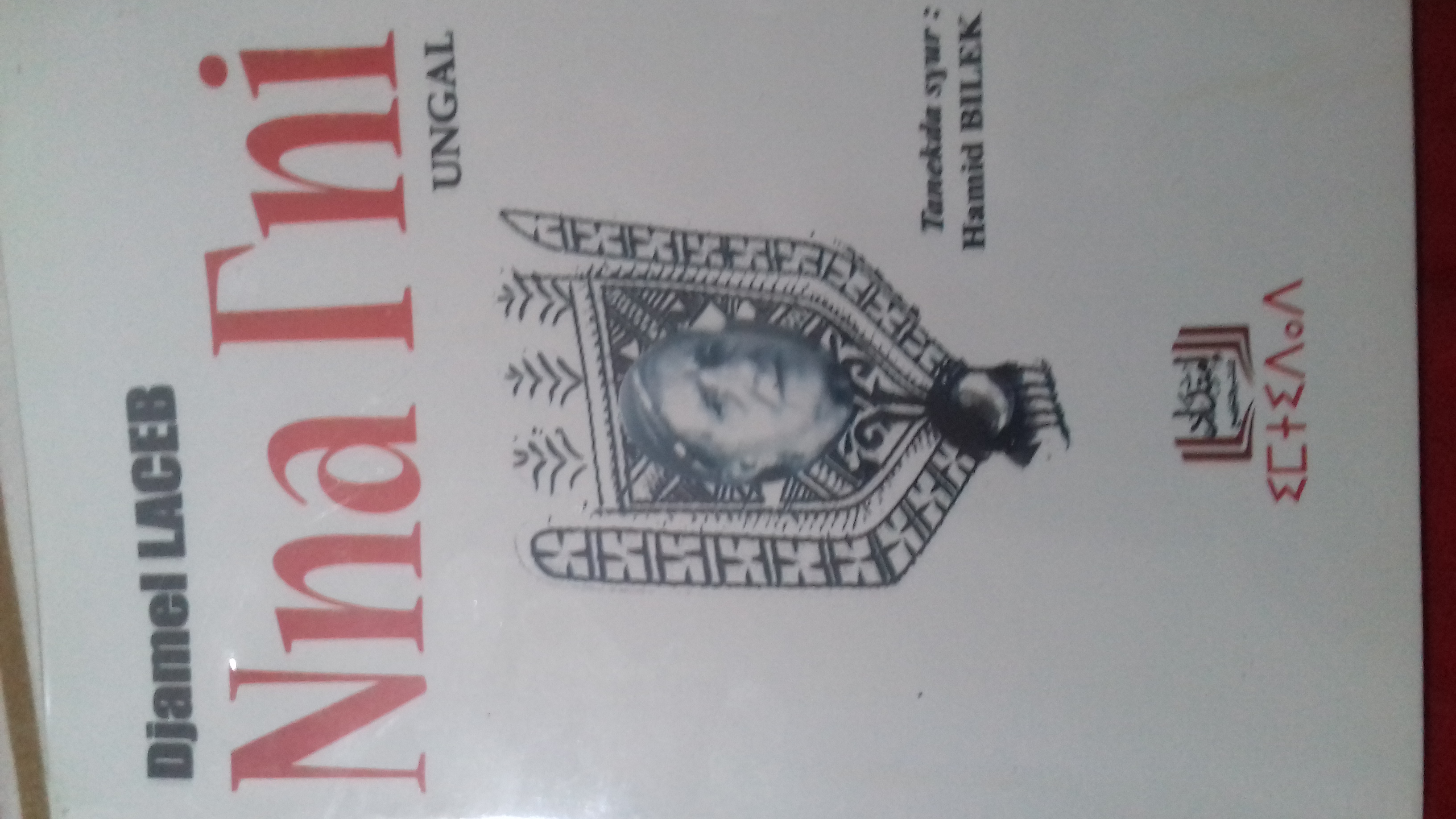 We focused in this article only on one genre of Algerian Amazigh literature:  the novel. Short stories, another genre, has also gained importance during the past two decades; numerous collections have been published since Bouamara Kamal paved the way in 1998 by publishing "Neknu d Wiyid." But the exploration of the genre of short stories deserves its own full article.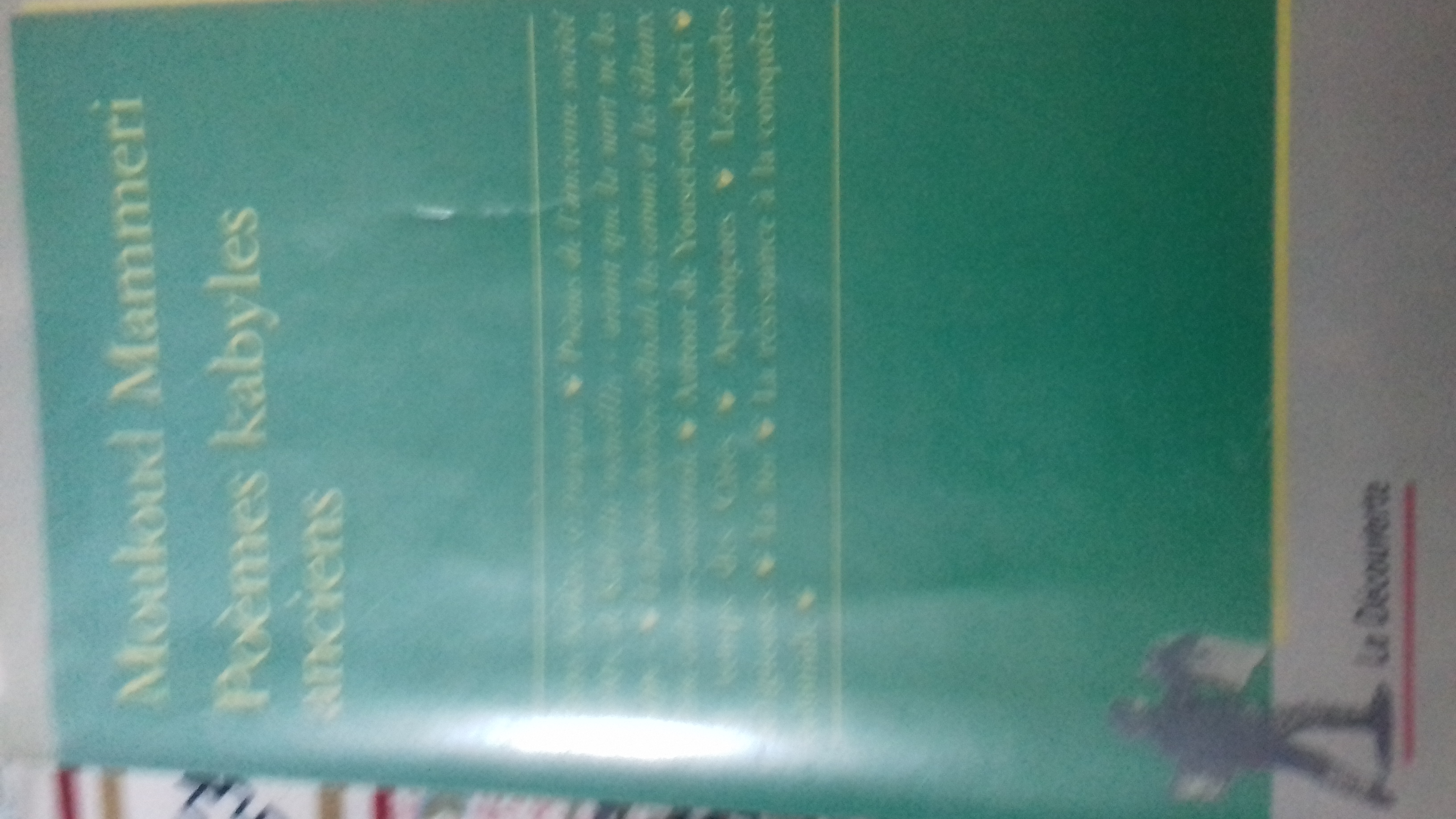 Bibliography
 Ait-Ouali, Nasserdine, L'écriture romanesque kabyle d'expression berbère (1946-2014), Tizi-Ouzou, L'Odyssée, 2015.
Ameziane Amar [Dirigé par], Les Cahiers de Bélaid Ait-Ali. Regards sur une œuvre pionnière, Bejaia, Tira éditions, 2013.
Boulifa, Si Ammar Ben Saïd, Recueil de poésies kabyles, présentation par Tassadit Yacine, Paris, Alger, Awal, 1990.
Hanoteau, A, Poésies populaires de la Kabylie de Jurjura, Paris, Imprimerie impériale, 1867.
Nacib, Youssef, Anthologie de la poésie kabyle, Deuxième édition bilingue, Alger, Zyriab, [s.d].
Salhi, Mohand Akli, Etudes sur la littérature kabyle, Alger, HCA, 2011.
Yacine-Titouh, Tassadit, Chacal ou la ruse des dominés. Aux origines du malaise culturel des intellectuels algériens, Alger, Casbah éditions, 2004.Zellal, Brahim, Le Roman de Chacal. Texte berbère et français présenté par Tassadit Yacine, Tizi-Ouzou, Editions Achab, 2010. 


[This article was translated from the French version by Safoua Berady.]
---

[1] During the medieval period, the Amazigh transcribed their language in Arabic characters. For example, we cite here "Abu Ganim al-Hurani's Mudawana" translated into tamazight during the Middle Ages and "Kitab al-Barbariya" (Cf. Ould Braham Ouahmi, Berber Studies and Documents, n° 27, 2008-1, Pp ; 47-71). During the modern era, the use of Arabic characters became marginal, only a few authors, namely M. Ferrad, still use them. 

[2] Hanoteau, A, Poésie populaire de la Kabylie du Jurjura, Paris, Imprimerie impériale, 1867.

[3] Lucas, P. and Vatin, J.C, L'Algérie des anthropologues, Paris, Maspero, 1982

[4] Hanoteau, A, op. cit. P. 128-134.

[5] Boulifa, Si Ammar Ben Saïd, Recueil de poésies kabyles, Présentation par Tassadit Yacine, Paris, Alger, Awal 1990.

[7] Zellal, Brahim,Le Roman de Chacal, Texte berbère et français présenté par Tassadit Yacine. Tizi-Ouzou, Editions Achab, 2010, p.13.

[9] Mammeri Mououd published numerous novels in French and left a number of works about Amazigh grammar and lexicon. His contribution to Algerian culture is considerable.

[10] Cf. Yacine, Tassadit, La face cachée de Mammeri, Alger : Koukou, 2021.

[11] Mammeri did not exclusively focus on Kabylia, he also spread his interest to Gouara, another aspect of Amazigh language. Refer to his work Ahellil de Gourara….

[12] Amusnaw (imusnawen): savant.

[13] Naït-Ali, Bélaid, Les Cahiers de Bélaid ou la Kabylie d'antan ; LNI, FDB, 1963, re-edition in 2009 at Dar Khettab.

[14] Cf. Ameziane Amar [Directed by], Les Cahiers de Bélaid Ait-Ali. Regards sur une œuvre pionnière, Béjaia, Tira editions, 2013.

[15] From 1973 to 1977, le Groupe d'Etudes Berbères de l'Université Paris VIII, Vincennes, published 13 issues of their review "Bulletin d'Etudes Berbères" containing texts in French and tamazight.

[16] Alliche, Rachid, Asfel, Lyon, Edition Fédérop, 1981.

[17] Sadi, Said,Askuti, Paris, Imedyazen, 1983. This novel was re-edited twice: at Asalu, in 1991 and Frantz Fanon publication, Tizi-Ouzou in 2016.

[18] In addition to novels, Mezdad also published a collection of poems "Tafunast igujilen" [The Orphans' Cow] in Paris, GEB, in 1978 which was re-edited in 1991 and 2017.

[19] We refer to Tafrara, Ed. L'Harmattan, re-edited at Tira, Béjaia,  Iɣil d wefru, Ed. L'Harmattan and  Iẓuran n tagut, Ed. Tira.

[21] This hostility can be understood through North African nationalism rejection of amazighity and its adoption instead of a mythical arabity. We must keep in mind that the period that during which all these movements emerged, especially in Algeria and Morocco, coincided with the promulgation of the berber Dahir in Morocco in 1930. It is thanks to this event that Moroccan and Algerian nationalist parties were able to establish themselves. This negative feeling towards tamazight is still alive today.

[22] This momentum grew stronger year after year; for instance, in 2019 alone more than a dozen works were published.

[23] We do not wish to say that Amazigh identity is not significant for this new generation of novelists. We are convinced that writing in tamazight is a militant act in and of itself.

[24] Tazaghart, Brahim,Nayla, Béjaia, Editions Tira, 2015.

[25] Luni, Ḥusin, Asebbaɣ , Tizi-Wezzu, Richa Elsam, [s.d.]

[26] Bélaidi, Lyas, yezger asaka, Tizi-Ouzou, Editions Imru, 2019.

[27] Editions of Amazigh Cinema National Festival, 2009.

[28] Except for « Tullianum » and « Omaha Beach », the other three novels were published at Achab.