[This article is part of a dossier on Tankra Tamazight, Amazigh Revival, and Indigeneity in North Africa, edited by Brahim El Guabli. To read other articles in this dossier, read the introduction here.]
With respect for its deep roots and global value, we want to take this invitation to write about Amazigh cinema and our festival in New York, The New York Forum of Amazigh Film or NYFAF, by first introducing the idea that this cinema or cinematic expression of Amazigh life has become a valuable space of intersemiotic translation. As Roman Jakobson, the great Russian-American theorist has taught us, intersemiotic translation, unlike inter and intra-lingual translation, carries oral, musical, and literary form and meaning over to another system of meaning-making. Instead of reciting or reading a fable, or singing a song, guided by lyric constraints and artifice as well as the traditions and social practices of transmission that sustains them, we are called to read the screen, the flow of image within a framed space, from our situated location in the hyper-visual and diverse culture of the U.S. 
As often in the case of translation, issues of fidelity and loss arise, important issues that reveal many things about the status and nature of our heritages, languages, identities, and present challenges. What is important to see in this context is that these issues are met here not by a defensive maneuver, a shutting down, and insistence on "the same" as Edouard Glissant might call it, but by an opening of social space. What filled the space of a local reality long repressed by a dominant Arab-Islamic culture, appears in the space of a larger, diverse community, becoming visible like a child being born, but here representing the birth of something both old and new, local, and larger. 
Social openings, like any birth, cause joy and anxiety. What will we name this new creature? What is its nature? Will it be a vehicle for our common aspirations? Does it have any specific challenges? How shall we guide its growth and what will it teach us? Will it betray our trust and hopes and introduce us to people and places that estrange us, that do not grasp our special intelligence and skill? Or will it honor us as it shows us the future like a threshold opening to a new landscape?
The New York Forum of Amazigh Film (NYFAF)

Amazigh cinema has often been viewed as part of Moroccan, Algerian, or the Maghrebi cinemas in a broader sense. Subsequently, being dominated by powerful cinemas, Amazigh films have struggled to receive adequate attention and popular interests from cinema lovers or film scholars. According to Daniela Merolla (2019), it is by virtue of the social and artistic dynamic created by the multiple international festivals of films in the Amazigh language, that a structured cinematographic system could be elaborated for this type of film. Drawing on Bourdieu's definition of "field," Merolla proposes that it might be time we speak about "a field of Amazigh cinematography." At LaGuardia Community College, part of the City University of New York and located in Queens, a borough of hundreds of cultures and languages, a small group of Amazigh and American scholars and instructors, along the same vein, have created a multilingual Amazigh film venue, The New York Forum of Amazigh Film or NYFAF, where we celebrate this emergent cinema as a field on its own. 
Through six years of thematic editions, where scholars, translators, filmmakers, musicians, and artists engage with our working-class, multiethnic, and multilingual students of LaGuardia Community College, NYFAF has developed in two main directions. Firstly, we model an educational practice of approaching cultural and linguistic diversity through an indigenous, transnational cinema by means of screenings and discussions for a diverse audience. We target a local, foreign viewing public of multiethnic and multilingual American students, often immigrants with little or no knowledge of North Africa. Simultaneously, the forum is open to North Africans living in the northeastern U.S. as well as to the general public in the city of New York. We invite our diverse audiences to interact directly with filmmakers, artists, writers, and academics, giving rise to a range of voices and perspectives.
Secondly, our approach actively seeks to shape a practice of transnational exchange that can nourish this space of intersemiotic translation of Amazigh life and "translate" it further to a larger audience. Rejecting any folkloric or essentialist perspective, we showcase all possible formats - short films, documentaries and feature films produced for television and cinemas, including first films by diasporic filmmakers. We accept films about the whole width of the Tamazgha, a term used to designate the entirety of the Amazigh North African space, including Morocco, Algeria, Tunisia, the Siwa Region of Egypt, part of sub-Saharan countries like Mali, Niger and Chad, and the Canary Islands. To this geographical space, we add the European and North American diasporas. As we develop each edition, we stay attentive to major issues that emerge: the passage from oral to cinematographic narration, the multiple avenues of reception by the public, social conflicts around gender, work, and immigration, the evolution of identities stretched between home and diasporic locations, and the basics of how to get films made and distributed. We discuss our work on many levels - practical, theoretical, historical, and aesthetic. And most importantly, as college professors working in the United States, which has its own challenge to integrate multiple identities and cultural heritage and a legacy of ethnic, racial, and gender discrimination, we seek ways that Amazigh cinema can open a window onto shared experiences, challenges, and solutions. 
These two directions have allowed us to carve out three main goals:
We strive to create a space where filmmakers, artists, musicians, and academics, whose work focuses on Amazigh identity and culture, can come together each year to share their knowledge with a diverse audience and to promote dialogue on local, transnational, and global issues. 
We wish to link the emergence of Amazigh film with an ongoing pedagogical practice that foregrounds inclusivity and tolerance for diversity.
Lastly, we seek to extend the translation of the culture and language of the Amazigh peoples through its emergent cinematic expression, providing an American-based perspective on its universal appeal. By doing so, we hope to contribute to the visibility of Amazigh culture through film production and dissemination, using English subtitles.
 
A Situated Reading of Amazigh Cinema

To describe the emergence of Amazigh cinema and its characteristic elements, we build on Sheila Petty and Brahim Benbouazza's argument that it is created for "multiple audiences, with reference points and signs that will have different meanings and be read differently depending on audience members' ethnicities, backgrounds, or nationalities" (Petty 2019:54). Addressing the question of language below, we first have to situate ourselves or offer a situated reading. Located in New York and the hyper-visual and diverse culture of the U.S., connected to North Africa and the diaspora, and engaged with our multiethnic audience, NYFAF both studies and actively impacts what we come to call Amazigh cinema.
A first observation about its dual heritage. Emerging in North African social spheres starting in the early 1990s (Carter, 2001; Austin 2012), and taking full form since 2000, Amazigh cinema has introduced, as some have noted, a politics of identity (Jay 2016), a notion that causes anxiety in many parts of the world, subjugated as they are by the chaotic engine of American capitalistic imperialism. Yet its parents are locals – Amazigh militancy and music. Related to local revendications for a visible and respected role in North African nations starting in 1980 with the movement of the Berber Spring in Algeria, and emboldened by regional collaborations, most notably the 1996 World Amazigh Congress in the Canary Islands, this diverse cinema has grown within the constraints of social and economic production materials, using the crafts and tools at its disposal – the long and vibrant tradition of local, oral and artistic performances and festivals, on one side, and the availability of video and film technologies, on the other. Like by a flicker of light in a glade, people have been drawn in, a growing audience, and now an intergenerational group of local and diasporic filmmakers of Amazigh heritage have contributed to what is a local, national, and transnational film culture.
Though it could easily be grouped under ethnic cinema in the manner it represents the Amazigh peoples and transnational cinema in its mode of production and contents, Amazigh cinema eludes analytical categories. The closest construction we have found is in Florence Martin's notion of a "cinema of transvergence" which "criss-crosses various countries and cultures and borrows from, but simultaneously resists, certain hegemonic discourses of the cultures (Martin 2011, described by Petty 52). Petty and Benbouzza's indigenous cinema reading and Hamid Naficy's "accented cinema" are also extremely relevant. Yet from our largely pedagogical lens, we note that this cinema presupposes diversity not only in the nature of its production but in the categories scholars apply to it. Any attempt to define it needs to acknowledge and understand cultural and cinematic elements that are represented from an array of social and geographical positions, expressed in a variety of languages. Rather than view this cinema from one theoretical lens, we draw from our perspective as festival curators and approach it as a constant and varied creative process that is defined by how meaning is constructed through the use of location, language, cultural references, memory, and lived realities, in addition to performative, cinematographic elements such as costumes, music, and the mise-en-scene that are particular to the Imazighen. A multiplicity of elements is key.
As noted, it is important to underscore that Amazigh cinema is not bound by geography, which means that films to be considered Amazigh must be filmed in North Africa or Amazigh-speaking communities to be precise. Amazigh films that are produced in the diaspora have elements to be considered Amazigh even though they do not take place in a geographical location that is considered Amazigh-speaking. Examples include Thasakoorth (The Pigeon) (2017), a short autobiographical film by the American filmmaker Miriem Sadoun, who uses an Amazigh fable and well-known name, Kahina, to recall the events leading to the death of her Amazigh mother as she walks in a North American wood, or They Were Promised the Sea (2012) by the Canadian filmmaker Kathy Wazana, which presents a road movie shot in Morocco, Israel-Palestine, and New York and follows the filmmaker as she seeks to understand the mass migration of Moroccan Jews from Morocco in the 1960s and her own family history. Unleashed in both films is a complex flow of questions about dual identity and the challenges faced by individuals torn between homeland and "promised" land.
Likewise, we understand that because of the centrality of language for the Amazigh people, it has been used as a defining element of Amazigh film. Merolla (2019) states that the most predominant definition of "an Amazigh film" tends to rely heavily on the language used in the dialogues and the voice-over. While language plays a fundamental role in defining and delimiting the realities of culture as well in marking geo-ethnic boundaries, using it as the only criteria to define "an Amazigh film" obscures the role of other dimensions related to the multilingual nature of the context of Tamazgha-The Great Maghreb today. Merolla (2019) proposes an approach characterized by a continuum where multiple features, such as the scenes, characters, places, history, themes, and multilingualism all interact to influence what makes an Amazigh film. In an interview with the Kabyle human rights activist and journalist, Masin Ferkal, Belkacem Haqdjaadj, the filmmaker of Machaho (1995), one of the first films in the Kabyle language, seems to support this approach when he rejected the idea of considering his film Amazigh based on the linguistic factor only as it was written in Tamazight. He notes: "Any film is Amazigh if it speaks to the profound values of the Algerian society. This is because all Algerians are Imazighen even if they don't speak the language." (Merolla, 2019). It is in this regard that NYFAF tends to approach the Amazigh Film.
A striking example of this "continuum" is Tala Hadid's long term ethnographic and creative presence among a family in the High Atlas Mountains captured in House in the Fields (2017), which centers on a coming-of-age story of a girl and her inculcation of Arabic as well as the language of equal rights, yet gains meaning and depth through long pans of the fields and the music of a Gnawa guembri player. Indeed, what differentiates the Amazigh people's experience is language in relation to other languages and to a common culture, history, traditional morality, and struggle to represent and transmit Amazigh ways of life through multiple means. At its core, there is the duty to resist cultural death and to celebrate its survival, often through displacement or resuscitation. Another example is Aman (Water) 2016), a short dramatic film by Estrella Monterrey from the Canary Islands that presents an imagined portrait of the ancient indigenous people of that island, an autonomous community of Spain off the East African coast. Using the extinct language of the Guanche, Aman raises awareness about the necessity to protect, preserve, and promote the cultural heritage of the original inhabitants of the islands through a visual imaginary.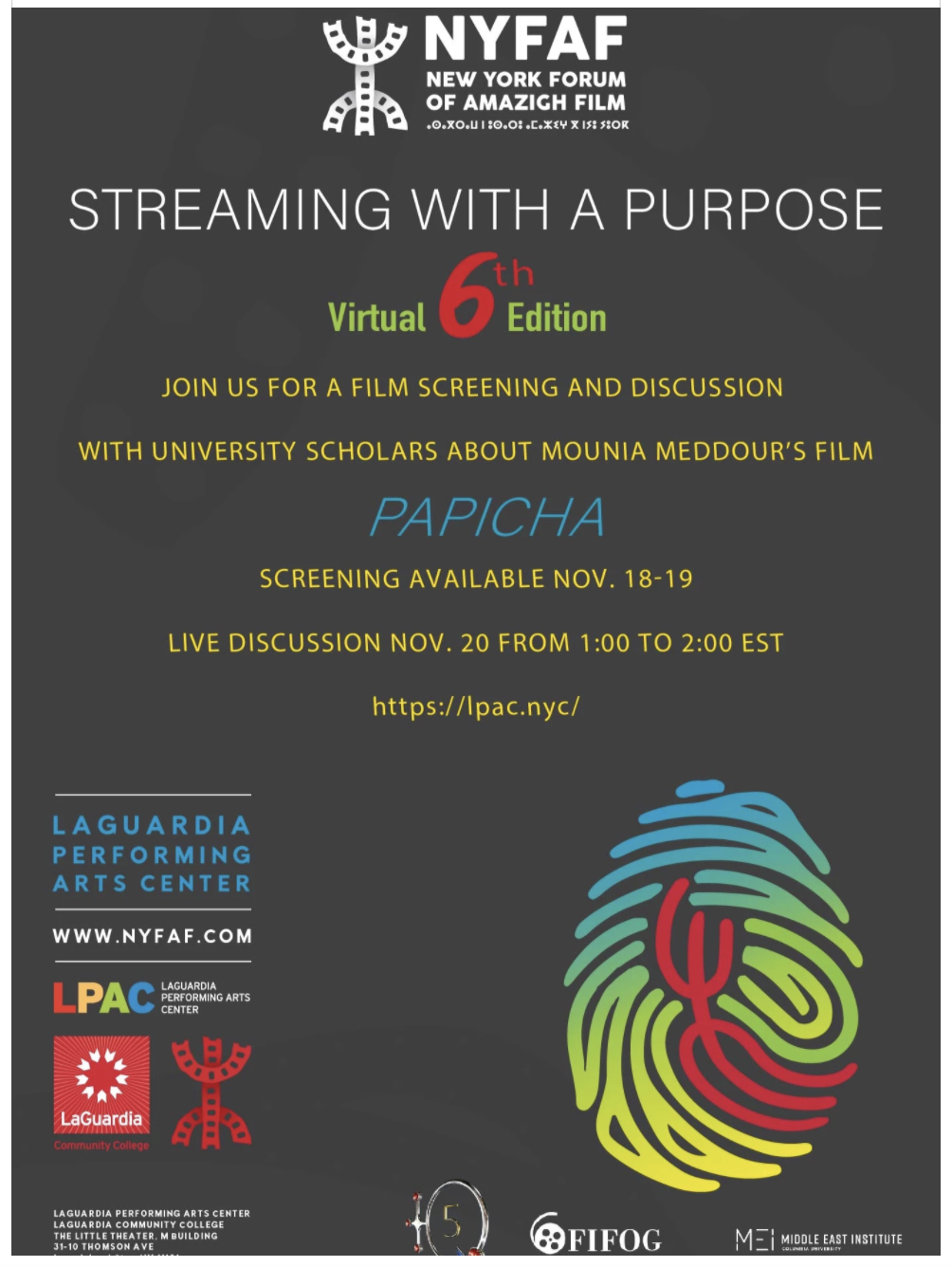 Documentary and Features 

Released from the practice of dramatic form which may require more in-depth cultural translation, we have been privileged to screen and pedagogically examine several documentaries that build on the well-established self-reflexivity or "double consciousness" of Amazigh writers like Assia Djebar, Mouloud Feraoun, and Zahia Rahmani, who reconfigure history rather than recount it (Hadj-Moussa 188). 
Sometimes these documentaries aim at eliciting the historical or intimate unspoken. Wassim Qorbi's documentary Azul (2013) is a quest for an almost lost identity. He asks Tunisians about the traditions, customs, and the language that only a few speak, confronting the memory and trauma of the Bourguiba regime when Arabic was the only language that was promoted, and any traces of Tamazight were effaced. Kamal Hackar's documentary Tassanu Tayrino (2017) confronts the topic of love through interviews with younger and older Amazigh people, both men and women and mixed-gender groups. To add a twist to his narrative, Hachkar references the story of Mririda who was cast out by her Amazigh community for expressing her love publicly. Throughout the documentary, we hear the poems that both instigated her outcasting and constitute her memory and the period she lived in. Both documentaries are attempts to revive aspects of Amazigh identity and encourage people to overcome prescriptive histories involving language and voice. With Azul (Hello), the 2011 Tunisian revolution sent a glimpse of hope to many Tunisians who were always looking to reconnect with their Amazigh ancestry especially in the south. Hachkar's documentary is a return to the cultural heritage of the Amazigh people and how they express their intimacy and sexuality through verse. 
In House in the Fields by Tala Hadid, as previously mentioned, The Journey of Khadija (2017) by Tarek al Idrissi, and Islam of my Childhood (2019) by Nadia Zouaoui, gender is a central topic. All three films depict unique experiences of Amazigh women in North Africa. Hadid gives young men and women a platform to hear their own voices and express their dreams about their future to each other and, notably, to the invisible witnesses - the filmmaker and the movie viewers. In The Journey of Khadija we meet a young woman who has spent her life in the Netherlands and formed her fierce feminist identity there but was always impressed by her heritage, particularly her grandmother's strong personality. She decides to visit her family home in the northern part of Morocco, a mostly Amazigh-speaking area, and there challenges the religiously sanctioned, stereotypical image of women, but within the close comfort of a tolerant family. Using voice-over narration, Algerian-Canadian filmmaker, and journalist Nadia Zouaoui's Islam of my Childhood questions the legacy of civil violence and the place of religion in Algeria. Trying to reconstruct retrospectively the religion she experienced growing up, Zouaoui weaves together nostalgia for a tolerant heritage with a critical analysis of oppressive change in her small Amazigh town and their apparent limits in overcoming it.
As we have watched and discussed these documentaries with colleagues and students, we have been struck by how easily people outside the Amazigh spheres can relate to the challenges and resources of these living and fictional characters. When Khadija or Nadia speaks, identifying themselves as multiethnic Amazigh women who belong to a long history and tradition that is unique and has been marginalized by the mainstream media as well as the official discourse, or when Qorbi and Hachkar use historical facts to reclaim their Amazigh identity and show its plurality, the universal and contemporary nature of these quests are palpable. Whether situated in Morocco, Algeria, Tunisia, Libya or the Canary Islands, these films share a common goal: to make the diverse linguistic and cultural identities of Amazigh peoples visible to both initiates and outsiders and to draw from a well-established and self-aware culture of affinity-making and transmission both within and across cultural boundaries, loosening a common code of honor and strict mores in a now distributable cinematic performance. Indeed, in the emergent productions of Amazigh filmmakers, this space for intersemiotic translation opens a door towards communities that are considered minority and less visible in other parts of the world.
In the previous six editions, NYFAF has also had the privilege to screen several feature films, which often dramatize the fracture of memory and the limitations of inherited narratives. In La maison jaune (The Yellow House, 2007) by Amor Hakkar, the fixed frames and slow camera movements allude to stagnancy that eventually brings death, which will cause a family of a remote Amazigh village trauma particularly the mother. Mirroring the emergence of Amazigh film, the discovery of a VHS in the belongings of the deceased son reveals a new beginning. The VHS includes footage of the son talking directly to his family, creating a sense of presence, immediacy, and change. Ahmed Baidou in Addour (Honor) (2017) travels back to revive the legacy of a fierce fighter Zayd Ouhmad who resisted the French colonizers in the region of Tinghir in Morocco. Though the theme of resistance is not new in Moroccan films, Addour is the first to use Tamazight throughout the film narrative and talk about a character who identifies as Amazigh. Focused on collective memory and remembrance, the film is an attempt to reframe historical events to celebrate resistance through the eyes of an Amazigh community. Turning to legends, Hakim Belabbas, in his film Defining Love: A Failed Attempt (2012), sheds light on the love story of Isli (groom) and Tislit (bride), whose tragic end explains the formation of two well-known lakes. The documentary-style filmmaking reveals intricate details about human nature and how modernity distorts the pure nature of love. 
To conclude, Amazigh cinema as a new social "field" of intersemiotic translation challenges restrictive definitions based on national and geographical boundaries. The range of films we show share experiences of Amazigh communities, long separated by colonial powers and divisive ideologies. Offering a field of convergence, an artistic crossroads, our audiences see how local Amazigh communities in the Oasis of Siwa, for example, weave narrative threads with Amazigh communities in the Atlas Mountains in Morocco through the perspective of individual lives. These Amazigh communities share experiences of survival and resistance with global and foreign local communities that have gone through the same ordeal. Through film they have found a voice, a megaphone that gives them the freedom to express themselves and assert their visibility to themselves and the world around them. The films that NYFAF has screened so far are proof that the language of images is powerful, and it doesn't only reach and touch people's hearts but also convinces them that there are causes worth fighting for. It remains to be seen how this cinema will find distribution networks that enable it to flourish. Perhaps, for now, festivals like NYFAF offer a situated witnessing, new visibility, and pedagogical keys.
[Acknowledgment: This article was written with the assistance of Dr. Wafa Bahri.]
Sources
Austin, Guy. Algerian National Cinema. Manchester UP, 2012.
Carter, Sandra Gayle. "Moroccan Berberity, Representational Power and Identity in Video Films." Gazette (Leiden, Netherlands), vol. 63, no. 2–3, 2001, pp. 241–262. 
Hadj-Moussa, Ratiba. "Marginality and Ordinary Memory: Body Centrality and the Plea for Recognition in Recent Algerian Films." Journal of North African Studies. vol. 13. no. 2, 2008, 187-199. 
Jay, Cleo "'Playing the "Berber': the performance of Amazigh identities in contemporary Morocco." The Journal of North African Studies, vol. 21, no 1, 2016, pp. 68-80.
Naficy, Hamid. An Accented Cinema: Exilic and Diasporic Filmmaking. Princeton UP, 2001.
Mills, J. First Nations' Cinema: Hollywood indigenous 'other.' Screening the Past, Issue 24. 2012. Retrieved from: https://researchoutput.csu.edu.au/ws/portalfiles/portal/8721560/PID10474postpub.pdf
Merolla, Daniela . Peut-on parler de cinéma amazigh? Les films "grand écran" et Amazighwood. Comparaison avec le cinéma africain. In Merolla, D., Naït Zerad, K. et A. Ameziane (editors),  Les cinémas berbères : De la méconnaissance aux festivals nationaux. Karthala, 2019. 
Petty, Sheila and Benbouazza, Brahim (2019). "Trans-Indigenous Aesthetics and Practices in Moroccan Amazigh Film and Video." Expressions maghrébines, vol. 18, no.1, 2019, pp. 47-62.