[This article is part of a dossier on Tankra Tamazight, Amazigh Revival, and Indigeneity in North Africa, edited by Brahim El Guabli. To read other articles in this dossier, read the introduction here.]
A Necessary Introduction 

Much has been said and written about the Moroccan short story written in Arabic and French, but the short story written in Tamazight remains a pristine literary and critical realm that has not yet been explored by critics. Much of the discourse revolving around it still draws on viva voce or is in the process of inscription despite the surge in its production and publication. Thus, this paper attempts to provide an overview of the achievements in the domain of the Amazigh short story in Southern Morocco by examining some of the developments that it underwent in the past few years, and by exploring some aspects of its metamorphosis, especially since the short story—as well as the novel and theater—is a Western literary genre; exogenous to the attempts Amazigh authors are making in Tamazight.
I emphasize that I prefer using the phrase 'the short story in Amazigh language' instead of 'Amazigh short story' for two reasons. Firstly, in my estimation, I believe that the first distinctive feature of the garnered short story corpus, described as Amazigh, is the language in which it was written. Secondly, there is a high possibility that a short story can have an Amazigh background in terms of its cultural references and galvanizing fictional framework without being written in Tamazight, but rather in other languages circulating in the Moroccan linguistic milieu such as Arabic and French.[1]
Undoubtedly, the advent of the short story art in Tamazight in the Moroccan narrative scene, as much as it enriches this literary scene and establishes multilingualism, it also constitutes a pressing motive to reconsider the concept of the Moroccan story itself, which usually refers in the unconscious of the Moroccan critics and intellectuals to the short story written in Arabic. At present, it has become imperative to stop misrepresenting the idea of Morocco by linking it exclusively to literary productions written in Arabic, and thus talking about two types of Moroccan short story; one written in Arabic and another in Tamazight or other languages. This tendency to perpetuate the monolingual perspective of Moroccan literature either displays a chronic ineptitude to grasp the cultural changes that our country is experiencing or reflects a kind of antagonism towards pluralism that the Moroccan socio-cultural and linguistic reality is undergoing.
 It should also be noted that the emphasis on describing this corpus as the Moroccan short story in Tamazight in the title of my paper is due to the fact that there is a textual precedent in Tamazight in the neighboring countries as well, especially Algeria, which is a testament to the birth of the first short stories in the forties of the twentieth-century with Belaid n Ait Ali. Those first short stories were later published by Degezelle and Dallet under the title ("Amkhlout," or "a miscellany") in Cahiers du Belaid Ait Ali ou la kabylie d'antan[2] (Workbooks of Belaid Ait Ali or the Old Kabylie) without being defined or categorized as short stories.[3] The entirety of the short stories included in that anthology verges on more than forty collections.[4]
It should also be noted that this paper will focus on the short story in southern Morocco due to my lack of knowledge of what is produced in other regions of our country due to the obstacles associated with the circulation and distribution of books in Tamazight throughout the national territory. In addition to that, what has been produced in the Middle and southeastern regions is still limited and far from achieving the quantitative and qualitative accumulation that will allow us to talk about qualitative or quantitative transformations.[5]
As for the concepts of diversity and transformation, they are to be seen as two concepts or two methodological categories that I borrowed to examine some features of development or heterogeneity and periodization in this quantitative accumulation of the narrative corpus in Amazigh. Transformation or metamorphosis is endowed with a diachronic dimension which refers to succession, dynamism, and transition while diversity refers to variation in terms of form, style, artistic devices, perspective, and structure; or simply stasis and synchronicity.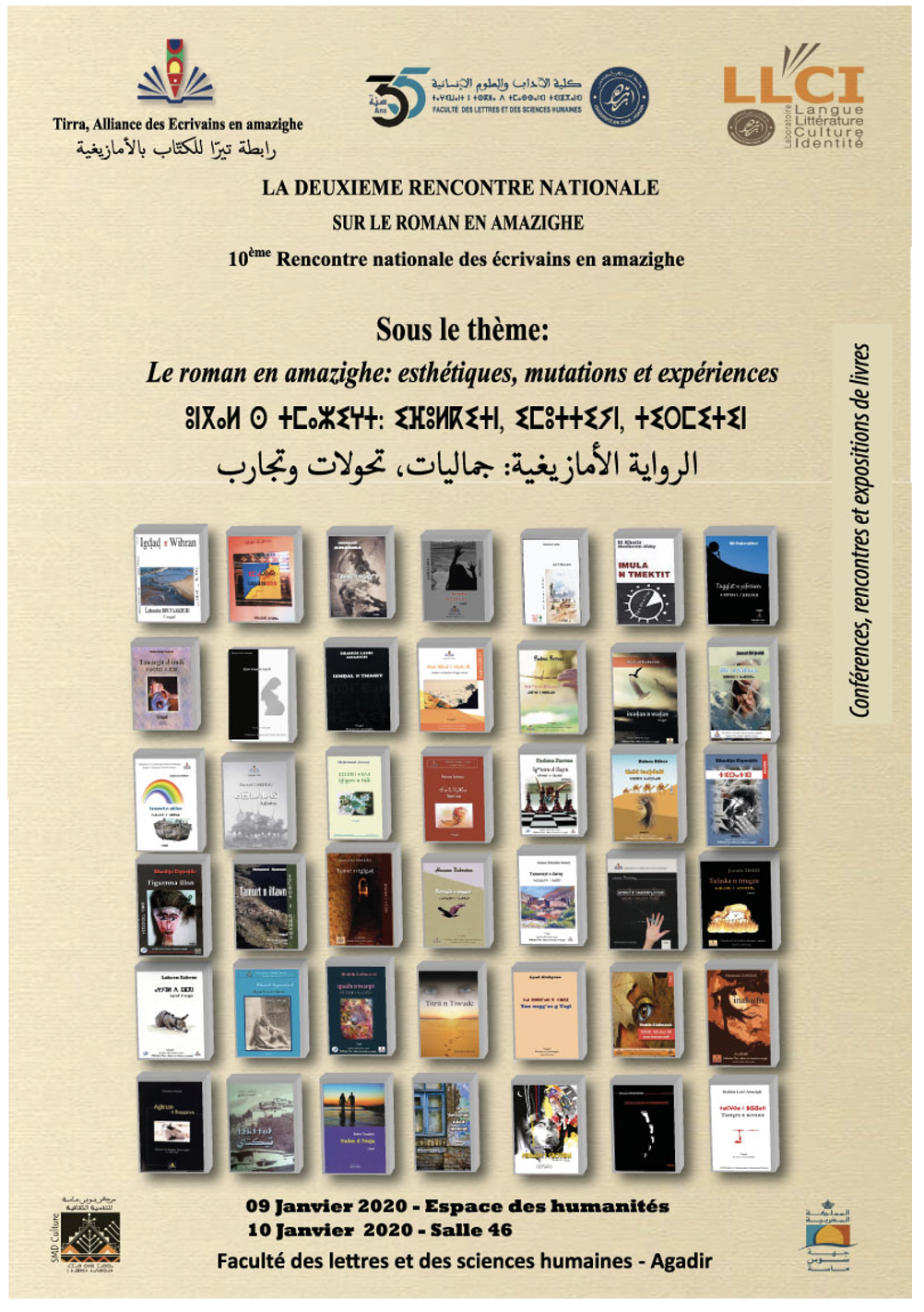 Credit: Tirra Association


Metamorphosis/Transformations in the Art of the Short Story

Significantly, the major remarkable metamorphosis witnessed by Amazigh literature in Morocco in general lies in its transition from orality/speech to writing, but it is remarkable that the written corpus that resulted from it was largely dominated, in the first decades, by poetic compositions,[6] as poetry formed the backbone of Amazigh literature.[7] A second metamorphosis was required to create diversity in literary genres and expand the scope of creativity in this language so that poetry does not exclusively dominate the field of creative writing. Thus, the short story (tullist) emerged because there was an urgent need for a new form of expression that transcends the traditional forms of poetry and tales which are neither,  given their traditional oral form, apt to grasp the changes nor reflect the transformations experienced by the Moroccan society, or even deal with new themes and issues via non-traditional structures. For example, the tale, which is a rich and abundant traditional narrative form in Amazigh literature, seemed to have exhausted its creative energy and became a quasi-static model due to a lack of diversity in terms of themes, structures, and perspectives. Such a decline is also partly attributable to the story's dependence on an orality whose textual conditions and routines of production and reception underwent a change, resulting in a decrease in its circulation because of the latest socio-cultural transformations taking place in Morocco.
In this context, the art of the short story took shape with the publication of Hassan Id Belkacem's first collection Amarayn (Lovers) in Tamazight in Morocco in 1988, and it subsequently continued throughout the years until it approximately reached 89 collections today. Although I am aware of the dangers of periodization in literature, I can methodically distinguish between two basic stages in the history of the short story genre in Tamazight:
1. The phase of establishment and exploration: its resulting corpus does not exceed three collections in addition to some stories published in magazines and newspapers that were circulating at the time such as Amoud magazine. This stage extends over a period of ten years from 1988 to 1998.

It was launched almost in a vacuum as it was not based on any written historical models in the field of contemporary narration in Tamazight unlike poetry, for instance, which was preceded by a written tradition in the form of jurisprudence poetry.[8]            The art of the short story writing in the aforementioned books is characterized by the following:
It appeared in a context characterized by the absence of any official or semi-official recognition, which consequently led to the absence of Tamazight both in the official institutions and in education. Thus, its advent was more in the exclusionary margin, far from the center, and under the aegis of some associations, especially the Moroccan Association for Research and Cultural Exchange (AMREC), which published important authors along with those mentioned previously. The powerful drive behind this stage lies in an urgent need for self-affirmation as well as an ardent confirmation that Tamazight can accommodate the written idiom and transmit various contents and subjects within the context of the dialectic of identity and difference. This kind of compulsion is what characterized this experience, subjecting it to the authority of referentiality, ideology, and the control exercised by content over creativity.
It adopts Arabic script due to the general state ideological constraints and epistemological obstacles; a stage where everything relating to Amazigh culture was dubbed impermissible, elusive, and unthinkable. Additionally, the adoption of personal interpretations of segmentation and spelling rules due to the absence of standardization and institutionalization only contributed to the aggravation of marginalization.
It was published without any designation of its genre, neither on the cover nor inside the text, except Ed Belkacem's collection designated as "Tadiminin"[9]but within the dedication. Designating a title for the literary works assumed a referential and thematic character that has not yet opened up to the horizons of interpretation and allusiveness.

It was remarkably tolerant at the linguistic level as it accepted extraneous vocabulary and borrowed from other languages.
It was poor in female voices.
The pioneering writers of this phase stopped after their first fictional work, and thus succumbed to discontinuous innovation.


At this stage, a transformation took place at the structural level by moving to the long short story. Tighrī n tabarāt, The first long short story collection, in the history of narrative literature written in Tamazight appeared in 1993. On the semantic level, there is a transition from a short story that is committed to a cause and depends on the power of ideology, as in Amarayn, to a new kind that began to be relatively preoccupied with aesthetics, artistic vision, and linguistic solidity as in the Anzlīf published in 1998. In this latter, one begins to feel a kind of metamorphosis in the short story domain, resulting from an awareness of the need to establish some kind of distance between social and political discourse and literature without completely disengaging from the bondage of ideological discourse as we will see later.
Within the story of commitment to militancy ( the short story as a means to serve a cause), there was another transition from a story that promoted the discourse of the left, such issues of poverty, class struggle, and political incarceration during what came to be known as the "Years of Lead" (1956-1999) as in Imarayn, by virtue of the nature of the context in which it was produced, to a kind of short story charged with identity and linguistic issues inspired by the Amazigh Cultural Movement as in Tighrī n tabrāt.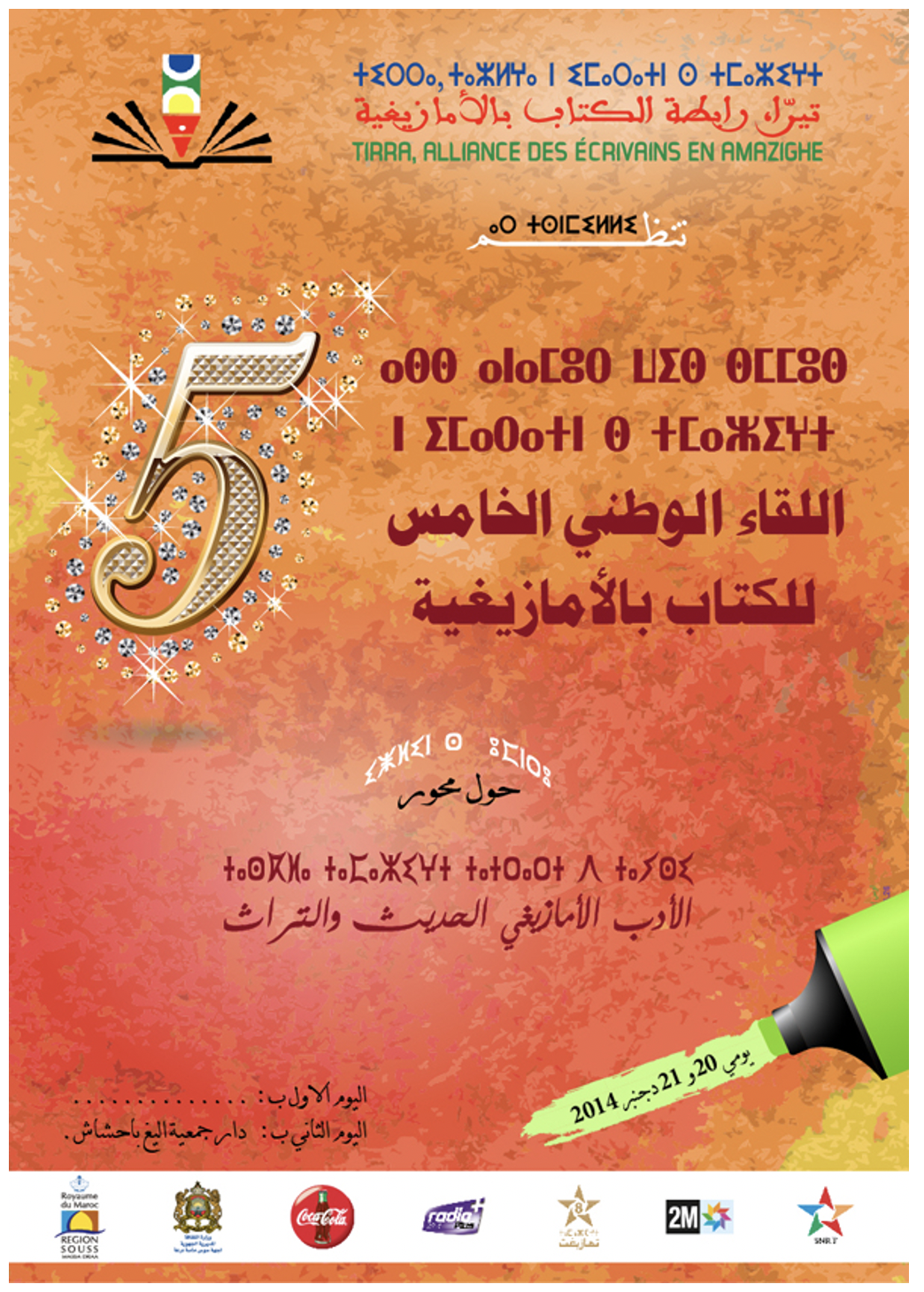 Credit: Tirra Association


A- Imarayn, the Labors of Birth and the Weight of Ideology

Imarayn, which means lovers in Tamazight, is indeed of great importance in the trajectory of the narrative corpus written in Tamazight by virtue of its primacy and establishment of the modern narrative art as well as its chronicle of the inquiries and concerns of its era. It, therefore, deserves a special attention to highlight some of the aspects associated with the birth and establishment of the short story art written in Tamazight. This collection consists of nine stories spread over eighty-six pages of medium size and they are respectively: "Aqbur" (The Aged), "Tiqqi uhū" (No Burning), "Damin n Tihiya d Boumlik" (The Tale of Tihia and Boumlik), "Kiyi Aygan Tidrfit Inu" (You Are My Love), "Tamghra Wushan" (The Wolf's Wedding), "Tamarayt" (Love), "Izkagh"(???), "Tawwukt" (The Hawk) and "Akfay n Tarwa Nou" (My Family's Milk). My remarks about this collection can be generally summarized in the following:
The writer's lack of a clear conception of the short story was reflected in the texts included in the collection, which oscillate between creative writing,  recording of oral literature and historical documentation. While some of the stories are a written confirmation of stories and funny anecdotes transmitted orally in Iḥaḥān region, recorded by the writer in a straightforward narrative style as in "Tiqqii uhū,"[10] others are stylistic reformulations of oral tales as is in "Damin n Tihiya d Boumlik." The bulk of the collection is inspired by real and historical experiences from the writer's life, relating to his incarceration due to his political positions as an adherent of the left during the "Years of Lead."
Imarayn, then, falls within the project of ideological struggle based on the fight for human rights, liberties, democracy, and cultural identity, a perspective that considers writing a continuation of struggle and a guarantee of the continuity of the Amazigh people. This is reflected in all the paratexts, which accompany the collection, starting from the front cover to the back cover,[11] dedication,[12] and the first pages that included citations and epigraphs from articles and chapters,[13] and the Declaration of the United Nations General Conference on Education, Science and Culture.
These stories are representative of their social environment. They literally reflect their historical, political, and cultural context embedded in repression, political oppression, suppression of Amazigh identity, and the dominance of the ideological discourse of the left, to the extent that the writers resorted to coining urgently needed concepts to convey these concerns (the invention of terms like Tawmagit to denote a sense of identity linked with the act of writing in the Tamazight, and Tamaght n Tskiwin to designate class struggle). Thus, these stories are characterized by their recording of facts and by their declarative aspect since they often present a bitter testimony about the reality in the 1970s in a rural Amazigh society, with the help of characters selected from simple impoverished masses and students on whom families rely to rid them of destitution.
There is even a reoccurring model with a semantic structure that is repeated in several stories (a young man who worked diligently at the university, then graduated, and decided to marry his beloved, but his dreams fail due to incarceration). This reoccurring narrative pattern is represented by "Azggwāgh" (The Red One), "Tamarayt," "Kyyī a ygān tiderfit inū," and to some extent by "Tamghra wushn". The theme of incarceration and oppression is central so that it became the connecting thread of most of the texts, in addition to portrayals of misery and social oppression, and other phenomena resulting from them such as begging ( in "Akfay i tarwa inū"), and a refusal of the superstitious thought wrapped in religious halos (through the character of a countryside young man imbued with Marxist thought who considers superstitious thinking a way to control the downtrodden classes as in "Tawoukt", but he ends up in jail).


The short stories in this collection record events that are based on facts inspired by the author's biography, or were triggered by the immediate historical and social context that is related to the experience of incarceration. It documents those events chronologically in some contexts by referring to their actual dates,[14]actual settings where the author lived during his upbringing in Iḥaḥān and his studies in Taroudant before he was detained in Rabat,[15] as well as the names of real personalities associated with the history of the region of Iḥaḥān.[16] Such a tendency on the part of the author affirms his desire to "intertwine the text with its external realm and make readers believe that it belong to the objective reality."[17] As a result, these short stories are laden with ideology, a celebration of the content, and the degeneration of artistic passion, except for some samples such as "Agbour."
Id Belkacem's documentary realism is sometimes interspersed with melancholic romantic hints (the forced marriage of Tihiya and Boumlek's suicide in "Damien n Tihya D Boumlek" and the ending of some heroes' destinies with detention and separation from lovers), which explains the title Imarayn.
The Second Phase: Institutionalization and Extension from 2008 to the Present

It is a continuation and extension of the foundational phase and a consolidation of the tradition of fiction writing in Tamazight after a period of dormancy that lasted for ten years (from 1998 to 2008). The narrative corpus produced at this stage was characterized by momentum, dynamism, and swift increase in creative production, especially in recent years, to the extent that the art of short story, after poetry, has dominated the Amazigh literary arena in the south. The following chart demonstrates this drastic increase: Among the factors that contributed to this dynamic production are the following: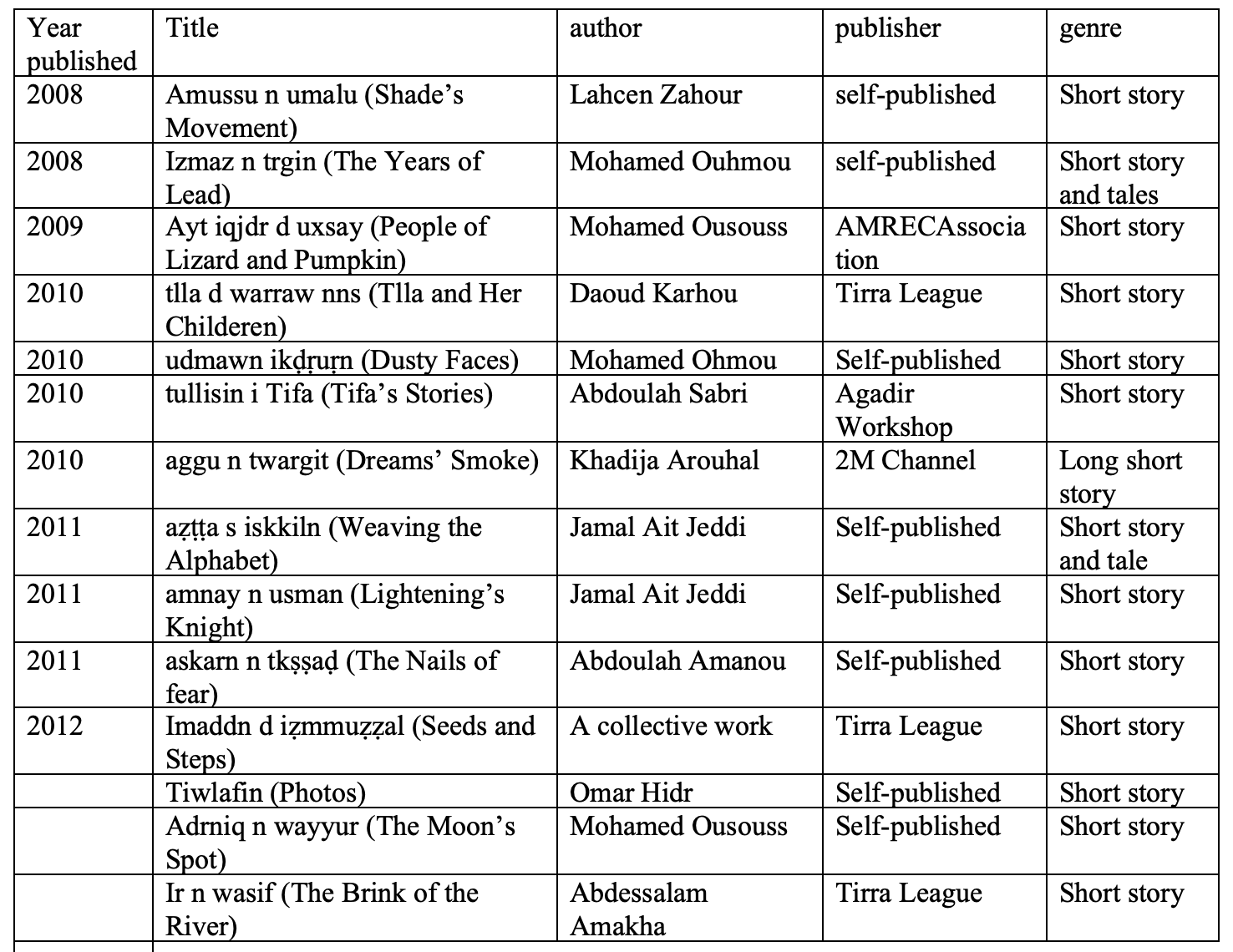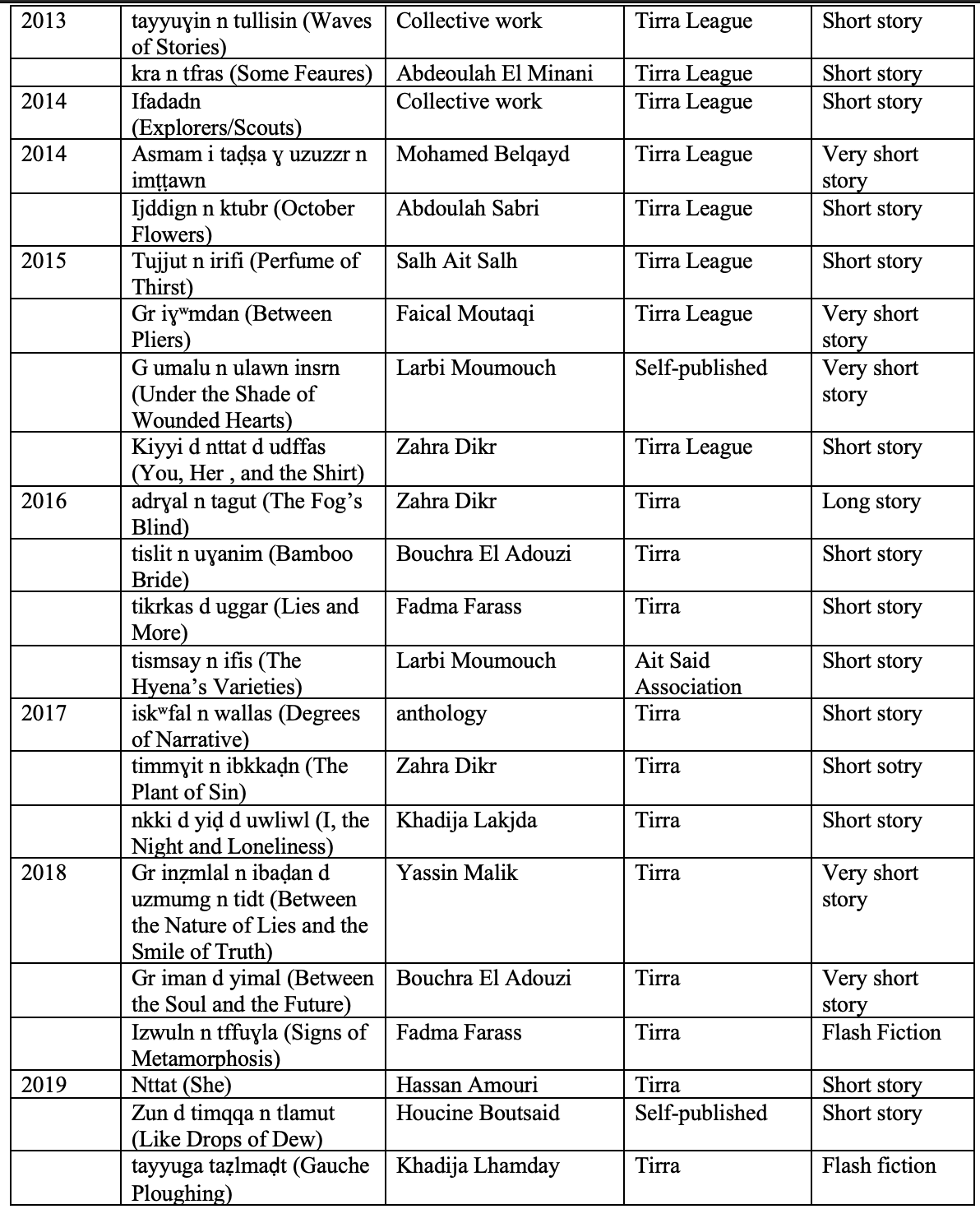 This phase was launched in a climate marked by official recognition of Tamazight, reconciliation with the self after the royal speech of Ajdir in 2001, the establishment of an official institution specializing in Amazigh linguistic and cultural affairs (IRCAM), granting Tamazight a constitutional status in  2011, and  its partial integration in the educational system.
The emergence of specialized associations that foster literary creativity, especially Tirra Association, which has aimed to primarily encourage young people to write fiction in Tamazight by organizing periodic forums and symposia to discuss issues related written Amazigh literature, especially fiction. Additionally, the association organizes workshops on the art of short story that result in individual works or anthologies. So far, Tirra Association alone has published nearly two-thirds of works (83 nonfiction works out of 110) that are in circulation currently.
The organization of annual events during which awards and prizes are awarded to successful works in order to encourage literature written in Tamazight. This of course motivated a number of writers, especially young ones, to embark on the adventure of writing short stories in Tamazight. The most prestigious of these awards are presented by the following institutions: the Royal Institute of Amazigh Culture, 2M Channel, and Tirra Association.
The establishment of Amazigh studies departments nationally and at Ibn Zohr University in Agadir, in particular, had a major role in reading, introducing, and supervising research in Amazigh fiction.


The following are the most important outcomes and transformations of the literary dynamism at this stage:
The texts are characterized by the standardization of spelling and shifting towards the Latin alphabet or the dual script (Tifinagh and the Latin alphabet), and a definitive break with writing in Arabic script. 
A number of writers, who previously favored poetry and novelistic forms, embraced the art of short story, principally in the case of Hassan Obrahim Amore, Latifa Aid Lamouden and Mohamed Oudmin, Mohamed Agounad,  Zahra Dikr, and Larbi Momouch, who was more interested in translation. Over the last few years, these writers stormed the field of short story writing in Tamazight, leading to its expansion. Such a surge also allowed for a growing increase in reading audiences,  awareness and the birth of new and young generations of writers along with pioneers and veterans such as Fouad Goghilt, Faical Mottaki, Mohamed Belkaid, Zahra Diker, and Salh Ait Salh.
Feminist writings in Tamazight saw the light for the first time and secured a narrative space to reveal and express women's concerns and their repudiation of male domination, which enriched the short story with new preoccupations, aesthetic visions, and semantic additions.  The  first short story which set this feminist writing in motion is Khadija Arouhal's Ikiw n Twargit (translation?); the first feminist short story that was published seperately.  Arouhal set the stage for other female voices such as Zahra Dekr, Malika Boutaleb, Aziza Nafie, Latifa Idelmoden, Fadma Farras, Bouchra El Adouzi and Khadija Lakjda, etc.
The emergence of a short story genre aimed at children as with Zahra Dikr, Mohamed Karho and Mohamedd Arjdal etc...
The emergence of anthologies allowed for the cross-fertilization of multiple experiences of various writers coming from different backgrounds, generations and with various stances in the same collective work.
The instigation of translation movement in the field of short story in order to learn about the experiences of peoples. This started with Salih Agram's translation of Aziz Nesin's sarcastic short stories Oh, We Donkeys ( Niknin Ighuyāl, 2009) and  The Monster of Toros  (Agaroud n Toros, 2018). Jamal Ait Jeddi translted a number of  short sotries by various foreign and  Arab writers collected in an anthology entitled Tūdimīn s Tugmimīn, published by Tirra in 2015. Additionally,  Bouhamdi translated three stories by Maupassant, published by Tirra in 2019, while Salh Ait Salh translated some of Dostoevsky's short stories, which was published in a collection entitled Boubouk d Tulissīnn Yaḍn, published by  Tirra in 2018. It is worth mentioning that Tirra Association contributed two other collections of stories whose title indicates this concern with opening onto other literatures; namely  Tissīt n Wiyad (The Other's Mirror, 2012), and Wūl n Sn s Ils Ngh (Their Heart in our Tongue, in 2015). These two collections comprise translated short stories by renowned writers of world literature such as Chekhov, Moravia, Borges, Aziz Nesin, Ibrahim Al-Koni, and others. Perhaps Hassan Zohour's translation of Gogol's "The Overcoat" (Arsmid, 2012) is a credible testimony, which confirms a sense of awareness that lies behind Amazigh translation movement.[18]

Thus, all these parameters constituted enriching factors for the Amazigh narrative corpus in Souss. They have enhanced the diversification of aesthetic views, narrative patterns, semantic predicates, and forms of engagement with language and intertextuality, according to each author's taste, position, sources, artistic and aesthetic perceptions or intellectual visions. Gradually, the short story genre began to reinforce its presence in the Amazigh creative scene, granting scholars and students this corpus the possibility to talk about Amazigh creative experiences based on the quantitative accumulations of some author's work.[19]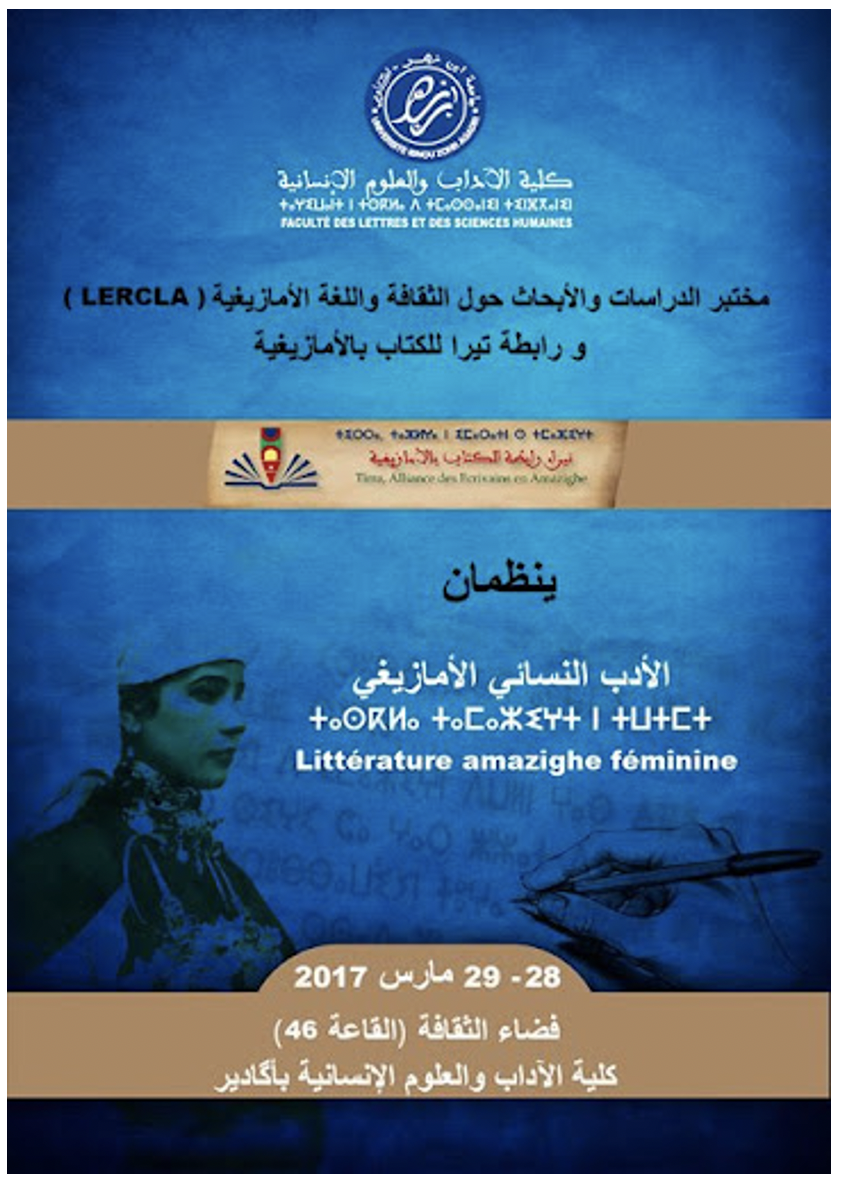 Credit: Tirra Association


The methodological necessity required classifying these works on a structural and semantic level. This can be done by searching for a major characteristic or a connecting thread that can conjoin these various writings, even if it required some kind of the so-called unification violence, or transgression involved in every coercive process to combine what has been scattered. Since the experience of the short story project in Tamazight is still in its infancy, which does not allow for its categorization within the artistic movement common in world literature, I may therefore venture, with great precaution,  to methodologically divide this experience into what can be called three sensibilities:[20]
Imitation or dependency on reality (at the semantic level) and normativity (at the level of structure).
Interaction with the tradition 
Renovation and disruption of paradigms


Also, it is crucial to emphasize that these sensibilities are not separated by finely drawn boundaries because they are not based on radical transcendence, but rather on juxtaposition, in the sense that they overlap and intersect with each other. Oftentimes, these sensibilities are juxtaposed within the same experience, and sometimes within the same group. Also, at the core of some models of imitation, one can observe some features of experimentation.
It should be emphasized that, after three decades since the publication of its first vanguard texts, the short story in Tamazight in the South continues to be characterized by its oscillation between faithfulness to archaic forms and attempts at transcending those patterns. It is at the same time overshadowed by memory, imaginative prospects, and reflections of the past. However,  there have been significant shifts and steady developments in terms of artistic awareness, semantic, thematic, and structural levels in the last few years despite the fact that criticism and reading do not proportionately match the surge in short story writing.
[This article was translated into English by El Habib Louai.]
---

[1] As an example, one can point to stories that incorporate dialogues in Tamazight as in Amine El Khamlichi's collection Clashes or those whose titles are inspired by Amazigh creative tradition as in the use of terms such as 'Tafoukt' in Moustapha El Ghatiri's collection Tsunami. Other stories use titles that are literal Arabization of Amazigh expressions and proverbs as in Taher El Knizi's "The Frog Said Things Have Change," which is a literal translation of the Amazigh proverb "aman yadnin ayad as inna ugru". Some others utilize Amazigh mythology (Taslet n unzar, for instance) is in Fatiha Aarour's collection Tanit, or use Amazigh names for their characters (Tanit, Idr, Toda, Tonarouz, Amnay, Anir, Tamalout etc...).

[2] Dallet (J.-M.) et Degezelle (J.-L.) : Les cahiers de Belaïd ou la Kabylie d'antan, Fort-National, 1964 ; I (Textes), 478 p. + II (Traductions), 446 p.
[3] Rachid Titouch is the first researcher who has undertaken an analytical study of these texts and showed that they naturally deserve to be categorized as short stories in his monograph Les cahiers de Belaid: du conte à la nouvelle, mémoire de magistrat, université de tizi ouzou, 2001, and in another article he co-authored with Sabrina Zarar entitled "Naissance du genre nouvelle en tamazight (kabyle)" in El- Tawassol- 29 janvier 2009 – pp -56-66

This of course is a designation that most of the Algerian Amazigh researchers and critics as Aamar Amzian adopted in book Amar Ameziane Tradition et renouvellement dans la littérature kabyle. Paris : L'Harmattan, 2014. 216 p

Similarly, Nadia Bardous adopted the same view in his study entitled Narration in Kabylie Prose: A Comparative Study of Narration in the Popular Oral Tale and Belaid Ait Ali's Work and Kabylie Novel ( a monograph submitted in fulfillment of the requirements for the degree of master's at Mouloud Maamri University in Tizi Ouzou, 2001-2002).

Additionally, dealt with the same issue in his book La nouvelle littérature kabyle et ses rapports à l'oralité traditionnelle ». Dans : La littérature amazighe : oralité et écriture, spécificités et perspectives, actes du colloque international, Aziz Kich (s/d), 2004, 103-121

[4] See the bibliography of Amazigh short story collections in Algeria (Kabyle literature) up to 2014 published in a research entitled Ameziane Amar. et Salhi Mohand Akli, 2014 : «Tullist kabyle : réflexions préliminaires sur le corpus", Actes du 3ème colloque international sur " la problématique des genres littéraires amazighes: définitions, dénominations et classifications" Université de Bouira. pp.114-120 or in Mohnd Agli Salihi's book kra n tsura i tɣuri n tsekla- 1. ɣef  tsekla d tɣuri- Muḥend Akli Salḥi- Ed. Tira- Bejaia- 2015- pp 89-91

[5] What has been published in the center and southeast part of Morocco is indeed mediocre. One can mention tasggawrt n ugdal inzan by Omar Darwish and tiwtmin yufn irgzn by Moustapha Melo and gar tamttudt by Said Obolman, and tadsa n izlfn by Khalid Bouadi and tamsumant by El Habib Fouad.

[6] At present, there are more than 200 Amazigh poetry collections in Morocco. Some bibliographical data apropos these collections up to 2010 can be found a book on the bibliography of Amazigh literary production in Morocco (1968-2010) by Mohamed Oufkir and Ahmed El Mounadi, IRCAM publication, 2012.  The bibliography of poetry collection published in the south up to 2013 can be probed in my article " Modern Amazigh Literature in the South: The Outcome and Question in a collection of articles published by Tirra Association, Assalam Press, 2013.

[7] Fouad Azrawal, "Narrative in New Amazigh Literature," Asenac Magazine, Double Issue 4/5-2010. Rabat: Royal Institute of Amazigh Culture, p.26

[8] This is about the famous written tradition known in Souss as Tamazight, which produced several manuscripts of jurist poetry by Aznag and Awzal.

[9] The word Tadmenine is the plural form of Tadmint which means "a tale," a term that was initially used before it was replaced by tallast then by tullist.

[10] This story is prefaced by the narrative trope "Ika Tin," which can be translated into English as "one upon in time." In this narrative, the author tells tales attributed to well-known historical figures such as Said Utkzizin and Ed Barod. These stories happened in actual places in the author's hometown like Ortie O Fallah and Tamnar.

[11] "Writing ensures the continuity of the peoples in the world" is printed on the back cover of the book.

[12] In dedication, he wrote: "I would like to dedicate these stories to those who fight for identity, freedom, and democracy."

[13] On page 3, the author quotes the fifth article from the UNESCO Declaration 27-11-1978. On the back of the cover is an excerpt from article (1) of the same Declaration.

[14] In "Azkagh", for example, the following historical reference "16/01/1976". The author also refers to the two heroes' school years up to their graduation and employment. In " Kiyi aygan Tidrfit inou" ( you are my freedom), the author alludes to the husband's imprisonment twice in 1971-1972- 1984.

[15] The stories are furnished with toponyms such as Ihahan, Southern Agadir, Taroudant, Sidi Bibi, Rabat, Taouririt n Ait Bouzid, Sidi Mhnd Ihya, Tin Zamg, Agadir Yisk, Ait Tssila and Assif nid Hwa.

[16] Lcaid Said o Tgzirin and Lcaid Anflouss are some of the anthroponyms that were mentioned in the stories. They were associated with the region's history.

[17] Latif Zaitouni, Critical Terms, Maktabat Loubnan, 1st Edition, 2002, p.172.

[18] This story is known to be a foundational piece in the field of short story writing. Dostoevsky said: We all came out of Gogol's 'Overcoat'". Along with Nabokov and Tourguéniev, Dostoevsky considers himself to be a descendent of the Gogolian tradition.
[19] Mohamed Ouhamou (7 collections), Lahcen Zahour (4 collections), Mohamed Oussouss and Larbi Moumouch (3 collections).

[20] I borrowed this concept of sensibility from Edward Al  Kharrat's New Sensibility: Essays on the Short Story (Beirut: Dar Al Adab), 1993. Al Kharrat defines sensibility as a way of receiving external stimuli and responding to them. He opts for this concept as it connotes revolving flexibility and a permanent flow (p.20).