[This article is part of a dossier on Tankra Tamazight, Amazigh Revival, and Indigeneity in North Africa, edited by Brahim El Guabli. To read other articles in this dossier, read the introduction here.]
This paper takes as its central question the role of novel-length translation in the evolution and reorientation of literary discourse as a new genre, a line of thought not yet explored by Amazigh literary research. Far from attempting a quantitative survey of different translations, we have chosen instead to focus on a small selection of novels translated into Amazigh that highlight certain contributions in the evolution of the Amazigh novel genre. 
The value of our research lies in the fact that the practice of translation is of paramount importance in the making and evolution of the Amazigh novel (Maingueneau, 2004). Across different modes of writing, literary translation has the distinction of giving written works a chance at international celebrity. What's more, translation is conducive to the transmission of universal themes and stylistics. Indeed, translated works have been able to introduce new themes and textual structures into Amazigh novelistic discourse.
The lack of interest thus far in studies of translated Amazigh novels is due, on the one hand, to the difficulty of categorizing the complexities of novelistic writing as a new genre imbued with textual stylistics and communicative aims and functions (Sadi 2019), and on the other hand, to the predominance of novels that are extensions of the traditional oral storytelling style of Imazighen. 
This state of affairs distinguishes the two practices by defining the essential characteristics of each. In novel writing, the creative practice is an extension of the traditional oral style and the act of writing is associated with the lived identity of the author, as inflected by his text (Salhi, Sadi, 2016). When it comes to translation, though, the textual choices of the genre and the ideological positions that are staked out are brought forth in comparison to the original text.
The Emergence of the Novelistic Discourse: Localizing within Identity

The Amazigh novel as a genre, in the same vein as theatre and cinema, emerged in rather singular political conditions, under the shadow of major movements for the institutional and constitutional recognition of the Amazigh language. Thus, novel writing as a new genre often appeared to be a militant act, one characterized by the politics of identity (Alliche, 981-1986; Sadi, 1983, Mezdad, 1990). 
In addition, this channel of advocacy, adopted by activists, has played a big role in supporting and framing various identity-based struggles. Thus, when activists became involved in novel writing, they were able to create both a new strand of literary expression and the beginnings of a cultural project rooted in the political moment. During the 1980s and 1990s, four novels in particular marked the emergence of novelistic discourse in Algeria for the Kabyle people. These were the two novels of Aliche: Asfel ("The sacrifice") and Fafa ("diminutive of France"), published in 1981 and 1986 respectively, Askuti ("The Scout") by Sadi, published in 1983 and Iḍ d wass ("Night and day") by Mezdad, published in 1990. That said, some literary critics (Ameziane, 2008, Salhi, 2010) have also pointed to Lwali n wedrar[1] "The Saint of the Mountain" by Belaid Ait Ali (1964) as the pioneering text of Kabyle literature. Since the nineties, Amazigh novels have undergone a remarkable evolution across more than a hundred texts. 
This is also true of Shlūḥ, the longtime scriptural tradition of the Amazigh language (Bouyaakoubi, 2020). The establishment of the Tirra Association (2009) has played a big role in the emergence and evolution of Shlūḥ novels. The credit for this goes to Mohammed Akounad and Mohammed Ousouss, who were able to pass on literary traditions to a new generation of writers. In the space of three novels, Tawargit d imik "a dream and a little more," Ijjign n tidi "Flowers of Sweat" (2007) and Tamurt n ilfawn "The land of Wild Boars", published in 2002, 2007, and 2013 respectively, Akounad earns his position as a pioneering author of Shlūḥnovels. Since then, he has produced seventeen novels (Bouyaakoubi, 2020).
As for the Riffian language, literary production has seen the light of day thanks to the publications of Chacha, reẓ ṭṭabu ad d teffeɣ tfukt (Break the Taboo and the Sun Will Appear") and Tayri n tayri (The Love of Love), published in 1995 and 2016, respectively. 
Translation for a New Era of the Novel

After the first stage of this literary tradition, in which novel writing was positioned within larger struggles over identity, there emerged a new generation of writers who aimed to position themselves in a more universal literary discourse by translating works of international renown. This new method of novel writing aims to redefine discourse around the novel, framing it as a new genre with new textual structures, new thematic orientations, and new societal functions. 
This vision of novel creation-by-translation from Arabic, English, and French has resulted in a significant literary evolution across a range of texts. Kabyle takes first prize with about twenty novels. The following table summarizes many of the essential translated texts.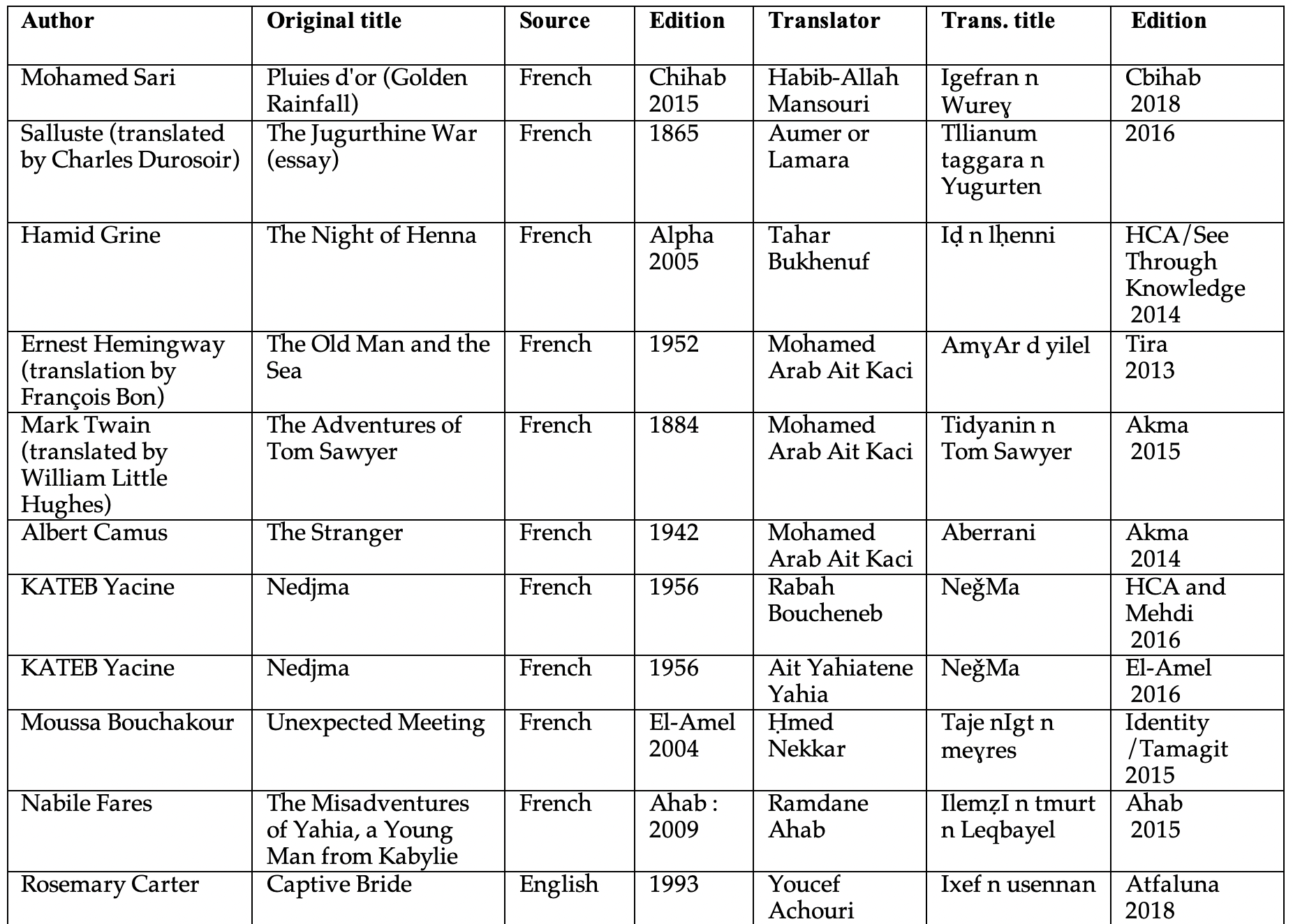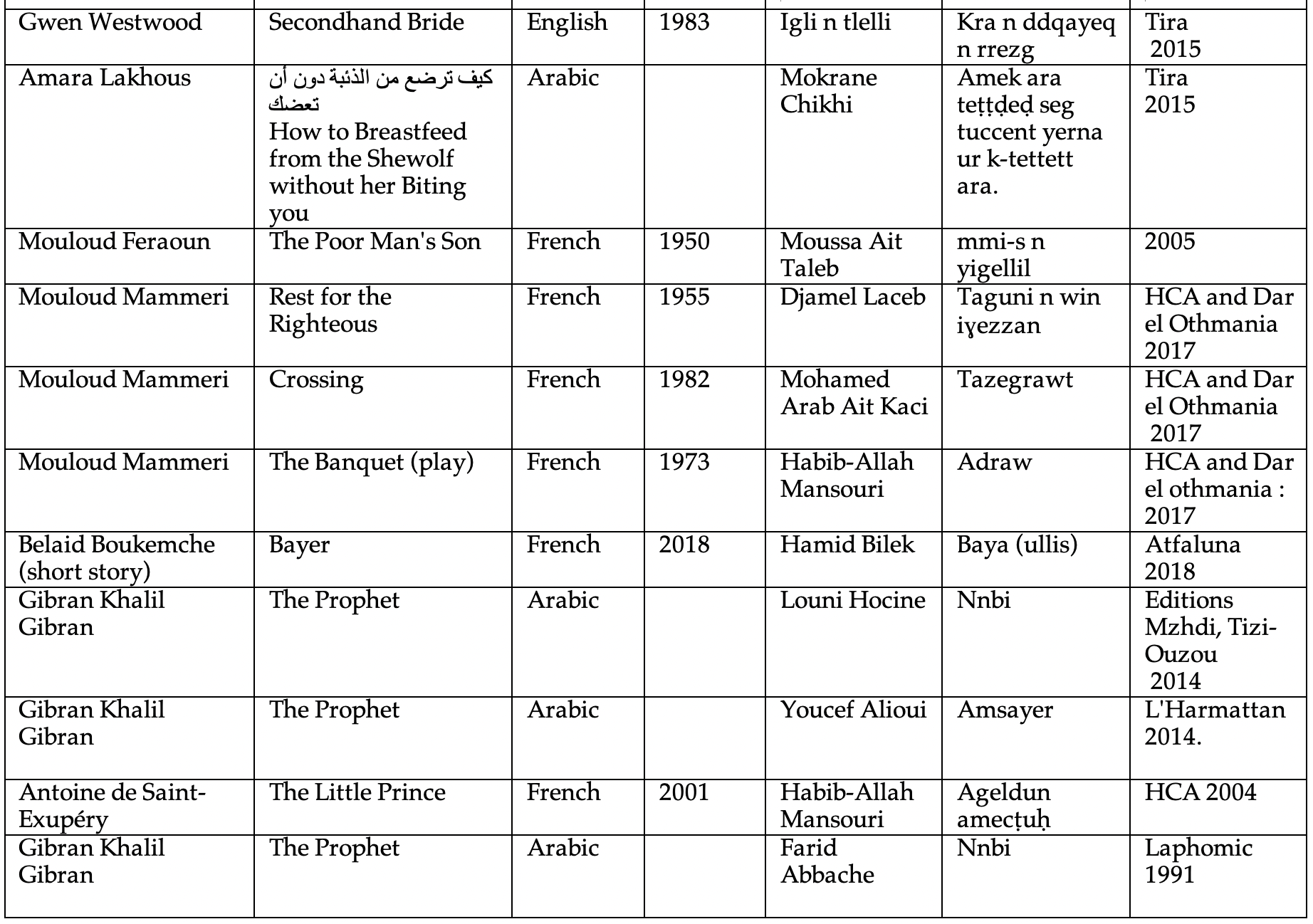 Shlūḥ comes in second with seven novels (Bouyaaakoubi, 2020).

Examining the quantitative results of the two tables allows us to identify two important trends in this translation work. One strand calls upon memory and historical identity in its translation of Maghrebi French novels (Mammeri, Feraoun, Camus, Yacine, etc.). There is also a competing vision that seeks to capture the universality of the genre (Westwood, Carter, Orwell, etc.).
Both visions aim to integrate the Amazigh novel into the new textual, thematic, and social perspectives of the global literary arena. These characteristics give the Amazigh novel a new context that allows it to take a Westernized turn.
In (Un)Conclusion

As this paper traces the course of various Amazigh translations, it is worth mentioning that this novelistic practice accords a position of importance to the novel as a universal genre. The camp that focuses on the translation of Maghreb works highlights the history of literary borrowings, while the more universal vision of translator-writers aims to bring Amazigh works into conversation with world literature.
In addition, it should be noted that this work is still in its preliminary stages, and there is much more cross-genre analysis to be done. It would be especially fulfilling to do this by way of a comparison of two texts (source text and translated text). The goal would be to highlight the similarities and differences between the original and the translation, with a view to highlighting the stylistics of the translated genre. It would be equally interesting to compare the creator's vision with that of the translator, in an attempt to highlight the role of translation in redefining the Amazigh novel.
[This article was translated from the French version by Benjamin Connor.]
Bibliography 
Abrous, Dehbia, 1989, La production romanesque kabyle : une expérience de passage à l'écrit, DEA (dir. S. Chaker), University of Provence.
Abrous, Dehbia, 1991, "Quelques remarques à propos du passage à l'écrit en Kabyle ", Proceedings of the international colloquium Unity and diversity of tamazight, Ghardaia, 20 and 21 April, pp. 1-14.
Aliche, Rachid, 1981, Asfel. Mussidan : Federop, 139 pages.
Aliche, Rachid, 1981, Faffa. I yuɣen irgazen ur ttrun. Mussidan Federop,
Ameziane, Amar, 2008, Tradition et renouvellement dans la littérature kabyle, PhD thesis, Bounfour, A. (under direct. de), Paris-INALCO.
Bouyaakoubi, Anir, 2020, "Tirra, Alliance des écrivains en amazighe. Une nouvelle dynamique autour de l'écrit en amazighe au Maroc ", Imesli Islands Magazine, volume 12, N°01, PP. 05-21
Chaker, Salem, 1992, « La naissance d'une littérature écrite : le cas berbère (Kabylie) », Bulletin des études africaines, N° 17-18, pp. 7-21.
Chaker, Salem, 2007, « Langue et littérature berbères », Clio, 2007, pp. 1-10.
Maingueneau, Dominique, 2002, Analyser les textes de communication, Paris, Nathan.
Maingueneau, Dominique, 2004, Le discours littéraire. Paratopie et scène d'énonciation, Paris, Armand Colin.
Mezdad, Amar, 1990, Iḍ d wass. Alger: Asalu, 182 pages. 
Sadi, Nabila, 2019, Problématique de l'écriture romanesque en kabyle. Approche sociopoétique, Thèse de doctorat, Université Mouloud Mammeri de Tizi-Ouzou, Algérie.
Salhi Mohand-Akli., Sadi, Nabila, 201, « Le Roman Maghrébin en Berbère », Contemporary French and Franchophone Studies 20(1), pages 27-36. http://dx.doi.org/10.1080/17409292.2016.1120548 
Sadi, Sadi, 1983, Askuti. Paris: Imedya
---

[1] Work written during the 1940s and published along with other texts in  "the cahiers de Belaid Ait Ali".
[2] This chart is from Bouyaakoubi's article "Tirra, Alliance des écrivains en amazighe. Une nouvelle dynamique autour de l'écrit en amazighe au Maroc," REVUE ILES D IMESLI 12, no. 1 (2020), pp. 05-21.