The Middle Draa Valley, a date palm oasis region in the southeast of Morocco, faced an unrelenting drought in the summer of 2021. The river running through Tamezmoute, a community of 21 Amazigh villages in the Draa Valley, was dry from May to mid-June. As a result, the villages' date palms browned from thirst, and only a thin layer of water glistened at the bottom of wells ranging from fifteen-thirty meters deep. The budding bundles of dates just beginning to appear on palms were paltry compared to previous years. The water shortage also forced many families to abandon or reduce their corn, alfalfa, and vegetable crops which are farmed beneath the shade of the palms.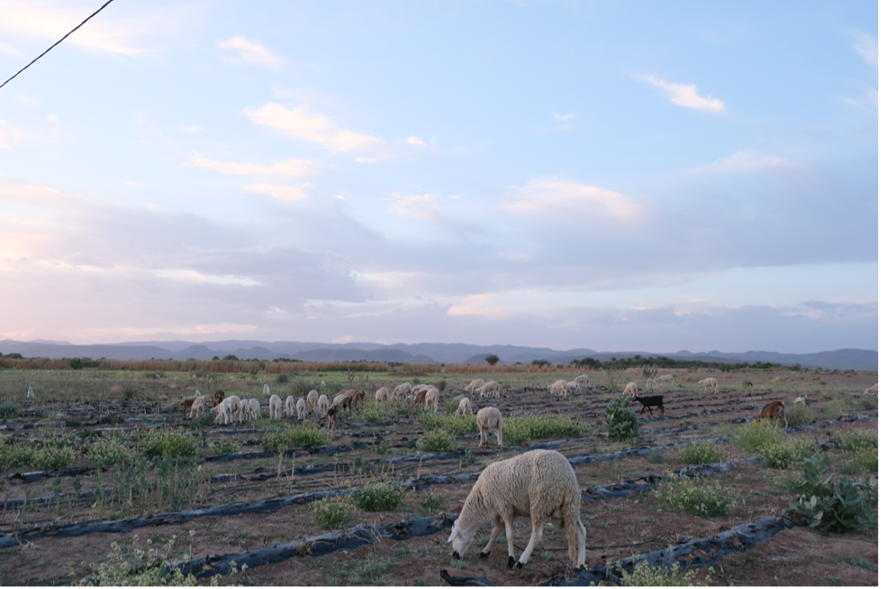 Figure 1: A section of the oasis in Tamezmoute in the Draa Valley, Morocco 25/7/21 photo by author.

Periods of drought are common in this region, which sits close to the Sahara Desert. However, the last five years have seen a significant decrease in rainfall. [1] A spokesperson for the local agricultural development office in Agdz told me in June 2021 that this is the worst drought the region has experienced in 30 years. The situation is not expected to improve as climate models predict a ten to twenty percent decrease in annual rainfall in North Africa by 2050 [2] and an increase in drought in the valley over the next ten years, coupled with an increase in water demand. [3] The oases of the Draa Valley have sustained agricultural livelihoods for generations, even through earlier periods of temporary and less-severe drought. "If there was enough water for the tamazirt, that would be a blessing," one woman lamented. [4] This expression of loss captures the communal stakes of the families who have long farmed these oases. Their current predicament begs the important question: what happens to oasis farming when the water runs out?
The Middle Draa Valley is a 200 km belt of six date palm oases in the southeast of Morocco fed by the Draa River. [5] Oasis farming refers to local households' tradition of growing a mix of vegetables, alfalfa, and cereals underneath the shade of the palms, which in turn keeps the valley's 27,000 hectares of oases watered.  Tamezmoute is in the second of the six oases, Tinzouline (fig. 2). The Mansour Eddahbi dam near the city of Ouarzazate, originally built to regulate the region's water for increased agricultural activity, controls the river in this region. [6]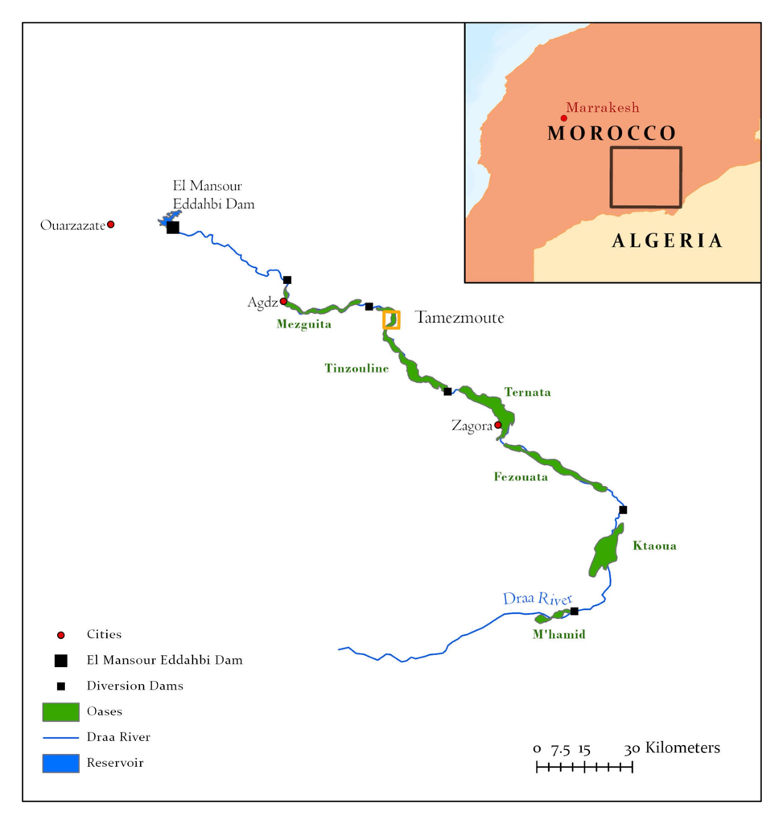 Figure 2: The Draa Valley Oases. Map by Jamie Fico using ESRI ArcGIS Pro and Google Earth Pro.

The dam was constructed in the 1970s as part of King Hassan II's ambitious strategy that sought to irrigate one million hectares of the country by the year 2000. [7] Since the French Protectorate period, dam building has been a focal point of Morocco's national development strategies to harness its water resources for agricultural production. [8] The Mansour Eddhabbi is one of 144 large-scale dams constructed under the country's dams' policy (politiques de barrages) since 1968 to extend cultivation and protect against drought. [9] Yet the dam in Ouarzazate has faced criticism for disrupting traditional water management in the region and leading to soil degradation downstream. [10]
Today, extended periods of drought and building siltation have reduced the dam's storage capacity from 583 million cubic meters in 1991 to 250 million in 2016 [11]; it is forecast to decrease well under 250 million cubic meters by 2050 if mitigation strategies are not implemented. [12] The reduction in river water has greatly affected the farming communities downstream in the Draa Valley. Today, the dam releases on average four times a year and about 120,000,000 cubic meters total. [13] This amount is not sufficient to meet irrigation needs for farmers in the oases—it is normal to see the riverbed dry in between dam releases. In 2021 in particular, the dam release originally scheduled for August was moved earlier, to 15 June, due to drought. Residents reported that fifteen years ago, water used to be available in the irrigation canal for about twenty days. However, after the June 2021 dam release, water was available in the Tamezmoute irrigation canal for only two days before it ran dry.
Moroccan scholars such as Abdellah Hammoudi and Lekbir Ouhajjou have discussed the numerous irrigation schedules and collective maintenance that communities in the Draa practice to manage the river's water while adapting to its variability. [14] However, these practices focus on surface water management and have been in decline as farmers become increasingly reliant on groundwater. [15] In the summer of 2021, community members frequently told me that water declined following the construction of the dam, resulting in reduced household production as well as increased wage labor migration, thus contradicting the dam's regulatory goal of conserving agricultural water throughout the year. Today, remittances play a major role in household incomes in the Draa Valley to subsidize farming activities in the region. [16] In addition, the steady increase in irrigated agricultural area for commercial farming has led to the lowering of the alluvial aquifers in the Draa Valley and increased groundwater salinity. [17]
To keep their palms and crops alive, small-scale oasis farmers resort to continuously deepening groundwater wells. One farmer informed me that his well was originally only eight meters deep when he first built it in 1982. Today, it is eighteen meters deep. He worries if he deepens it any further, it will collapse. He also struggles to find assistance to pay for the cement and metal bars needed to rebuild his well safely. [18] While there is government funding dedicated to assist farmers in the region with irrigation equipment under the Green Morocco Plan (GMP), this has largely gone to those with combined landholdings and market-oriented farms. Tamezmoute oasis farmers say they have never received assistance from NGOs or local government for building or maintaining their wells.  Government agricultural assistance is typically dispersed to small-scale farmers through water user or farming associations which many oasis farmers in Tamezmoute reported they do not participate in.
Challenges Accessing the Green Morocco Plan

The Green Morocco Plan (GMP), Morocco's 2008-2020 national agriculture strategy, has financially supported many farmers in the Draa Valley, with the number of beneficiaries increasing every year. [19] The GMP specifically mentions small-scale farmers in oases as target beneficiaries. However, the GMP's free trade model has been critiqued for putting rural subsistence farming in competition with the high-producing north of the country. [20] Scholars have also raised concerns that the GMP focuses on increasing agricultural production for export and concentrating land to elites, while failing to sustain local livelihoods and environments. [21] In the Draa Valley, this has translated into expanding watermelon farms on pastoral land and overdrawing groundwater. [22]
The GMP does not explicitly promote melon farming, but it does provide irrigation assistance intended to increase the efficiency and water supply of market-producing farms. In the Draa Valley region, the plan provides assistance for land clearing and equips farmers with drip irrigation, groundwater storage basins, and solar-powered well systems. Many farmers near Agdz and Zagora I met this summer had received this assistance—at least, those with 3 hectares of land or more—and mainly planted melons, henna, and date palms. However, I noted that small-scale oasis farmers in Tamezmoute had largely not received assistance. Morocco has long struggled with integrating farmers and traditional water rights in its development of small-scale irrigation systems. [23] In this respect, the GMP is not a radical departure from this history: it continues to disadvantage farmers who work on oasis plots of less than two hectares, especially those with fragmented land which presents a challenge to drip irrigation and well design. Keeping land combined is becoming more and more difficult in the oases as parents pass away and landholdings are divided amongst children.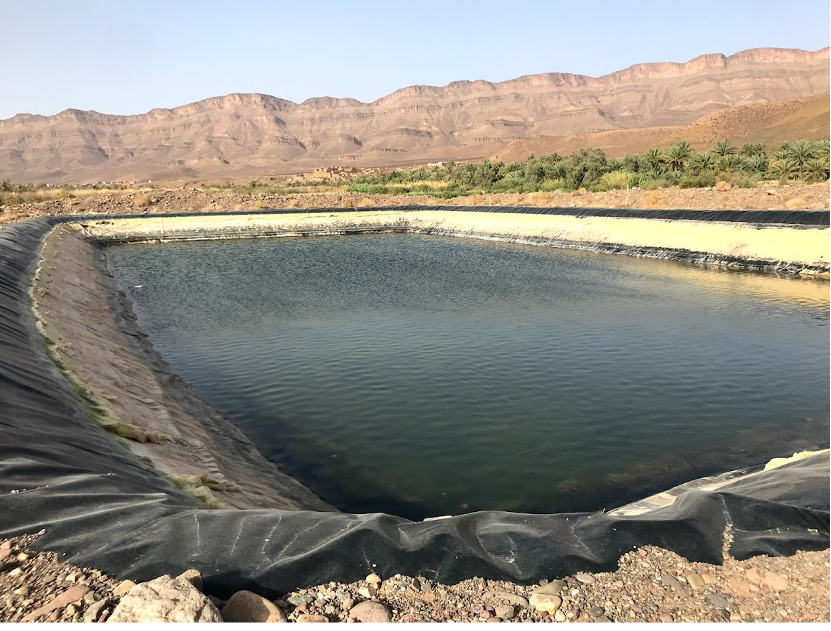 Figure 3:  A storage basin for groundwater on a watermelon farm in Tamezmoute. The GMP funds the construction of these private irrigation systems in the region. 30/7/21, photo by author.


The Pull and Precarity of Melon Farming

While household farmers struggled with the drought this year, one crop less affected by water shortages was melons. Melons were first introduced to the valley in the early 2000s; residents say they were first grown in Tamezmoute in 2015. Moroccan scholars have documented this disturbing trend in the valley, noting melon farming's strain on local water resources and the excessive use of chemicals in their production. [24] In nearby regions such as Boudnib, Moroccan speculators have rented land from residents to grow melons for the international market, abandoning crops that do not meet these standards while exploiting local labor. [25] In Tamezmoute, melons are grown primarily by residents who have access to larger sections of land and the capital necessary to invest in start-up inputs, while some land is rented to farmers from outside the community.  This new, water-intensive farming for the international market can cause tension between residents over groundwater, particularly during periods of drought. Many oasis farmers do not support increased melon growing, as one farmer told me:
"The planting of the watermelons has been killing us. The watermelon farms consume so much water. They water them day and night. The owners of the watermelon farms gain a lot of money and profit from selling the watermelons, but they leave the other regular farmers suffering…Our plants, crops, and palm trees are dying because those watermelon farms consume all the groundwater." [26]
Another farmer added to this, saying:
"The watermelons should not be planted here. It is not the appropriate area for it. The water here should be used for the palm trees so we can preserve green areas. We shouldn't give up something our ancestors did [date farming] for something new [watermelon farming]." [27]   
Small-scale oasis farmers in Tamezmoute are acutely aware of the harmful effects the melons have on their local environment and question why government assistance is invested in water-intensive commodities rather than supporting the date palm oasis. The date palms native to the region provide many benefits other than date production. They shade other fruit trees, cereals, and vegetables, creating a cooler microclimate for small-scale farm production. Melons, in contrast, are grown predominantly for the international market on open areas receiving direct sunlight, and the land is typically left empty the rest of the year from June-November. In this regard, melons are not just an ill-suited crop to plant in a water-stressed region, but also an extractive form of agriculture which exports the region's water abroad [28] while deepening disparities between residents. In contrast, polyculture oasis farming nourishes the local landscape and homes by drawing upon traditional farming practices that reduces land and water use, provides a diverse source of household nutrition, and conserves the oases' date palms.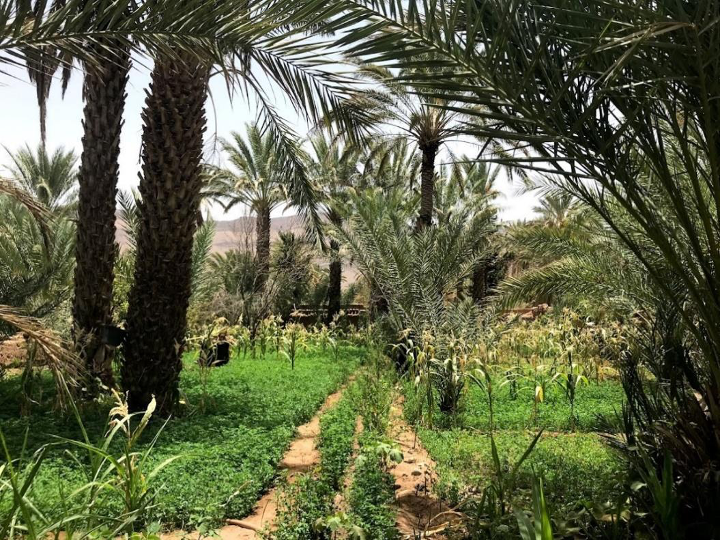 Figure 4: An oasis farm, the upper layers of palm protect the alfalfa, corn, and vegetables grown underneath 3/7/2021 photo by author.

The melon market is also highly variable and unreliable for local producers. Growers in the Draa Valley tend to plant two crops of watermelon: a first harvest (amanzu) and a second harvest (amazuz). In 2021 it was difficult to sell amazuz in Tamezmoute. By late May and early June, melons in Agadir, Marrakesh, and Taroudant were already harvested, thus flooding the market and reducing the price. One farmer informed me that the packaging company he sold his amanzu to, who exports to Spain, did not return to buy his amazuz, and he assigned blame to the political conflict over immigration between Spain and Morocco in May 2021. [29] His unsold melons were left rotting in the fields by late June (fig. 5). This farmer's experience demonstrates the precarity of melon farming for small producers in the region who are reliant on the ebb and flow of international demand and face challenges meeting commodity standards for these markets.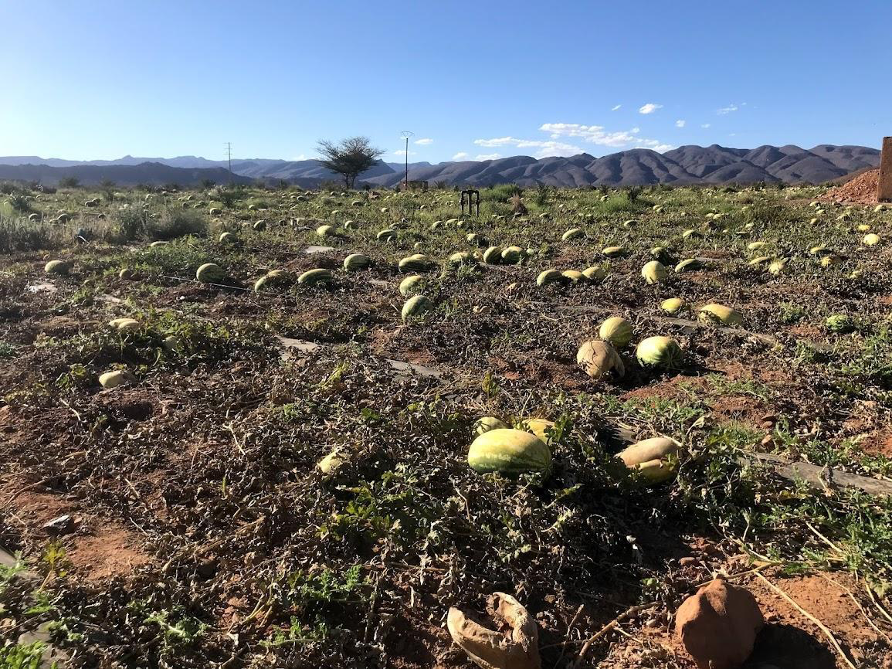 Figure 5: Unsold watermelons grown using groundwater left on farm in Tamezmoute, 6/27/2021 photo by author. 

Yet the potential profit from melon selling drives many farmers in the region to transition to melon farming. One resident told me that if his melon crop sells, he can make 120,000 Moroccan dirham from the harvest, while he currently makes 6,000 Moroccan dirham a year as a farm worker. This was enough to motivate him to take out 10,000 Moroccan dirham in credit for the seeds, sprouts, and fertilizer. He planted on land he owns in Feija, a popular melon-producing region of the valley, outside of Zagora. His crop did not sell, but he said he would repeat the process again next year, taking additional credit to replant and pay back his mounting debt once he sells a good harvest. [30] Melon growing can draw farmers in with its potential for high returns. However, farmers may become trapped in accumulating debt cycles where the only way out is to successfully sell a harvest.
Melon growing in the Draa Valley does not only contribute to new household debt, but also exacerbates groundwater issues. There is no mechanism to control groundwater pumping in the region, even though Morocco launched policies to limit groundwater overdrawing in 2009 through the National Water Strategy and National Water Plan. [31] There are currently discussions to develop a groundwater contract led by the local Water Basin Authority (ABH) and Regional Office for Agriculture Development (ORMVA). [32] However, earlier groundwater contracts in Morocco have focused on increasing the supply of surface water through infrastructure projects and done little to control the actual consumption of groundwater led by agriculture. [33]
Groundwater depletion has already had major repercussions for residents. One family moved to Tamezmoute in 2009 after running out of well water further south in the valley from growing melons. They lived in a tent for six months before other residents lent them a home that they eventually bought in 2018. [34] Once farmers themselves, they now work for other residents in the oasis and on larger farms in the region. With the number of melon farms only increasing in the Draa Valley, more families may be forced from their land into informal and insecure forms of work as a result of groundwater over mining.
Noting the strain on local populations, Moroccan scholars have advocated for better water management in Draa Valley and a reduction in melon farming. [35] As oasis farmers have noted, melon farmers are able to draw more water due to their access to advanced irrigation equipment subsidized through the Green Morocco Plan, which oasis farmers struggle to access due to the fragmentation of their land and challenges navigating the bureaucratic process. A groundwater management contract in the region would need to address overexploitation by water-intensive crops such as melons and ensure that household oasis farmers are better supported. 
What Will Become of Oasis Farming? 

Some Draa Valley communities can make money from modern date palm, henna, or melon farms, but in general, few people are able to make a living farming the oasis, and traditional tenders find it difficult to engage with markets. One man shared, "In my refrigerator at home, I have over 300 hundred boxes of dates, ready to sell, but [they are] going bad because no one buys them. We take it to market in Agdz, we pay for transportation, but we come back selling none." [36]
Given these challenges, I asked community members if they would like their children to continue oasis farming in the future. Keeping youth engaged in oasis farming was difficult, as a 61-year-old farmer explained:
"[The youth] don't even want to be farmers now, let alone [in] the future. They want to travel. They don't even want to stay here, so they leave it all to us [the older generation]. We're the ones that keep these farms and fields going. We call them out for help and work, but they just don't want it."      
"Do you want to keep farming here?" I asked him. 
"Yes, of course!" he replied.
"Why?" I pushed further.
"Simply, because there's nothing else to do here. No jobs, no retirement, no traveling. Where are we supposed to go? We stay here until we die." [37]
Many signs point to the decline of small-scale oasis farming in Morocco's Draa Valley. Oasis farmers tend to be either aging men who can no longer travel to wage labor jobs in Rabat or Marrakesh, and women who take on additional farm responsibilities during men's labor migrations. While it is still expected that many younger people help their families with work in the fields, most do not plan on farming as a full-time occupation in the future. Instead, their sights are set on becoming doctors, teachers, electricians, truck drivers or construction workers.
On top of this labor decline, the oasis may not be able to survive recent waves of fires sweeping through the region. Three major fires struck the upper region of the valley from Agdz to Tamezmoute in summer 2021, destroying 7,310 date palms. [38] One of these swept through Tamezmoute on 10 August, destroying 2,500 palms, some as old as 100 years. While the cause of the fires is unknown, they spread quickly due to dry conditions from the summer drought. Residents struggled to contain the flames by running buckets of water to the oasis before firetrucks could make their way to the palms. Fire trucks struggled to reach the burned sections of the oasis, which remain mostly isolated from roads large enough for trucks to access. Instead, larger roads lead people away from the valley to cities with better jobs and markets.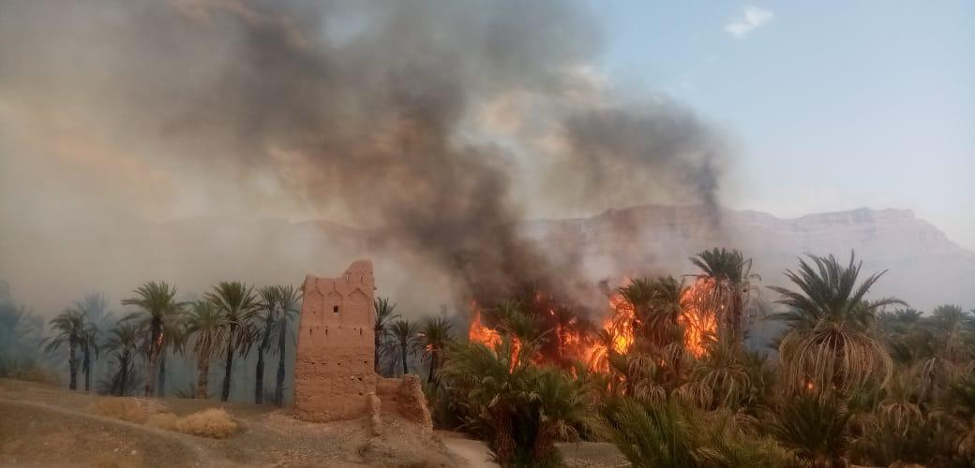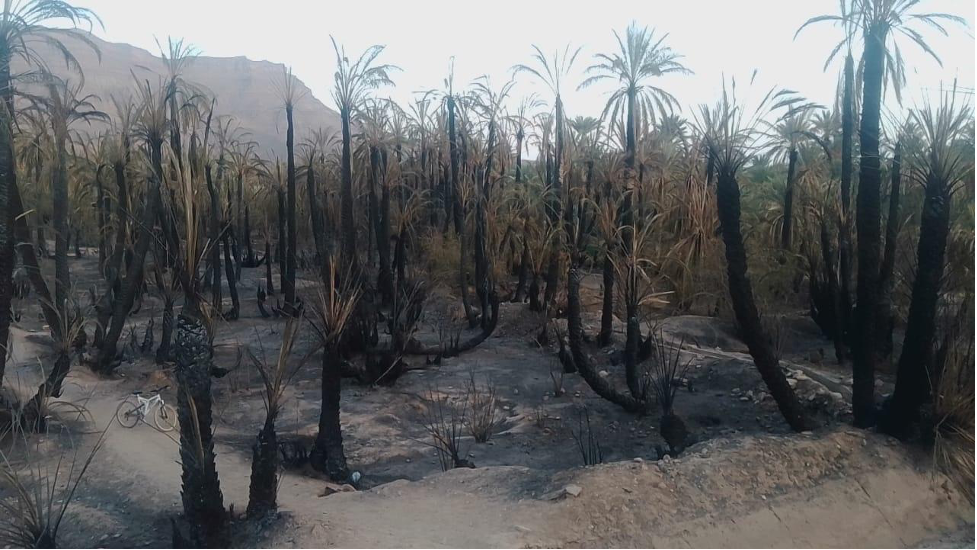 Figures 6 and 7: Photos of the fire and aftermath in the oasis of Toughza and Tagersift 10/8/2021 taken by Soufiane Boudkik.

Farmers in the Draa Valley are running out of options. There are so few ways to make money in the region that many will try their hand at melon or other cash crop farming, even with risky markets and water shortages. However, the majority of farming families in places such as Tamezmoute are finding it difficult to make money farming increasingly dispersed plots throughout the oasis and keep date palms watered throughout periods of drought. Government agricultural assistance is funneled into high-tech private irrigation equipment for farmers with combined land of over two hectares, as opposed to helping small-scale oasis farmers rebuild crumbling groundwater wells. Yet the small-scale oasis farmers are precisely the women and men protecting the oasis from decline. They tend the oases' iconic date palms and fill the soil with vegetables, cereals, and grasses, maintaining the traditional oasis ecosystem that the region is known for. Without water, they will be unable to keep the oasis alive.
References
[1] Rainfall data from the Agriculture Development Center of Agdz collected on 29/6/2021.   
[2] Janpeter Schilling,  Korbinian P. Freier, Elke Hertig, and Jürgen Scheffran, "Climate Change, Vulnerability and Adaptation in North Africa with Focus on Morocco," Agriculture, Ecosystems & Environment 156 (2012): 12-26.
[3] Irene M. Johannsen, Jennifer C. Hengst, Alexander Goll, Britta Höllermann, and Bernd Diekkrüger, "Future of Water Supply and Demand in the Middle Drâa Valley, Morocco, Under Climate and Land Use Change," Water 8, no. 8 (2016): 313.
[4] Tamazirt is an Amazigh term used to indicate the homeland or village of a community. See Hoffman, Katherine E. "Moving and dwelling: building the Moroccan Ashelhi homeland." American ethnologist 29, no. 4 (2002): 928-962. Quote from interview with author 3/7/2021
[5] Ahmed Karmaoui , Issam Ifaadassan, Abdelaziz Babqiqi, Mohammed Messouli, and Mohammed Yacoubi Khebiza, "Analysis of the Water Supply-Demand Relationship in the Middle Draa Valley, Morocco, Under Climate Change and Socio-economic Scenarios," Journal of Scientific Research and Reports (2016): 1-10.
[6] Abdellah Hammoudi, "Substance and Relation: Water Rights and Water Distribution in the Dra Valley," in Property, Social Structure, and Law in the Modern Middle East, ed. Ann E. Mayer (Albany, NY: SUNY Press, 1985): 27-57.
[7] Filippo De Dominicis, Cristina Pallini, and Scaccabarozzi Annalisa. "Rivers, Dams and Large-scale Hydraulic Works in Post-colonial Africa," (2015): 148-161, https://re.public.polimi.it/handle/11311/863154#; Pierre-Louis Mayaux, "Layering and Perpetuating: the Logics of Conservative Reforms in Morocco's Irrigation Policies," The Journal of North African Studies (2021): 1-24.
[8] Will Davis Swearingen, Moroccan Mirages. (Princeton, NJ: Princeton University Press, 2014).
[9] Amal Ennabih, "Morocco's Water Policies for Irrigation Have Amplified Water Scarcity, It's Time to Think Differently," (2020), https://mipa.institute/8137
[10] Brahim Akdim, Mohamed Laaouane, and Aboubakr Sabiri. "Le Sud-est Marocain (Presahara)" in Degradation des terres et lute contre la desertification au Maroc, Approche Geographique, ed. Abdellah Laouina (Rabat, Morocco:  Association de Recherche en Gestion Durable des Terres, 2013): 77-110.
[11] Boris Schinke, Jens Klawitter, Driss Zejli, Touria Barradi, Irene Garcia, and Anna Leidreiter. "Background Paper: Country Fact Sheet Morocco," Energy and Development at a Glance 2016 (2016): 58.
[12] Ahmed Karmaoui, Mohammed  Messouli, Mohammed Yacoubi Khebiza, and Issam Ifaadassan, "Environmental Vulnerability to Climate Change and Anthropogenic Impacts in Dryland, (Pilot Study: Middle Draa Valley, South Morocco)," Journal of Earth Science & Climatic Change S11 (2014): 1.
[13] Spokesperson at the Regional Office for Agriculture Development (ORMVA) in Ouarzazate in interview with the author on 5/7/21.
[14] Hammoudi, Substance and Relation;  L. Ouhajjou, Espace Hydraulique et Société au Maroc: Cas des Systèmes d'Irrigation dans la Vallée du Draa. Série: Thèses et Mémoires. Agadir: Faculté des Lettres et des Sciences Humaines (1996).
[15] Mohammed Hssaisoune, Lhoussaine Bouchaou, Abdelfattah Sifeddine, Ilham Bouimetarhan, and Abdelghani Chehbouni, "Moroccan Groundwater Resources and Evolution with Global Climate Changes," Geosciences 10, no. 2 (2020): 81.
[16] M. Rössler, , H. Kirscht, C. Rademacher, S. Platt, B. Kemmerling, and A. Linstädter. "II-5.4 Migration and Resource Management in the Drâa Valley, Southern Morocco," in Impacts of Global Change on the Hydrological Cycle in West and Northwest Africa, ed. Peter Speth, Michael Christoph, and Bernd Diekkrüger (Berlin: Springer, 2010), 634-646.
[17] Hssaisoune et al., Moroccan Groundwater Resources.
[18] Interview #22 with author on 7/7/21.
[19] Beneficiary data from the Regional Office for Agriculture Development (ORMVA) in Ouarzazate collected on 5/7/2021.  
[20] Najib Akesbi, La nouvelle stratégie agricole du Maroc annonce-t-elle l'insécurité alimentaire du pays?. Confluences Méditerranée 3 (2011): 93-105.
[21] Nicolas Faysse, "The Rationale of the Green Morocco Plan: Missing Links between Goals and Implementation." The Journal of North African Studies 20, no. 4 (2015): 622-634; Jeroen Vos and Rutgerd Boelens, "Neoliberal Water Governmentalities, Virtual Water Trade, and Contestations," Water Justice (2018): 283-301.
[22] Atman AitLamqadem , Hafid  Saber, and BiswajeetPradhan,Long-Term Monitoring of Transformation from Pastoral to Agricultural Land Use Using Time-series Landsat Data in the Feija Basin (Southeast Morocco), Earth Systems and Environment 3, no. 3 (2019): 525-538.
[23] R. M. Abdellaoui, "Small-Scale Irrigation Systems in Morocco: Present Status and Some Research Issues," in Public Intervention in Farmer-Managed Irrigation Systems (IIMI pub. 86-21), ed. International Irrigation Management Institute (IIMI) and Water and Energy Commission Secretariat (WECS) of the Ministry of Water Resources, Government of Nepal (Sri Lanka, IIMI, 1989), 165.
[24] Brahim Mansouri, and Lhoussein Baouzil. "LE LOBBY PREDATEUR DES PASTEQUES A ZAGORA : ATTENTION A L'ASSOIFFEMENT DES GENERATIONS FUTURES," n.d., https://www.academia.edu/40031654/LE_LOBBY_PREDATEUR_DES_PASTEQUES_A_ZAGORA_ATTENTION_A_LASSOIFFEMENT_DES_GENERATIONS_FUTURES; Karmaoui et al., Environmental Vulnerability to Climate Change. 
[25] Alison D. Elder, "Irrigation in Southeast Morocco: Effects on Rural Livelihoods," MA diss.,,(The University of Arizona, 2019), https://www.proquest.com/dissertations-theses/irrigation-southeast-morocco-effects-on-rural/docview/2248639694/se-2?accountid=14214.
[26] Interview #22 on 7/7/21.
[27] Ibid.
[28] Ennabih, Morocco's Water Policies.
[29] Interview #9 on 27/6/21. 
[30] Interview #15 on 30/6/21. 
[31] Hssaisoune et al., Moroccan Groundwater Resources.
[32] Elisabeth Berger, Lisa Bossenbroek, Arne J. Beermann, Ralf B. Schäfer, Mohammed Znari, Sina Riethmüller, Nanki Sidhu et al., "Social-ecological Interactions in the Draa River Basin, Southern Morocco: Towards Nature Conservation and Human Well-being Using the IPBES Framework," Science of the Total Environment 769 (2021): 144492; Agence du Bassin Hydraulique de Souss Massa, "Contrat de nappe," (n.d., date accessed: 29/11/2021), http://www.abhsm.ma/index.php/partenariat/contrat-de-nappe.
[33] Kévin Del Vecchio, and Sylvain Barone, "Has Morocco's Groundwater Policy Changed? Lessons from the Institutional Approach," Water Alternatives 11, no. 3 (2018): 638-662.
[34] Interview #8 on 26/6/21.
[35] Mansouri and Baouzil, LE LOBBY PREDATEUR.
[36] Interview #22 on 7/7/21.
[37] Ibid.
[38] According to the Agriculture Development Center of Agdz. Additional fires were reported lower in the valley.