On a warm afternoon last March, Mina, a 24-year-old Algerian-American (who preferred not to give her last name), arrived at Washington, DC's Dupont Circle proudly wearing a jacket with the word Algeria emblazoned on the front and back. In a small corner of the park laden with dozens of green, white, and red flags, sounds of protest chants echoed from a small PA system.
Mina and a handful of demonstrators approached curious passers-by and spoke to them about human-rights abuses in Algeria and explained why they and their countrymen and women have been mobilizing across the North African country and around the world since February 2019.
New to Washington, DC in August of 2020, Mina began attending these weekly Saturday gatherings to connect with fellow Algerians and find a common purpose.
"We were always kind of an activist family," Mina later said of her upbringing in California. "My parents taught me at an early age that there are reasons to be out in the street, that sometimes you have to do things on your own and can't rely on the powers that be. That messaging was always pretty clear."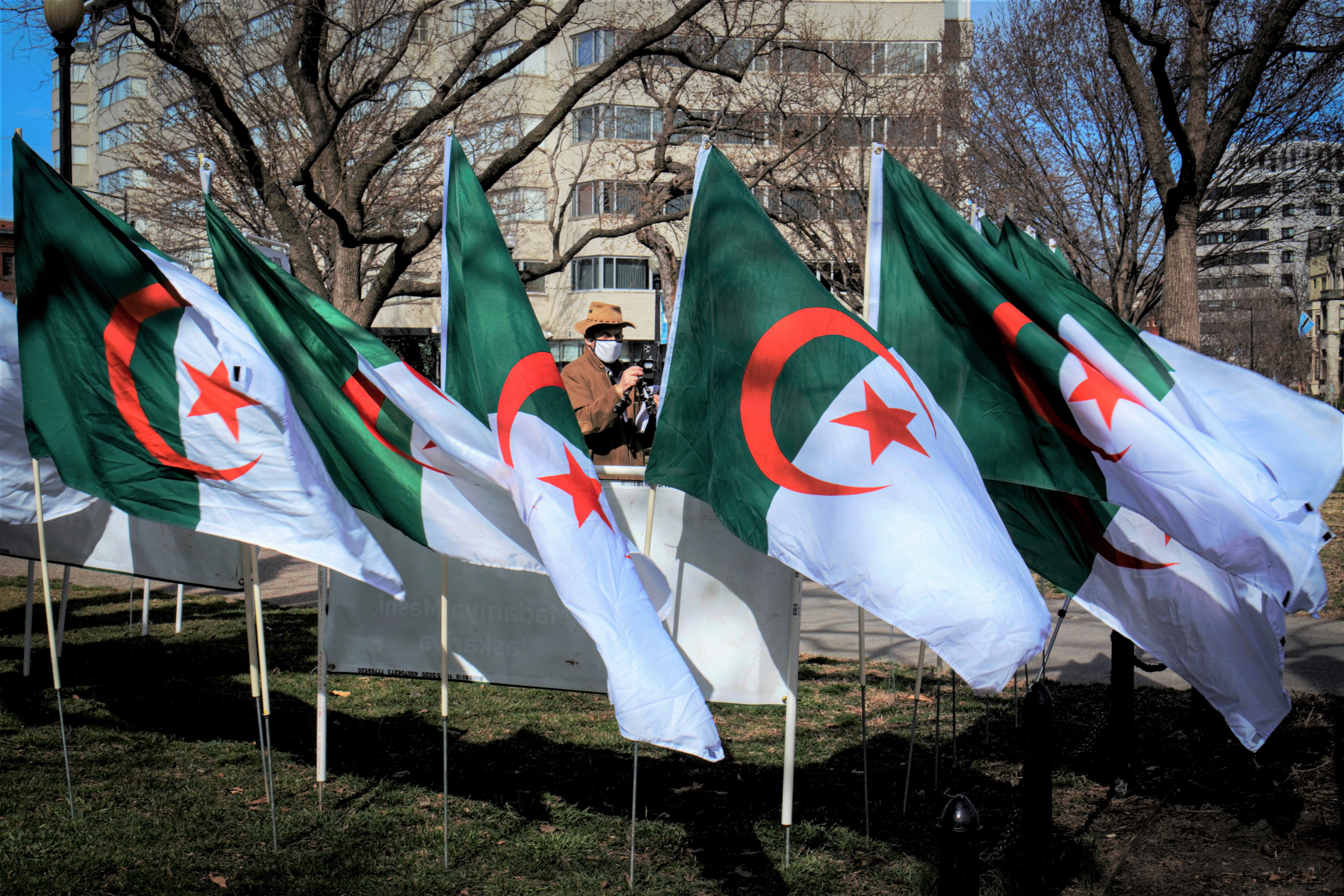 An Algerian-American activist broadcasts live on Facebook at a weekly demonstration in Dupont Circle (13 March 2021, Washington, D.C.). Photo credit: Michael de Vulpillieres.


In early 2019, massive anti-government demonstrations began taking place across Algeria. The Hirak, as this popular and peaceful movement is called, demanded civilian rule for the nation led by the same opaque military regime for decades. For Mina, her family, and Algerians around the world, the Hirak was not only transformational, it was a logical continuation of the country's long struggle for independence.
As the historic protests took hold across Algeria three years ago, Mina's father Youssef watched the events closely from his home in the Bay Area. The sight of crowds filling the streets of every major Algerian city and town immediately took him back three decades, to his time as a university student in Algiers.
"I definitely saw myself in them," he recalled during a phone conversation in late 2021, of his emotions watching young demonstrators spearhead this popular mobilization. Having participated in large-scale demonstrations in the fall of 1988 in Algeria, seven years before leaving his home country for the US, the events of early 2019 were very personal to Youssef.
The avenues and city squares of the Algerian capital, where Youssef had once gathered and marched as a student, calling for "more freedom and democracy," as he explained, were alive once again with hope for change. Youssef saw the start of this new movement as a generational moment and a continuation of the struggles he had taken part in more than thirty years earlier, as well as those against the French in the '50s and '60s.
"Maybe this generation will be able to accomplish what we did not," Youssef thought to himself in early 2019, "and I have to do whatever I can to help them."
The Hirak—a term derived from the Arabic word for movement—began in response to the announcement that Abdelaziz Bouteflika, the country's then 81-year-old president (now deceased), largely incapacitated after a series of strokes, would stand for a fifth term. The Hirak quickly gained momentum across the country, bringing out millions from all walks of life via peaceful marches. But the movement's grievances were much broader than the removal of a sick and corrupt leader. Bouteflika represented years of state repression, inequality, economic stagnation, graft, and political inertia.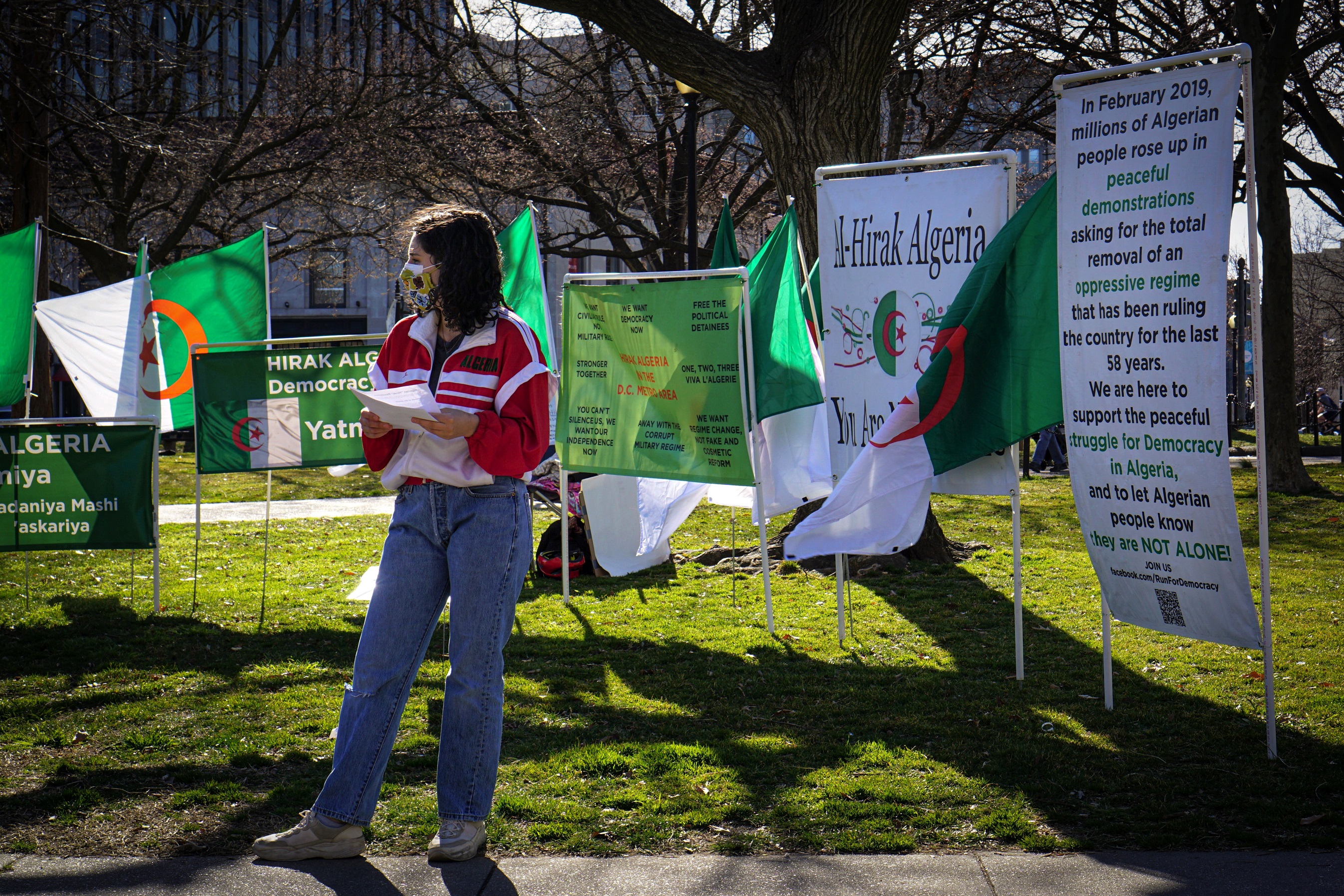 Mina attends a weekly Hirak demonstration in Dupont Circle (13 March 2021, Washington, D.C.). Photo credit: Michael de Vulpillieres.


The anti-colonial writer and revolutionary Franz Fanon is instructive in understanding who and what the Hirak have been peacefully fighting against. He foresaw the current Algerian state system—one that works against its own people—in his 1961 book Wretched of the Earth. Warning of a possible post-colonial context that may emerge, Fanon wrote: "But in the aftermath of independence, far from actually embodying the needs of the people, far from establishing himself as the promoter of the actual dignity of the people…, the leader will unmask his inner purpose: to be the CEO of the company of profiteers composed of a national bourgeoisie intent only on getting the most out of the situation."
In an article for the website the Elephant about the connection between the Hirak and Fanon's ideas, Hamza Hamouchene, a London-based Algerian activist and researcher wrote: "Fanon alerted us sixty years ago that the enrichment of this 'profiteering caste' will be accompanied by 'a decisive awakening on the part of the people and a growing awareness that promised stormy days to come.'"
"I remember helping injured protesters," Youssef recalled of the aftermath of marches he participated in more than thirty years ago, demonstrations that were ultimately put down by the state. This period, known simply as October 88, saw more than five hundred killed and one thousand injured. The aid that Youssef and fellow students helped provide led to the creation of a victim's association (Association des Victimes d'Octobre 1988 or AVO 88) that still exists today.
There was hope for change after the violence subsided, temporarily, with "political parties, elections, independent press." But the democratic opening Youssef marched for more than three decades ago ultimately closed. Legislative elections in 1991, which the ruling party lost outright to the Islamic Salvation Front (FIS), an opposition party, were canceled, after which the country went down the violent path of civil war. What became known as la décennie noire, the Dark Decade, from 1991 to 2002 was marked by terrorism and state violence. An estimated 200,000 people died during this period and tens of thousands went missing.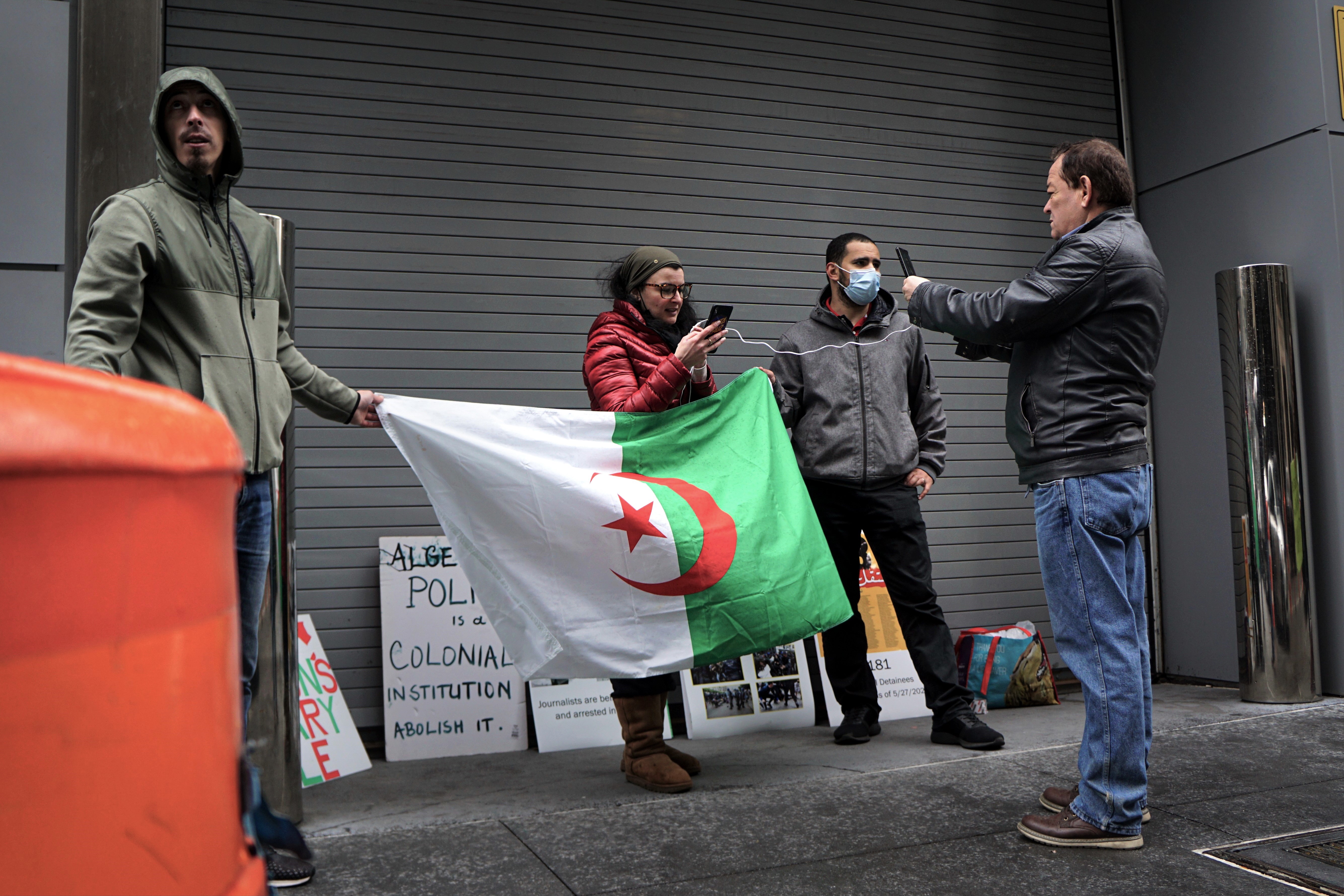 Hirak protesters from across the NY area gather in front of the Algerian consulate in Manhattan at a weekly demonstration (29 May 2021, New York, New York). Photo credit: Michael de Vulpillieres.


A desire to escape this violence and find a better life for himself and his wife motivated Youssef to apply for the US green card lottery. "It was pure luck," he said of their ability to emigrate.
The couple made their way to California in 1995 where they built a life for themselves. And they instilled in their two American-born children a deep connection to their family roots. You could hear the joy in Youssef's voice as he recalled their family trips to Algeria every two years to see relatives.
His daughter Mina spoke fondly of these vacations as well, particularly of the time she was able to spend with her cousins, aunts, and uncles. "I never wanted to leave," she joked. "I always made a scene at the airport."
Youssef and his wife also passed on the meaning of social justice to their kids, one rooted in their own history. Mina's earliest memory of protest as a young girl was at an Iraq War demonstration in Palo Alto with her parents.
"I distinctly remember the feeling of community. Everyone was shouting and cheering," she said. "I could tell we were talking about serious things. Seeing posters, dramatic images of kids affected by bombings. Those images stuck with me, as well as that feeling of camaraderie and partnership with everyone at the protest. I remember being really excited to be in that space."
When the streets erupted in peaceful protest across Algeria in February of 2019, Youssef and the small Algerian community in the Bay Area immediately did their part. They mobilized locally through weekly demonstrations, mostly in San Francisco, not only in solidarity with Algeria, but also "to educate and get the message out there," as Youssef noted. And through social media and other forms of digital activism, connections and virtual friendships were made with a large Hirak network that had emerged across Europe (notably in France) and North America.
Hayette Rouibah, an Algerian political scientist, has studied the role, within the Hirak, of these Algerians "from the exterior," as she calls them. For her, this popular mobilization strengthened relations between them and Algerians living inside the country's borders.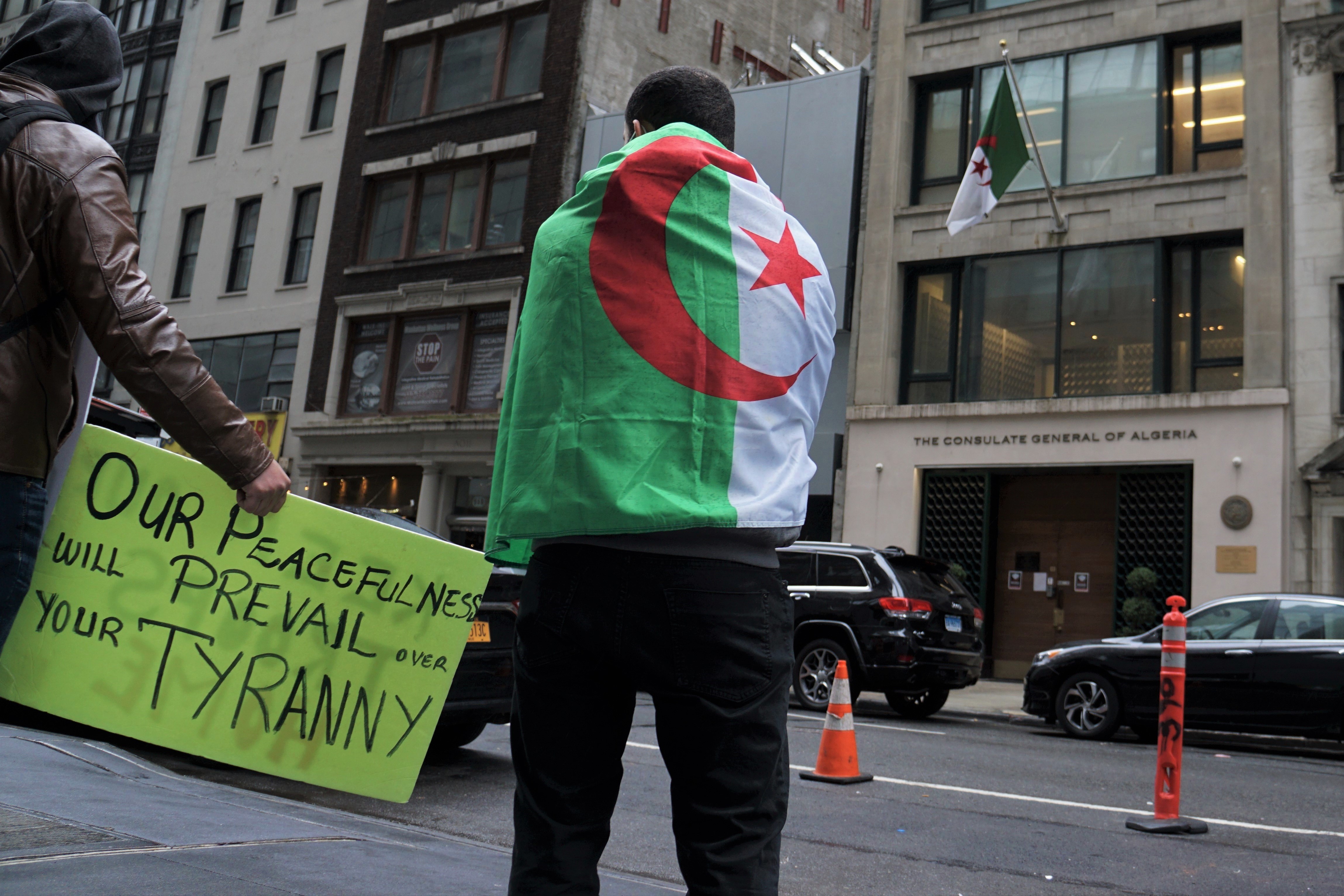 Hirak protesters from across the NY area gather in front of the Algerian consulate in Manhattan at a weekly demonstration (12 June 2021, New York, New York). Photo credit: Michael de Vulpillieres.


In a conversation from her home in Eastern Algeria, Rouibah explained: "When the demonstrations started, it was like a reunification between the Algerians of the interior and those of the exterior."
Rouibah noted a host of differences and biases that had previously formed over the years between the two groups, as well as a lack of engagement in Algerian politics on the part of those residing on the other side of the Mediterranean (and the Atlantic). But after the start of the Hirak, when Algerians abroad began organizing where they lived and traveling "back home" to take part in the weekly street demonstrations, sentiments began changing. "It [the Hirak] was an occasion for us to find ourselves as a family again," she said.
According to Rouibah, part of this newfound bond can be explained by examining the legacy of the Algerian revolution. Since 1962, the year the country gained its independence, the party in power—the Front de Liberation National (the FLN)—has wielded their revolutionary credentials as a way to maintain legitimacy. But the Hirak, as Rouibah said, "reappropriated that memory."
Nadia Salem, a Paris-based Franco-Algerian journalist active with the Hirak, who helped organize several virtual events with Youssef since February 2019, spoke of her own family's links to their country's war for independence and the important role that Algerians living in France played during that revolution.  
"My mother was an FLN militant in France in the late '50s and early '60s.  She was a strong nationalist, a patriot," said Salem, whose parents emigrated to France before she was born. "My youth, my adolescence was marked by memories of la Guerre d'Algérie…" She added how this family history echoes in her involvement with the Hirak today.
While her parents and younger brother were organizing early Hirak events in the Bay Area, Mina was in Morocco where she had just started a college semester abroad. From the city of Ifrane, she followed events in Algeria, one country away, with deep interest.
As soon as her time in Morocco came to an end in May of 2019, Mina flew to Algiers to visit extended family for a two-week trip that coincided with Ramadan and several Hirak demonstrations.
"When they [Algerian family] knew I was coming, they said: 'We are going to take you to the protests. You are going to see it. You are going to be with your Algerian people.' I couldn't wait."
Mina remembers the morning of her first Friday march vividly. Leaving her grandmother's apartment in central Algiers with her aunt by her side, she was in awe at the sight of such massive crowds: "As we walked, it got more and more crowded. I saw men and women of all ages, kids, groups of friends, self-appointed medics…We spent the whole day out there. It was a very intense sense of community. You knew you were witnessing huge moments," Mina said.
Participating in the protests, as somewhat of an outsider to the country, and one holding both US and Algerian passports, Mina was conscious of her place among the demonstrators: "Being American and being at this protest, my role was to support, to add my voice and feel camaraderie. I understood the stakes were different for me."
She also recalled the massive police presence lining the streets, which she noted as "not dramatically different to those that happen [at protests] in America."
The most emotional experience for her came when she marched with individuals her father had demonstrated with more than 30 years earlier: "I knew my dad, at that time, was preparing for his weekly protest in San Francisco and I was with his childhood friends protesting in Algeria, and I really felt that connection [with him] despite the distance. It was a really big moment."
Three months later, spurred on by his daughter's experience, it was Youssef's turn to travel to his home country and experience the Hirak firsthand with his wife and son. The entire experience, one of "peace" and "celebration," as he explained, was incredibly moving for him: "What we saw was amazing. Something beautiful to watch."
A lot has happened on the ground in Algeria since the first street demonstrations. In April 2019, President Bouteflika was forced to step down, and a new leader was put in place by the military leaders. Elections were held—presidential, a constitutional referendum and a legislative vote—though on terms dictated by the ruling powers. The maintenance of the army's role in governance, the repression of activists, the absence of a transitional period, and inadequate consultative debate are but a few of the grievances left unaddressed by these plebiscites, the legitimacy of which, along with other cosmetic reforms, have been discredited by feeble voter turnout and the tenacity of the Hirak.
The COVID-19 health crisis forced the movement to pause or at least take a different form for a while. In March of 2020 activists decided to halt in-person demonstrations due to public health concerns, and for nearly a year the streets were quiet. But online activism, which had always played an important role, picked up.
The state, during this time, closed its borders because of the pandemic—making it nearly impossible for Algerians abroad to travel back—and cracked down harder on dissent. More journalists, activists, and social media users were arbitrarily arrested and detained, which multiple human rights organizations inside and outside of Algeria have denounced. Allegations of kidnapping and torture have persisted.
After a short return to street marches in early 2021, the Algerian government began banning them outright starting in May, as they continued to weaponize the judiciary to mute the peaceful protestors, all under the approval and watchful eye of a supposedly new and reformed government.
In June, the Algerian penal code was amended via presidential decree, which, as Human Rights Watch noted, expanded the country's "already overbroad definition of 'terrorism'…to include 'to work for or to incite by any means, to accede to power or change the system of governance by non-constitutional means;' and to 'harm the integrity of national territory or to incite doing so, by any means.'" This has been wielded to prosecute more journalists and activists. According to the Comité National pour la Libération des Détenus (CNLD), an Algerian citizen rights and watchdog group, nearly 340 individuals remain imprisoned as of late February for "crimes" ostensibly linked to the Hirak, In late January 2022, at least forty of these detainees began a hunger strike to protest their detention.
While the Algerian government has made it increasingly dangerous to voice discontent in the North African country, the Hirak remains visible and vocal outside the country's borders—in-person and online—where individuals continue calling for civilian rule while denouncing human rights abuses by the state, and Western complicity with the regime.
In France, there is a regular presence of the Hirak in "public spaces," as Nadia Salem noted, with Sunday gatherings still taking place in Paris, Lyon, and Marseille. Across the Atlantic, in Montreal—home to a large Algerian community—as well as in Washington, DC, and New York (to name a few places), activists still demonstrate every week.
Hayette Rouibah, the Algerian academic, explained how "the diaspora" today has in fact become "the voice of the Algerians of the interior because those inside could not freely express themselves." She said this "substitution" has helped maintain the movement.
The Algerian government, meanwhile, has framed this mobilization from afar in conspiratorial terms, as a foreign hand in the Hirak. And they have tried to target activists abroad via extradition and an unsuccessful legislative effort to strip dual citizens of their Algerian nationality, in particular for acts "prejudicial to the interests of the State." In October of 2021, a former Algerian military supervisor exiled in Spain, who had exposed alleged government corruption, was deported back to the North African nation on terrorism charges after an international warrant was issued for his arrest.  
Though in-person demonstrations in the Bay Area are not organized as regularly as they once were, Youssef remains deeply committed to the struggle for a new Algeria. Three years on since the start of the Hirak, despite the considerable challenges on the ground in his home country, he sees hope. Pointing to the mental liberation that Franz Fanon wrote about in 1961, Youssef said: "I think the Hirak is a mindset. It's a mindset where people want social justice, they want freedom, they want democracy…Maybe we had to go to October 1988. Maybe [this was] part of our learning to get to where we want to be." He added, "I think sooner or later, change will continue to happen, slowly maybe, but  it will continue."
Via her continued support for the Hirak and other causes dear to her at home in the US, like Black Lives Matter, Youssef's daughter Mina maintains her fight for social justice. Reflecting on her dad's example and his reconnection with the political future of his country, she said: "I think that was always in him and it just got reignited, in him and others. These people who I had never seen as being grassroots organizers, all of a sudden knew how to put together a weekly protest, with solid attendance, with discourses, true grassroots activism. It was second nature. They knew how to fight an oppressive regime. They knew how to support and uplift their community."
This article and the accompanying photos were part of Michael de Vulpillieres' New School Graduate Program in International Affairs capstone. With a spotlight on Algerians living in the US, Michael examined the Hirak from multiple perspectives.