Real Football Podcast Episode 7
 
Summer 2022 and World Cup 2022
Debts, Debacles, and Dystopia

In Episode 7 of the Real Football Podcast, our hosts discussed the potential winners, failures, and ceilings of the 2022 World Cup field including the last hurrahs of Messi's Argentina and Ronaldo's Portugal. Also covered is the enigma of France, whether host nation Qatar, Gareth Bale or Christian Pulisic is under more pressure to deliver a knockout round appearance and whether "it's coming home". Non-World Cup topics include Barcelona's transfer madness and how they will perform in 2022-2023, Mbappe spurning Madrid, and Tottenham Hotspur making one of our hosts physically sick.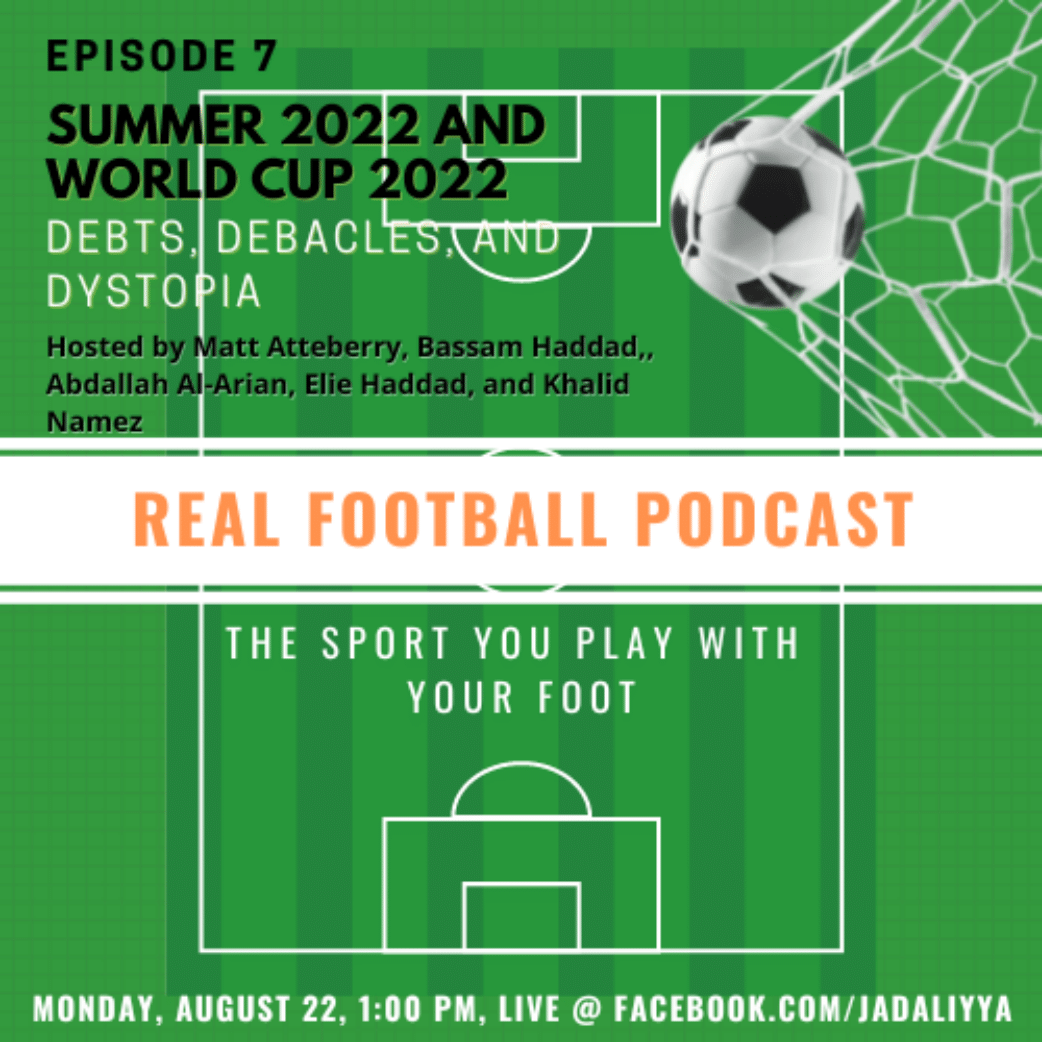 Featuring

Matthew Atteberry is an alumnus of George Mason University working in administration. He graduated with his masters in 2018 and in addition to his current line of work has also conducted data administration in construction.
Bassam Haddad is Director of the Middle East and Islamic Studies Program and Associate Professor at the Schar School of Policy and Government at George Mason University. He is the author of Business Networks in Syria: The Political Economy of Authoritarian Resilience (Stanford University Press, 2011) and co-editor of A Critical Political Economy of the Middle East (Stanford University Press, 2021). Bassam is Co-Founder/Editor of Jadaliyya Ezine and Executive Director of the Arab Studies Institute. He serves as Founding Editor of the Arab Studies Journal and the Knowledge Production Project. He is co-producer/director of the award-winning documentary film, About Baghdad, and director of the acclaimed series Arabs and Terrorism. Bassam serves on the Board of the Arab Council for the Social Sciences and is Executive Producer of Status Audio Magazine and Director of the Middle East Studies Pedagogy Initiative (MESPI). He received MESA's Jere L. Bacharach Service Award in 2017 for his service to the profession. Currently, Bassam is working on his second Syria book titled Understanding The Syrian Tragedy: Regime, Opposition, Outsiders (forthcoming, Stanford University Press).
Abdullah Al-Arian is an associate professor of history at Georgetown University`s School of Foreign Service in Qatar and the author of Answering the Call: Popular Islamic Activism in Sadat`s Egypt (Oxford, 2014). During the fall of 2014, he was also a Visiting Scholar at the Center for Middle East Studies at the Josef Korbel School of International Studies at the University of Denver. He is co-editor of Jadaliyya`s Critical Currents in Islam page.
 
Khalid Namez is an experienced IT professional and provides technical guidance and support to the Arab Studies Institute.