[This article is part of a series produced from the undergraduate student workshop, centered on Bhar Lazreg, and held at the National School of Architecture and Urbanism (ENAU) in Tunis. To read the parts of this series, visit the introductory article by Shreya Parikh here.]
Before we set out for our first on-site visit to Bhar Lazreg, we imagined the neighborhood as a ghetto of La Marsa. Indeed, our assumptions about the neighborhood seemed to resonate even more intensely as we arrived at the site and looked around.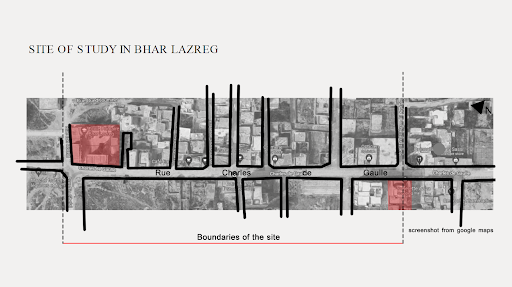 "This is it," we told ourselves, "We are here! What now? Start exploring the space!?" We reminded ourselves to look at the houses and streets with the eyes of an architect, just as we are taught to do in architecture school. The houses seemed to be incomplete. The gray color of the cement characterized the landscape, and a huge pole of high-voltage electricity amidst the half-constructed buildings caught our attention. "This is not supposed to be here!" we noted. Houses are not supposed to be that close to such high-risk equipment. Maybe this neighborhood was never supposed to be here, we thought, as such poles are only erected in rural areas. The sense of "not supposed to be here" kept creeping into our consciousness throughout our time observing the neighborhood.
Walking around the streets of Bhar Lazreg, observing the surroundings, and approaching people to speak to them did not feel natural. Was it because of our social class differences with the people around? Or because we were women in the public space? After about an hour, we realized that time was passing by and we had not yet spoken to a single person. "We must do something quickly," we thought. We came up with a simple plan: look for a person who did not look too busy or too bothered. As we committed ourselves to this plan, we passed by a young woman sitting on a plastic stool. She looked to be in her thirties. She was on her phone, scrolling. Behind her, dried dark-red peppers were hanging on the wall of a makeshift store. We looked at each other for a moment and just kept walking. 
Why didn't we stop? Why did we back away from our plan of interviewing people, or simply asking questions informally? She looked fairly unoccupied to us. A few moments passed, and we found ourselves at the far edge of our study site: Aziza Market. As we walked closer, we noticed a man sitting in front of a butcher's shop close to the supermarket. We stopped and looked at each other. "This is it," we told ourselves, "Enough wasting time! Just ask him anything and move on." After all, we did not have to see him ever again. But wait a minute, we thought, what should we even ask him? During the methods workshop, we discussed the importance of not having fixed questions and boxes to tick, as is commonly done in field surveys. We had been asked to choose a theme instead and to learn from people in the field.
For a split second, we almost forgot how to start a conversation. We became increasingly self-aware of the fact that we were standing in the middle of the street, planning and crafting our "conversation." We looked sketchy, we thought, with nervous hand gestures and low voices that maybe were not low at all. We were pretty much arguing in the middle of this street. Fine! One of us said, "People are staring, and we look stupid. Let's just get this over with. I'll ask him about this place in general." Finally, one of us approached the man to initiate a conversation. We were so concentrated on how to initiate a conversation that we barely registered how the man actually responded to our query.
"Les Africains" Live in Bhar Lazreg?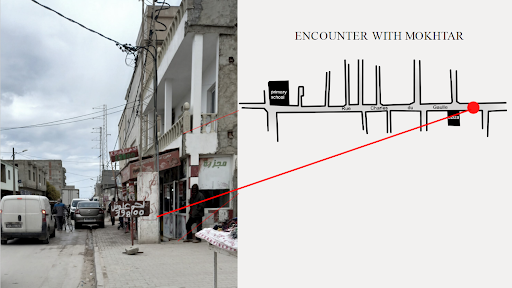 The man in front of us presented himself as Mokhtar. He looked just over sixty, wore a white apron, and was sitting on a white plastic chair. We asked him how often people buy meat these days. Mokhtar answered, "akeka" (not good, not bad in Arabic). His responses were getting shorter, and we thought that it was a sign to wrap up and get going. In the midst of our anxiousness, we realized something: Weren't we supposed to ask about the presence of Sub-Saharan Africans in Bhar Lazreg? Hadn't we decided on that as our theme of interest before embarking onto the field? In that case, we needed to ask Mokhtar about the Sub-Saharan community's presence, but how? Should we use les subsahariens (the Sub Saharans in French), which is politically correct, instead of the vernacular les africains (the Africans in French) to refer to this Black community? Because, aren't we, at the end of the day, all Africans here? Aren't Tunisians and Sub-Saharan Africans both equally African? It seemed unnatural to use the politically correct term in a vernacular conversation. In the end, we decided to ask Mokhtar: "Do our African brothers shop often at your store?" We decided to add 'brothers' to signify our collective identity as African. 
Mokhtar turned his head away after hearing our question. A smirk appeared on his face as he said, "No!" "Why?" we asked without our usual hesitation. Mokhtar shook his head and said, "hkeyethom fergha" (They are no big deal, in Arabic). He added, "They enter my shop with 300 millimes (around 0.10 USD) and want to buy meat with that!" He described his dissatisfaction with the encounters he had with the Sub-Saharan community in Bhar Lazreg. 
Mokhtar described people of Sub-Saharan origin as "still far away from civilization, [living in] dirt and hay houses." He justified this by saying that "les africains" write on the walls, cook in the kitchen sink, and have no respect for neighbors in spaces that they rent. He would never rent them an apartment, he said. Mokhtar had never been to a country in Sub-Saharan Africa before, yet he seemed quite sure about what these countries and its people were like. 
Cheated by "African" Peppers

After our conversation with Mokhtar, we made our way back down the same street and saw the woman who we had passed earlier, still sitting where we last saw her. This time, we decided to stop and speak with her. Initiating this second conversation was definitely easier. The woman put her phone away as we greeted her —a good sign, we thought. She smiled at us and said she had been talking to our colleagues. "I was curious to know why you girls are walking around with notebooks, writing stuff down…I thought you were municipality officials," she said. "Ah, we are not. We're just studying this neighborhood with a focus on the Sub-Saharan community," we responded. 
The woman introduced herself as Imen. She had lived her whole three-decade-long life in Bhar Lazreg. She told us about her three young children and her husband. When we asked her why the Sub-Saharan migrants were in the neighborhood, she said, "They are here for the same reason we are…everyone is just looking for a job."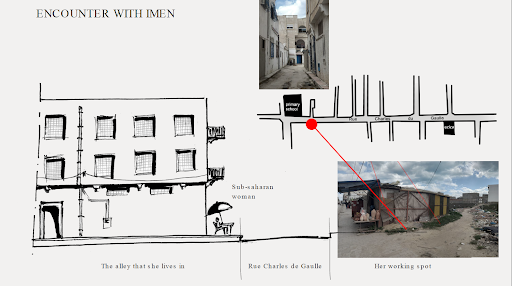 Imen paused, looked around her, and said: "Do you see the oussifa on the other side of the street? She is selling the exact same pepper that I am selling. She just makes a powder from it, puts it in small plastic bags, and says it is from where she's from." Imen was referring to a Sub-Saharan woman who puts up a table selling products on the pavements of Bhar Lazreg's crossroads. Oussifa is a derogatory term used in Tunisian vernacular to refer to Black women, including Sub-Saharan and Tunisian Black women. The term means "servant woman" in Arabic and is rooted in the history of slavery practiced until the end of the nineteenth century in Tunisia. 
We asked Imen where the woman she was pointing at was from. "I don't know," she replied. Imen seemed to feel cheated by this Sub-Saharan woman, and imagined everyone in the Sub-Saharan community to be willing to do any type of job for money. "If you come up to [a Sub-Saharan woman] and tell her 'Come with me, I have a job for you!' and show her money, she will immediately go with you. Try it!" Imen told us.
"What kind of work?" we finally asked. "Anything!" she responded, with a slightly pitched voice. "Absolutely anything…they'll do anything, which makes it harder for us Tunisians. People will just hire them for jobs we refuse to do for the little money they offer." We looked confused, and so Imen added, "She'll clean the house, for example." Our conversation was interrupted by a passing woman asking Imen how much the pepper cost. "Twelve dinars per kilo" (around 4 USD) Imen answered, and the woman walked away. Imen told us that business had been bad since COVID-19. She explained that her husband was struggling to find a job and that no one was helping. This was unlike in the Sub-Saharan community, Imen noted, because, according to her, they had support and "people behind them." "What people?" we asked her. Imen pointed to the dead-end across the street, and said "See that alley? I live there…my neighbors are all Africans. A fancy car pulls up and gives them money." "Who are these people?" we ask her. "How would I know?!" Imen responded.
We felt that we were heading nowhere with this conversation, but Imen was still casually speaking and continued. "There are organizations of both Africans and Tunisians [who economically support Sub-Saharans]. It's because they are a strong community, they always show up for each other in case of need. If one of them has a problem, the rest will show up in cars and sometimes vans and will support their friend!" 
Imen told us about a church-run in a house rented by a Sub-Saharan person named Ibrahim, and that the police had intervened due to complaints of "weird things" (like loud prayer music) happening in the house. Imen was narrating the events of Ibrahim's church with an amused smile on her face, as if she was narrating the happenings of an action film. 
The conversation with Imen left us wondering: If she had a different economic status, would she look at the Sub-Saharan community the same way? How should we interpret her use of racial tropes against the Sub-Saharan migrants? It seemed that the economic crisis in the country made Imen, herself poor, feel like she was competing with Sub-Saharan migrants who are also in precarious positions.