The Arab Studies Institute is pleased to showcase the below selection of panels, roundtables, and presentations from the 2022 Annual Meeting of the Middle East Studies Association (MESA), being held from December 1-4. The list contains panels organized by, or those featuring as presenters, discussants, and chairs, members of the Arab Studies Institute and its various projects.
Please note that as per MESA rules, audience members must be registered for the conference. This year, MESA has a sliding scale for conference registration for existing MESA members (which they can self-select options).
Join us for our reception on Thursday (December 1) at 8 PM!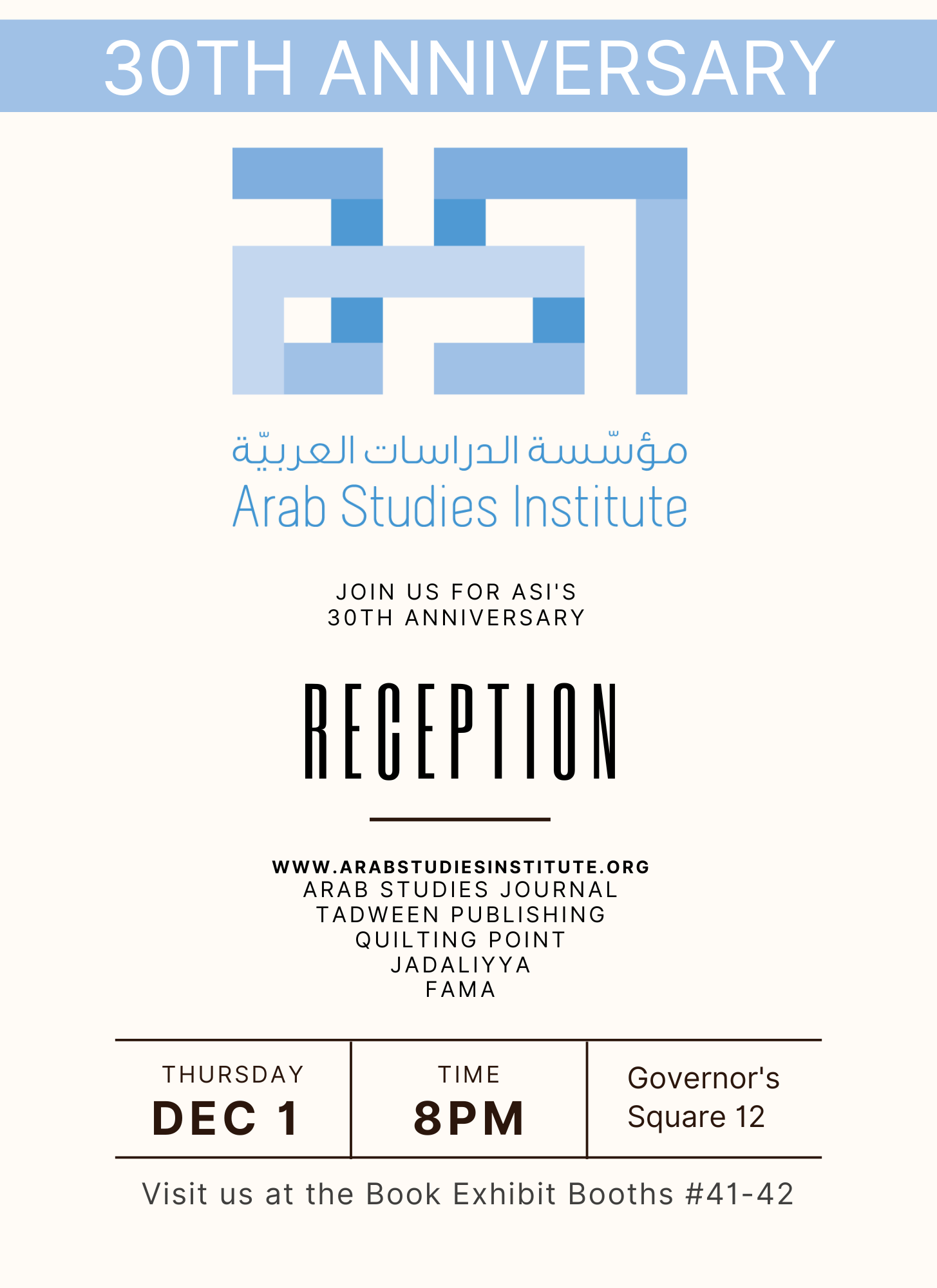 Gender, Capitalism, Law, and Empire: A Tribute to Judith Tucker
Thursday, December 1 at 3:00 pm
20 Years Since 'Rule of Experts': Current Paths in the Study of Technopolitics
Thursday, December 1 at 3:00 pm
Roundtable on Sextarianism Organized by Sherene Seikaly 
Friday, December 2 at 11:00 am
Dr. Sherene Seikaly

-- Chair/Discussant

Dr. Maya Mikdashi

 -- Presenter

Dr. Paul Amar

 -- Presenter

Dr. Lara Deeb

-- Presenter


Thinking with Iraq on Climate Change
Friday, December 2 at 1:30 pm
Strategies of Authoritarian Regimes
Friday, December 2 at 4:00 pm
Book Roundtable on The Flame Within: Iranian Revolutionaries in the United States
Saturday, December 3 at 8:30 am
The Maghreb Archiving Project
Saturday, December 3 at 11:00 am

Officers and Entertainment: Popular Culture and the State in Egypt
Saturday, December 3 at 3:00 pm
The Casual Consumption of the Middle East: The Region's (Re-)Construction in Entertainment
Saturday, December 3 at 5:30 pm
(Re)producing Rural Life: Critical Agrarian Perspectives of Labor in the MENA, 
Sunday, December 4 at 8:30 am; sponsored by the Jadaliyya Environment page
Climate, Water, and Ecology
Sunday, December 4 at 8:30 am