Disasters reveal and intensify already existing relations of power and forms of discrimination and exclusion. Turkey, Kurdistan and Syria have not been exception to this harsh reality since several cities were fatally hit by earthquakes beginning on February 6. This disaster has once again shown that women, queer and trans people are among those who shoulder the harshest costs of the earthquake. Below is a brief collection of notes that lays out the gendered, sexual and racialized fault lines that have deepened the impact of this catastrophe, as well as an account of the feminist solidarity and support campaign immediately organized by women and LGBTI+s across Istanbul and Diyarbakir in response. Since day one, we, the Feminist Solidarity for Disaster Group, have been working together with the two major Kurdish women's organizations in Diyarbakir, the Rosa Women's Association and the Free Women's Movement (TJA), who have shown strong presence in relief efforts especially in the absence of the state in the earthquake zone and in the face of women's dismissal for their particular situation and needs. I am writing this piece to call on an international feminist solidarity and support for the already growing feminist coalitions between women, queers and trans people across Turkey, Kurdistan and Syria. And I am writing this piece by using a collective subject "we," as all these experiences and knowledge have emerged from the feminist collective relief efforts I have been part of for the past month. 
Purple Trucks for Adıyaman and Antakya/Samandağ 
The idea of Purple Truck was first raised by Kurdish women who were working in the earthquake zone. They themselves were impacted by the earthquake in Diyarbakir. At the same time, they were the first ones to show up for emergency relief efforts, canvassing with women in neighbouring towns impacted by the earthquake to understand women's specific emergency needs. As feminists in Istanbul, we started holding a series of meetings and formed the Feminist Solidarity for Disaster Group to immediately participate in these relief efforts. While a group of us had already traveled to the earthquake zone to work in the rubbles in the first week of the earthquake, the rest of us initiated the Purple Truck Campaign for Adıyaman.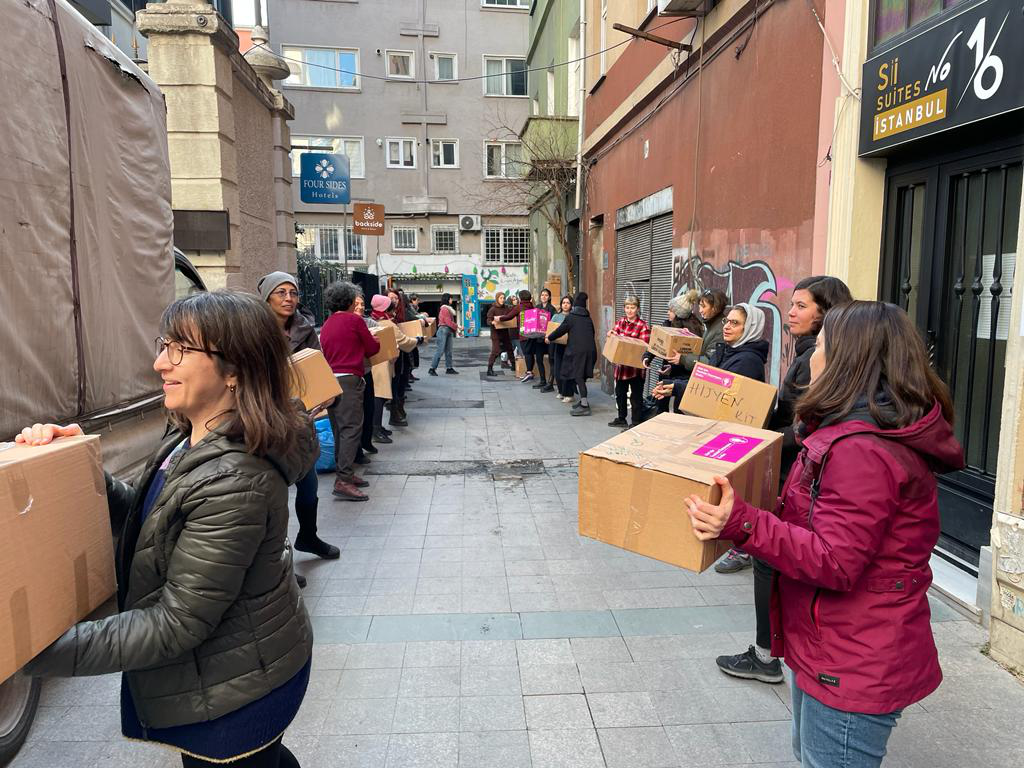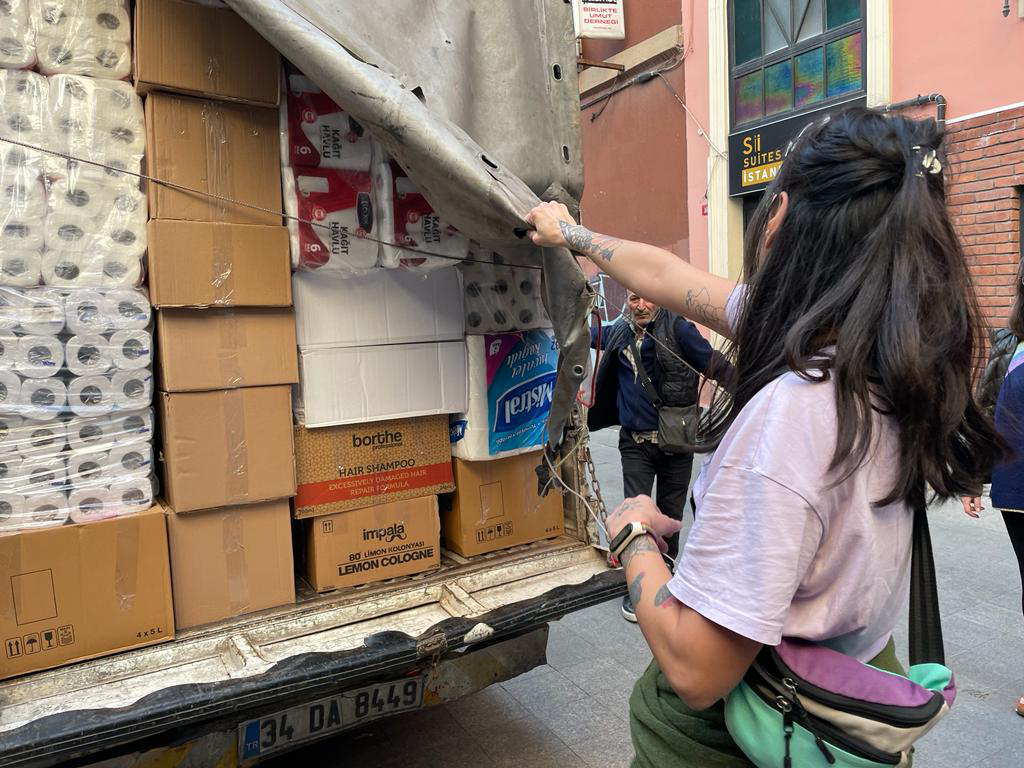 Preparations for the Purple Truck in Istanbul

Based on daily updates from the city, we revised the list of emergency items to be transported to Adıyaman. Our campaign was based on raising public awareness about these women-specific needs, and storing item-specific donations in three main locations across Istanbul. These items included hygiene kits, menstrual pads, wet wipes, diapers for kids and seniors, slippers, underwear, clothing, washbowls, brooms, toys, color books, soap, kolonya[cologne], shampoo, detergent, toilet tissue, paper towel, bulks of assorted grain, veggie oil, and flour. Once we filled up the truck, it departed from Istanbul on February 21. We were afraid that our truck would be stopped and taken over by the Turkish security forces, as had happened to many relief vehicles and tents that were donated by civil society organizations and political rivals to the AKP. We had to be discreet about the feminist label of our truck until we secured a large depot in Adıyaman and the truck reached there because the state could have also taken over our vehicle and appropriated our solidarity work by stamping the name of its own institutions on the donations. 
On the same night, a group of us also took a flight to Adıyaman to distribute women the items according to a designated list of neighborhoods and villages. Friends who remained in Istanbul started the organization of another Purple Truck Campaign, this time for Antakya/Samandağ. The rest of this essay is about only Adıyaman, as I was part of the team who traveled to this city. 
The City of Adıyaman

Adıyaman is a Kurdish majority town with a significant population of Alevis. Fundamentalist Islamist religious orders, such as Menzil, also has a strong presence here. There are ongoing allegations that children who lost their families in the earthquake have been given to Menzil for adoption and the state remains silent about it. One feels the conservative religious and moral culture in the city. Yet the city's significant Alevi population struggle to maintain an alternative space against the existing conservative social and political atmosphere. For instance, Yeni Mahalle Cemevi, an Alevi faith and cultural center had become a chief location for disaster management in the absence of the state in Adiyaman especially in the first week. Cemevi had established a central depot to distribute people their emergency needs. Its building was reorganized into a shelter for survivors. Later, especially after the first week, they starting facing pressure by the state.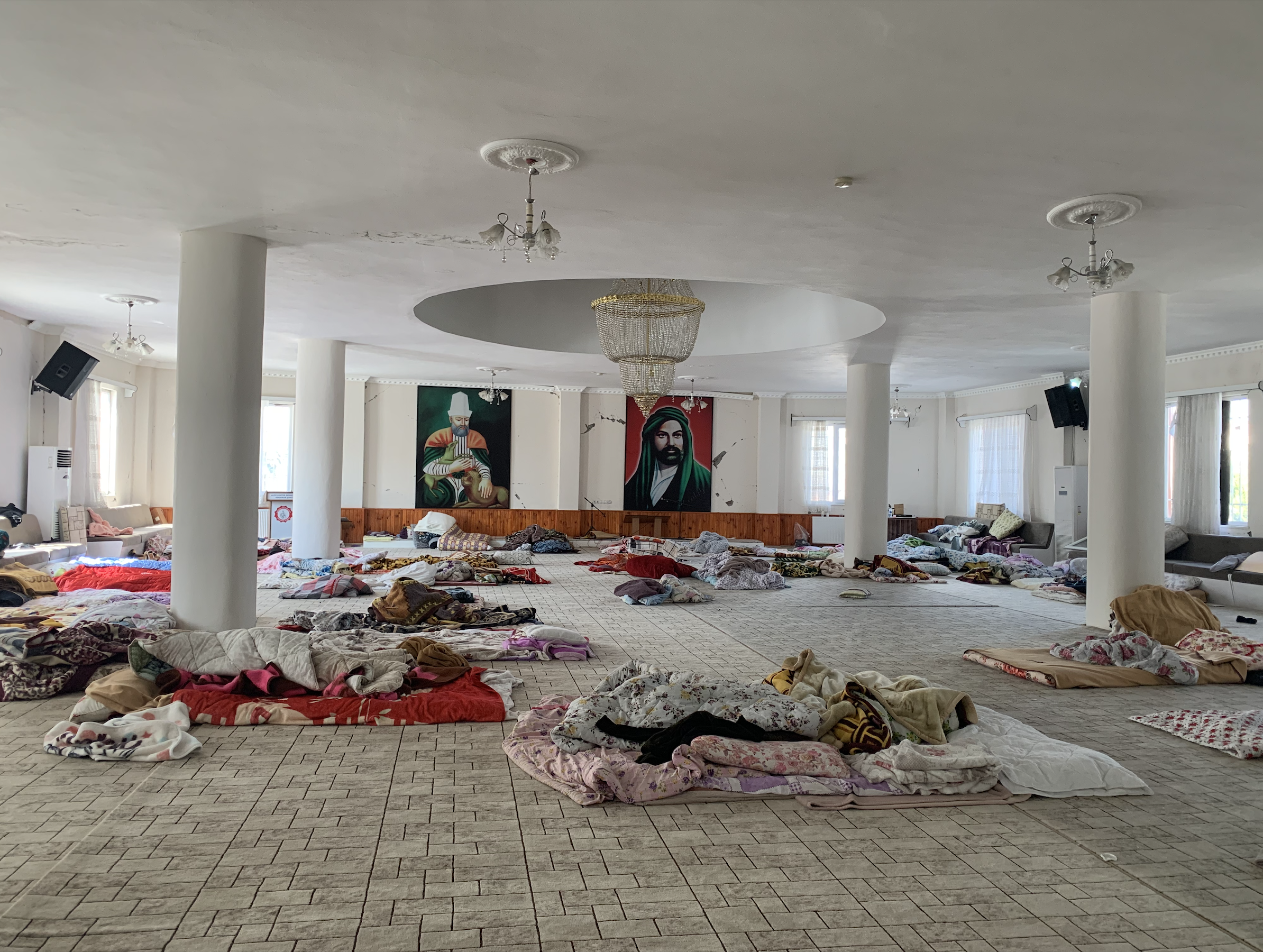 Cemevi building turned into a shelter for survivors 

When we first arrived in Adıyaman, we stayed in Yeni Mahalle Cemevi until we could locate a secure site to pitch our own tent in the city. The previous group of feminist friends had stayed in this cemevi for almost ten days and participated in the relief efforts organized here. During our first night there, I met an elderly local woman who lost people from her family. Every single night, she was sleeping under the pictures of Hz. Ali and Haci Bektas Veli, the two main religious and spiritual leaders of the Alevi tradition. Taking shelter under their pictures, she said, would protect her. The cemevi walls had cracks from the earthquake and the number of cracks increased with the aftershocks. There was no other place to sleep than the funeral tent (taziye çadırı) in the yard that could accommodate only a limited number of people and was very cold. It took us until February 24, that is, 18 days after the earthquake, to secure a safe spot for our Women's Tent in the camp site organized under the coordination of the pro-Kurdish People's Democratic Party (HDP). This camp site was unique in terms of its inclusive politics toward the survivors regardless of their sectarian, religious and ethnic identities. For instance, while most Syrians were denied tents in other camps, here one-fifth of the tents were allocated for them. Every sign in the camp site was written in Kurdish, Arabic and Turkish. This inclusive attitude toward social difference also made this camp site a safe space for our feminist, queer and trans presence. 
The next day after pitching the tent, we hopped on vans to visit neighborhoods and villages to meet with people and designate their needs. The streets were full of rubble. In addition to dust and dirt, asbestos from the wreckage radiated into the city air. People will breathe this poisonous air for months. There were no public health precautions regarding the danger of asbestos. Smog elevating from indoor and outdoor heat stoves made it harder to breathe.  
Standing buildings were abandoned. There were no lights in the city. During the day, one could see cranes leaning toward buildings and moving furniture from apartments. People with means were trying to save whatever was left from the disaster. People whose buildings were slightly or moderately damaged had pitched tents in the area next to their apartments, surveilling potential thieves and protecting their household furniture, goods and other valuable items. These were the only valuables some people had managed to save after long years of work. With night's arrival, streets became even darker and desolate amplifying safety concerns for women, queers and trans people. One could not see a single light in those buildings that still stood solid after the earthquake. Thousands had deserted their city. Damaged buildings presented the most harrowing details of the disaster, including hanging curtains from the window frames or some picture frames on the walls with no sign of life in the present time. They hauntingly testified the moments of normalcy before the disaster. One could see from outside kitchen tables left from a pre-earthquake life that was destroyed in one and a half minute. 
This situation was even harsher in certain villages where survivors migrated from hard-hit city centers and took shelter in their extended family members' damaged houses or tents pitched in the gardens. Some villagers had to sleep in barns with their animals. Among the villages we visited, some tents or houses hosted four to five families from Adıyaman city center. An exponential increase in village populations had caused problems due to already scarce resources. In these households, women and girls were responsible for domestic chores and sustenance of life itself. This gendered division labor was largely invisible. 
Those people who lacked family members in surrounding villages found ways to migrate to other towns across the country. Many of the poorest had to remain in the city center. This impoverished population was also strongly divided by racialized and sectarian lines. Roma communities and Syrian refugees were at the bottom of this hierarchy and had limited access to camps and relief centers. Existing tensions were further underlined in the social fabric, making it challenging to maintain an equal distribution in relief economy.   
Relief Efforts in the City Center and Villages 

We were delivering to women basic emergency needs, particularly underwear and menstrual pads. Survivors could not change their clothes or underwear since the moment of the earthquake. Lack of water, soap and detergent made it impossible for them to maintain their hygiene. Some of them had started developing health problems. In the first weeks it was hard to  find  a private space to change their clothes especially. In one of the villages, a young woman mentioned that all village women had their menstruation at the same time the day after the earthquake. They could not find any menstrual pads. When initial relief materials arrived, they could find diapers for babies and toddlers but no pads for themselves. They were recognized as mothers who were expected to take care of their kids' hygienic needs but their own hygienic essentials as women were overlooked. They used baby diapers during their menstruation.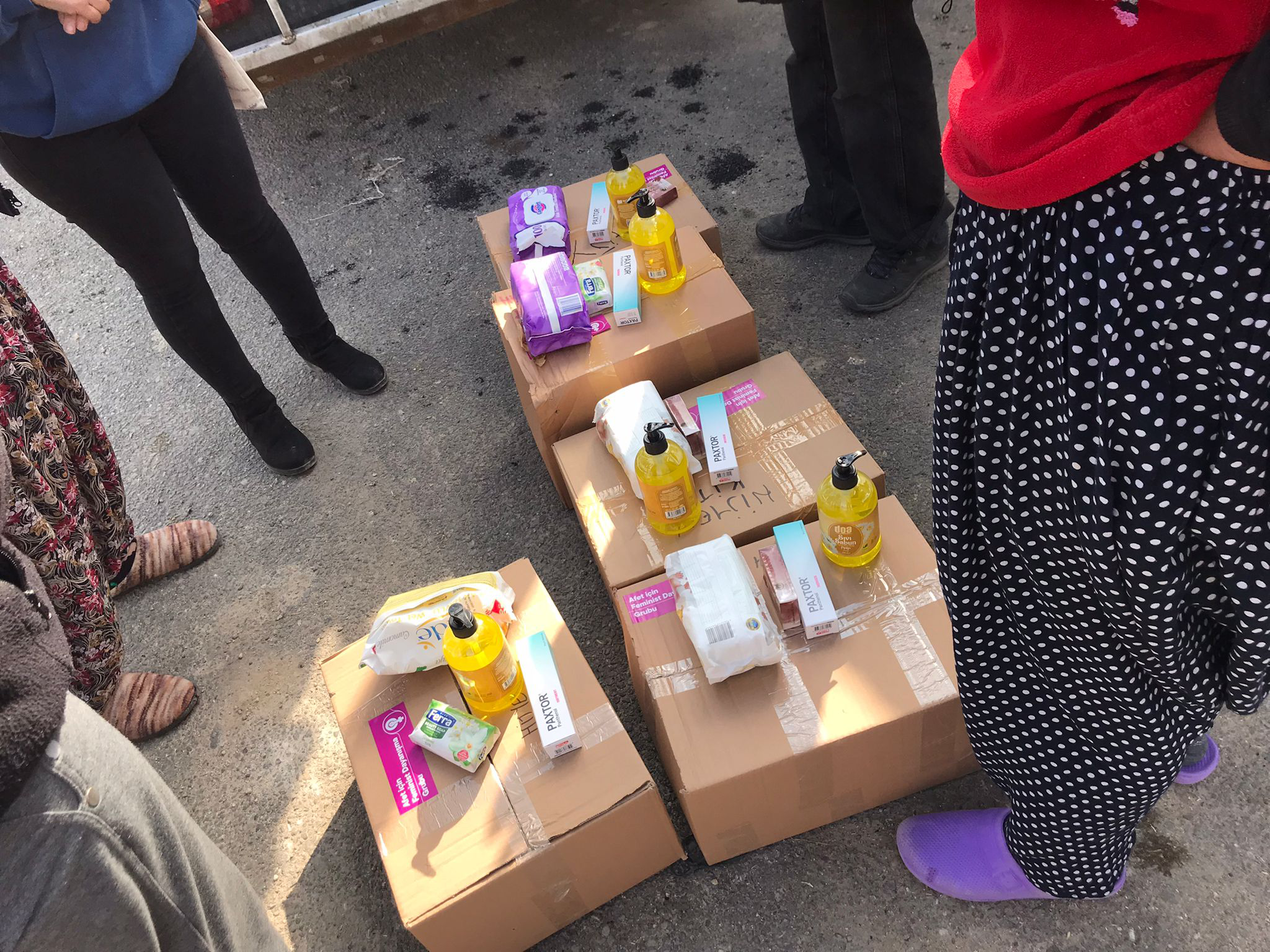 Hygiene kits prepared specifically for women

One woman's story was particularly touching when she took off her hijab and gave it to her daughter to use as a pad upon the beginning of her menstruation cycle. We talked extensively about the specific forms of omission and ignorance they faced in the aftermath of the earthquake. They had difficulty talking about and asking for their needs with men. Until the arrival of our Purple Truck Campaign, many women mentioned that nobody else had either recognized or prioritized their needs. A young woman of twenty-one was already aware of the Purple Truck and she was enthusiastically waiting for our arrival. She had heard about us on social media. When we reached her village by coincidence , we had no idea she had been waiting for us. She insisted that we take a picture together with the village women. This was a remarkable moment of connection and solidarity.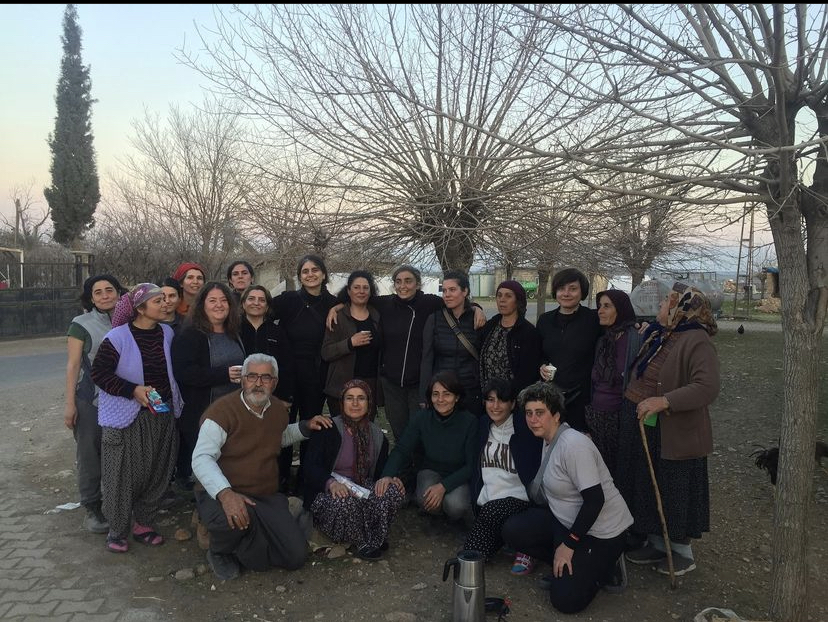 Photo with the women of Kayacık Village

The items that attracted the most attention from women were underwear, menstrual pads, brooms and washbowls. When they discovered that we also brought tweezers and nail clippers, the joy for such simple items was immense. Any item that carried a sense of normalcy from their pre-earthquake life was met with celebration. Another moving anecdote was about tuman, a type of long and loose underwear that mostly village women wear and is mainly associated with rural and regional dress codes. Many women were unhappy with bikini style underwear and their faces lit up when they saw tuman in our boxes. It was indeed embarrassing to see such gratitude in response to our minor relief efforts. The actual reality we saw on the ground made what we could distribute feel so little, so insignificant in the face of this massive devastation. Yet women continued to show great appreciation regardless.  
Gendered and Racialized Fault Lines

Our friends who worked in the rubbles during the first week after the earthquake stressed how heartbreaking to find women in children's room next to their beds while men were found nearby the exit door. Many women's initial response was to first rescue their children rather than themselves. Another issue that risked women's lives was the gendered dress code. Because the earthquake caught everyone in their sleep, some women with nightgowns refrained from stepping outside before wearing their headscarves and changing their clothes. Women died or risked their lives because of religious and moral expectations about their bodily displays in public. Men did not have to deal with similar expectations at the moment of the earthquake.  
We saw women's hands badly irritated from handwashing laundry. Children and women had severely sunburnt skin, and some children's skin was even callused. Women's lips were damaged with cold sores. Most women and children were in slippers, lacking proper shoes. They also needed birth control pills to regulate their excessive or diminished menstrual periods caused by stress.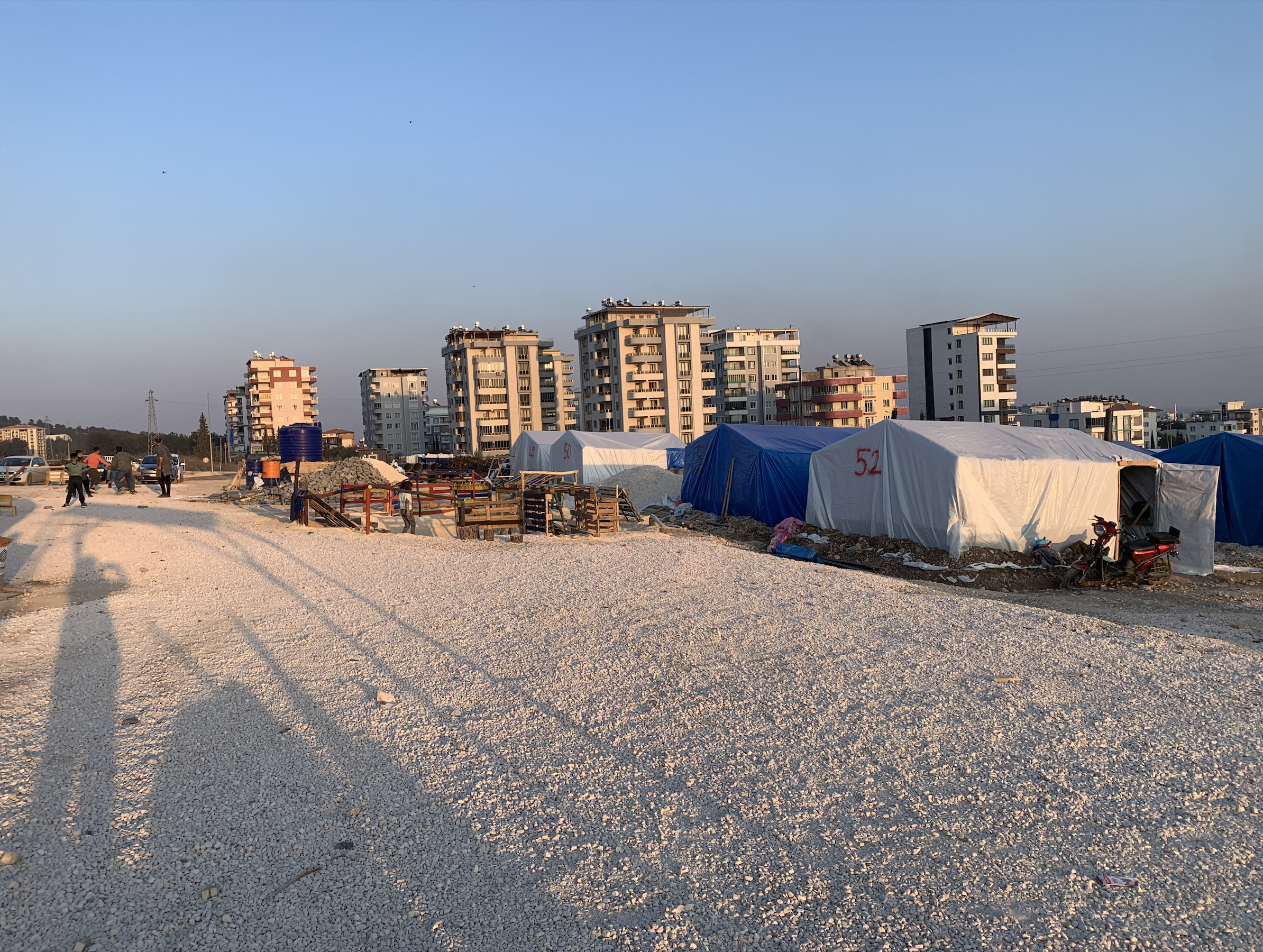 A scene from the camp site

In the camp site, the gendered division of labor mapped itself onto tent life. Child and elderly care, reproduction of household, and emotional and physical labor were all on women's shoulders. There was no space of escape for women in tents. They had a tendency to spend most of their day in these tents without having a time of their own and socializing with other women. Mostly men dominated the common spaces in the camp, making it difficult for women to claim and use these spaces for their own social needs. Children, especially young ones, were significantly traumatized and turned to their mothers to seek emotional support. A Syrian woman mentioned she could not sleep at night because her children at the ages of two, four and five stuck to her body at night in their sleep. They could no longer sleep on their own separate from their mother. She said: "This crisis is worse than the Covid. During the Covid, outside was prohibited to us. Now our homes are banned to us."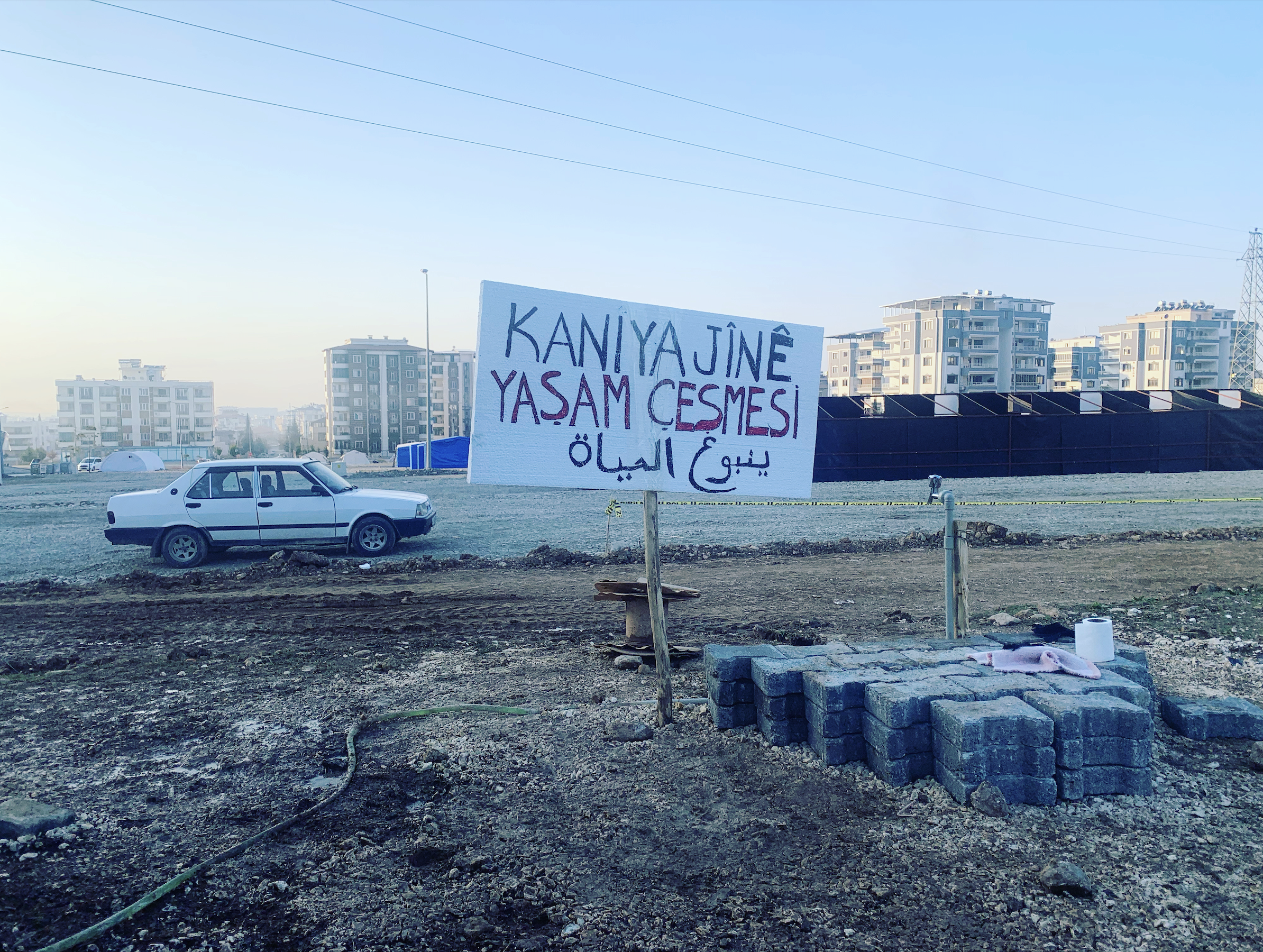 The Fountain of Life in the Camp Site

Women were also burdened by their children's other needs. They had to take their children to washrooms located away from their tents in darker corners of the camp site. Many had to hold their pee until the sunrise and started having their children wear diapers. Safety emerged as another issue of concern in the camp site. The situation was even more dire for trans women who were denied relief materials in tents where survivors gathered together and took shelter. People from Lubunya Deprem Dayanışması, the LGBTI+ support and solidarity group for disaster based in Ankara, reported that the prevailing anti-trans sentiments and attitude led trans women to seek shelter and help on their own within extremely limited resources. Some of them had to cover their faces while visiting relief spots and centers to ask for as basic needs as food or water. Together with other queer and trans people, they had to re-enter the damaged buildings to spend their days and nights in harsh winter. Even in a few situations, religiously fundamentalist villagers scapegoated them for "perversion" which they believed caused this colossal disaster. 
Women's Tent

Under these circumstances, it was important create a space for women, queers and trans people to have a space where they could feel safe and comfortable without family and social pressure. Hence, we pitched the Women's Tent to meet this need. At the beginning, we started visiting the tents in the camp and informing women about our Women's Tent.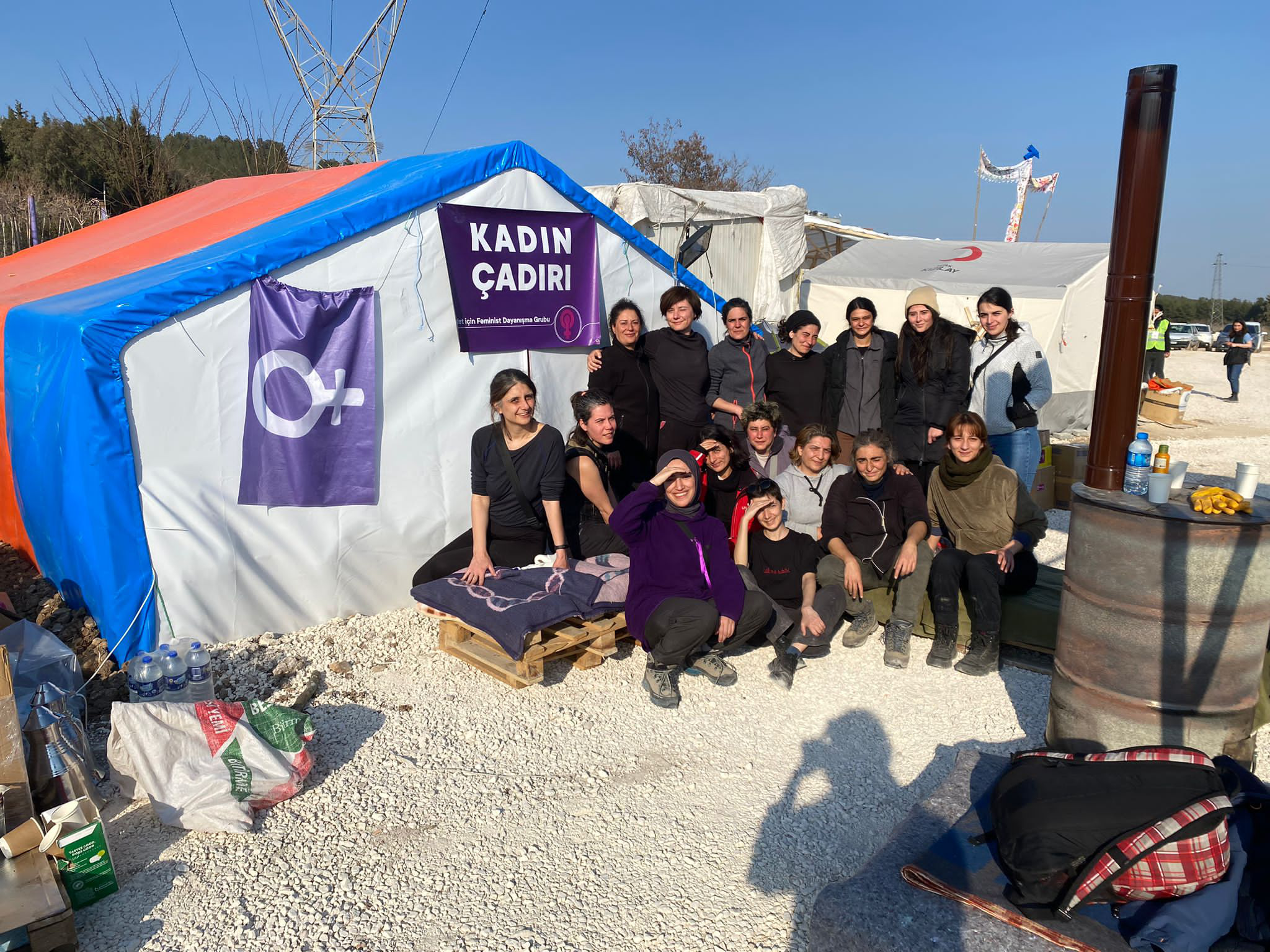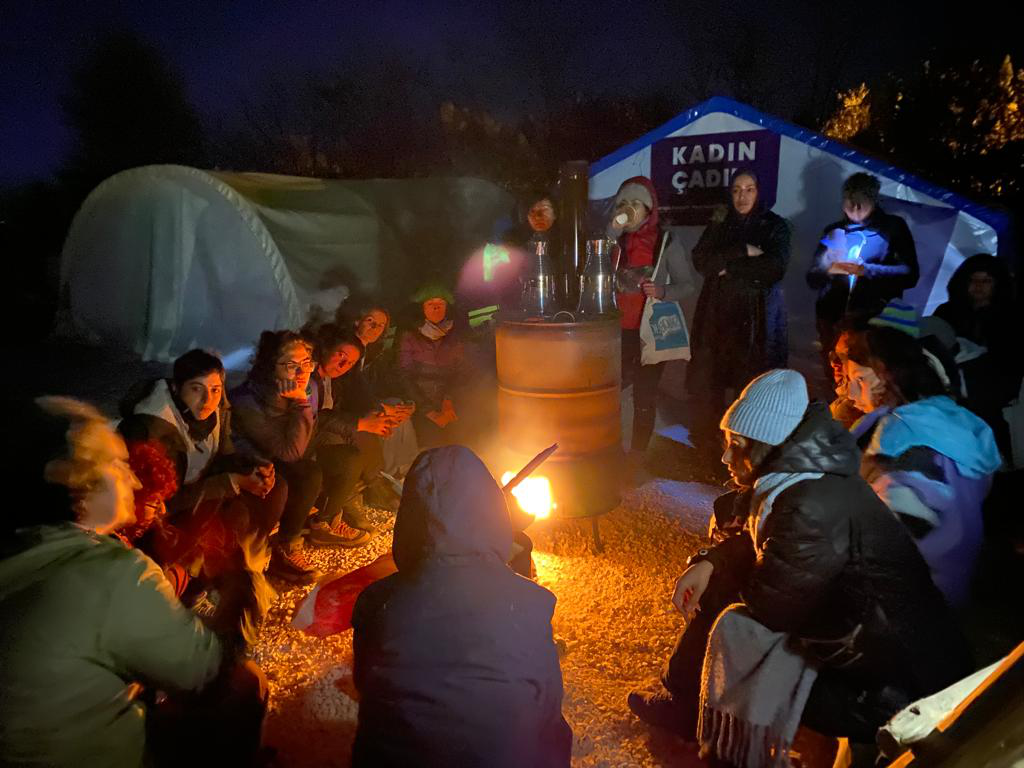 Women Tents during the day and at night

Our tent was located close to the Children's Tent, a creative and educational space established for children by Diyarbakir Crisis Management Center for Children's Rights. Its schedule was at 10am-12pm and 2pm-4pm every day. When mothers dropped off their kids there, they spent their time with us in the Women's Tent. One day, kids recycled plastic water bottles to make flowers and brought them to their moms as gifts during their break. One of the girls turned to her mom and said, "Mom, what a beautiful place here in this camp!" I was baffled! Where we stayed was actually a place of excruciating poverty, deprivation, dust and dirt. Children indeed taught the harshest and the most poignant lessons about life while we were all collectively struggling for rebuilding it.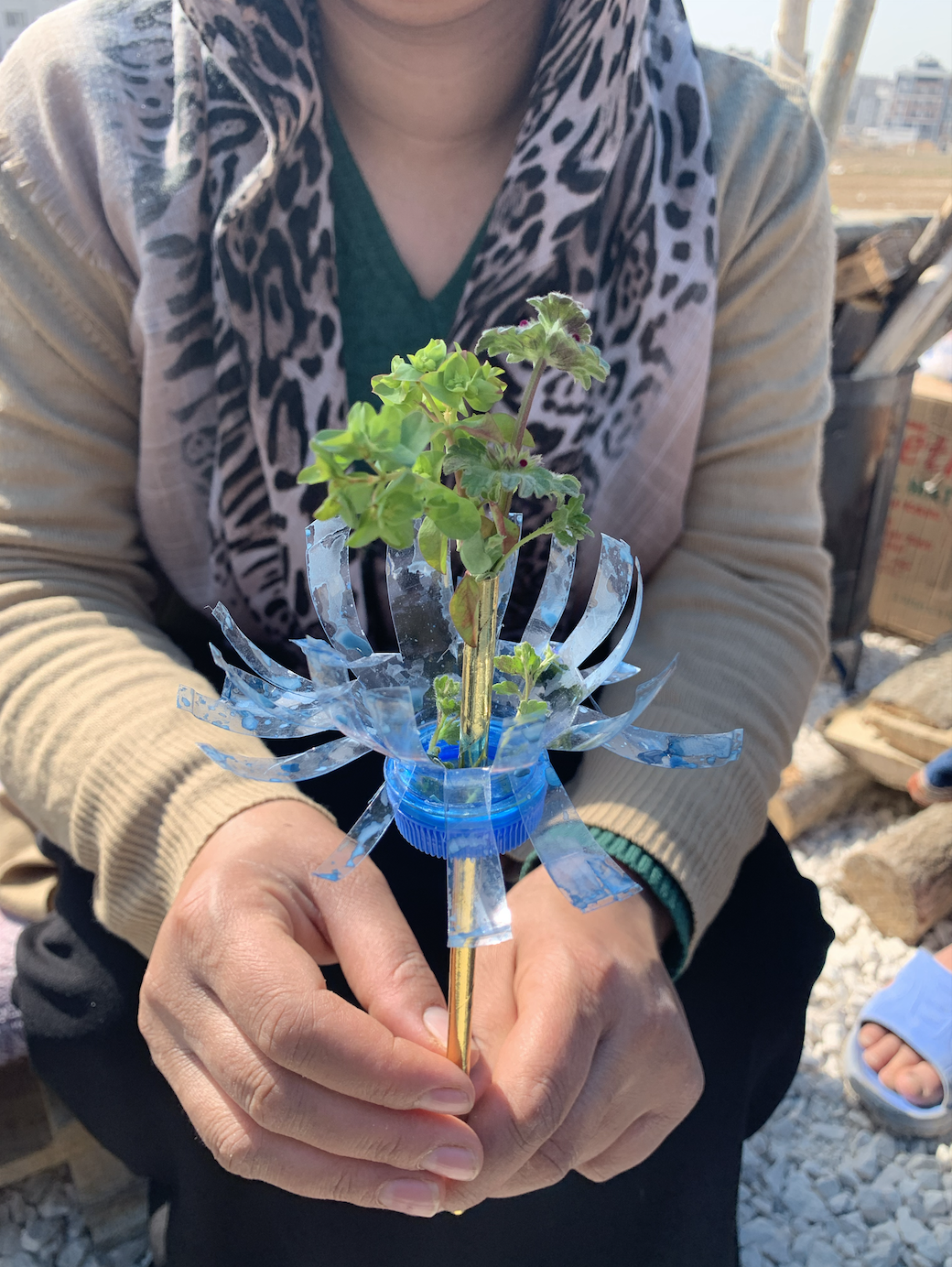 Flower made out of recycled plastic by children

At the beginning, our tent attracted only a few women. But, as days went by, many women became more aware of this space and told their friends, neighbors and other women from their extended families. They started to visit our tent regularly to claim some leisure time for themselves and talk with us and each other. We could see how this space pleased them, making it socially possible to share their stories of devastation, talk about themselves without having to meet other family members' needs, speak their desires and memories of people, places and objects they lost, and share their emotions including smiles and tears. As the number of women increased, so did the weight of these stories and our feeling of responsibility toward each single woman. We learned a lot from these conversations.
Several women mentioned how much they missed cooking their own food, special dishes in particular. This was particularly an issue for Syrian women who were already displaced from their homes multiple times and had found some sense of consolation and belonging in cooking their local dishes. Now the earthquake had also taken this space from them. There was a common kitchen in the camp site but it lacked proper equipment and ingredients. Since this kitchen functioned on voluntary work, it served basic food, such as olives, cheese, jam and tea for breakfast, and soup, pilav, bulgur or veggie stew for lunch and dinner. Women usually took their plates to their own tents rather than ate them in the common area, which was mainly dominated by the male presence. Another issue was the avoidance of encounter between women from differently racialized groups. Syrian women and Kurdish and Turkish women tried to avoid each other in the camp. This distance started breaking when differently racialized women started visiting the Women's Tent and chitchatting with each other. Sometimes language was a big barrier and women translated for each other when there was someone who could speak Turkish, Kurdish or Arabic. 
We prioritize women's needs. For instance, some women mentioned that they used to enjoy knitting together before the earthquake. In response to this memory, we immediately used some of our budget to buy yarns and needles and sent them to the camp with the next group of women from Istanbul. Women started teaching knitting to some of our friends, making it a mutual exchange rather than one-way giver-receiver relation. Or when we delivered toys and coloring books for children, some adolescents and teenagers asked for books. Our immediate response was to contact a few publishers in Istanbul to request book donations or to purchase a list of books for the youth and send them to the camp site. Now our tent has also a small library of books. Another addition was Turkish coffee and cezve (coffee pot), which made it possible for women to project their hopes and desires about present and the future onto their coffee cups while reading them for each other, and hence, providing each other with emotional and psychological support this way. 
An International Moment for Feminist Solidarity 

Women, queers and trans people need the Women's Tent. Our efforts in the Women's Tent usually orient around creating a momentary cycle of joy and pleasure, a material and sensual moment of normalcy that used to exist prior to the earthquake. These are small moments of escape from the harsh reality and the responsibilities women have to shoulder, but they still matter. In order to maintain this space in the long-term, we circulated an online form to create a pool of volunteers from across the county according to their availability in the next coming months. We organize these applicants into groups of four or five, and each group spends at least a week in this tent on a rotating basis. We make sure that groups spend two days together in order to relay the next group the experience and information gained in the camp. Each group holds a meeting at the end of the day, writes a detailed note about the camp life, and determines women's needs. Upon these daily accounts, we create a list of items to be brought with the next group and decide how to further extend the scope of activities for women in the tent.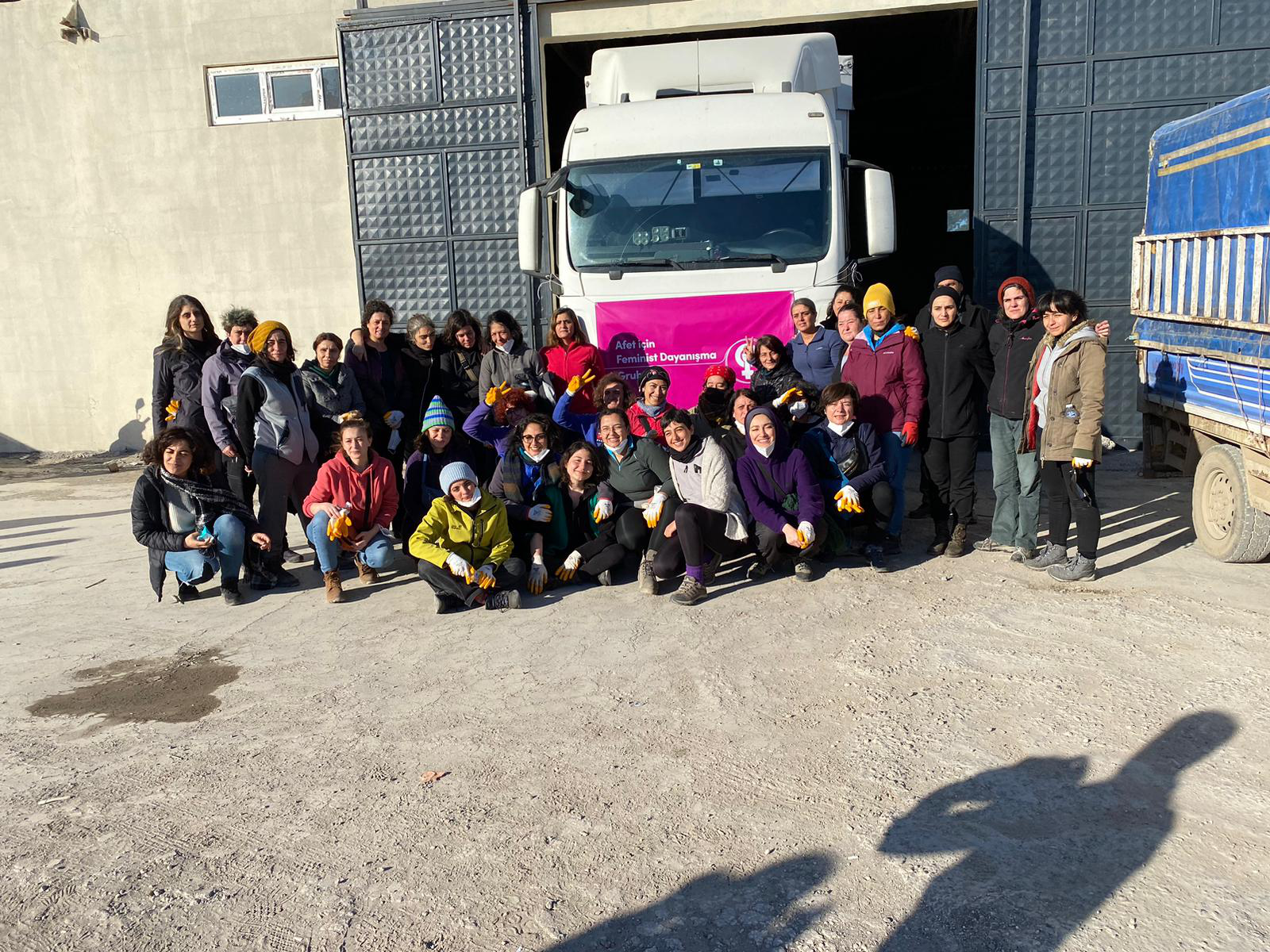 Purple Truck and Feminist Solidarity Group in Adıyaman

Many people were highly enthusiastic in the immediate aftermath of the earthquake and they showed their great willingness to donate, spend time in Adıyaman or participate in other relief activities. These numbers, however, have started decreasing compared to the first weeks of the disaster. This relief work requires a long-term dedication, as it takes so much collective solidarity work to rebuild lives. Hence, we call on an international solidarity and support to maintain the work we do in the long-term. You can contact us via afeticinfeministler@gmail.com to learn more about the specific forms of support you could provide. You can also follow us on our social media account @afeticinfeminst.