The Cost of Imperial Wars on Iraq's Environment

With Kali Rubaii
in conversation with Bassam Haddad

Cosponsored by Middle East and Islamic Studies Program (GMU),  Center for Contemporary Arab Studies (Georgetown) CCAS,  Schar School of Policy and Government (GMU), ASI, and the Iraq 2023: Twenty Years On Project

In this conversation, Kali Rubaii shares the most recent research findings from Anbar province, starting in 2020 until just last month (February 2023). She discusses the 20th anniversary of US invasion and the legacy of US imperialism on Iraq's landscape. Kali helps us understand what it means to make new lives in spite of ongoing violations.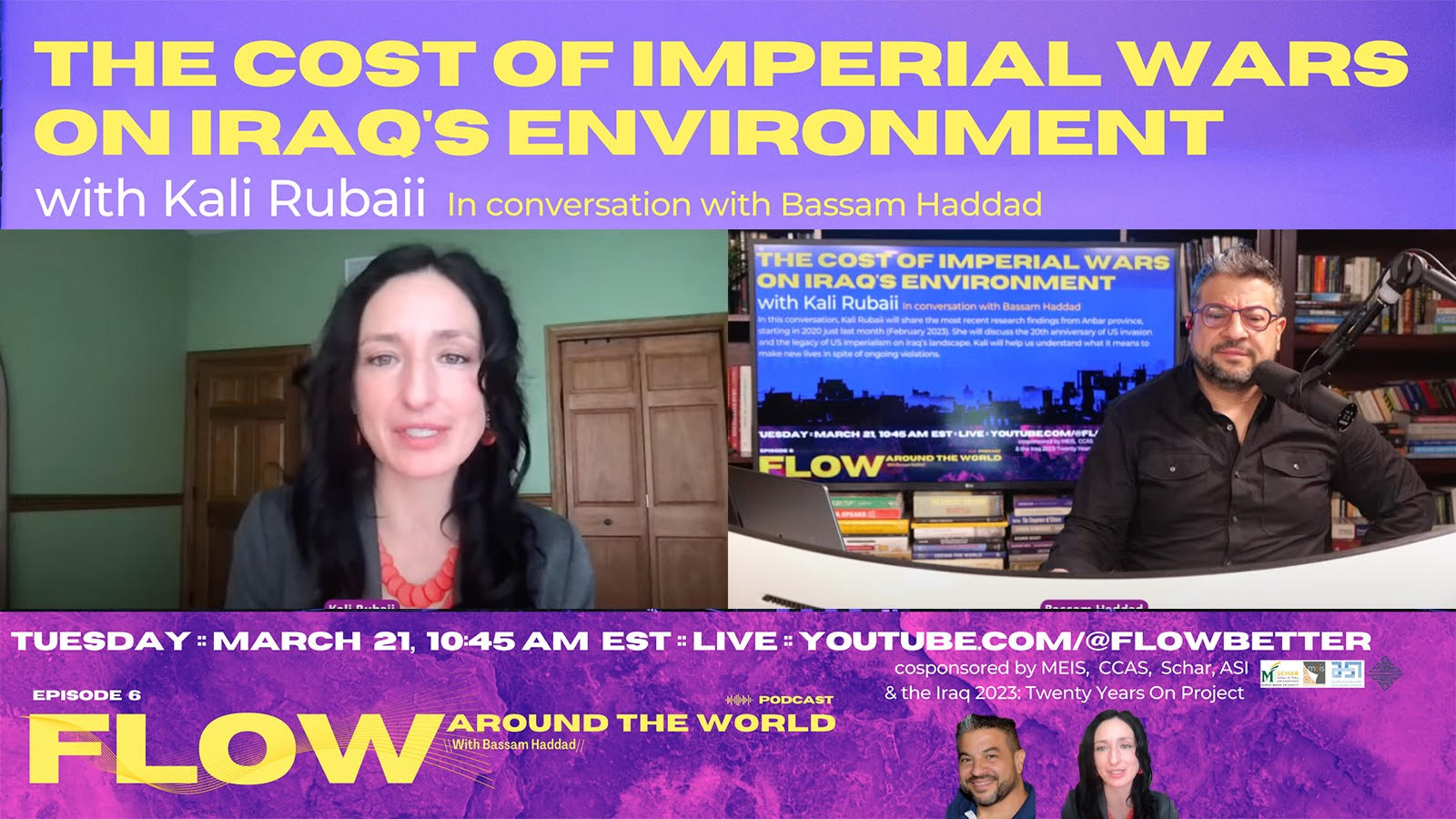 Guest

Kali Rubaii is an assistant professor in the Department of Anthropology at Purdue University, interested in sharpening resistance strategies that target the vulnerable nexus between coercive power and the physical world. She is currently conducting two ethnographic projects: Taking toxicity as an analytic for material politics, she is working with a team of doctors, epidemiologists, and environmental activists to document the links between the epidemic of birth defects in Fallujah and military environmental damage. She is also researching the corporate-military enterprise of concrete production in post-invasion Iraq and how it enforces global regimes of class and citizenship. 
Host

Bassam Haddad is Founding Director of the Middle East and Islamic Studies Program and Associate Professor at the Schar School of Policy and Government at George Mason University. He is the author of Business Networks in Syria: The Political Economy of Authoritarian Resilience (Stanford University Press, 2011) and co-editor of A Critical Political Economy of the Middle East (Stanford University Press, 2021). Bassam is Co-Founder/Editor of Jadaliyya Ezine and Executive Director of the Arab Studies Institute. He serves as Founding Editor of the Arab Studies Journal and the Knowledge Production Project. He is co-producer/director of the award-winning documentary film, About Baghdad, and director of the acclaimed series Arabs and Terrorism. Bassam serves on the Board of the Arab Council for the Social Sciences and is Executive Producer of Status Audio Magazine and Director of the Middle East Studies Pedagogy Initiative (MESPI). He received MESA's Jere L. Bacharach Service Award in 2017 for his service to the profession. Currently, Bassam is working on his second Syria book titled Understanding the Syrian Calamity: Regime, Opposition, Outsiders (forthcoming, Stanford University Press).