Democracy for Some, Apartheid for Others
The Human Rights Organizations' Concencus on Israel-Palestine



with Omar Shakir
in conversation with Bassam Haddad
C

osponsored by Middle East and Islamic Studies Program (GMU) and Arab Studies Institute
 

In this conversation, Omar Shakir and Bassam Haddad discuss Israel's escalating repression of Palestinians, the current Israeli protest movement,
the growing consensus in the human rights movement on Israel and Palestine, and academic freedom on the topic.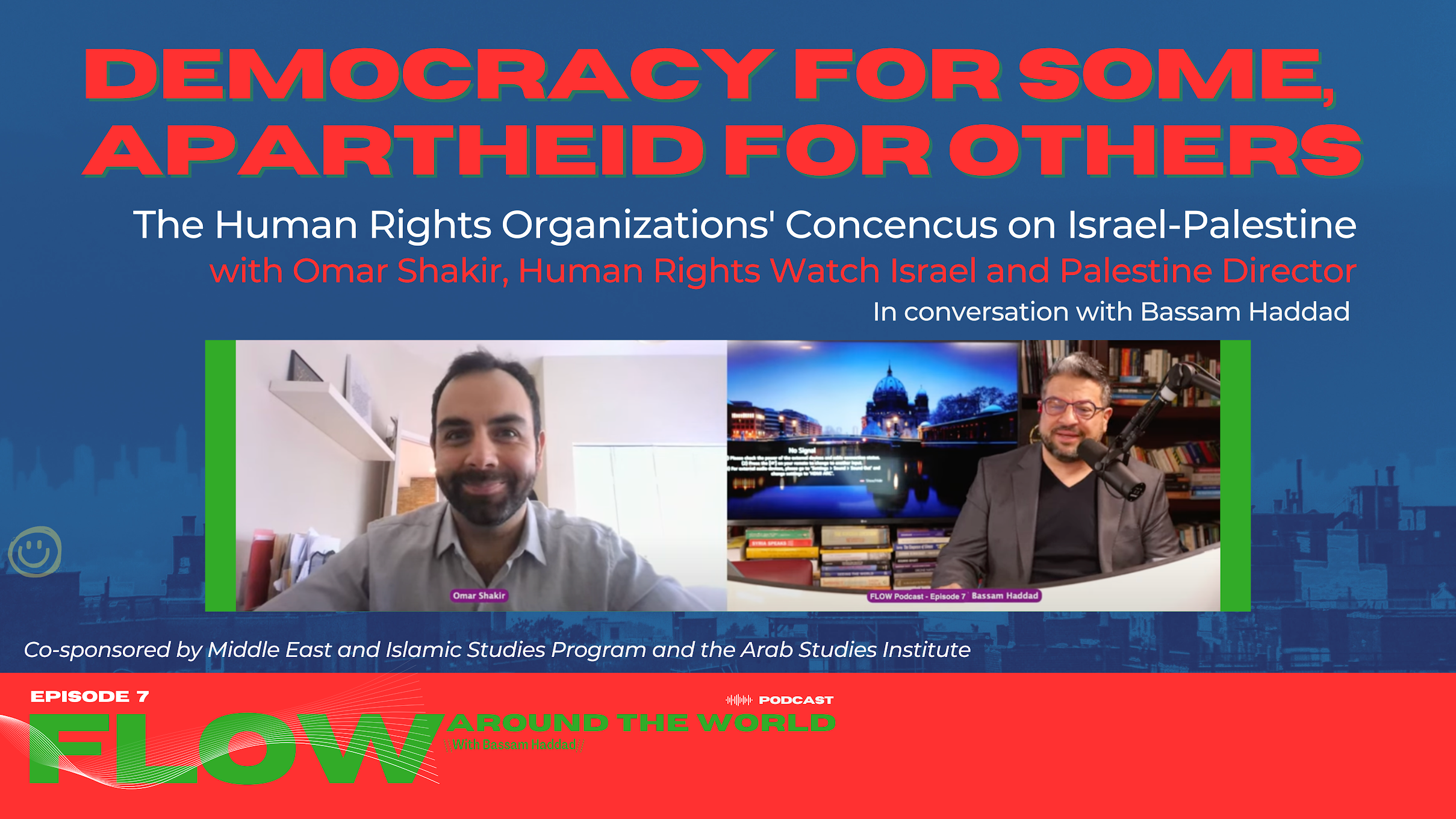 Guest

Omar Shakir, Israel and Palestine Director at Human Rights Watch, investigates human rights abuses in Israel, the West Bank, and Gaza. Prior to his current role, he was a Bertha Fellow at the Center for Constitutional Rights, where he focused on US counterterrorism policies, including legal representation of Guantanamo detainees. As the 2013-14 Arthur R. and Barbara D. Finberg Fellow at Human Rights Watch, he investigated human rights violations in Egypt, including the Rab'a massacre, one of the largest killings of protesters in a single day. A former Fulbright Scholar in Syria, Omar holds a JD from Stanford Law School, where he co-authored a report on the civilian consequences of US drone strikes in Pakistan as a part of the International Human Rights & Conflict Resolution Clinic, an MA in Arab Studies from Georgetown University's School of Foreign Affairs, and a BA in International Relations from Stanford. He speaks English and Arabic.
Host

Bassam Haddad is Founding Director of the Middle East and Islamic Studies Program and Associate Professor at the Schar School of Policy and Government at George Mason University. He is the author of Business Networks in Syria: The Political Economy of Authoritarian Resilience (Stanford University Press, 2011) and co-editor of A Critical Political Economy of the Middle East (Stanford University Press, 2021). Bassam is Co-Founder/Editor of Jadaliyya Ezine and Executive Director of the Arab Studies Institute. He serves as Founding Editor of the Arab Studies Journal and the Knowledge Production Project. He is co-producer/director of the award-winning documentary film, About Baghdad, and director of the acclaimed series Arabs and Terrorism. Bassam serves on the Board of the Arab Council for the Social Sciences and is Executive Producer of Status Audio Magazine and Director of the Middle East Studies Pedagogy Initiative (MESPI). He received MESA's Jere L. Bacharach Service Award in 2017 for his service to the profession. Currently, Bassam is working on his second Syria book titled Understanding the Syrian Calamity: Regime, Opposition, Outsiders (forthcoming, Stanford University Press).