Transnational Times Podcast
Episode 4
 
Weaponizing Anti-Semitism to Silence Student Activism:
Berkeley Law School

A Conversation with Malak Afaneh, Taylor Fox, and Liz Jackson
Hosted by Noura Erakat

Monday, 1 May 2023
1:00 PM EST

Malak Afaneh and Taylor Fox are Berkeley Law School students
Liz Jackson is a Palestine Legal staff attorney
On August 21, 2022, Law Students for Justice in Palestine at Berkeley Law School adopted a bylaw that stated it would "not invite speakers that have expressed and continued to hold views or host/sponsor/promote events in support of Zionism, the apartheid state of Israel and the occupation of Palestine." Former Assistant Secretary for Civil Rights at the U.S. Education Department during the Trump administration and the founding director of the Brandeis Center described the amendment as creating a "Jewish free zones" which has thrown the student organization, and Palestine solidarity, into controversy. This podcast episode will discuss the specificities of this particular contoversy as well as the broader phenomenon of weaponizing antisemitism against student activists.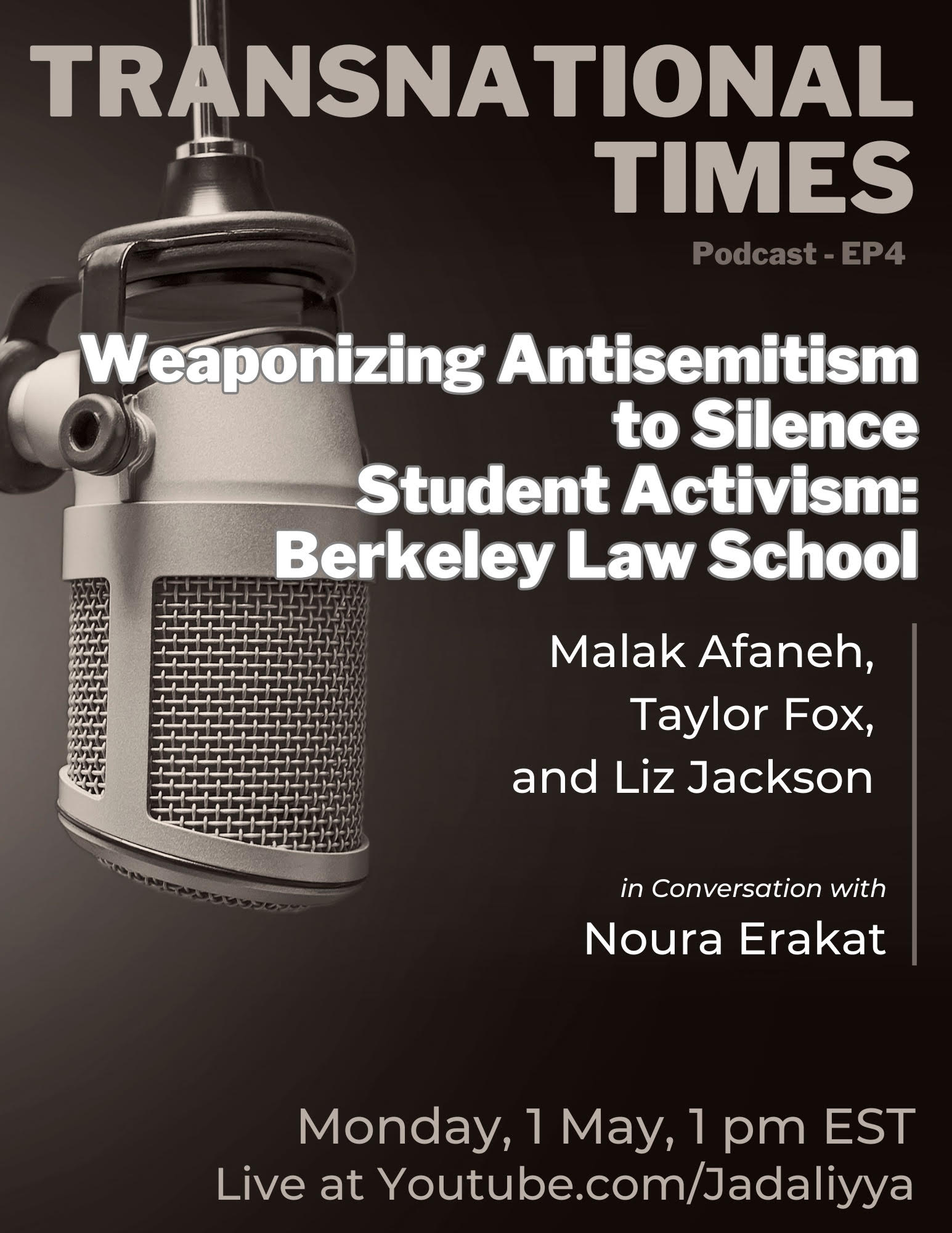 Guest

Malak Afaneh is the proud daughter of Palestinian immigrants from Abu Ghosh and Al-Khalil and a second year law student and Co-President of Law Students for Justice in Palestine at Berkeley Law. She is is currently a US Campaign for Palestinian Rights Youth Fellow. 
Taylor Fox is a second year Berkeley Law School student interested in legal advocacy that advances the work of communities who are building a world beyond the prison-industrial complex. Taylor is committed to community and movement lawyering that is grounded in an abolitionist framework. 
Liz Jackson is a founding staff attorney for Palestine Legal and Cooperating Counsel with the Center for Constitutional Rights. Her work includes representing students, professors and activists on free speech and academic freedom issues, documenting the chilling effect of repression campaigns, and educating activists on their rights.
Host

Noura Erakat is a human rights attorney, Associate Professor of Africana Studies  and the Program of Criminal Justice at Rutgers University, New Brunswick. She recently completed non-resident fellowship of the Religious Literacy Project at Harvard Divinity School. Noura is the author of Justice for Some: Law and the Question of Palestine (Stanford University Press, 2019), which received the Palestine Book Award and the Bronze Medal for the Independent Publishers Book Award in Current Events/Foreign Affairs. She is co-founding editor of Jadaliyya and editorial board member of the Journal of Palestine Studies as well as Human Geography. She is a co-founding board member of the DC Palestinian Film and Arts Festival. She has served as Legal Counsel for a Congressional Subcommittee in the US House of Representatives, as Legal Advocate for the Badil Resource Center for Palestinian Refugee and Residency Rights, and as national organizer of the US Campaign to End the Israeli Occupation. Noura has also produced video documentaries, including "Gaza In Context" and "Black Palestinian Solidarity." Her writings have appeared in The Washington Post, The New York Times, the Los Angeles Review of Books, The Nation, and Al Jazeera. She is a frequent commentator on CBS News, CNN, MSNBC, CBS, Fox News, the BBC, and NPR, among others.