Flow Podcast Episode 9
Lineages of Protest in Iran:
Neoliberalism, Gender, ethnicity, religion

Eskandar Sadeghi-Boroujerdi in conversation with Bassam Haddad

Monday, 22 May 2023
12:00 PM EST 

Cosponsored by Middle East and Islamic Studies Program (GMU), Schar School of Policy and Governance (GMU), Arab Studies Institute


In this episode of Flow Podcast, Bassam Haddad speaks with Eskandar Sadeghi-Boroujerdi, who addresses the various lineages of protest in Iran. In his own words, "I provide an interpretive-theoretical framework through which to understand the manifold crises which generated the conditions for these historic and multifaceted uprisings."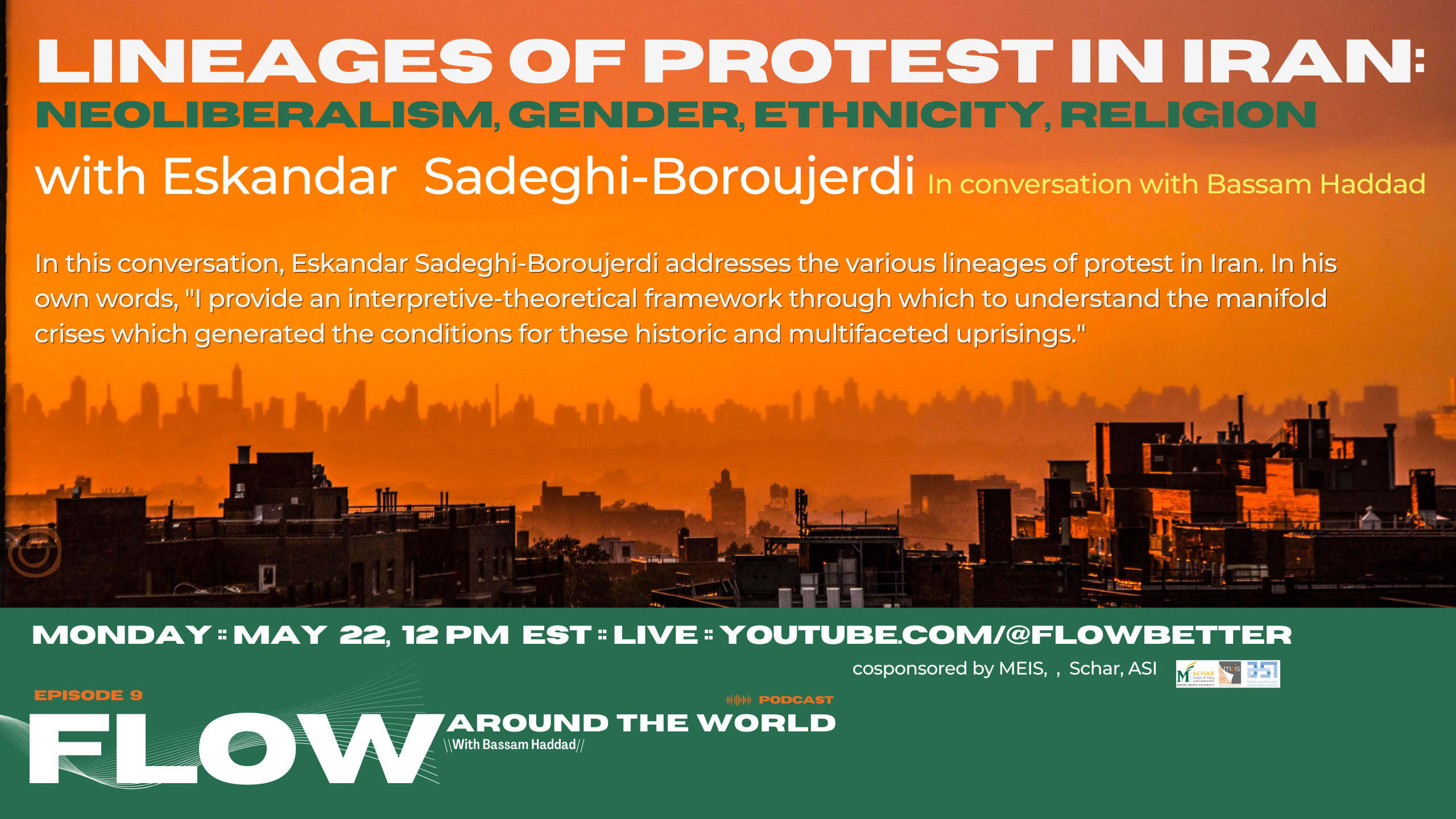 Guest

Eskandar Sadeghi-Boroujerdi is Senior Lecturer (Associate Professor) in the Modern History of the Middle East in the Department of History at the University of York. He is a series editor of the Radical Histories of the Middle East book series and author of Revolution and its Discontents: Political Thought and Reform in Iran published in 2019 by Cambridge University Press.
 
Host

Bassam Haddad is Founding Director of the Middle East and Islamic Studies Program and Associate Professor at the Schar School of Policy and Government at George Mason University. He is the author of Business Networks in Syria: The Political Economy of Authoritarian Resilience (Stanford University Press, 2011) and co-editor of A Critical Political Economy of the Middle East (Stanford University Press, 2021). Bassam is Co-Founder/Editor of Jadaliyya Ezine and Executive Director of the Arab Studies Institute. He serves as Founding Editor of the Arab Studies Journal and the Knowledge Production Project. He is co-producer/director of the award-winning documentary film, About Baghdad, and director of the acclaimed series Arabs and Terrorism. Bassam serves on the Board of the Arab Council for the Social Sciences and is Executive Producer of Status Audio Magazine and Director of the Middle East Studies Pedagogy Initiative (MESPI). He received MESA's Jere L. Bacharach Service Award in 2017 for his service to the profession. Currently, Bassam is working on his second Syria book titled Understanding the Syrian Calamity: Regime, Opposition, Outsiders (forthcoming, Stanford University Press).