Flow Podcast Episode 10
France, Palestine, and the Middle East

Alain Gresh in conversation with Bassam Haddad

Cosponsored by Middle East and Islamic Studies Program (GMU), Schar School of Policy and Governance (GMU), AbuSulayman Center for Global Islamic Studies (GMU), Arab Studies Institute
On this episode of Flow Podcast, Bassam Haddad sat down again with Alain Gresh at his home in Paris to discuss a number of topics, including Europe/France-Mideast relations in a changing world, internal French policies regarding migrants and Arab/Muslim French citizens, and developments in France regarding the question of Palestine. They also discuss the impact China is having on both Europe and France-U.S. relations.
WATCH HADDAD AND GRESH'S LAST CONVERSATION HERE: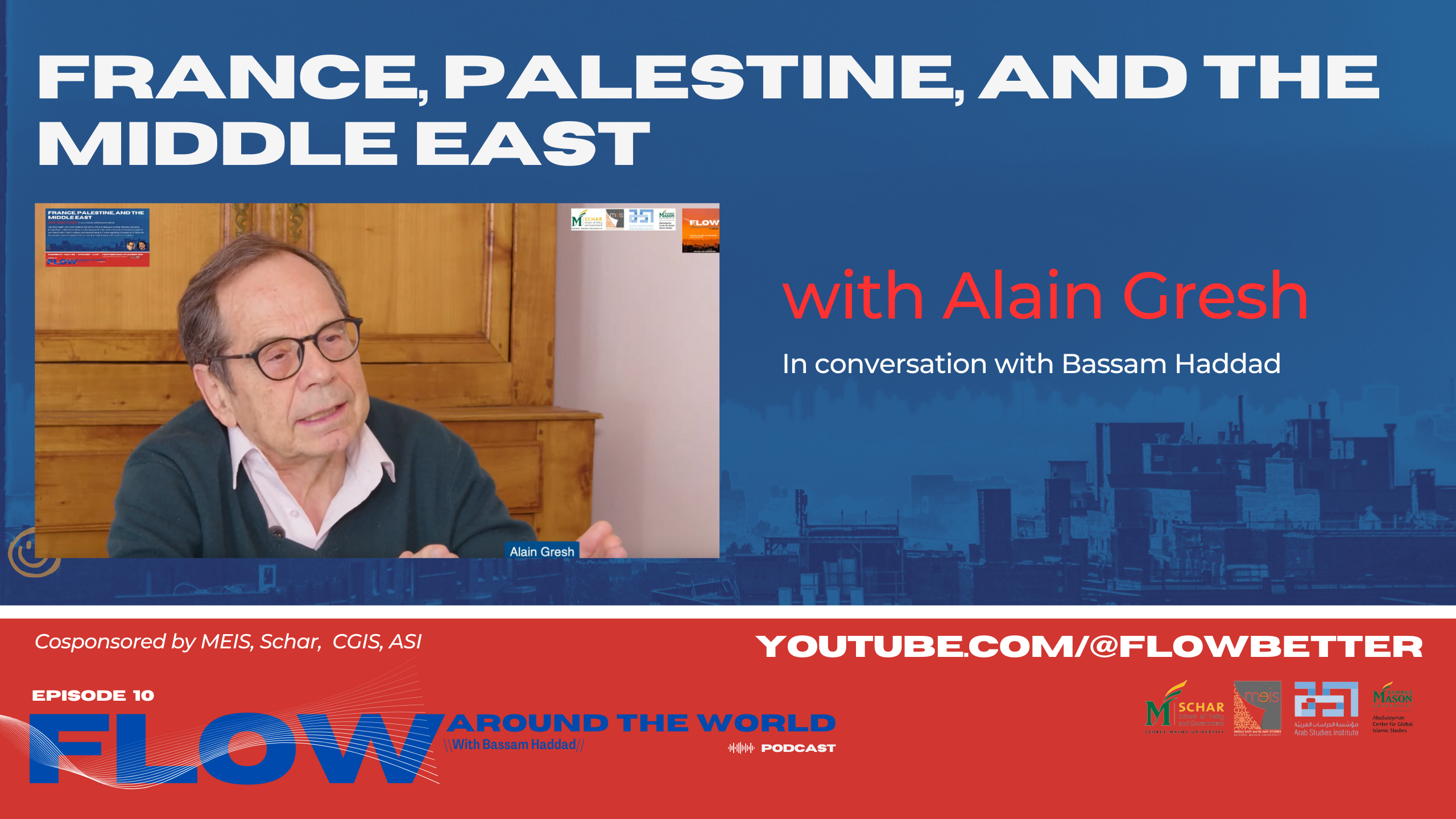 Guest

Alain Gresh, a journalist, worked for Le Monde Diplomatique until 2013 and was his editor in chief from 1995 to 2005. He is the editor of Orient XXI which he founded in 2013. Among his latest books that have been translated in Arabic are الإسلام والجمهورية والعالم (Dar al Saqi: Beirut) and علام يطلق اسم فلسطين ؟ (الدوحة : المركز العربي للأبحاث ودراسة السياسات، 2012
Host

Bassam Haddad is Founding Director of the Middle East and Islamic Studies Program and Associate Professor at the Schar School of Policy and Government at George Mason University. He is the author of Business Networks in Syria: The Political Economy of Authoritarian Resilience (Stanford University Press, 2011) and co-editor of A Critical Political Economy of the Middle East (Stanford University Press, 2021). Bassam is Co-Founder/Editor of Jadaliyya Ezine and Executive Director of the Arab Studies Institute. He serves as Founding Editor of the Arab Studies Journal and the Knowledge Production Project. He is co-producer/director of the award-winning documentary film, About Baghdad, and director of the acclaimed series Arabs and Terrorism. Bassam serves on the Board of the Arab Council for the Social Sciences and is Executive Producer of Status Audio Magazine and Director of the Middle East Studies Pedagogy Initiative (MESPI). He received MESA's Jere L. Bacharach Service Award in 2017 for his service to the profession. Currently, Bassam is working on his second Syria book titled Understanding the Syrian Calamity: Regime, Opposition, Outsiders (forthcoming, Stanford University Press).