[This article is part of the Roundtable Discussion: "Remembering Gezi—Beyond Nostalgia Ten Years On" produced by Jadaliyya's Turkey Page Editors. Read the roundtable introduction by guest editors Birgan Gökmenoğlu and Derya Özkaya and see the other articles of this roundtable here.]
Sexual politics in Turkey, particularly during the reign of the neoliberal conservative AKP, have represented both the embodiment of moral standards and various forms of opposition. The queer movement experienced its most prominent public presence during the Gezi uprisings, which subsequently opened up new avenues for expressing their demands and concerns within existing political institutions along with their own organizations. They aimed to reclaim their rights within the public sphere and advocate for recognition through diverse collective actions within the post-Gezi political landscape.
Birgan Gökmenoğlu and Derya Özkaya interviewed Evren Savcı, who provided insights into the potential of the commons, the politics of othering, dispossession, and more revisiting the Gezi uprisings from a queer and feminist perspective to examine their promise and the potential for re-enchantment. 
Could you remind us of how you situated the Gezi protests in the sexual politics of Turkey?
Gezi was an unexpected and magical answer to the polarizing regime of the AKP government and their dispossession politics that avoided falling into the trap of age-old materialism/idealism and economy/identity politics binaries. The various publics that made up the demonstrators made it clear in their chants and slogans and banners and stencils that there was a link between dispossession and, to evoke a more useful word than identity, "difference." Life chances and well-being was distributed unevenly across difference (ethnic, religious, gendered, sexual) and the economy was evoked by the government officials, and especially by Erdoğan as an enchanted stand-in for the nation that is under constant threat by alleged lobbies and "international forces" as well as those who question/critique/betray the government. Gezi protests pushed back against this frame, and they emphasized the material dispossession of the people, the privatization of public goods, the environmental destructions that usually accompany the greedy construction plans devised and approved by the government alongside protesting its various morality politics –the pro-natalist, sexist, racist, queer-, trans- and sex work-phobic narratives of the regime. The protestors' ability to see the ways in which the government wove together the economy and morality, the ways in which economic behaviour itself was moralized, and how moral "others" were ultimately positioned as threats to the Turkish economy was critical to the capaciousness and effectiveness of the protests. In my book, I attribute the "re-enchantment" of Leftist politics during Gezi to the physical co-existence of demonstrators in the space of the park, through their coming together with people they might not otherwise come in contact with, sharing stories and listening to others and forming a commons together. I argue that if Leftist politics will have any success, they have to shift from an exclusive focus on critique to building worlds and showing people what they promise. Just a glimpse of that promise during Gezi created weeks of resistance to state-sanctioned violence.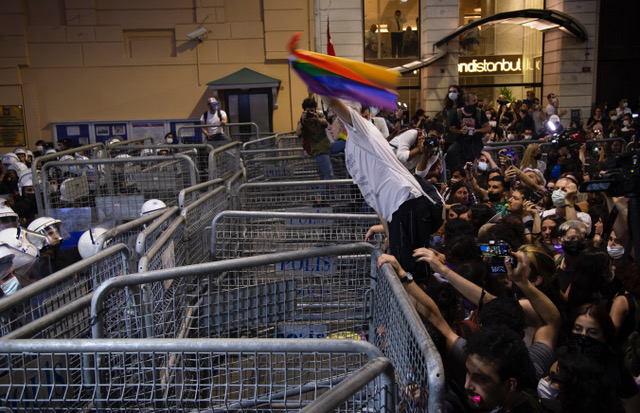 Ateş Alpar ©2022


Looking back at 2013 from today, what were some of the achievements and shortcomings of Gezi for sexual politics in Turkey? Do you observe continuities or changes in LGBT/LGBTQI+ politics over these 10 years that are informed by the practices, values, and oversights of Gezi?
In some ways, Gezi is something that has been seen that cannot be unseen, something that has been experienced that cannot be un-experienced. It showed us all what is possible. I do not mean by this that Gezi is beat-by-beat repeatable. I rather think of the experience of possibilities of forming genuine alliances and reaching an understanding that we do not need to live by the mandates of a system that consolidates its power by crafting enemies out of difference – the difference that it exploits materially and ideologically. The breaks, the shifts that happened during that time are real and will not be forgotten. This is true for both those for whom Gezi was a dream and those for whom Gezi was a nightmare. Erdoğan has said on more than one occasion that they will "not allow a second Gezi."
At the same time, in the last few years, the AKP government has increasingly focused on targeting LGBTI+ activists and subjects so much so that an anti-LGBTI+ stance has become the backbone of AKP's politics. The government has done this with the hope that it will help consolidate votes, that many will ultimately not stand by queer and trans people, that we are expandable for the sake of an ominous "morality.' In Queer in Translation, I wrote about the expansion of the category of "terrorists" to de-legitimize any and all critique of and dissent against the government. Queer and trans subjects are currently some of the favorite terrorists of the government. I wrote about this more extensively in the KaosGL magazine in a piece titled "Bir "Silah" Olarak Gökkuşağı" (The Rainbow as a "Weapon"), especially departing from the police bust of Boğaziçi University's LGBTI+ Club and the confiscation of rainbow flags as evidence of ties to terrorism.
I am not sure we can connect the singling out of LGBTI+ subjects to Gezi (its shortcomings, its failures), but this is an important post-Gezi development. The government has certainly not given up on targeting specific groups to divide up the public. How successful this is as a strategy is hard to tell, but I do find that after Gezi these schemes have less popular purchase. Politics of Othering simply do not work the way they did in the past –something happened to staunch secularism and old-school popular nationalism. Something also happened to the religious/secular binary, and the ways bodies are assigned political and social meaning. I guess I am saying something happened to old-school bigotry. So, this is a big success of Gezi. Yet these politics persist to an extent and they are still extremely harmful.
In the last two decades, the neoliberal Islamist regime accelerated privatization and even the destruction of public goods through a strong network of dispossession. How has neoliberal Islam changed after Gezi, as it interacted with Gezi? How would you reflect on the post-Gezi commoning attempts in Turkey's socio-political transformation in the last decade? Do you think that they had a significant impact on Turkey's domestic political realm?
One important change that took place after Gezi that I must note is how hard and in fact near-impossible it has become to have access to the streets, parks, and other physical spaces in which to gather. First the LGBTI+ then the Trans Pride march and finally in 2022 all of the Pride Week events (panels, workshops, film screenings, picnics in the park, etc.) were banned. No one besides LGBTI+ activists is openly standing up against this. Especially last summer when the sponsoring venues went along with the ban there was a lot of (rightful) hurt and upset on behalf of queer and trans organizers and all other LGBTI+ people who would have attended the events –everyone felt isolated. Public spaces and otherwise LGBTI+-friendly venues are life-lines of queer and trans organizing. It has become undeniable that public space is after all state- and police-controlled space. There are streets and parks but we cannot access them collectively –Gezi Park was not destroyed at the end, but good luck gathering or demonstrating there. That is precisely why we need commons, and not public space. People are still trying to find ways to be together, but it is hard. That makes organizing very difficult of course. I also find that the more people are confined to interacting on social media the more there are misunderstandings, mistrust, aggression directed towards each other –we need to gather and converse in actual physical spaces.
I am not sure what to say regarding post-Gezi communing attempts. The political forums, the urban farming initiatives that had followed right after Gezi either died down or were rendered impossible by the government. The non-AKP municipalities are trying to support some movements that loosely gather around "right to the city/just cities" but the government is intent on rendering any and all operations and even imaginaries that do not work to further their agenda impossible. I really do not want to sound pessimistic because I also see all the beautiful people and amazing activists struggling every day to change this regime of greed, corruption, theft, and violence. But I also would be remiss not to acknowledge how much the militarized policing and securitization of public spaces has rendered anything remotely similar to communing impossible.
Recently, we witnessed a devastating natural disaster that immediately turned into a humanitarian tragedy and a political crisis. As the attention quickly shifted to the upcoming elections, are there any lessons learned from Gezi to deal with such crises that are reproduced or deepened by the neoliberal Islamic regime in Turkey?
Perhaps the most important lesson from Gezi was the undeniable interconnectedness of all dispossession, exploitation, extraction, extortion, and inequality. "Either all of us or none of us" –those were the terms of liberation. Even as the protests were initially against the demolition of Gezi Park and its replacement with a shopping mall, one of the reasons they reverberated throughout the country was because the privatization of both public goods and the enclosure of previously unenclosed spaces were palpable everywhere, and dispossessing and otherwise harming lots of people. To give just one example, Gezi Demands were followed by Dersim Demands, demanding among other things the cancellation of licenses that allow the parceling and sale of Dersim mountains for mining purposes. The proposed demolition of Gezi Park was the spark but the fuel had been spread all over the country by this regime.
The recent earthquake is another reminder of this. Construction licenses were handed out without a care for the safety of those whose homes turned into their graves. The calculus of their lives up against bribes for politicians and profits for construction companies left at least 50,000 dead, though the actual numbers are likely much higher. President Erdoğan in a predictable fashion claimed this to be a "natural" disaster the way he had claimed mine explosions at Soma to be in miners' fate, their fıtrat (Allah-given nature). The government's response to the earthquake? More construction, more permits, and more gain for the Housing Development Administration of the Republic of Turkey (TOKI) and AKP-friendly construction firms. Nothing new under the sun: unfettered privatization and construction against the warnings of various professional organizations and chambers, accompanied by a quasi-religious acceptance of fate. This particular evoking of fate to avoid any and all accountability, to turn political disasters into "natural" ones, into "humanitarian crises" is one important way in which neoliberal Islam operates. Of course, the "humans" who profited from those constructions and those who were killed by it are not the same. Those who continuously benefit from the human-made disaster that is called the Turkish economy and those who are hurt by it are not the same. There is nothing "natural" about deaths following unsafe constructions on fault lines.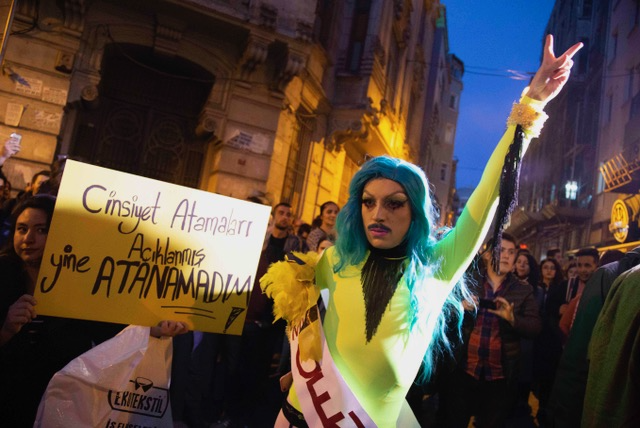 Ateş Alpar ©2019


Besides the 10th anniversary of the Gezi uprisings, 2023 also marks the centennial of the foundation of the Turkish Republic that has witnessed different waves of protest movements and organized struggles in different forms and intensities at different times of contention. Considering the promises and inspirations of protest movements and collective resistance that have been reproducing waves of hopes and disappointments for socio-political transformations in Turkey, how would you locate the Gezi uprisings in Turkey's recent political history?
To me, the Gezi movement is unique both in its scope and its endurance. All protest and dissident movements, all organized struggle in the history of the Republic are valuable, and they have informed what has come after, but we experienced certain things with Gezi that were absolutely new: The echoes of it across the country, the variety of constituencies it brought together, and the endurance of it for weeks. Hrant Dink's assassination had a similar effect of bringing together various constituencies, many of whom organized under the 19 January Platform. It was also similar in the sense that those who organized around it refused the turning of a political issue into a "human" issue. This was not simply any murder, any taking of life that we might stand against but the taking of a political and minoritized life that spoke on behalf of just and peaceful co-existence of Armenian and Turkish citizens of the country, that stood up against violent nationalism. This was a political assassination, a nationalist murder, and the only reasonable response to it could be a political one. Yet sadly Dink's assassination did not lead to as vast and long-lasting protests as Gezi. People came together in organizations and platforms and that was very important, but the way Gezi constituted a loud and clear NO to the regime of ongoing dispossession and Othering is unique.
Lastly, we would like to reflect on queer perspectives as a source of analytical and political struggles against authoritarian, racist, patriarchal, and capitalist politics. What do queer perspectives offer for understanding our current realities, and for resistances against them?
I find that most importantly, queer and feminist critique has always sought to understand, to analyse and to transform social and political systems that produce precarity, uneven life chances and inequality, and oppression. Historically, material inequality (a system we may call racial capitalism) has been distributed along axes of "difference" and various ideological structures have served to justify such inequalities. These range from racial (and racist) stereotypes of "laziness" or lack of ambition or free-loading of minoritized people, to "women" being naturally nurturing and caring and content with providing free reproductive labor and care work, to the naturalness of heterosexuality. Understanding the significance of morality politics to systems of oppression and material dispossession is crucial, and there is no better place to turn to than feminist and queer politics in order to do that. Sexuality in particular has been central to marking and solidifying groups as "perverse":  We find this in colonizers' approach to "savage primitives," to US settlers' response to Natives' gender and sexual fluidities, to the ways in which Turkish Sunni nationalism has tried to frame Alevis as perverse incestuous subjects through myths such as "mum söndü."[1] "Genel Ahlak" (general morality) is codified in Turkish law and it has been for a long time the target of feminist and LGBTI+ activists. In my book I chose to discuss the more capacious concept of "sexual politics" versus LGBTI+ politics because this government has also clearly targeted women (presumably cis and straight) who do not marry or become mothers, has insisted women have three children, has opposed co-ed housing for college students and government officials have even called women who laugh out loud in public "iffetsiz" (unchaste). Sexuality has historically sat at the center of defining subjects (as good and bad, as morally upright and loose, as obedient and disruptive/dangerous) as well as governing populations. That is why we need the structural critiques of feminist and queer thought of what work sexual morality has done and continues to do –in order to understand not only how dispossession and inequality unfold, but also how they are made to seem ethical and just.
---

[1] The "mum söndü" is an allegation and a historic accusation directed at Kızılbaş-Alevi communities claiming that the Alevi Cem rituals culminate in the candles being extinguished, and in sexual orgy.