The Political Economy Project (PEP) is pleased to announce the results of the 2021 Middle East Political Economy Book Prize competition. With this prize, PEP aims to recognize and disseminate exceptional critical work on the political economy of the Middle East. This award marks the fifth annual award, though the selection and announcement were delayed due to the COVID-19 pandemic. The selection committee reviewed eighteen nominations for a range of books dealing with political economy—representing a diversity of disciplines, topics, and geographic focus. 

The 2021 selection committee recognizes the following author for their original contributions to critical political economy research:
Aaron G. Jakes, for his book, Egypt's Occupation: Colonial Economism and the Crises of Capitalism (Stanford University Press, 2020).
From the 2021 Selection Committee: 
"Egypt's Occupation maps economic transformation in Egypt, in its material, intellectual, and financial terms. The British occupation of Egypt has long served as a primary focus and generative case for political economists working on the Middle East and North Africa. Jakes rethinks this period entirely to produce an authoritative study, that reshapes our understanding of financial investment and experimentation, colonialism, capitalism, and Egyptian history. By delineating a British approach he terms "colonial economism," Jakes sheds new light on the logics and mechanisms of underdevelopment and the multiple ways Egyptians experienced, challenged, and shaped global capitalism."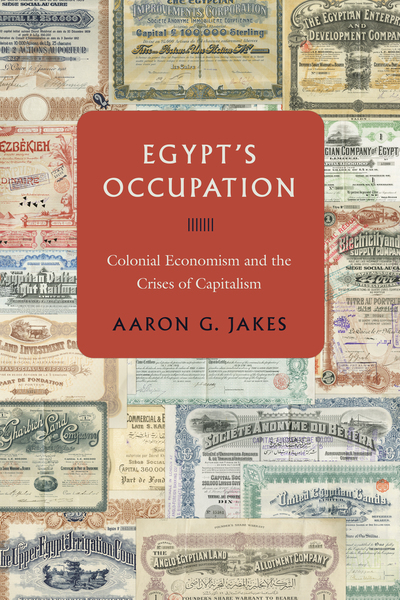 About the Author

Aaron G. Jakes is assistant professor in the Department of History and the Committee on Environment, Geography, and Urbanization at the University of Chicago. His work deals broadly with the histories of the modern Middle East and South Asia, the historical geography of capitalism, global environmental history, and histories of colonialism and imperialism. A graduate of New York University's Joint PhD Program in History and Middle Eastern and Islamic Studies, he taught for seven years at the New School in New York City before joining the University of Chicago in the summer of 2022. His first book, Egypt's Occupation: Colonial Economism and the Crises of Capitalism was published by Stanford University Press in 2020 and received honorable mention for the Middle East Studies Association's Roger Owen Book Prize. His other publications have appeared in Antipode, Arab Studies Journal, Comparative Studies of Society and History, Critical Historical Studies, and the International Journal of Middle Eastern Studies. He is currently at work on a history of the Suez Canal and the production of global inequalities over the past two centuries, tentatively entitled Tilted Waters: The World the Suez Canal Made.