Gaza in Context: A Collaborative Teach-In Series 

— Session 03


Human Rights, Gaza, and the War on Palestine

Featuring: 
Giulia Marini

, Omar Shakir
31 October 2023
10:15 AM PST | 1:15 PM EST | 8:15 PM Palestine
Teach-In Session 03
This is the third teach-in installment for Gaza in Context. This teach-in will address the humanitarian ramifications of Israel's three-week assault on Gaza, as the death toll and destruction continue to mount. The speakers will examine the nature and consequences of this current round of collective punishment imposed on Palestinians in Gaza, the broader history of the 16-year siege, and the everyday conditions of those trying to survive.
Gaza in Context Collaborative Teach-In Series
We are together experiencing a catastrophic unfolding of history as Gaza awaits a massive invasion of potentially genocidal proportions. This follows an incessant bombardment of a population increasingly bereft of the necessities of living in response to the Hamas attack in Israel on October 7. The context within which this takes place includes a well-coordinated campaign of misinformation and the unearthing of a multitude of essentialist and reductionist discursive tropes that depict Palestinians as the culprits, despite a context of structural subjugation and Apartheid, a matter of consensus in the human rights movement.
The co-organizers below are convening weekly teach-ins and conversations on a host of issues that introduce our common university communities, educators, researchers, and students to the history and present of Gaza, in context. 
Co-organizers: Arab Studies Institute, Georgetown University's Center for Contemporary Arab Studies, George Mason University's Middle East and Islamic Studies Program, Rutgers Center for Middle Eastern Studies, Birzeit University Museum, Harvard's Center for Middle Eastern Studies, Brown University's Center for Middle East Studies, University of Chicago's Center for Contemporary Theory, Brown University's New Directions in Palestinian Studies, Georgetown University's Center for Muslim-Christian Understanding, Simon Fraser University's Centre for Comparative Muslim Studies, Georgetown University-Qatar, American University in Cairo's Alternative Policy Studies, Middle East Studies' Global Academy, University of Chicago's Center for Middle Eastern Studies, CUNY's Middle East and Middle Eastern American Center, George Mason University's Center for Global Islamic Studies, University of Illinois Ghicago's Arab American Cultural Center, George Washington University's Institute for Middle East Studies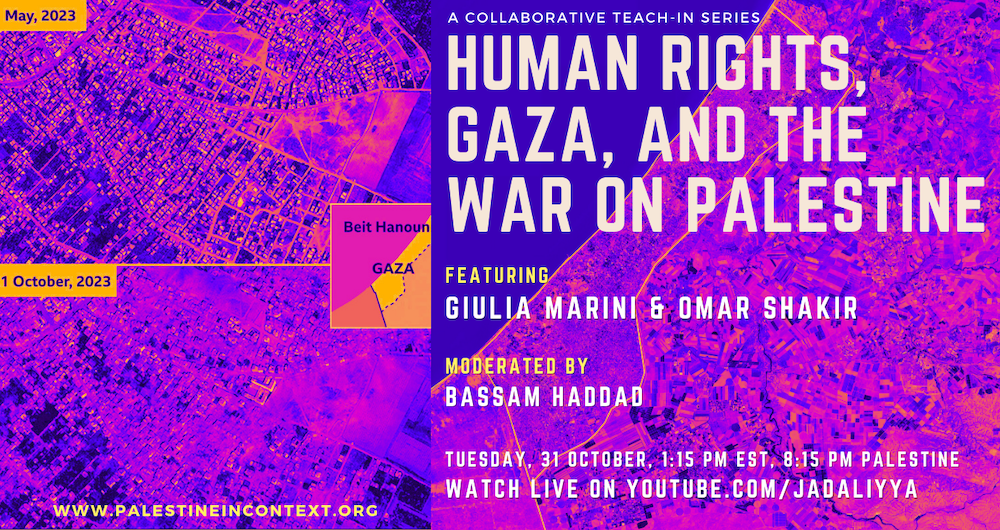 Featuring

Giulia Marini works as International Advocacy Officer for Al Mezan Center for Human Rights, a Palestinian organization based in Gaza. Her expertise ranges from conflict accountability to migration justice. She holds an LL.M. in International Humanitarian Law and Human Rights from the Geneva Academy.
Omar Shakir serves as the Israel and Palestine Director at Human Rights Watch, where he has authored several major reports, including a 2021 report comprehensively documenting how Israeli authorities are committing crimes against humanity of apartheid and persecution against Palestinians. As a result of his advocacy, the Israeli government deported Omar in November 2019. He has also covered Egypt for Human Rights Watch, represented men detained in Guantanamo Bay, and co-authored a report on US drone strikes in Pakistan.
Bassam Haddad is Founding Director of the Middle East and Islamic Studies Program and Associate Professor at the Schar School of Policy and Government at George Mason University. He is the author of Business Networks in Syria: The Political Economy of Authoritarian Resilience (Stanford University Press, 2011) and co-editor of A Critical Political Economy of the Middle East (Stanford University Press, 2021). Bassam is Co-Founder/Editor of Jadaliyya Ezine and Executive Director of the Arab Studies Institute. He serves as Founding Editor of the Arab Studies Journal and the Knowledge Production Project. He is co-producer/director of the award-winning documentary film, About Baghdad, and director of the acclaimed series Arabs and Terrorism. Bassam serves on the Board of the Arab Council for the Social Sciences and is Executive Producer of Status Audio Magazine and Director of the Middle East Studies Pedagogy Initiative (MESPI). He received MESA's Jere L. Bacharach Service Award in 2017 for his service to the profession. Currently, Bassam is working on his second Syria book titled Understanding the Syrian Calamity: Regime, Opposition, Outsiders (forthcoming, Stanford University Press).