Gaza in Context: A Collaborative Teach-In Series 

— Session 07


The Unending war on the Children of Gaza

Featuring: 
Amahl Bishara
Heidi Morrison
Janna Jihad

Moderator:
Bassam Haddad
Fida Adely 
Teach-In Session 07
This teach-in will focus on the young people of Gaza, who make up nearly half of the population. The reigning narrative on these children dehumanizes them, fueling the war on them.  While humanitarian aid is much needed, it is not the long-term solution for their trauma, which is caused by a structural and ongoing process of settler colonialism. Palestinian children know and express resistance daily, despite their lack of formal citizenship.
Gaza in Context Collaborative Teach-In Series
We are together experiencing a catastrophic unfolding of history as Gaza awaits a massive invasion of potentially genocidal proportions. This follows an incessant bombardment of a population increasingly bereft of the necessities of living in response to the Hamas attack in Israel on October 7. The context within which this takes place includes a well-coordinated campaign of misinformation and the unearthing of a multitude of essentialist and reductionist discursive tropes that depict Palestinians as the culprits, despite a context of structural subjugation and Apartheid, a matter of consensus in the human rights movement.
The co-organizers below are convening weekly teach-ins and conversations on a host of issues that introduce our common university communities, educators, researchers, and students to the history and present of Gaza, in context. 
Co-Organizers: Arab Studies Institute, Georgetown University's Center for Contemporary Arab Studies, George Mason University's Middle East and Islamic Studies Program, Rutgers Center for Middle Eastern Studies, Birzeit University Museum, Harvard's Center for Middle Eastern Studies, Brown University's Center for Middle East Studies, University of Chicago's Center for Contemporary Theory, Brown University's New Directions in Palestinian Studies, Georgetown University's Center for Muslim-Christian Understanding, Simon Fraser University's Centre for Comparative Muslim Studies, Georgetown University-Qatar, American University of Cairo's Alternative Policy Studies, Middle East Studies Association's Global Academy, University of Chicago's Center for Middle Eastern Studies, CUNY's Middle East and Middle Eastern American Center, University of Illinois Chicago's Arab american cultural Center, George Mason University's AbuSulayman's Center for Global Islamic Studies, University of Illinois Chicago's Critical Middle East Studies Working Group, George Washington University's Institute for Middle East Studies, Columbia University's Center for Palestine Studies, New York University's Hagop Kevorkian Center for Near Eastern Studies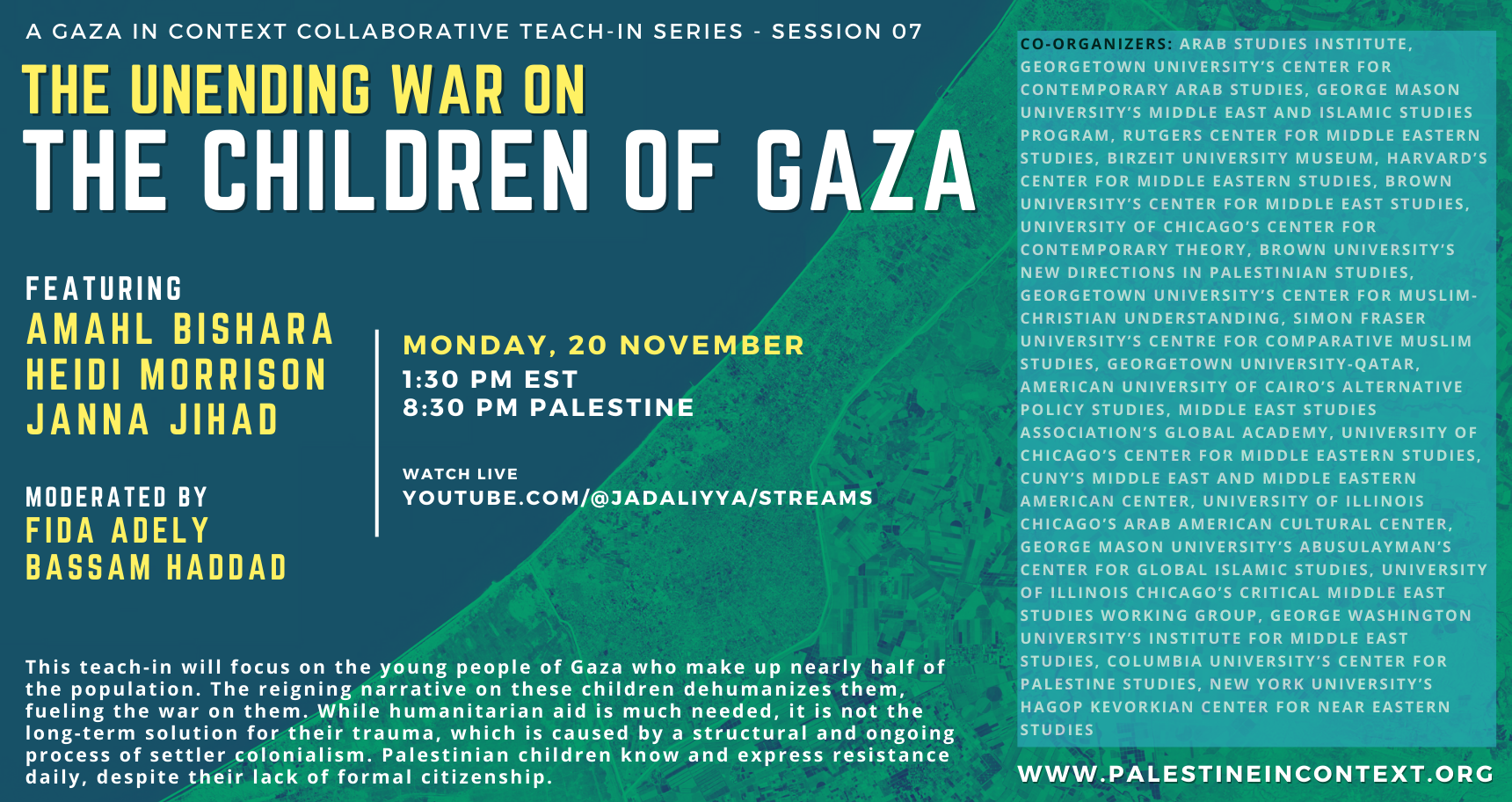 Featuring
 
Heidi Morrison is Associate Professor of History at the University of Wisconsin, La Crosse.  She is the author of the forthcoming Inner Wounds: Oral History, Trauma, and Palestinian Children of the Second Intifada (Oxford University Press) and the editor of the forthcoming Lived Resistance Against the War on Palestinian Children (University of Georgia Press).  Morrison is the author of Childhood and Colonial Modernity in Egypt (Palgrave 2015), the editor of The Global History of Childhood Reader (Routledge 2012), and co-general editor of A Cultural History of Youth six-volume set (Bloomsbury, 2023).  She is the founding president of the Association of Middle East Children and Youth Studies (AMECYS) and on the board of the Palestinian American Research Center (PARC). 
Amahl Bishara is Associate Professor in the Anthropology Department at Tufts University. She is the author of Crossing a Line: Laws, Violence, & Roadblocks to Palestinian Political Expression (Stanford 2022), about different conditions of expression for and exchange between Palestinian citizens of Israel and Palestinians in the West Bank, and Back Stories: U.S. News and Palestinian Politics (Stanford University Press 2013), an ethnography of the production of U.S. news during the second Palestinian intifada. Working with youth at the Lajee Center, in Aida Refugee Camp, Bethlehem, she has co-produced two bilingual children's books, The Boy and the Wall (2006) and The Aida Alphabet Book (2014). 
Janna Jihad is 17 years old and lives in the village of Nabi Saleh in occupied Palestine. She is a journalist and an international advocate for children's rights.
Bassam Haddad (Moderator) is Founding Director of the Middle East and Islamic Studies Program and Associate Professor at the Schar School of Policy and Government at George Mason University. He is the author of Business Networks in Syria: The Political Economy of Authoritarian Resilience (Stanford University Press, 2011) and co-editor of A Critical Political Economy of the Middle East (Stanford University Press, 2021). Bassam is Co-Founder/Editor of Jadaliyya Ezine and Executive Director of the Arab Studies Institute. He serves as Founding Editor of the Arab Studies Journal and the Knowledge Production Project. He is co-producer/director of the award-winning documentary film, About Baghdad, and director of the acclaimed series Arabs and Terrorism. Bassam serves on the Board of the Arab Council for the Social Sciences and is Executive Producer of Status Audio Magazine and Director of the Middle East Studies Pedagogy Initiative (MESPI). He received MESA's Jere L. Bacharach Service Award in 2017 for his service to the profession. Currently, Bassam is working on his second Syria book titled Understanding the Syrian Calamity: Regime, Opposition, Outsiders (forthcoming, Stanford University Press).