The Arab Studies Institute cordially invites you to visit us at the 2019 Annual Meeting of the Middle East Studies Association (MESA), held in New Orleans, Louisiana, November 14-17. You can find us at our catered reception (Rhythms II, second floor), Book Exhibit Booth (37 & 38), and at the many panels our various team members will be participating in. Details about all of these events can be found below!       


ASI Reception 
Date: Saturday, November 16
Time: 8:30pm-10:30pm
Location: Rhythms II, 2nd Floor, Sheraton New Orleans
Join us at our reception this year, where will be pleased to showcase the following recent developments.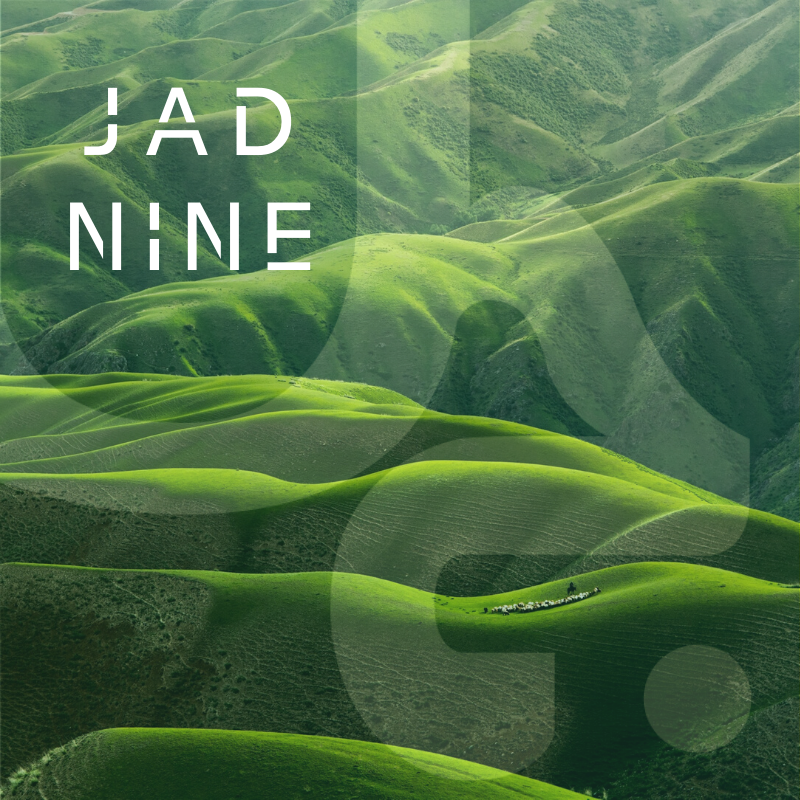 Jadaliyya Celebrates Its Ninth Anniversary this Fall!

We have much to share, celebrate, and collaborate on during MESA 2019 Reception. We must say that on top of the list is the ninth anniversary of Jadaliyya, not least because 2019 has been our most productive year since the heady days of 2013/14 when our coverage of the uprisings reached its peak. In 2019, our coverage of the protests/uprisings in Sudan, Algeria, Lebanon, and Iraq garnered, and continues to attract, formidable attention, not least because of our occasional on-location reporting and analysis. But there's more below!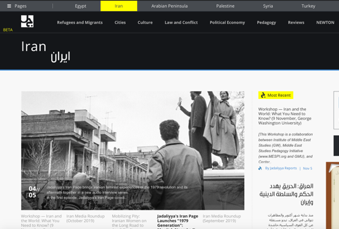 Launching Jadaliyya's New Iran Page

The Iran page, launched this fall on 4 September, provides a robust and capacious forum to rethink how we have hitherto thought about and represented Iran and Iranians. The page aims to dispel and deconstruct the stale narratives and language that have been used to explain Iran's domestic and foreign relations. Since September 2019, our coverage of Iran expanded our readership quite significantly, allowing us to reach audiences who lamented the absence of such forum prior to its launching.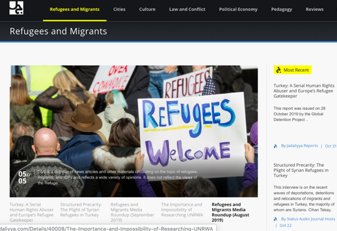 Expanding Jadaliyya's New Refugees and Migrants Page

We are excited about launching and developing this much-needed page. The purpose of the Refugees and Migrants Page is to encourage the development of literature on refugees and migrants that includes them not merely as objects of study but as subjects defining their lives. Doing so seeks to enhance our understanding of the local and global structures that make up our lives, our advocacy for refugee and migrant rights, the development of better policies, and our ability to reframe narratives about refugees away from seeing them as crises, burdens, or problems.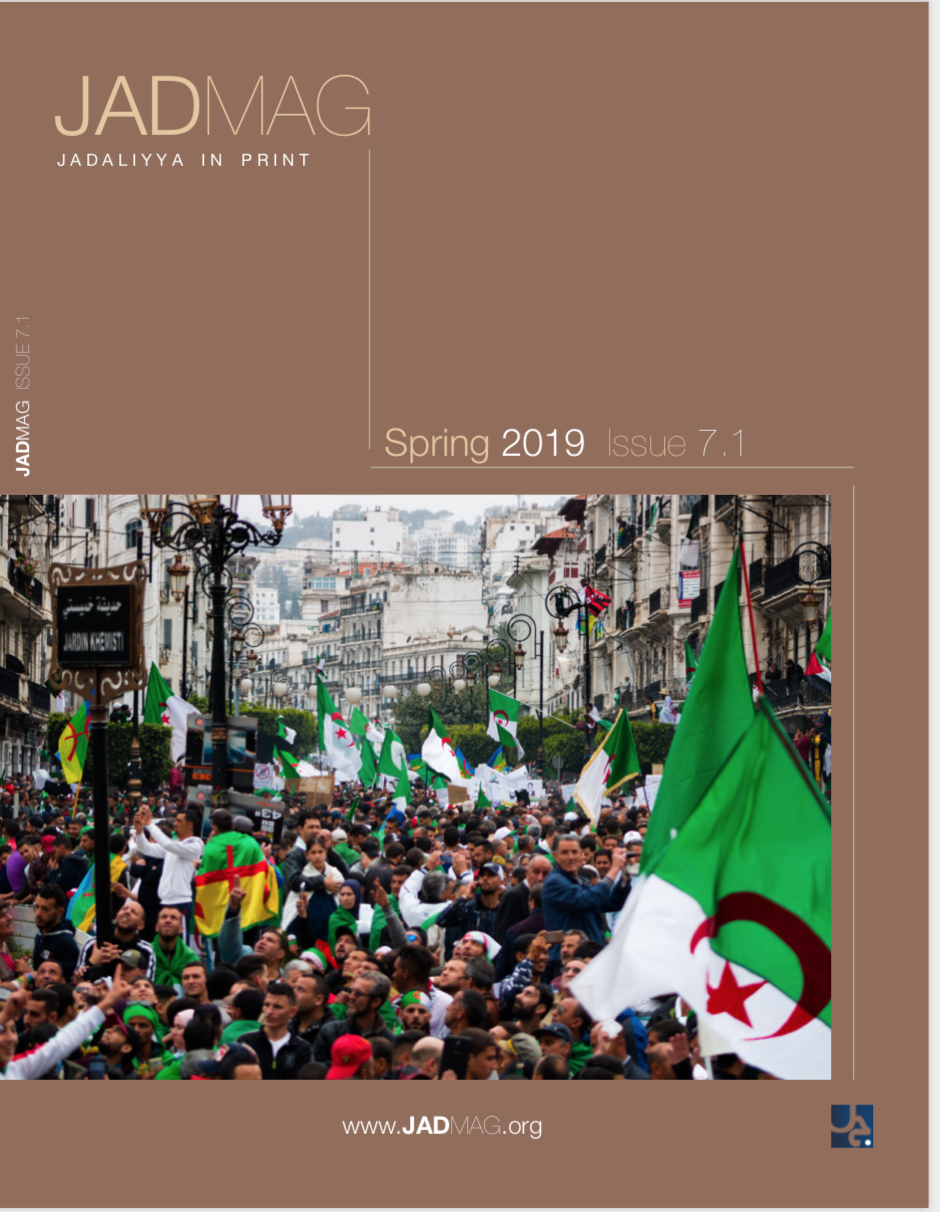 Announcing JadMag Spring 2019 Issue

Join us as we announce another stellar issue of JadMag, or Jadaliyya in Print! In a groundbreaking centerpiece article, anthropologist Julia Elyachar calls for a new understanding of the history of political economy. This issue also features a special bundle on the uprisings in Algeria and Sudan, providing incisive analysis of the movements and connecting them to other movements for change in North Africa. Finally, the issue includes a diverse array of articles, interviews, reviews, and archival pieces on topics ranging from electricity in Lebanon, climate change in Egypt, and Hashemite rule in Jordan to the role of law in the Palestinian struggle for freedom and nineteenth-century emigration from the Levant.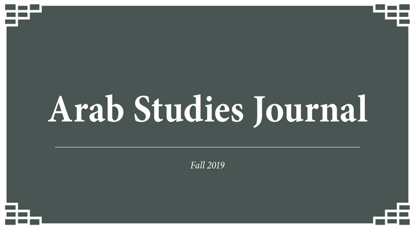 Announcing the Arab Studies Journal's Fall 2019 Issue

At the ASI reception, the Arab Studies Journal editorial team will highlight the newly released Arab Studies Journal Fall 2019. We are proud to feature another collection of insightful articles that are theoretically rich and empirical grounded. Get your hands on a new copy of ASJ at our Booths, 37 and 38, and join us to celebrate our 27th year of production.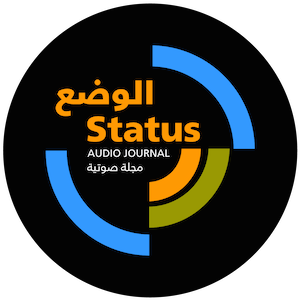 Showcasing Status Audio Magazine Issue 6.2

Issue 6.2 marks the fifth anniversary of which started in Fall 2014. The featured English and Arabic content celebrates the launch of Jadaliyya's new Iran Page, discusses political milestones in North Africa, explores the rich culinary and artistic culture of the region, features a new Episode of "The Nerdiest Show on the Internet," and so much more!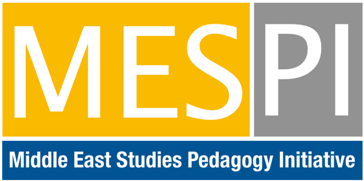 Middle East Pedagogy Initiative's (MESPI) Teaching Modules Presentation

MESPI's formative conference for its founding Board and Team was held in June 2019, where a number of its projects were launched. At MESA, we will feature the contours of the evolving MESPI teaching modules on various countries and topics, as well as share other developments, not least our evolving Secondary Education Module. You can always find out more on MESPI.org, but stop by for a live presentation at our reception.



Announcing the forthcoming volume on Critical Political Economy of the Middle East and North Africa from Stanford University Press, which will go into production in the coming months. The volume is intended for a fairly broad audience and ideal for undergraduate and graduate courses seeking to provide political economy instruction. It is sponsored by the Political Economy Project and edited by Joel Beinin, Bassam Haddad, and Sherene Seikaly. More on the content and numerous authors during the reception!


ASI Book Exhibit Booths

ASI projects and organizations will be located at booths 37 & 38 of the Book Bazaar. Stop by to check out our newest publications on Syria and beyond. Our booths will also be selling copies of our newest JadMags and Arab Studies Journals. The booths are a great place to learn about ASI's newest endeavors, including our evolving Middle East Studies Pedagogy Initiative, our New Iran Page on Jadaliyya, and more! 


ASI Co-Sponsored Panel

Please note that this year ASI will be co-sponsoring a panel titled, "Special Session: Uprisings Across Iraq, Lebanon, and Sudan," on Saturday Nov. 16 from 3pm-5pm. We would love to see you there!
Special Current Events Session: Uprisings across Iraq, Lebanon, and Sudan

Organized by Ziad Abu-Rish
Chair: Ziad Abu Rish
Participants: Nadya Sbaiti (American University of Beirut), Zahra Ali (Rutgers University), Khalid Medani (McGill University)
Summary: Sudan, Lebanon, and Iraq have featured significant popular protests in the last year. The significance and responses to these mobilizations are many, some specific to each country and some more generalizable. These protests have certainly delivered an unprecedented challenge to existing regimes of power. They also variously challenge the dominant tropes and frameworks typically deployed in discussions of collective agency, state structures, and social change in Iraq, Lebanon, and/or Sudan. This special session will provide an opportunity to discuss these extraordinary events, including their origins, trajectories, and consequences.
Sponsors: Lebanese Studies Association and Arab Studies Institute


Panels Featuring ASI Team Members

Race in the Middle East 
Thursday, 14 November, 5:30 PM
Organized by Sherene Seikaly
Chair: Sherene Seikaly, UC Santa Barbara
Sophia Azeb, University of Chicago 
Eve Troutt, University of Penn 
Marc Lamont Hill, Temple University

Women in Lebanon: From Late Colonialism to Early Independence
Thursday, 14 November, 5:30 PM
Organized by Ziad M. Abu-Rish and Nova Robinson
Chair: Tsolin Nalbantian, Leiden University
Nadya J. Sbaiti, American University of Beirut
Sana Tannoury-Karam, Arab Council for Social Sciences
Ziad M. Abu-Rish, Ohio University
Nova Robinson, Seattle University

Articulating Community and Inter-confessional Interactions across the Middle East and North Africa
Friday, November 15, 8:00 AM
Organized by Richard Antaramian and Murat C. Yildiz
Chair: Michelle U. Campos, University of Florida
Discussant: Lior B. Sternfeld, Penn State University
Sinem Adar, Humboldt University
Richard Antaramian, University of Southern California
Chris Silver, McGill University

Infrastructure and Power: Oil, Water, Energy
Friday, November 15, 8:00 AM
Organized by Owain Lawson and Natasha Pesaran
Shima Houshyar, CUNY Graduate Center
Natasha Pesaran, Columbia University
Katayoun Shafiee, University of Warwick
Noura Wahby, University of Cambridge
Owain Lawson, Columbia University

Mapping Islam in Middle America 
Friday, November 15, 8:00 AM
Organized by Camila Pastor de Maria y Campos
Miguel Fuentes Carreno, UC Santa Barbara 
Brittany Dawson, UC Berkeley
Mariam Saada, UCLA

Lisa Wedeen's Authoritarian Apprehensions: Ideology, Judgment, and Mourning in Syria 
Friday, November 15, 10:15 AM
Organized by Danny Postel
Chair: Danny Postel, Northwestern University
Anne-Marie McManus, Washington U St. Louis
Paul Amar, UC Santa Barbara 
Lisa Wedeen, University of Chicago 
Suad Joseph, UC Davis 
Bassam Haddad, George Mason University
Timothy Mitchell, Columbia University
Brinkley Messick, Columbia University 
Lori Allen, SOAS University London

The Question of Palestine in American and Ethnic Studies
Friday, November 15, 12:30 PM
Organized by Bayan Abusneineh
Sponsored by Arab American Studies Association
Chair: Sherene Seikaly, UC Santa Barbara
Tamar Ghabin, SOAS University London
Tareq Radi, NYU
Bayan Abusneineh, UC San Diego
Loubna Qutami, UC Berkeley


Feminist Conversation on Current Uprisings in the Middle East
Friday, 12:30-2:30, Grand Ballroom A
Moderated by:
Maya Mikdashi, Rutgers University
Myriam Sfeir, Lebanese American University in Beirut


Special Session-Hirak - Algeria's New Revolution? 
Friday, November 15, 12:30 PM
Organized by Robert P. Parks and James McDougall
Robert P. Parks, Centre d'Études Maghrébines en Algérie 
James McDougall, Trinity College, University of Oxford 
Malika Rahal, Institut d'histoire du temps présent (CNRS) 
Muriam Haleh Davis, UCSC

The Neoliberalization of the University
Friday, November 15, 2:45 PM
Organized by Joshua Stacher and Sherene Seikaly
Chair: Joshua Stacher, Kent State University
Omar Dahi, Hampshire College
Joel Beinin, Stanford University
Maya Mikdashi, Rutgers University

Muslim Youth and Sports
Friday, November 15, 5:00 PM
Organized by Terrence Peterson and Gwyneth Talley
Terrence Peterson, Florida International University
Paul Silverstein, Reed College
A. George Bajalia, Columbia University
Gwyneth Talley, UCLA

After the Colonial Turn: Middle East Studies and Challenges of Theory 
Saturday, November 16, 3:00 PM
Organized by Muriam Haleh Davis
Chair: Aaron G. Jakes, The New School
Anthony Alessandrini, Kingsborough Community College CUNY 
Hussein A H Omar, University College Dublin 
Naghmeh Sohrabi, Brandeis University
Muriam Haleh Davis, UC Santa Cruz