[This article is part of a roundtable on the relationship between engineering, technopolitics, and the environment in the Middle East and North Africa. Click here to read the introduction and access links to all entries in the roundtable.]
My first book, Spaceship in the Desert, studied the emergence of new energy infrastructure in the United Arab Emirates (UAE), examining how oil-rich economies prepare for a future with less oil. In my current book project, I flip this question and ask how energy-poor countries satisfy urgent power demands and investigate the quick and provisional energy infrastructures they employ. Specifically, I look at a Turkish-built floating power plant in Ghana, which has been operational since 2016. This particular ship-cum-generator has been a useful lens through which I can analyze the wider world of electricity production. After having conducted fieldwork with an international team of mainly UAE-based engineers who focus on future-oriented high-tech innovation, I am now collaborating with Turkish and Ghanaian energy experts. Mostly based in Ghana, these experts retrofit existing materials for new ends, and value maintenance and repair work above all else. One part of my current research asks whether and how this movement towards maintenance, repair, and retrofitting triggers transformations in engineering epistemologies. In aligning themselves with these trends, how do engineers retool and adapt their existing sets of expertise?
Before explaining further, let me provide more context for this ongoing research project. Between 2012 and 2015, an electricity crisis commonly labeled dumsor (meaning "off and on" in Twi) resulted in unprecedented levels of load shedding (scheduled rolling blackouts) throughout Ghana. Power for industries and homes was out for twenty-four hours at a time, and turned back on for only twelve-hour periods. In seeking to resolve dumsor, the Electricity Company of Ghana signed forty-three power purchase agreements with different vendors. Consequently, new independent power producers from Turkey, China, and the United Arab Emirates set up power plants in Ghana, mainly using heavy fuel oil and natural gas. Until 1997, state-owned hydroelectric power plants had produced all of Ghana's electricity. In 2020, private fossil fuel-powered thermal plants are now responsible for about two-thirds of the country's total electricity production.
As part of the effort to diversify power generation in the country, a Turkish-built floating power plant named Ayşegül Sultan started producing electricity in Tema's fishing harbor for the Ghanaian grid in 2016. Ayşegül Sultan had formerly been called Sainty No 10, and had been used for transporting parts of bridges and offshore plants in the Netherlands. In 2015, ship engineers working with a Turkish energy company purchased and retrofitted the 459-foot long vessel in the Sedef Shipyard in Tuzla, Istanbul. Ship markets had suffered considerably from the Great Recession in 2008, so the energy company could afford large bulk carriers. In the period following 2008, the company bought forty-three ships of different sizes. They mainly worked with the Sedef Shipyard to retrofit the ships, as it was the only place that housed a 300-ton crane, strong enough to lift the machines that made up some of their heftiest barges. The new Ayşegül Sultan was fitted with twenty-four dual-fuel engines, purchased directly from the Finnish manufacturer Wärtsilä, and would produce 235 megawatts for the Ghanaian grid. Although the ship itself was second-hand, it was critical that the engines were new. The company did not want the Ghanaian decision-makers to think that they perceived their country as a dumpster for unwanted goods.
This context is important because all of the Turkish engineers I work with arrived in Ghana at this moment of crisis, mainly with the intention of putting an end to dumsor. Since starting ethnographic research on this project in 2016, I have been fascinated with how these ship engineers, who have worked on tankers for most of their professional careers, retool their expertise and start their new lives as power plant workers. Having been trained initially as ship engineers, they now manage power facilities.
For instance, take one of my research collaborators, Mehmet. Mehmet had worked on ships all his life, operating and maintaining propulsion plants and support systems on seafaring vessels. After receiving a degree as a ship engineer, he had taken up positions on oil tankers and other high-risk ships for about fifteen years. When one of his contacts from the shipping industry joined the floating power plant company, he circulated Mehmet's CV, and facilitated his hire as a chief engineer for the initial barge they deployed in Basra, Iraq. When the Iraq operation came to a close in 2015, the company asked him to move to Tema, an industrial center located twenty-five kilometers east of Ghana's capital, Accra, and start running their then largest ship, Ayşegül Sultan. He was given short notice, but was willing to go wherever the company sent him. "After Basra, Tema is like heaven," he said, "When I landed here, I called my wife and told her I landed in heaven." He went on to describe his view from the floating power plant in Iraq. "In Basra, the yellow of the desert extended as far as the eye could see, and we occasionally came across toppled tanks. We couldn't distinguish the barracks where we lived from the rest of the landscape. Everything was covered with the yellow of the desert." Instead, in Tema, the ship was located in the fishing harbor, surrounded by lively and active fishermen operating ships that mostly belonged to Chinese companies. Given his position as chief engineer, Mehmet did not live on the ship, but had an apartment in Tema, which the company leased and managed. Soon his wife would join him there.
In some ways, the transition from ship engineer to power plant operator was seamless for Mehmet. The ships he worked on before had also operated on Wärtsilä engines from Finland. He knew how to maintain and repair them. He also knew how to organize and manage a team of ship engineers. Given his extensive contacts in the industry, Mehmet wished to only hire sailors for the plant. While he worked with Ghanaian mechanics and chemists who had no background in shipping on specific aspects of power generation, such as ensuring fuel quality, most of his crew consisted of ship engineers from Turkey. He outlined what attracted Turkish ship engineers to this career shift to energy: "First, they are paid energy-industry salaries, and make more money than sailors. Second, they are not actually on the sea. Some of them have the luxury to leave in the evening and sleep in a house." Yet sailor discipline and hierarchy helped organize the ship, which meant that everyone would be on stand-by all the time, ready to attend to a maintenance issue or any emergency. Every employee spent ninety days aboard and had twenty-three days to go home for holidays. They did not have weekends. Although they lived in a power plant ship which never moved and remained at all times in a fishing harbor, they followed sailor routines.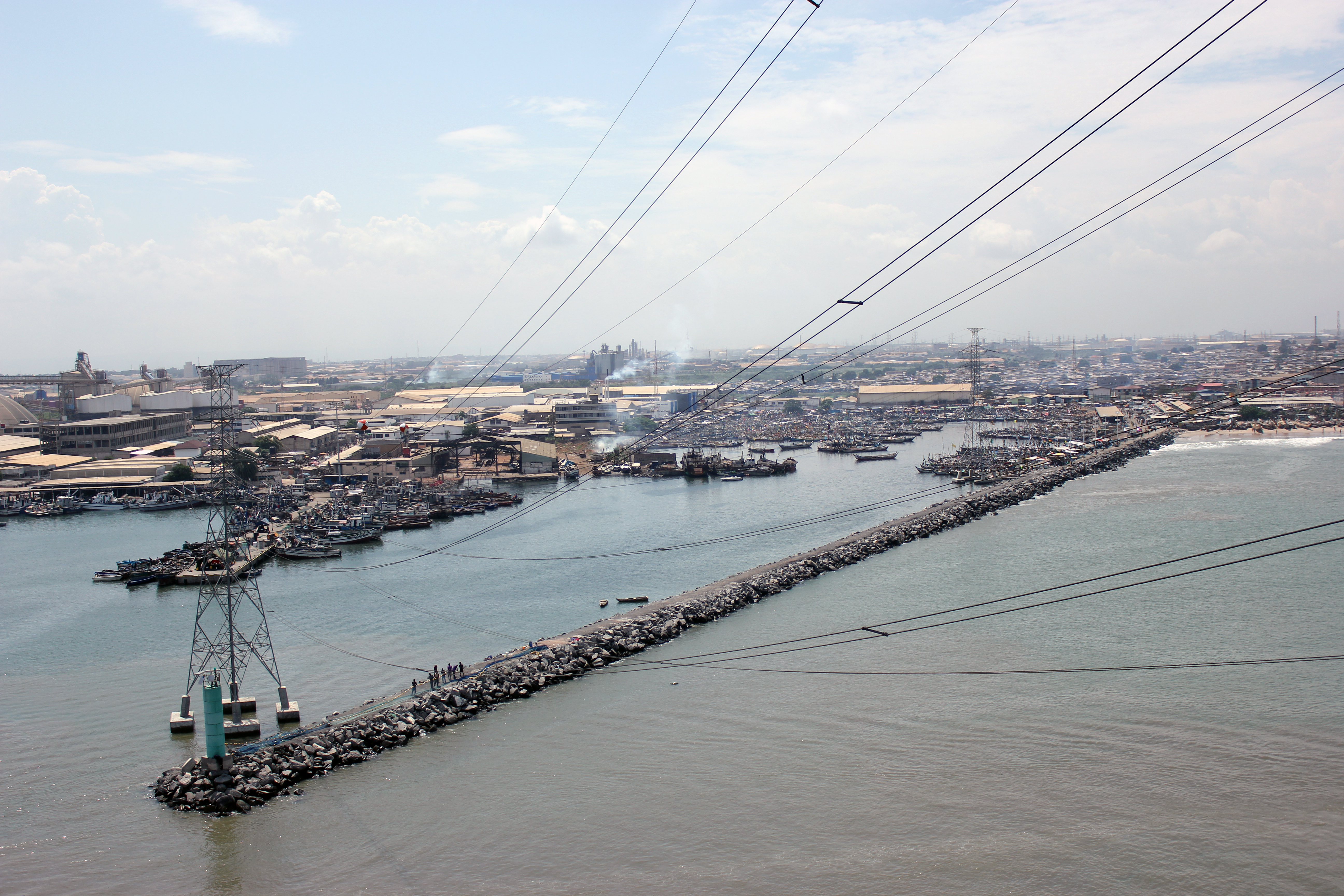 High frequency cables connect the powership. Photo via author.
 
There are other affective dimensions to this transition. For instance, a young ship engineer who had during the time of our meeting in July 2018 been living on the floating power plant for eighteen months told me that he enjoyed this dedication to a single ship, as it allowed him to get to know the machine very closely. "As a seaman I was never allowed to spend more than six months on one vessel," he explained, "I signed up for the longest journeys, so that I could have more time on one ship." His experience in Tema allowed him to cultivate an intimacy with the ship, which he was forbidden to develop as a seaman.
Perhaps most importantly, the ship engineers I met in Ghana believed that they had training in what they labeled independence. They set up their crew, machinery, and maintenance facilities with such independence in mind. Given their backgrounds as sailors, they imagined themselves aboard an ocean-faring vessel instead of a power plant attached to the Ghanaian grid with high frequency cables. If they organized their crew, machinery, and maintenance facilities properly, then they could run and manage their plants without disruption for a very long time. This independence would allow them to make power available to the Ghanaian grid consistently. Ships often absorb resources from onshore facilities, but in this case the ship would constitute a prosthetic, complementing land-based power generation. At the end, although their work was critical to electricity production in Ghana, these power plant operators did not refrain from declaring that their experiences in the shipping industry determined their worldviews.
By retrofitting materials, the Turkish energy company created incentives for retooling expertise. As ships transformed into generators, sailors transformed into power plant operators, bringing with them certain modes of professional practice. In Spaceship in the Desert, I analyzed how an international group of engineers operated a government-sponsored testbed for renewable energy and clean technology projects, where trial and error was integral to their labor. The technologies they developed in detail in the UAE were intended for future use. Relying on high-tech innovation, they attempted to mitigate global crises such as climate change and energy scarcity. In my current project, I observe engineers operating under very different spatial and temporal constraints, responding to emergencies such as the 2008 Great Recession, the US occupation of Iraq, and dumsor. For instance, by asserting their capacity to remain independent ship engineers with familial and professional links to Turkey, engineers like Mehmet seek to demonstrate that they have the capacity to offer immediate stopgap solutions to an array of countries suffering from power outages. I value the opportunity to do research in these dissimilar settings, as it shows me the wide-ranging ways in which engineers work.