Book Talk

The Origins of the Syrian Conflict
Climate Change and Human Security


Featuring Marwa Daoudy

Friday, 9 April 2021
12:00 PM EST

Hosted by the Workshop on Arab Political Development

This book talk is focused on The Origins of the Syrian Conflict: Climate Change and Human Security (Cambridge Universit Press, 2020) by Marwa Daoudy.
Click here to read Jadaliyya's NEWTON with Marwa Daoudy on the book.
Hosted by: Workshop on Arab Political Development at Princeton University
Co-sponsored by: The Mamdouha S. Bobst Center for Peace and Justice at Princeton University and the Ten Years On: Mass Protests and Uprisings in the Arab World Project
Over the past decades, a climate-conflict nexus emerged, increasingly making reference to the Syrian conflict. According to this logic, climate change caused the 2006-2010 drought in Syria, the drought caused agricultural failure, agricultural failure caused poverty and discontent culminating in the 2011 uprisings. The bulk of climate-based analyses were made by climate scientists and think-tanks based in Europe and the USA. While global warming is real and international action is urgently needed, climate change was not at the forefront of the minds of Syrians in 2011. Instead, most people were focused on a moral ideal: the end of repression and social injustice. 
Building on a critical environmental security perspective, Marwa Daoudy challenges core assumptions behind the climate-conflict hypothesis. As such, her book The Origins of the Syrian Conflict: Climate Change and Human Insecurity (Cambridge University Press 2020) offers a new conceptual framework -"Human-Environmental-Climate Security" (HECS)- to analyze the interactions between human insecurity, climate security, and political and economic structures. The book identifies the ideological and policy drivers of human insecurity which impacted the Syrian population's access to water and food. Using official primary sources, debates amongst experts at the domestic level, as well as interviews with Syrian experts, activists, and refugees in Lebanon and Turkey, the author explores how the policy decisions of the Syrian government under Hafez al-Assad and Bashar al-Assad significantly contributed to the vulnerability of the rural population in the decades that preceded the uprising. A longitudinal analysis of key indicators in 1998-2001 ("Drought 1") and 2006-2010 ("Drought 2") clearly points to a vulnerability nexus in the three governorates (Hassake, Deir ez-Zor, and Raqqa) where unusually high levels of poverty, unemployment particularly in agriculture, and high dependence on the agricultural sector already existed. These dynamics increased economic and social vulnerability, creating an urban-rural divide. Corruption and migration were also large sources of human insecurity. By 2010, it was clear that the neoliberal reforms had not been successful. The book concludes that, ultimately, political factors were more important than a climate-induced drought in the build up to 2011. This perspective can be more broadly applied to the Global South. It seeks to move beyond deterministic narratives and orientalist biases about the risks of population growth and mobility, demand-induced scarcity, resource depletion, and insecurity—all of which fall into patterns of core-periphery and North-South divides.
Featuring

Marwa Daoudy is an assistant professor at Georgetown University's School of Foreign Service, at the Center for Contemporary Arab Studies. Dr. Daoudy's research and teaching focus on Critical Security Studies, Environmental Politics, Negotiation theory, Peace negotiations, Water politics, and Middle East politics. She has published her research with Cambridge Review of International Affairs, International Negotiation, Journal of International Affairs, The Economics of Peace and Security Journal, The World Today, and Water Policy, amongst other journals. Her latest book on The Origins of the Syrian Conflict: Climate Change and Human Security was published with Cambridge University Press (March 2020). Her first book, The Water Divide between Syria, Turkey and Iraq: Negotiation, Security and Power Asymmetry (CNRS Editions, 2005) received the Ernest Lémonon Prize by the Institute of France at the French Academy (Académie Française).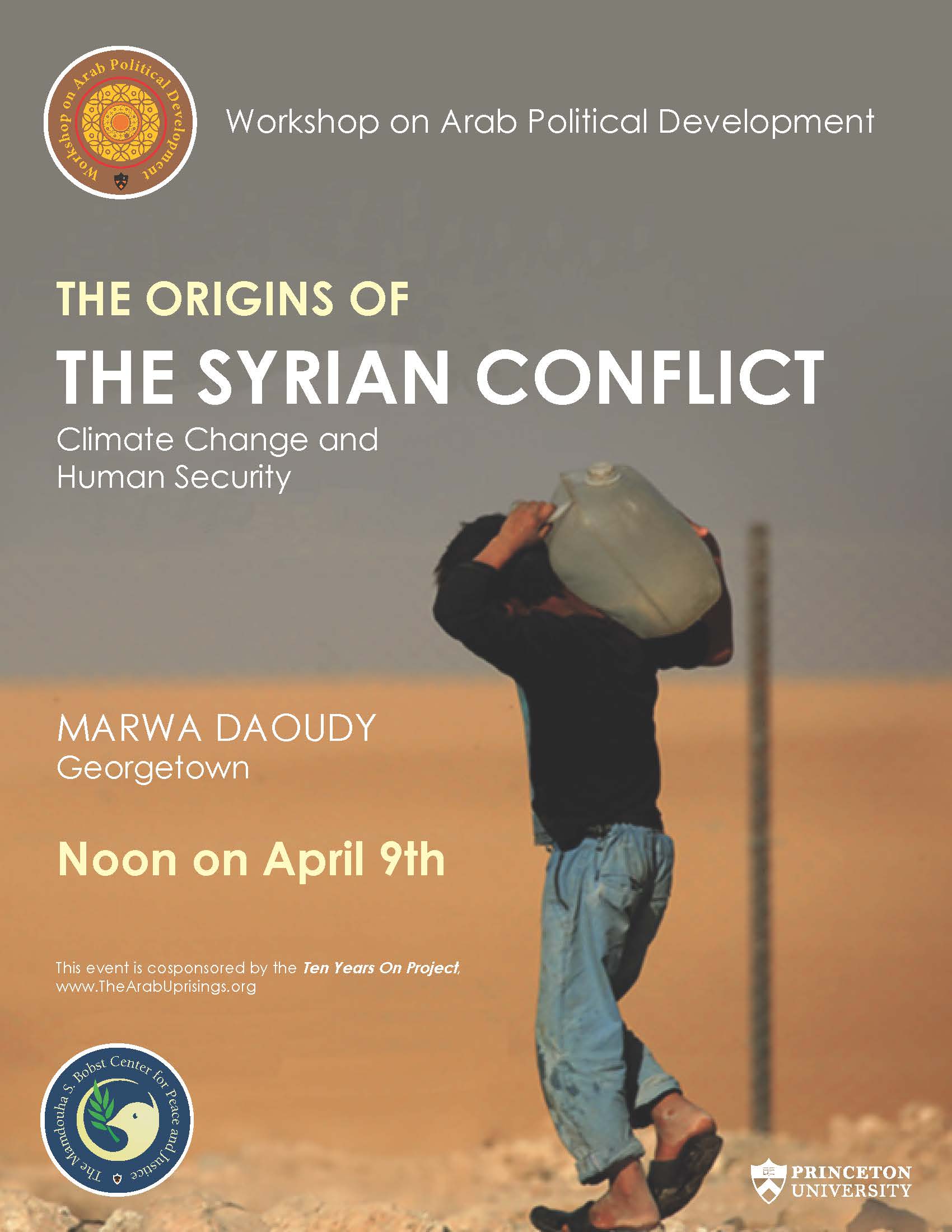 This event is part of the Ten Years on Project, a year-long series of events, reflections, and conversations created to commemorate the tenth anniversary of the start of the Arab uprisings in Tunisia. We launched this project in order to interrogate and reflect on the uprisings, with the hope of producing resources for educators, researchers, students, and journalists to understand the last decade of political upheaval historically and in the lived present.
Watch all of our previous Ten Years on events here:
Organizers: Arab Studies Institute, Princeton's Arab Barometer, George Mason's Middle East and Islamic Studies Program.
Co-Sponsors: Georgetown University (Center for Contemporary Arab Studies), American University of Beirut (Asfari Institute), Arab Council for the Social Sciences, Brown University (Center for Middle East Studies), UC Santa Barbara (Center for Middle East Studies), Harvard University (Center for Middle East Studies), University of Exeter (Institute of Arab and Islamic Studies), Birzeit University (Department of Political Science), University of Chicago (Chicago Center for Contemporary Theory), Stanford University (Program on Arab Reform and Democracy, Stanford University), AUC Affiliates, Georgetown University (Qatar) Center For International And Regional Studies (CIRS), The Global Academy (MESA Affiliated), Institute of Palestine Studies.