Real Football Podcast Episode 5 
World Cup & International Cup Fiasco

In episode 5 of the Real Football Podcast our hosts dive into the abundance and normalcy of chaos in World Cup football. Hosts and guests will also discuss the sources of discord from autocratic hosts, diplomatic spats, to Qatar's currently known issues. Also to be addressed are the expansion of the World Cup tournament, Newcastle's newfound Saudi wealth, "what in the world is going for this year's Africa Cup of Nations," and the last shot at glory for a generation of players.
Much of the coverage about Qatar hosting the 2022 FIFA World Cup has been negative due to the country's labor practices, political system, and the lack of human rights. However, Qatar as a problematic host is far from unique. From brutal military juntas, political infighting by South American and European Nations, to two tournaments canceled by Hitler, the history of World Cup hosting is as sordid as any political thriller. The continental tournaments of Europe, South America, and Africa all taking their cues from FIFA also revel in bumbling, and will be explored as well in this episode, as well as why though every member of the Real Football Podcast team loves football, none of them should want their nation to host!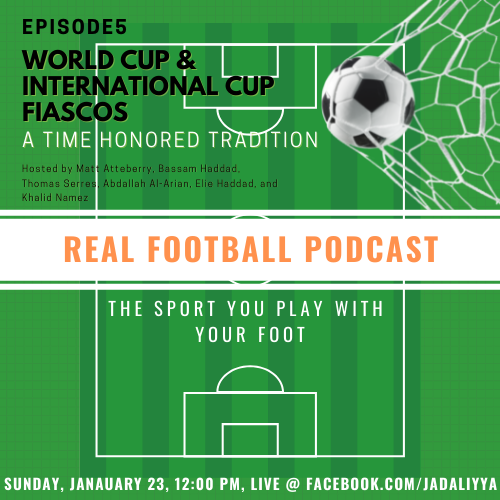 Guests

Thomas Serres has a PhD in political science from the EHESS. He is currently an associated researcher with Développement & Société in Paris and an Adjunct Professor at the University of California-Santa Cruz.  His research focuses on the politics of crisis and trans-nationalization in Algeria.
Hosts

Bassam Haddad is Director of the Middle East Studies Program and Associate Professor at the School of Policy, Government, and International Affairs (SPGIA) at George Mason University. 
Matt Atteberry is a George Mason alumnus who eats, breathes, and sleeps football. Just don't ask him to play because he's clumsier than newborn deer on ice skates. When he's not complaining about defenders, drawing formations, or looking up obscure facts, he's reading a book with a cup of coffee. Come on You Spurs.
Future episodes will address a variety of topics, including Women's Football Matters, MLS Woes, the State of Arab National Teams, and more. Should you have any comments or contributions, please send an email to info@stastushour.com.