Live with ASI
is a monthly broadcast program that showcases recently published content from the Arab Studies Institute's various branches. This content includes articles, reviews, pedagogical resources, podcasts, and more. Also featured in the broadcast are brand new interviews and discussions with authors and contributors.


This month, co-hosts Bassam Haddad and MK Smith discussed the issue of the Arab Studies Journal, the Top-100 most-read articles on Jadaliyya in 2021, a podcast called "Real Football," pedagogy, an interview on gender activism and COVID-19 in the Arab world for Status/الوضع, a new installment of the Grad Student Corner with Cat Haseman, and must-read recommendations.
This episode featured interviews with Brahim El-Guabli, Sara Pursley, Matt Atteberry, Mekarem Eljamal, Katty Alhayek, and Lina Abou-Habib.
Arab Studies Journal—Fall 2021 Issue 
The Arab Studies Journal recently published their newest issue for Fall of 2021. This issue features a groundbreaking interrogation of the establishment of Iraqi cinema, as well as another robust installment of the book reviews section. The issue also inaugurates a new essays section of shorter pieces animated by last May's "Unity Intifada" in Palestine, which focus on the Intifada's significance and meaning for Palestinians across historic Palestine and its diaspora. 
Also featured in this issue is a much-needed special section on the Maghrib, coordinated by guest editor Brahim El-Guabli, that rethinks the territorial, cultural, and human geographies of the region. In his introduction to the section, titled "Where is the Maghrib?," El-Guabli provides a powerful survey of where the scholarship stands today, and the importance of recognizing how Amazigh peoples, cultures, and language are, or are not, engaged in such endeavors.
Brahim El-Guabli, who authored the introduction to the special section on the Maghreb, discusses the gap in scholarship on Amazigh history, politics, and culture, and what this means for academic production on the Middle East and North Africa.
Top-100 Most Read Articles on Jadaliyya in 2021
MK and Bassam discussed the compilation post title, "Top-100 Most Read Articles on Jadaliyya in 2021."
This annual list is a great way to review the most hard-hitting content produced across all of Jadaliyya's pages, and includes both English and Arabic pieces. The list is not limited to content published in 2021, and includes pieces from previous years that are still being read today. 
Assistant Professor and Director of Graduate Studies at New York University, Sara Pursley, had a number of pieces that made it on the Top-100 list, and she joined the show to talk about common themes and continuities in her articles.


On air, Pursley discussed why she believes her 2015 article about Iraq's borders has remained popular over a number of years. Pursley posed important questions about why there is a widespread preoccupation with Iraq's artificiality, but not the US's own artificiality as a nation-state. 
 
Real Football Podcast
Co-hosted by Bassam and Matt Atteberry, the Real Football Podcast features critical discussions on important issues within the world of football, which is a topic that is very dear to me. In our fifth episode, which is available now, Matt and Bassam spoke to a number of guests regarding the perpetual chaos of the World Cup stage, and the sordid history of World Cup hosting. We also spoke about Newcastle United's newfound Saudi wealth, the African Cup of Nations, and the last shot at glory for a remarkable generation of players. 
A wealth of knowledge on all things football, Atterberry started by sharing  the historical etymology of the word "soccer." He went on to recap the football-focused political and sociological discussions the "Real Football Podcast" has taken on in its first several episodes. 
 
"Dictatorship and football have a long history," Atteberry told LWA viewers. Listen to the full podcast episodes to learn more about this fascinating relationship. 
Pedagogy
The Middle East Studies Pedagogy Initiative team is very excited to announce the fifth issue of the MESPI newsletter. For those that don't know, this newsletter is a resource that features interviews, updates on the field, pedagogic content, and much more. 


LWA Producer Mohammad Abou-Ghazala spoke with MESPI Managing Editor, Mekarem Eljamal, who also penned the introduction, about what readers can expect to find in the fifth MESPI newsletter.
 
Conversation with Alain Gresh and Bassam Haddad
Last month, Bassam had the chance to sit down with friend and co-founder of OrientXXI, Alain Gresh, in his home in Paris for a provoking, wide-ranging discussion. 
 
They conversed on a number of topics, ranging from Europe-Middle East relations, French domestic politics towards immigrants and Arab/Muslim citizens, and growing authoritarian tendencies among democracies in the Global North, and much more.
Good news for all of us: you two recorded the conversation, which is available on YouTube, and a transcript is also now available on Jadaliyya in both English and Arabic. 
Partner's Feature: AUB's Asfari Institute
As we've iterated so many times before, so much of our work at ASI is thanks to the joint-effort and collaboration of our partners throughout the world. Today, we wanted to highlight one of ASI's friends at the Asfari Institute for Civil Society and Citizenship at the American University of Beirut, Lina Abou-Habib.


Lina Abou-Habib, the Director of the Asfari Institute, joins the show to discuss the past eight years of collaboration with ASI. Last year the two worked closely on the "Ten Years On" project, with a focus on including the voices of youth and queer groups. In the future, the two institutions aim to produce knowledge on the various gendered impacts of the Syrian war. 
 
Gender Activism, Arab Women, and COVID-19

In an interview for Status/الوضع titled, "Gender Activism, Arab Women, and COVID-19," Jadaliyya Syria Page co-editor Katty Alhayek spoke with Sahar Khamis from University of Maryland, College Park regarding Khamis' current research and projects. The discussion focused on the gender digital gap, activism, and the impact of the COVID-19 pandemic on Arab women. The interview is a must-listen for anyone interested in how COVID-19 has affected gender activism in the Arab world.


Katty Alhayek speaks with LWA co-host MK Smith about "the digital gap," an observable rift between those who have access to technology and those who do not. Alhayek explains that not only is this gap most stark among women, but it is especially significant in the COVID-19 era, as digital platforms are used not only for social and professional connection but also for political organizing. 
 
Grad Student Corner

Cat Haseman joins live from the studio for her monthly segment directed toward students: The Grad Student Corner. 
 
This month Cat points student viewers toward book reviews featured on Jadaliyya. Cat explains that book reviews have helped her through her academic tenure—not only because they provide summaries of the book's main takeaways but also because they help her begin reading with a more discerning eye. Cat recommends students use book reviews as a way to glean the perspectives of other academics in the field. 
First, Cat recommends Mai Serhan's review of Samia Mehrez's book "Ibrahim Nagui: A Belated Visit." Nagui was one of the Arab world's most well-known romantic poets, and his granddaughter, Mehrez, writes about the emotional and academic process of re-reading his work. Serhan's book review includes insightful quotes from an interview with Mehrez. Second, Cat highlights Eyad Houssami's review of Andrea Duffy's book "Nomad's Land: Pastoralism and French Environmental Policy in the Nineteenth-Century Mediterranean World." The review offers a helpful synopsis of the book's key historical contributions, as well as an important critique that the book overlooks the voices of the colonized.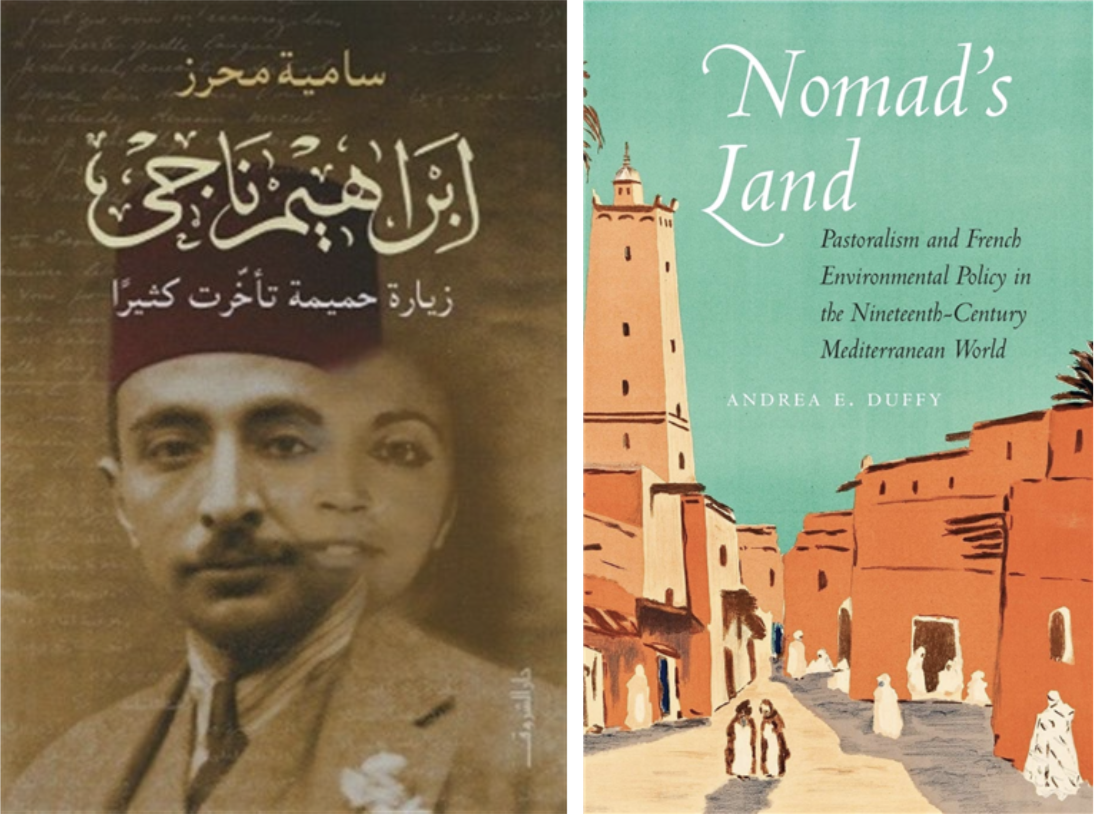 Must-Reads
"Guantanamo at 20: What We Haven't Learned from this Debacle" is a conversation hosted by UCSB Center for Middle East Studies with Lisa Hajjar. Hajjar holds an engaging discussion, complete with exclusive visual aids, about the 9/11 case in the Guantanamo military commissions in which five detainees are being prosecuted for their alleged roles in the 9/11 attacks. You can find the full-length video on Jadaliyya and YouTube. 
2021 marked the tenth anniversary of the Peaceful Popular Youth Revolution in Yemen. As tends to happen around anniversaries, journalistic and scholarly commentaries abounded, making claims about the "successes" and "failures" of the revolution. Kamilia Al-Eriani and Ross Porter co-authored a piece on Jadaliyya this month, titled "Resisting Closure: Reflections on the Tenth Anniversary of Revolution in Yemen,"  proposing that what erupted ten years ago in Yemen continues to defy closure. 
Their piece beautifully describes scenes of celebration in Yemen while weaving together and analyzing wide ranging reflections that revolutionary youth have shared on the decennial anniversary. All of which, the authors declare, are "part and parcel of the story of revolution itself."