Live with ASI is a new monthly broadcast program that showcases recently published content from the Arab Studies Institute's various branches. This content includes articles, reviews, pedagogical resources, podcasts, and more. Also featured in the broadcast are brand new interviews and discussions with various authors and contributors. In this episode, hosts Bassam Haddad and MK Smith discuss developments throughout the region, and themes such as culture, dissent, and pedagogy. Interviews for this month are Ilan Pappé with Carly A. Krakow, Omar Dahi with Bassam Haddad, Caroline McKusick with Jonathan Adler, Arun Gupta with Carly A. Krakow, and Stacy D. Fahrenthold with Jacob Bessen. Guests are Adel Iskandar and Sinan Antoon. 
All of the materials mentioned in the Live with ASI broadcast are listed here, categorized by their themes. Also listed are additional recent materials we highly recommend, as well as recent and upcoming live events. Pieces that are relevant to multiple themes are listed under each applicable theme below.

NEWTONs
On our New Texts Out Now page, or NEWTONs for short, authors and publishers provide insight into their work and discuss a variety of issues related to their published texts. These are all the NEWTONs discussed in the show. Note that some NEWTONs will be listed again under other themes. 

Culture
From revisiting Camus and exploring his political positions, to examining cinematic forms of exclusion of Arab Americans in the US and the Arab world, and highlighting Palestinian cultural initiatives, the following Jadaliyya and NEWTON pieces provide insight into often under-valued aspects of the region.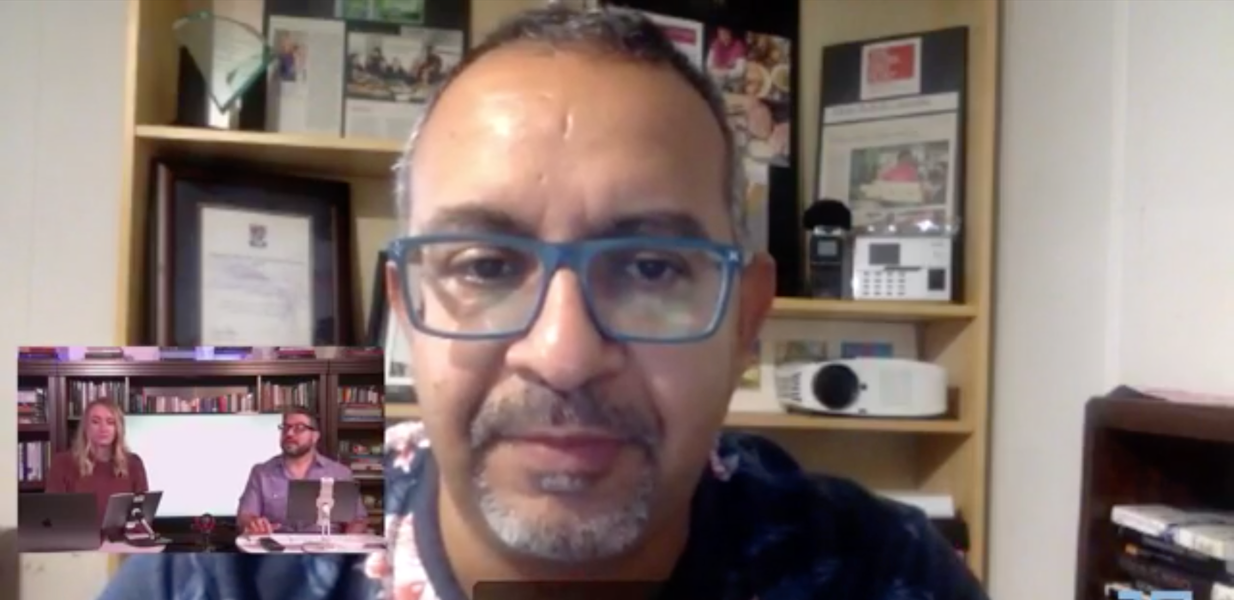 Adel Iskandar speaks with hosts Bassam Haddad and MK Smith aunch a new Live with ASI segment provisionally titled "Beyond New/Old Media: Knowledge Production/Consumption After Covid-19."
Palestine
In light of the recent normalization agreements between the Gulf and Israel, the ASI team analyzes impacts on the general state of civil rights in the region and the question of Israeli annexation of the West Bank. In addition to the publications and interviews mentioned in the broadcast, you can check out Jadaliyya Co-Editor Noura Erakat on Democracy Now!, and Jadaliyya Co-Editor Mouin Rabbani on TRT World, discussing the implications of the Abraham Accords on Palestine and the region. 
On air in this episode: an interview with Historian and Director of the European Center for Palestine Studies Ilan Pappé, by Carly A. Krakow.



Ilan Pappé speaks with Carly A. Krakow. 
Maghreb
Jadaliyya's Maghreb Page has published pieces exploring the historical memory of the Algerian War of Independence, paying homage to the legacy of the former Tunisian prime minister, Ahmed Ben Salah, who passed away recently, and a statement of condemnation of the Algerian government's repression of protesters. 

Gulf
Rosie Bsheer's NEWTON explores Saudi Arabia's historical production, and a Jadaliyya piece highlights the plight of migrant workers and social structures of marginalization, in light of the pandemic. Additionally listed are texts and interviews of Jadaliyya co-editors examining recent normalization of relations between the Gulf and Israel.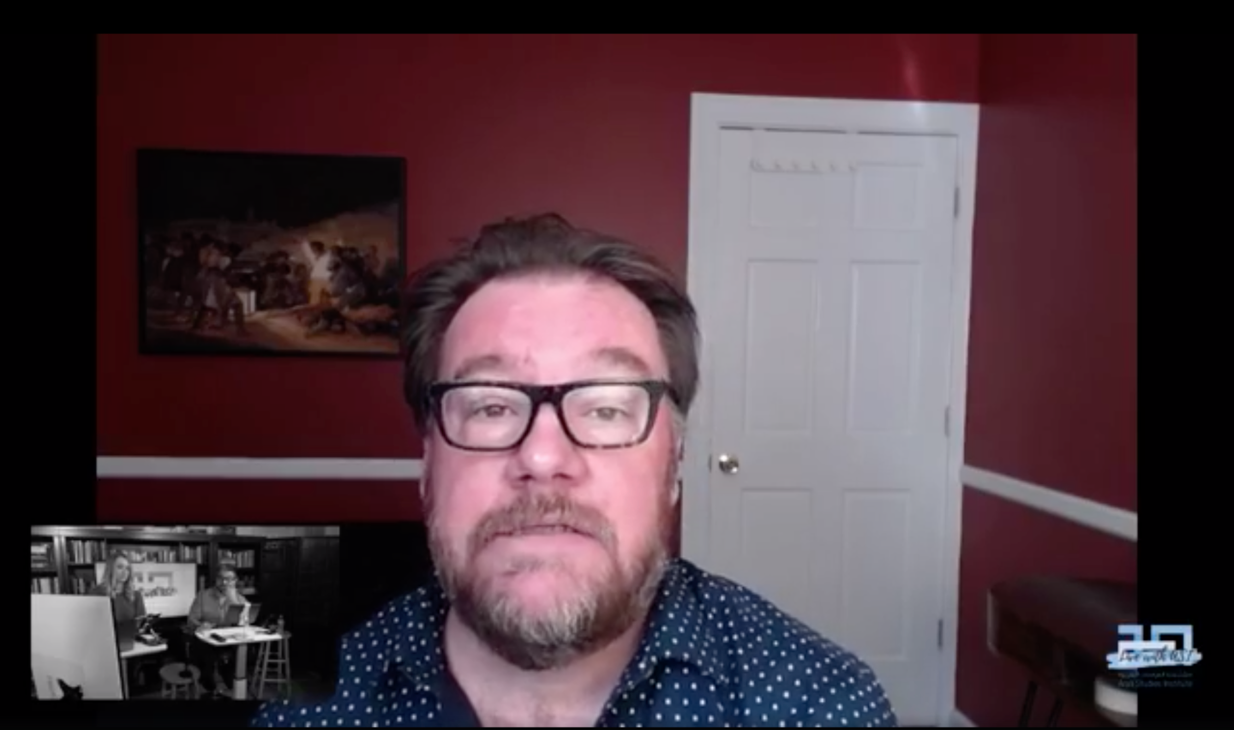 Sinan Antoon speaks about Jadaliyya's Arabic content production and invites audience members to submit content to the Arabic section.
Solidarity Academies
Jadaliyya will be featuring links to the work of a number of "Solidarity Academies," which were founded by Turkish academics facing repression from the Turkish government, as well as analyses of these important collective intellectual projects. Listed here is a piece by the Turkey Page Editors introducing us to these Solidarity Academies, as well as Aslı Odman's piece, which started this initiative.

Syria
We have a NEWTON that examines the relationship between Syria and the English-speaking world, as well as Part 2 of the roundtable conversation reflecting on the last two decades of Bashar al-Asad's rule. We have also linked Part 1 of the roundtable, which was discussed in September's episode. In addition, you can check out interviews with Jadaliyya's Syria Page Co-Editor Omar Dahi, and Syrian filmmaker Soudade Kaadan. 
On air in this episode: an interview on "Security in Context," with Jadaliyya Co-Editor and Syria Page Co-Editor Omar Dahi, by Bassam Haddad. 



Omar Dahi speaks with Bassam Haddad.

Pedagogy 
ASI's Middle East Studies Pedagogy Initiative, or MESPI, is an educational resource that curates and collects Middle East studies material for both educators and students of a variety of levels, and recently published a Newsletter and an Engaging Book Series on heritage politics with Stanford University Press. Also listed is a Scholars in Context piece, and a Status/الوضع interview on the role of the agrarian question in the Arab world. 
On air in this episode: an interview with Stanford University Press Assistant Editor Caroline McKusick, by Jonathan Adler; and an interview with Stacy D. Fahrenthold on an Essential Readings about Emmigration from the Levant (1870-1930), by Jacob Bessen.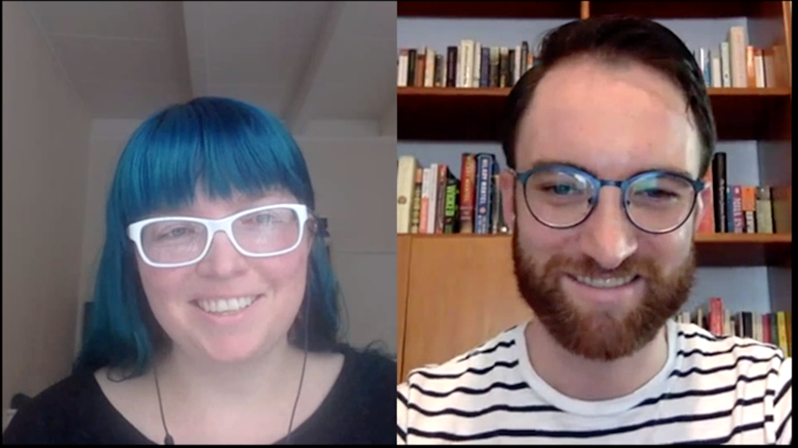 Caroline McKusick speaks with Jonathan Adler.

Stacy D. Fahrenthold speaks with Jacob Bessen.

Authoritarianism & Dissent 
Listed below is a NEWTON on the transnational movement of cultural actors, Jadaliyya pieces discussing Egyptian social media issues, and a Quick Thoughts piece on Portland and US authoritarianism. In addition, Nasrin Sotoudeh, Iranian human rights lawyer, talks about Iranian political prisoners in light of the pandemic in an interview with Status/الوضع. 
On air in this episode: an interview with Journalist Arun Gupta, by Carly A. Krakow.



Arun Gupta speaks with Carly A. Krakow.


Events & Announcements 
In light of the waves of forest fires, scholars Zena Agha, Diana K. Davis, Salma Nashabe Talhouk, and Gabi Kirk reflected on the politics of the climate crisis and its ramifications on communities globally, at the live event, The World is Burning-Faire and Climate Crisis from the Mediterranean to the US West Coast on Thursday, 1 October 2020. 
As part of the Decolonising LSE Event Series, the London School of Economics Middle East Centre is hosting an online public event titled, Environmental Justice in the Middle East: Activism, Resistance, and Decolonization on Thursday, 29 October 2020 (2 pm NYC/6 pm London/8 pm Beirut). The online discussion will feature Muna Dajani, Mona Harb, and Carly A. Krakow, and will be chaired by Michael Mason. Registration link coming soon!
On Wednesday, 21 October 2020 (1:30 pm NYC/6:30 pm London/8:30 pm Beirut),LSE's Department of Law will host a an online live event titled,The "State of Emergency" as the Rule and Not the Exception: Crisis Conditions and Exploitative Lawmaking During COVID-19 and Beyond as part of the Shaping the Post-COVID World Public Lecture Programme.The event will feature Sinan Antoon, Carly A. Krakow, and Vasuki Nesiah, and will be chaired by Gerry Simpson. Attendance is open to all but pre-registration is required. Registration now open!
Additionally, we are happy to introduce a new platform, Alternative Frequencies | غيّر الموجة, a bilingual podcast hosted by Nadim El-Kak, and produced by Status/الوضع and the Lebanese Center for Policy Studies (LCPS). Scholars and activists will discuss and analyze a wide range of topics pertaining to the ongoing developments in Lebanon. Check out their episodes, and keep an eye for new content releases every Tuesday at 5 PM, Beirut time. 
Last but not least, the Ali Vural Al Center for Global Islamic Studies (AVACGIS) at George Mason University is hosting a new webinar series titled COVID-19 and Muslim Religiosity where leading scholars explore and discuss the impact of the global pandemic on issues related to Muslim thought, theology, law, observance, and religious authority. Check out their episodes and keep an eye out for new content.