Live with ASI is a new monthly broadcast program that showcases recently published content from the Arab Studies Institute's various branches. This content includes articles, reviews, pedagogical resources, podcasts, and more. Also featured in the broadcast are brand new interviews and discussions with various authors and contributors. Episode 5, hosted by Bassam Haddad and MK Smith, features exclusive interviews with Timothy Mitchell, Amaney Jamal, Adel Iskandar, Carly A. Krakow, Sophia Stamatopoulou-Robbins, and more!
All of the materials mentioned in the broadcast are listed here, categorized by their themes. Also listed are additional recent materials we highly recommend. Pieces that are relevant to multiple themes are listed under each applicable theme below. 
Pedagogy (1:46)
One of Jadaliyya's Environment Page co-editors, Gabi Kirk, interviews Sophia Stamatapoulou-Robbins.

The Middle East Studies Pedagogy Initiative (MESPI) team brought together professors of Middle East history as well as professors of Middle East political science to explore how teaching about the region differs when one is physically located in the region. The new installments of "Teaching the Middle East in the Middle East: History and Political Science" aim to bring geography back into the conversation about pedagogy. 
Co-Editors of Jadaliyya's Maghreb Page, Muriam Haleh-Davis and Thomas Serres, teamed up to produce an Essential Readings (ER) on the 2019 Hirak Uprising in Algeria. This collection of texts in English, Arabic, and French is a first attempt to gather secondary sources discussing the revolutionary Hirak movement, and finds that is not only a relevant phenomenon for North African politics, but it also sheds light on the possibility for resistance in the Middle East and beyond.
Sophia Stamatapoulou-Robbins wrote an ER titled, "Land, Water, and the Environment in Israeli Occupied Palestine," addressing the impact of the bi-directional flow of environmental effects—from land, waste, and water, to the opening up and foreclosing of social and political possibilities, and vice versa—on the Palestinian people.
Feature: Live Event with Author Ahmad Dallal: Third Arab Social Science Monitor Report (7:42)

At the very end of December, Bassam Haddad hosted a live event with the Dean of Georgetown University, Qatar, Ahmad Dallal, who is the author of the Third Social Science Monitor Report titled, "The Academic Universes of Social Scientists in the Arab Region: Career Trajectories and Networks in Universities." It was a fruitful discussion which provided a productive entry point into the massive report. The full interview can be accessed on Status/الوضع. In next month's Episode, we will discuss this event in more depth. 
Feature: Book Launch of "A Critical Political Economy of the Middle East and North Africa" (9:38)


Bassam Haddad interviews Tim Mitchell about Mitchell's chapter, "Ten Propositions on Oil," in the new book A Critical Political Economy of the Middle East and North Africa, edited by Joel Beinin, Bassam Haddad, and Sherene Seikaly. 

Earlier this month, we held a roundtable to mark the official launch of the new volume, A Critical Political Economy of the Middle East and North Africa, the first that ASI's Political Economy Project produced. This launch brought together fourteen of the involved co-editors and authors to discuss its content and pedagogical utility. This book is arguably the first of its kind to provide a critical lens to a survey of political economy in the region. Challenging conventional wisdom on the origins and contemporary dynamics of capitalism in the region, these cutting-edge essays demonstrate how critical political economy can illuminate both historical and contemporary dynamics of the region and contribute to wider political economy debates from the vantage point of the Middle East.
Leading scholars, representing several disciplines, contribute both thematic and country-specific analyses. Their writings critically examine major issues in political economy, ranging from the mutual constitution of state and class, the intricacies of race, gender, and class in the formulation of identity, to the relation between local, regional, and global forms of capital, race, and class. 
Feature: "Ten Years On: Mass Protests and Uprisings in the Arab World" (20:40)
Bassam Haddad interviews Amaney Jamal about the multifaceted "Ten Years On" project, which was launched this month and will continue throughout the coming year. 

This month marked a significant anniversary for students of the Middle East, as it was the ten-year anniversary of the outbreak of the Arab Uprisings of 2011. To commemorate this important moment, we at the ASI launched a collective and multifaceted one-year-long project titled "Ten Years On: Mass Protests and Uprisings in the Arab World." We heralded this project by holding a small roundtable featuring Bassam Haddad, Nadje Al-Ali, Amaney Jamal, and Ahmad Dallal to introduce the project's main components and partners. 
Although the project was originally envisaged and organized by the Arab Studies Institute, Princeton's Arab Barometer, and George Mason's Middle East and Islamic Studies Project, it expanded to include sixteen other institutions: University of Chicago (Chicago Center for Contemporary Theory), Georgetown University (Center for Contemporary Arab Studies), American University of Beirut (Asfari Institute), Arab Council for the Social Sciences, Brown University (Center for Middle East Studies), UC Santa Barbara (Center for Middle East Studies), Harvard University (Center for Middle East Studies), University of Exeter (Institute of Arab and Islamic Studies), Birzeit University (Department of Political Science), Stanford University (Center for Democracy, Development, and Rule of Law), AUC Affiliates, Georgetown University (Qatar), The Global Academy (MESA Affiliated), and the Institute of Palestine Studies.
Current Events with Carly A. Krakow (31:35)
Carly A. Krakow, Jadaliyya Managing Editor for Special Projects and Environment Page Co-Editor, was on Live with ASI this month for her new recurring segment that will catch viewers up on current events. For this episode, she covered Trump's pardons for Blackwater mercenaries who killed civilians in Iraq (with reference to a Washington Post op-ed on the pardons by Jadaliyya Co-Editor Sinan Antoon, also available in Arabic on Jadaliyya), the upcoming presidential inauguration and what we can expect from the Biden administration, and Yemen—both in terms of the immense suffering the country is experiencing as the war drags on, and with a spotlight on a recent performing arts production in Sanaa.
Culture (39:50)

Matthew Chovanec considers how two works of fiction reimagine the natural environment of Iraq as it exists today, and argues that not only has recent fiction in Iraq envisioned future environmental dystopia, but it has also worked to retrieve historical landscapes, and to reimagine the natural environment of Iraq as it exists today.

In a piece titled, "Vox Oculi," Abdo Shanan interviews one of the four Moroccan artists that make up KOZ collective regarding the role of the collective in nurturing artistry in a unique article from Jadaliyya's Photography Page, where the interview is interspersed with original photography. 

Carly A. Krakow wrote a thoughtful review of Farah Nabulsi's 2019 film "The Present," which was praised for its depiction of a father-daughter duo's journey as they face ubiquitous degradations and challenges in occupied Palestine.
Beyond Old/New Media (42:00)
In his recurring live segment, Jadaliyya Co-Editor Adel Iskander recapped media trends of 2020 in the region, including disinformation and the weaponization of language. Adel also discussed the exciting news that he will soon be joined by Malihe Razazan to continue developing this segment.
Spotlight: Syria Quarterly Report (1:00:04)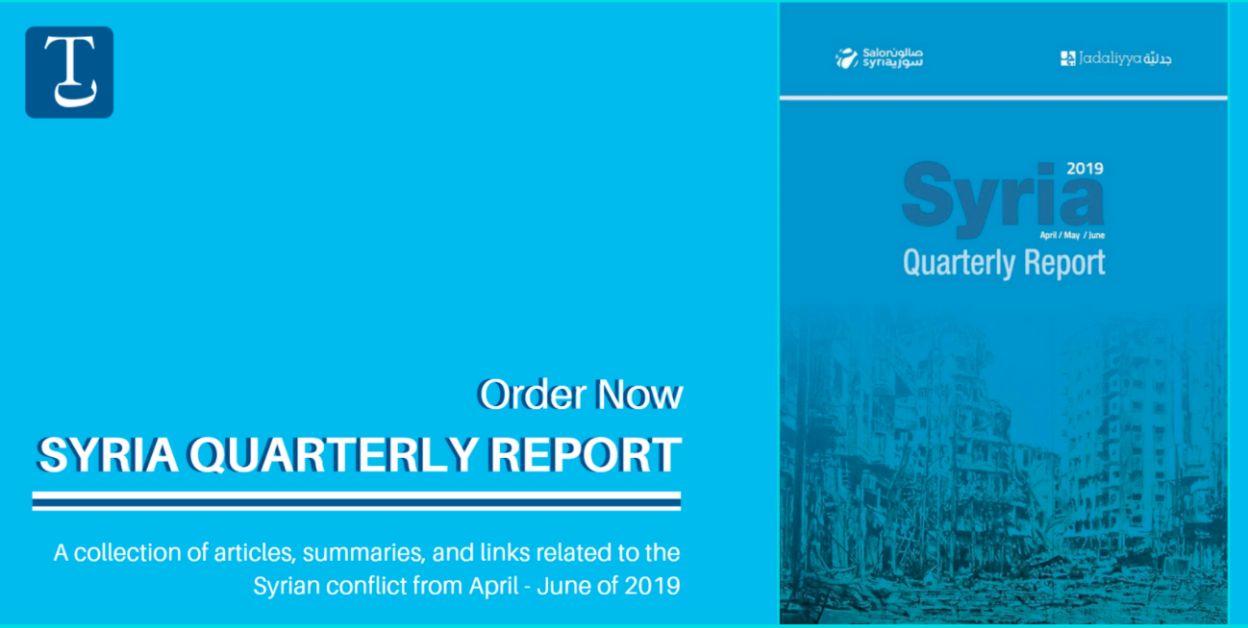 The Syria Quarterly Report is a collection of articles, summaries, and links curated by Salon Syria and Jadaliyya. This report is a collaboration that includes Salon Syria's series entitled "Syria in a Week" and Jadaliyya's weekly media roundups that address the main events of that week, as well as articles about them, in relation to the Syrian conflict. The Syria Quarterly Report aims to assist in creating a selective but foundational archive of materials from 2018 onwards. 
Tadween recently published the 6th installment in the Syria Quarterly Report, covering April, May, and June of 2019, and the next two reports will cover the remainder of the year.
Graduate Student Corner (1:02:10)
Cat Haseman points graduate students to helpful resources and content produced by ASI's many branches. 

In this recurring segment, ASI Social Media Coordinator Cat Haseman points graduate students to another invaluable ASI resource: Jadaliyya's Quick Thoughts series. Edited by Mouin Rabbani, articles published on the Quick Thoughts Page, provide background, context, and detail on issues that are—or at least should be—currently in the news. As a busy graduate student, Cat appreciates that Quick Thoughts pieces, which are typically formatted as interviews between Rabani and the expert on the topic, get straight to the point. The back-and-forth format highlights pertinent questions and offers nuanced answers. Jadaliyya published three Quick Thoughts pieces this month: 

Don't forget to check out this month's media roundups: 

There's still time to apply to one of ASI's many remote internship opportunities! 
NEWTONs (1:04:42)

On our New Texts Out Now page, or NEWTONs for short, authors and publishers provide insight into their work and discuss a variety of issues related to their published texts. Four NEWTONS were discussed during the show and other NEWTONS from this month are linked below. 
Peter Gran's recent NEWTON on The Persistence of Orientalism explores his motivations behind the creation of his new book, including concern at the tendencies in the field of Egyptian history and Egyptian studies to perpetuate Orientalist stereotypes and serve mainly Western agendas. Gran talks of his hopes for the future of the field as well as the expected trajectory of his own upcoming work.
Chiara de Cesari's NEWTON addresses the key issues explored in Heritage and the Cultural Struggle for Palestine. The author details her personal journey towards the writing of her book, starting at her introduction into museum and heritage work in Syria and Palestine. The NEWTON also explores the author's concerns around existing scholarship on the topic and her hopes for the future—both broadly and in terms of her own research aims.
Beyond Exception: New Approaches to the Arabian Peninsula, by Ahmed Kanna, Amélie Le Renard, and Neha Vora, moves beyond the now naturalized categorizations of Gulf societies: monarchical rule, the kafala system, authoritarianism, petrowealth, hypermodernity, tribes, gender oppression, sectarianism, and so on. Through de-exceptionalization, this book analyzes what exceptionalism does, how it is used by various people, especially white/Western residents, and how it helps shape power relations in the societies we study.