Live with ASI is a monthly broadcast program that showcases recently published content from the Arab Studies Institute's various branches. This content includes articles, reviews, pedagogical resources, podcasts, and more. Also featured in the broadcast are brand new interviews and discussions with authors and contributors. 
In this episode, hosts Bassam Haddad and MK Smith highlight the newest issue of Status/الوضع, introduce newly launched and upcoming podcasts, share New Text Out Now interviews, and point out must-read Jadaliyya articles. The duo interviews a diverse group of scholars and contributors, including Sherene Seikaly, Pascale Ghazaleh, Lisa Wedeen, Sima Shakhsari, Mouin Rabbani, Sherine Hafez, Libby Anker, Samia Errazzouki, Sinan Antoon, Noah Black, Diane Singerman, and Kareem Ibrahim. As always, this episode also features a media analysis segment with Adel Iskandar and Malihe Razazan, a graduate student-focused segment with Cat Haseman, and an international current affairs segment with Carly A. Krakow. 
All of the materials mentioned in the broadcast are listed here, categorized by their themes. Also listed are additional recent materials that we highly recommend.

Ten Years On Project (2:16)

Ten Years On: Archives, Revolution, and Historical Thinking

March was the third month in ASI's year-long Ten Years On project. As we have featured in previous episodes, the Ten Years On project brings together seventeen of our partners to produce resources for educators, researchers, students, and journalists to critically understand the Arab Uprisings, and their various dimensions, over the past decade.
The third signature panel in the Ten Years On project, titled "Archives, Revolution, and Historical Thinking," brought together a number of great scholars from various disciplines to discuss the relationship between archives, historical thinking, and revolution—both in the past and present.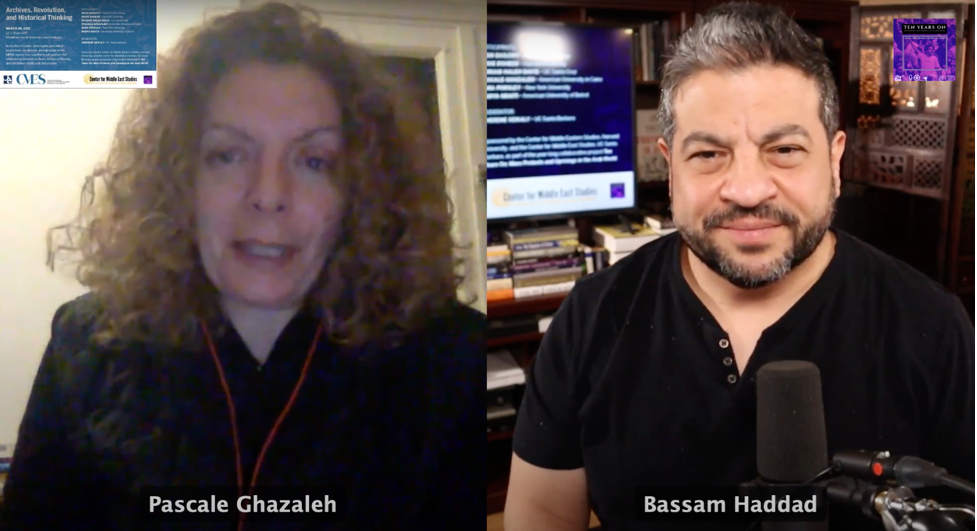 Bassam Haddad interviews Pascale Ghazaleh about the all-women panel, which was the third signature event of the Ten Years On project.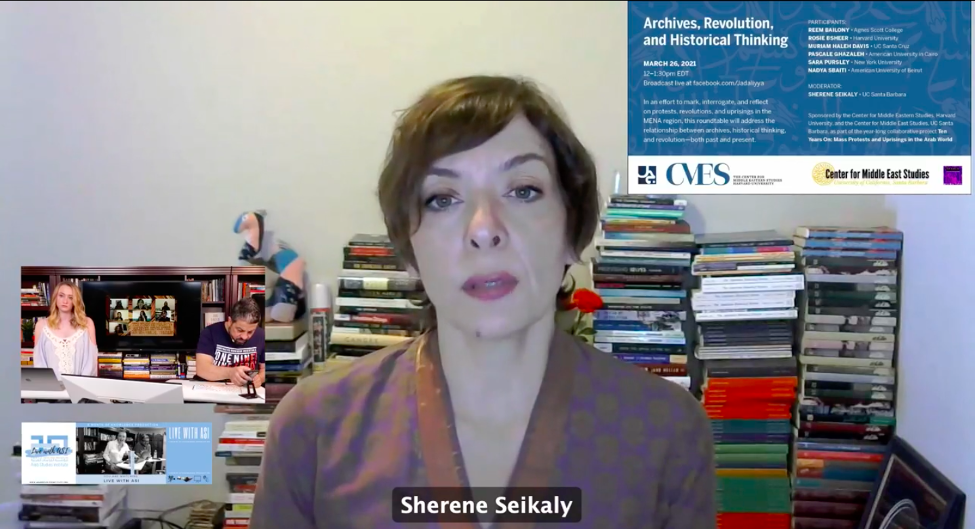 Bassam also had a chance to talk to

Jadaliyya Co-Editor Sherene Seikaly, who moderated the same panel discussion.


Syria Ten Years On

Marking the tenth anniversary of the Syrian Uprisings, Jadaliyya Co-Editor Lisa Wedeen moderated a panel discussion with three artist-journalist-curators who participated in the exhilarating initial days of the Syrian revolution.  
The panel, titled "Syria Ten Years On: Art, Journalism, and the Struggle over Narrative," was co-sponsored by ASI and the Ten Years On project and presented by the Chicago Center for Contemporary Theory. The speakers discussed the struggle of constructing a revolutionary narrative that connects the past with the present.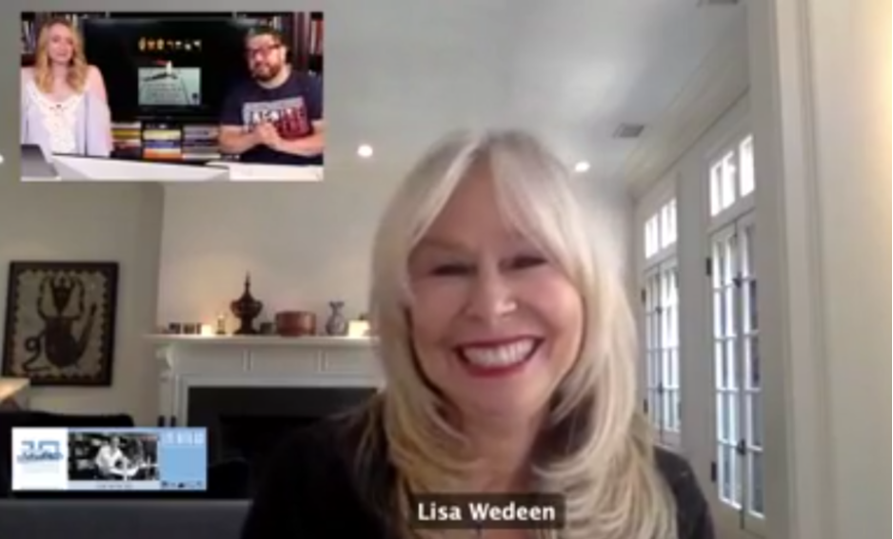 Lisa Wedeen joins live to speak about the event "Syria Ten Years On: Art, Journalism, and the Struggle over Narrative."
 
Women of the Midan

In a live event organized by Brown's Center for Middle East Studies and the Association for Middle East Women's Studies, and co-sponsored by the Ten Years On project, Sherine Hafez discussed her recent book Women of the Midan: The Untold Stories of Egypt's Revolutions published by Indiana University Press. The talk focused on the work that went into writing this book and the politics of gender in Egypt since the Arab uprisings.
Sherine Hafez discusses her book Women of the Midan, as well as future projects, live on air.


Status Issue 8.1 (27:33)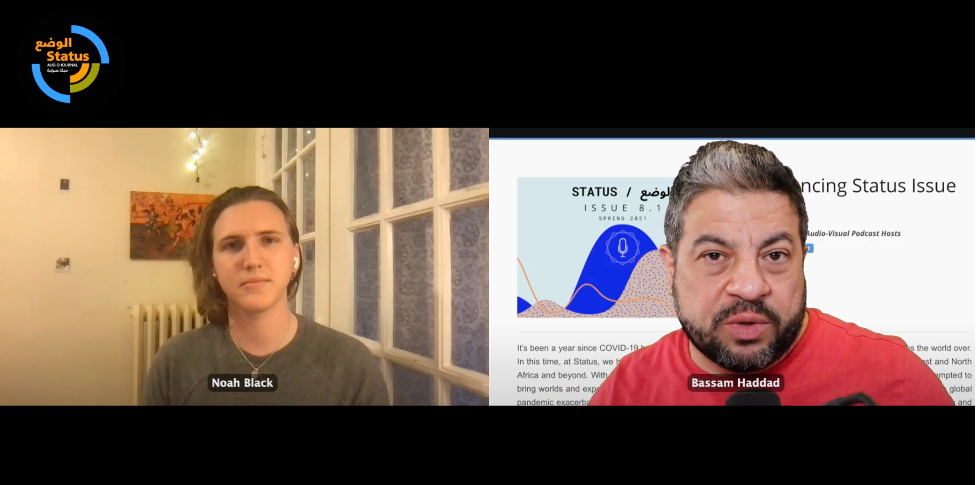 Bassam Haddad interviews Noah Black, co-producer of Status/الوضع along with Paola Messina, about the newest issue of the audio-visual magazine, Status Issue 8.1.


This month Status/الوضع released Issue 8.1, a bouquet of audio-visual content that aims to heighten knowledge and raise the caliber of deliberation—not to mention challenge mainstream media tropes—on the greater Middle East and North Africa as well as the diasporas from this region. This latest issue marks an advancement from a predominantly audio format to an increasingly audio-visual platform. This shift allows us to have more interactive curated discussions with compelling interlocutors across the world.
From the Front Lines: A Conversation on Women's Rights in Morocco (32:48)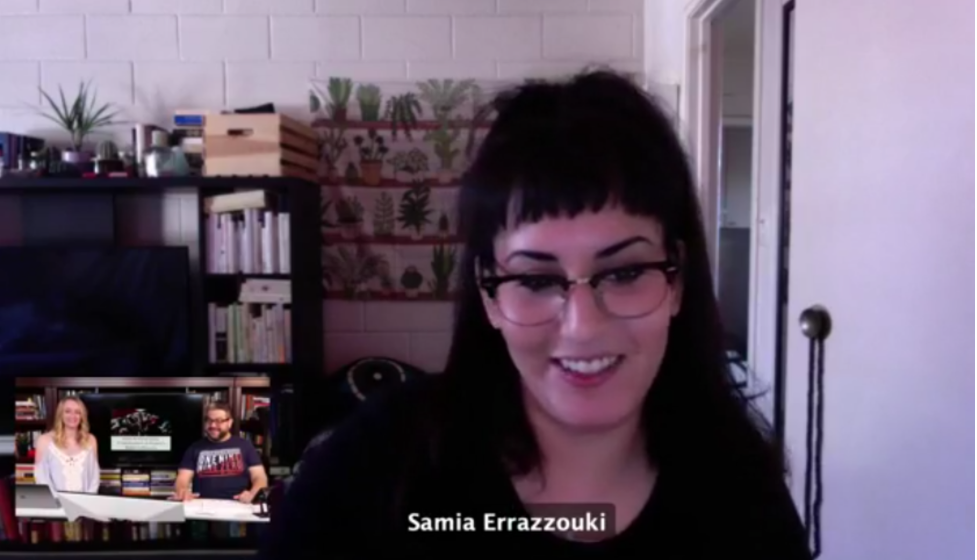 Co-hosts Bassam and MK interview journalist, scholar, and activist Sami Errazzouki live on air.
 
Last month, Jadaliyya Co-Editor Samia Errazzouki moderated a special conversation on contemporary women's rights, human rights, and press freedom in Morocco. 
The panel, titled "From the Front Lines: A Conversation on Women's Rights in Morocco," was co-sponsored by Jadaliyya, Khmiss, and George Mason University's Middle East and Islamic Studies Program, and featured a variety of experts who approached the topic from different angles.
Theory Buzz

Podcast with Mahmood Mamdani (37:36)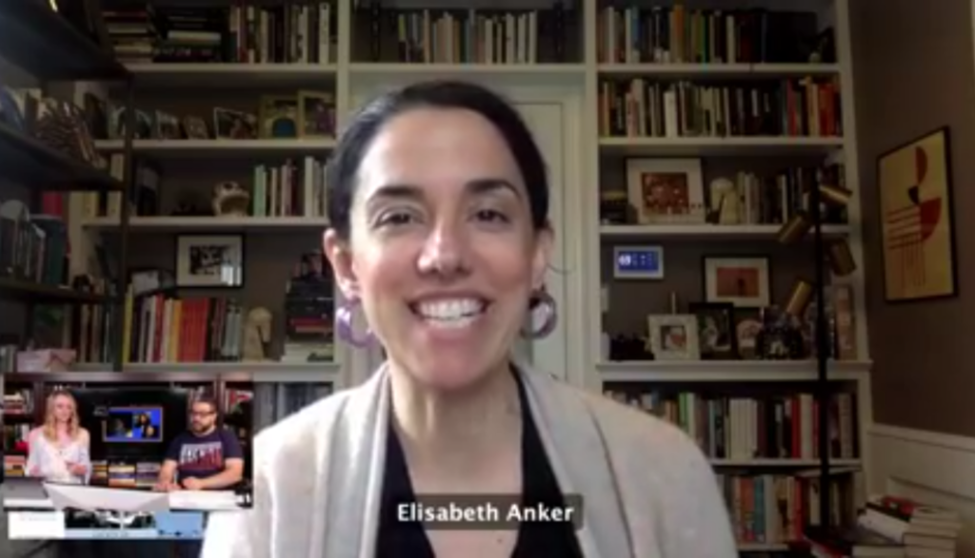 Libby Anker recaps the second episode of Theory Buzz Podcast. 


In the second episode of Theory Buzz Podcast, hosts Bassam Haddad and Libby Anker speak with Mahmood Mamdani on his recent book Neither Settler Nor Native: The Making and Unmaking of Permanent Minorities (Harvard University Press, 2020). The conversation features topics including state-building through the function of the national and the colonial, how such processes categorized different populations, and how such categorizations created pretexts for state violence and control.
Launching Connections Podcast (43:38)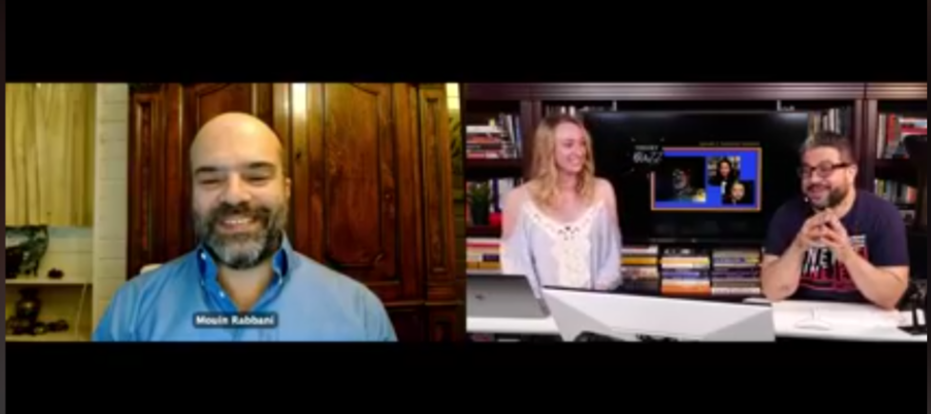 Mouin Rabbani discusses the launch of his new podcast Connections and shares highlights from the first episode, featuring Noam Chomsky.
 
In the inaugural episode of Connections, Jadaliyya Co-Editor Mouin Rabbani interviewed Noam Chomsky to discuss US foreign policy in the Middle East under Biden. The interview examines the Biden administration's Middle East policies, explores elements of continuity and change in US policy towards the region after the Trump years, and discusses what recent developments regarding Iran, Yemen, Palestine, and Saudi Arabia portend for the coming years.
Deadly Iran Sanctions (48:56)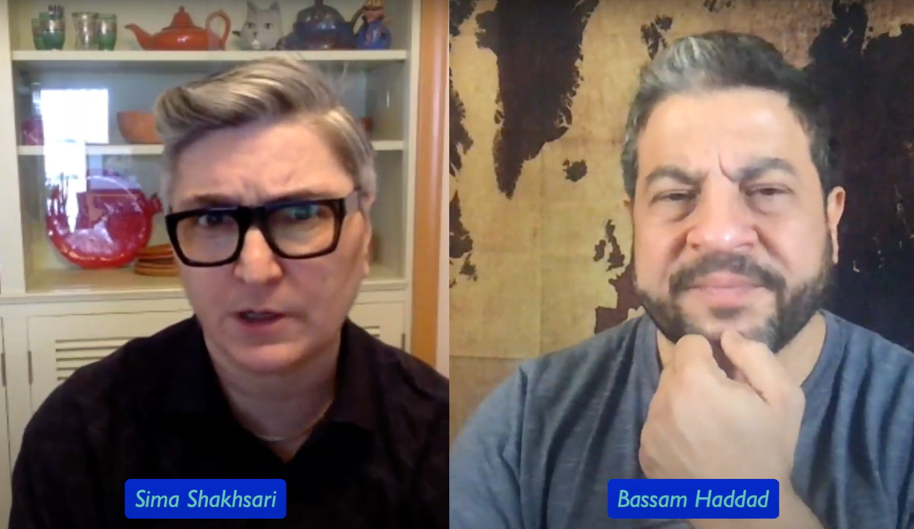 This month Jadaliyya co-sponsored the "No Sanctions on Iran Coalition" webinar titled "Deadly Iran Sanctions: Lessons Learned from Iraq and Palestine." The live event featured Jadaliyya Co-Editor Noura Erakat, Zainab Saleh, Negar Mortazavi, and Assal Rad, who called for transnational solidarity to betterment all peoples being oppressed by such economic forces.
This month the Jadaliyya Iran Page interviewed activist scholars Niki Akhavan and Sima Shakhsari about the digital awareness-raising campaign called "No Sanctions on Iran." The #NoSanctionsonIran interview dives into digital activism, transnational feminism, and the fraught terrain of Iran's political discourse. 
In a new Quick Thoughts piece, Jadaliyya Co-Editor Mouin Rabbani interviewed Ali Vaez, the Iran Project Director at the International Crisis Group. The dialogue explores the context and consequences of the current impasse regarding the Iran nuclear agreement. 
The Jadaliyya Iran Page published its inaugural entry in the Dowreh Series, which will invite scholars, intellectuals, and artists to stage conversations from within, adjacent to, and beyond Iranian studies, with an eye to de-nationalizing our discourses and expanding the terrain of our conversations. The first piece in this series features two US-based scholars of transnational feminist studies, Minoo Moallem and Mimi Thi Nguyen.
Middle East Learn and Teach Series: Iraq (56:34)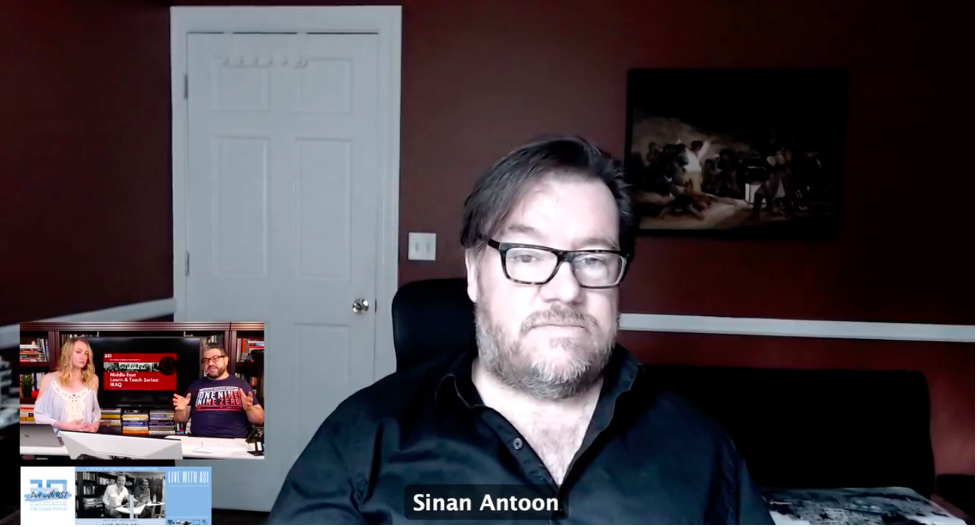 Sinan Antoon speaks with Bassam and MK about the new collection of materials published on the eighteenth anniversary of the US-led invasion of Iraq. He also spoke about the forthcoming online re-release of the 2004 documentary About Baghdad, which he co-directed along with Bassam Haddad, Maya Mikdashi, Suzy Salamy, and Adam Shapiro.
 
Jadaliyya's editors prepared a bouquet of articles, podcasts, live event recordings, and more as part of the Arab Studies Institute's (ASI) Middle East Learn and Teach (MELT) series. The collection contains materials from ASI's various platforms, including Jadaliyya, Status/الوضع, and the Middle East Studies Pedagogy Initiative (MESPI). The collection focuses on materials that reflect on, analyze, and pose questions about the aftermath of the US invasion and occupation of Iraq. This installment in the MELT series was accompanied by a live discussion featuring Sinan Antoon, Carly A. Krakow, Bassam Haddad, and Maya Mikdashi.
Media Segment: Pressing Matter (1:05:36)

Adel and Malihe discuss critical perspectives on contemporary media trends during their monthly recurring segment.

Building on our recurring segment "Beyond Old/New Media," which was hosted by Adel Iskandar, we will be launching Pressing Matter, a new monthly podcast hosted by Adel Iskandar and Malihe Razazan that addresses critical issues in the media. 
Their second episode, titled "The Best Top 10 List Ever: How Online Rankings Eviscerate our Agency," will look at how advertising agencies, marketing firms, and digital content producers have used algorithms and automatons to turn our personal choices into predestined behaviors of consumption. From Amazon to CNN, Teen Vogue to online dictionaries, lists and ranks pervade all the platforms we use and pose a risk to our ability to make informed decisions that affect every aspect of our lives.
We aired the first five minutes of their second episode during the show, and the full episode will be published soon on Jadaliyya and Status/الوضع.
The Catch-Up with Carly A. Krakow (1:12:09)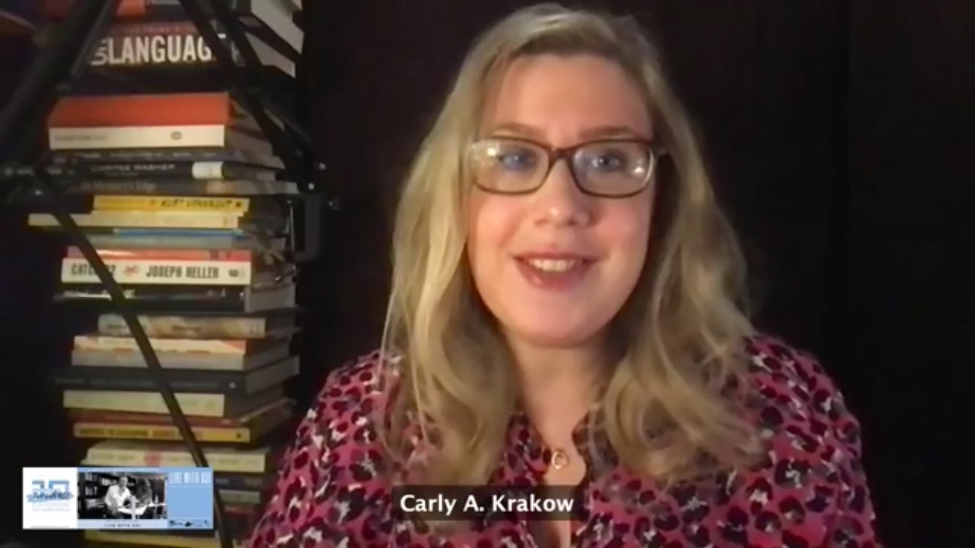 Carly A. Krakow analyzes international current affairs in her recurring segment, "The Catch-Up with Carly A. Krakow." 

In this month's installment of her international current affairs segment, Carly A. Krakow discussed some of the month's major developments in the Middle East and the United States. Starting with a lighthearted discussion of how some media outlets portrayed the Ever Given's 'liberation' from the Suez Canal—the story that launched a thousand memes—Carly then moved to coverage of a new and dangerous voter suppression law in the US state of Georgia. The law criminalizes the distribution of food and water to people waiting in voting lines, and Carly drew parallels with other instances where the right to water has been criminalized in the US, including a case in which volunteers were convicted for leaving water at the US-Mexico border. 
Additional topics Carly covered included the six-year anniversary of the start of the war in Yemen and the weapons supplied to the Saudi-led coalition by the US and UK; the trial of Derek Chauvin, the former Minneapolis police officer charged with the murder of George Floyd; the one-year anniversary of the police killing of Breonna Taylor; and the response to anti-Asian hate and violence throughout the country.
Planning [in] Justice Report (1:22:29)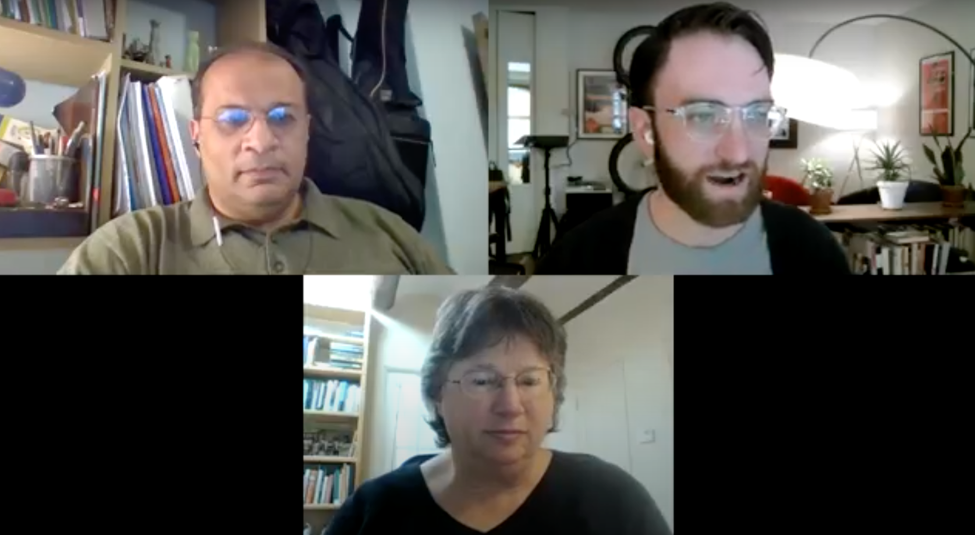 Tadween Managing Editor Jonathan Adler speaks with Diane Singerman and Kareem Ibrahim, Co-Directors of Tadamun.

ASI's publishing house, Tadween, published a report produced by Tadamun: The Cairo Urban Solidarity Initiative titled, "Planning [in] Justice." This project aimed to study inequality in the distribution of public resources among various urban areas, and to highlight the institutional causes that reinforce the current conditions in Egypt.
The project also explores the possibilities for developing urban areas, analyzing the cost and return on public investment in underserved urban areas, and comparing this return with investment in new cities and affluent neighborhoods. 
It is their hope that the Planning [in] Justice project will provide decision makers and the general public with a necessary tool to advocate for, develop, and implement more effective and targeted urban policies and programs.
Pedagogy (1:32:49)

As part of ASI's year-long effort to mark, interrogate, and reflect on the Arab uprisings, our Middle East Studies Pedagogy Initiative (MESPI) team published updated versions of the Essential Readings on Uprisings, Popular Protest, and Resistance by Asef Bayat, as well as the Essential Readings on Revolutions in the Contemporary Middle East by Jack Goldstone. They are both essential resources for anyone interested in the Arab uprisings.
MESPI also published another installment of the Engaging Book series, highlighting Hoopoe's selections of new fictions from the Middle East. 
Grad Student Corner with Cat Haseman (1:33:47)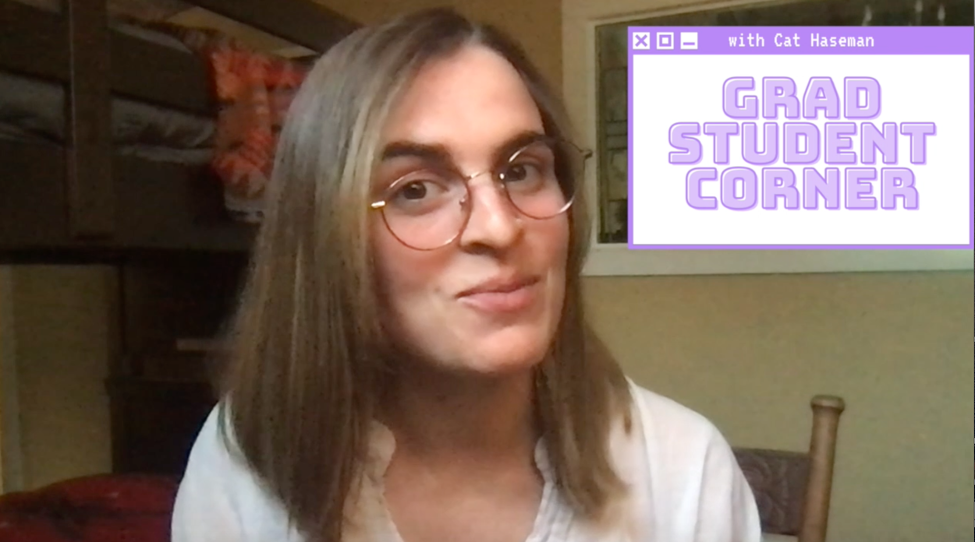 Cat Haseman speaks directly to students during her monthly segment. 


It's spring break for many graduate students, which means there is finally enough time to read all of the articles and essays that have been bookmarked and set aside for weeks. Cat made a Spring Break reading list of three must-read Jadaliyya pieces from the month of March: 
Qaddafi's Libya Has Never Existed by Sanad Tabba
Medical Apartheid in Palestine: The Case of COVID-19 Vaccinations by Mouin Rabbani
Damage Control: The Unbearable Whiteness of Drone Work by Anila Daulatzai and Sahar Ghumkhor
 
As always, keep up with the latest news via Jadaliyya's media roundups:
NEWTON (1:36:27)

NEWTONs (New Texts Out Now) offer exclusive looks and in-depth analysis from scholars about their recent publications. This month seven authors offered up insights into their research motivations and methodologies. 
Must-Reads (1:39:10)

This episode of Live with ASI featured two must-read Jadaliyya articles. First, Amir Mohamed Aziz wrote a piece titled "On Islamophobia, Anti-Terrorism Securitization, and Secularism in France." Aziz describes how long French discourses on secularism and national crises have been used to exploit public sentiments, expand securitization capabilities, and justify neoliberal breaks in welfare provisions.
In order to understand the protest at Boğaziçi University, Istanbul, Ayça Çubukçu, Jadaliyya Turkey Page Co-Editor, interviewed Boğaziçi University faculty members Dr. Seda Altuğ and Dr. Saygun Gökarıksel. The second must-read piece from this episode is titled "An Interview with Boğaziçi University Faculty on Contemporary Protests" and covers the popular protest movement in Turkey, gaining support from other universities, student bodies, and oppositional groups.
Other Jadaliyya Must-Reads from this month that were not mentioned in the broadcast include: