George Awde, Solo Show at the Korn Gallery, Curated by Rebecca Soderholm, September 7 – October 14
George Awde's first US solo exhibition offered an arresting and intimate look at the production of masculinity and kinship at the interstices between Syria and Lebanon. Awde, an American-born artist of Lebanese descent, is a photographer and educator who works in the US and Beirut. He received his BFA in painting from Massachusetts College of Art in 2004, and in 2009 he received his MFA from Yale University in photography. His work has been exhibited internationally.
In this exhibition, Awde offers viewers painstakingly detailed photographs rich with quiet emotion that implicate the complex relationship between the body and labor migration in Lebanon.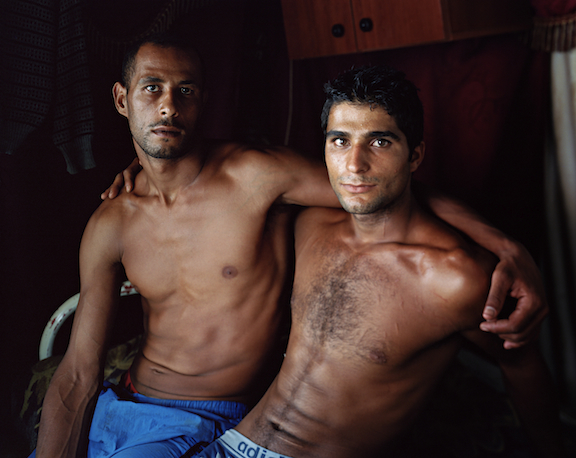 [Untitled, Beirut 2010, by George Awde. Image via the author.]
The history of labor migration between Syria and Lebanon reaches back to the 1950s and 1960s, and is redolent with coercive tactics that marginalize laboring bodies within low skill service work. Rather than simply depicting this dichotomy between privileged and laboring classes, attempting to recuperate the nobility of laboring bodies, or relying on an often-exploitative strategy to feature the laboring bodies in the act or setting of their work, Awde's exhibition highlights their quiet and oft unexceptional pathos. In doing so, he showcases the intimacy shared amongst these men to offer a poetic reflection on community.
Shot on a large format camera, the prints range from 24 x 30 inches to 30 x 40 inches, an exceptional scale that carefully depicts deep pathos, even when no bodies are evident. In such images as Untitled, Qamishli 2010 and Untitled, Qamishli 2009, the emotional register of these photographs lies expressly in their stark depiction of absence. Untitled, Qamishli 2009 offers us its subject's ghostly presence through an ornate vanity mirror reflecting windows and sky, adorned with an evil eye. Hanging alongside this charm are bottles of some undistinguished personal care (possibly hair) products and a towel. The photograph casts the viewer as a guest within this intimate shrine to personal care, and the light reflected against the wall offers the viewer a moment of spiritual communion with these household objects, offering them presence and prestige.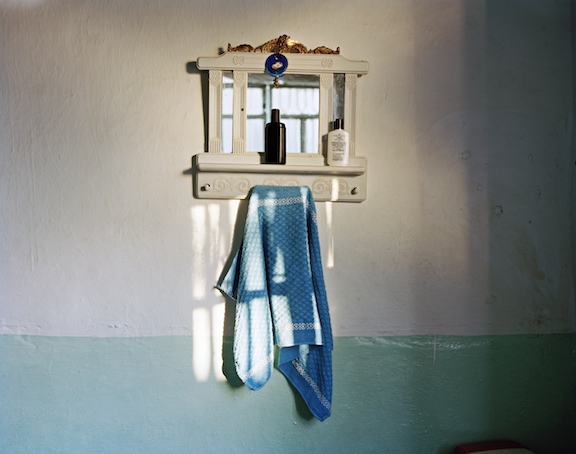 [Untitled, Qamishli 2010, by George Awde. Image via the author.]
The photograph typifies the exhibition's invitation to look closely and carefully at its subjects. In Untitled, Qamishli 2009, the viewer is situated at a disorienting distance from the mirror; unable to locate ourselves or the absent body in the mirror's reflection, we are not far enough away to render the subject matter inconsequential, but not close enough to discern their details, or to feel an intimate connection to the material objects. We are privileged onlookers, unable to touch a group of everyday objects steeped with reverence.
Untitled, Qamishli 2010 is another photograph that depicts absence. The warm and diffuse light cast by a setting sun over a set of encampments offers a welcoming glow for a gravesite left unmarked save for two cinder blocks at the head and foot. This light stands in stark contrast to the cool and alienating sensibility engendered by Untitled, Qamishli 2009, where the boundaries of intimacy are strikingly demarcated and the viewer is locked tightly into a single frame.
Untitled, Qamishli 2010 portrays the burial site with intense gravitas and a sincere empathy for the life lost. The setting is epic in scale, and extends endlessly towards an inviting light that emerges from the horizon. The desert shrubbery glows with a positively efflorescent charge that adds to the uncanny story of death expressed by the setting. Here, the absence of a body due to death extends the melancholy pathos toward a rite of mourning. The setting, a small village in North-Eastern Syria that borders Turkey and Iraq in the district of Qamishli, is the gravesite of the photographer's friend. Capturing it in this way offers viewers a way to pay tribute to lives lost and often forgotten. These photographs engender a palpable yearning, a sense of significance that vibrates with a desire to know their subjects through an invitation to feel.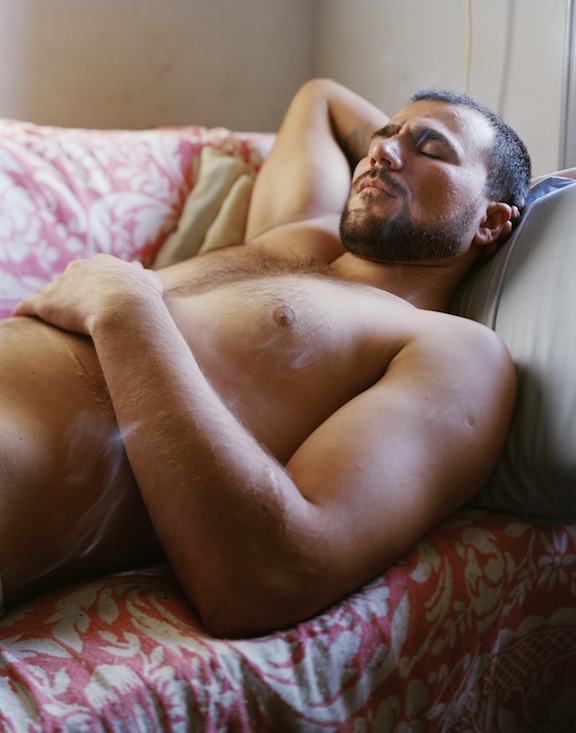 [Untitled, Beirut 2009, by George Awde. Image via the author.]
In Untitled, Beirut 2009, delicate wisps of cigarette smoke frame a scar that wraps itself around a young man's torso. This portrait reflects a careful and nuanced depiction of male social spaces and male intimacy, contending with notions of masculinity through the interplay between bodies and viewer. In Untitled, Beirut 2010, the promise of physical intimacy gestured toward in Untitled, Beirut 2009 comes to fruition in a lush and intimate portrait of two young men. Here the men stare directly into the camera, and make direct contact with the viewer, their torsos laid bare save for the marks of veins, hair, and errant scars scattered across their bodies. This direct address thwarts any attempts to mount sexuality onto these men, or to presume a fixed subjectivity. Rather than align with pornographic renderings of the brown male body, these portraits assert the men's physical, embodied presence in a particular time and place.
The title of each work cites the time and place of each photograph, aligning the work's valence along the geographical rootedness of its subject. The constant toggling between date and location—between Beirut and Qamishli—conveys a sense of movement and invites viewers to consider the possibility of an alternate paradigm for these men's lives, one that exists beyond the foreclosed and coercive status of migrant workers. Instead, the portraits explore the personal lives and relationships of men who inhabit these pathways of labor. Each portrait is charged with an excess of energy and affective connections amongst the subject, the photographer, and the privileged viewer.
This exhibition weaves together intimate portraits of men whose stories are often rendered marginal and inconsequential. Here Awde invites viewers into highly charged environments in which these stories beg to be told.