Whole neighbourhoods in Syria's Eastern Ghouta region outside Damascus have been flattened and thousands of families displaced, amid a government assault to retake it from rebels.
Daily "humanitarian pauses" - ordered by the government's ally, Russia - have failed to stop the bloodshed in the enclave, where hospitals, schools and shops have been pounded by air and artillery strikes.
The population is living in "hell on earth", UN Secretary-General António Guterres has said.
In one district, 93% of buildings had been damaged or destroyed by December, according to UN satellite imagery analysis. A recent wave of bombings has caused further destruction.
Western districts were already devastated by December


Source: Damage assessment by UNITAR-UNOSAT and map boundaries by the REACH Initiative. Satellite image Google/DigitalGlobe. Damage assessments cover the densely-populated western districts of the Eastern Ghouta to December 2017.


Bombing in January and February caused further damage
Source: Damage assessment by UNITAR-UNOSAT and map boundaries by the REACH Initiative. Satellite image Google/DigitalGlobe. Map shows rapidly-assessed damage between 3 December 2017 and 23 February 2018.

The agricultural region, home to almost 400,000 people, is the last major rebel stronghold near the capital.
The enclave - the size of Manchester in the UK - has been besieged since 2013, but the humanitarian situation has worsened significantly since hostilities between government and rebel forces escalated last November.
See how Jobar has been destroyed since 2013


February 2018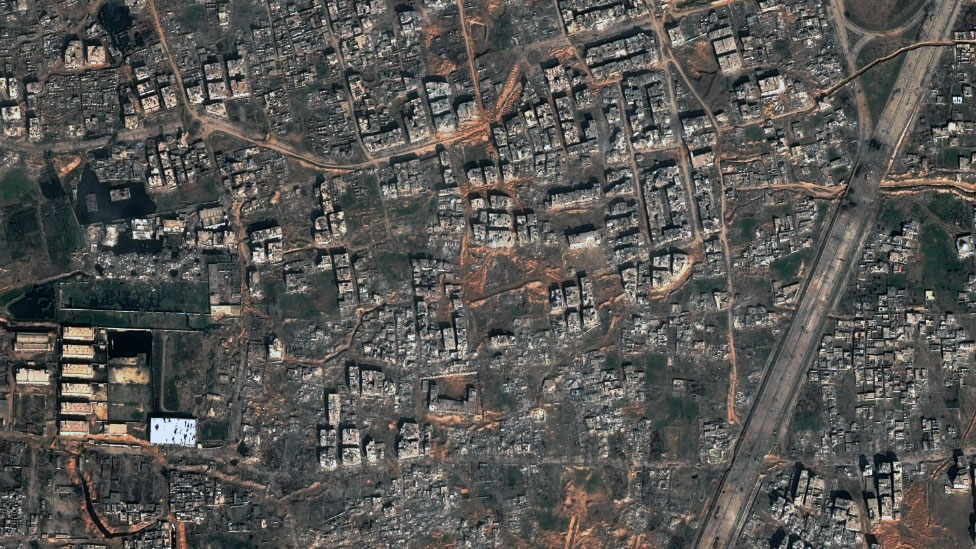 August 2013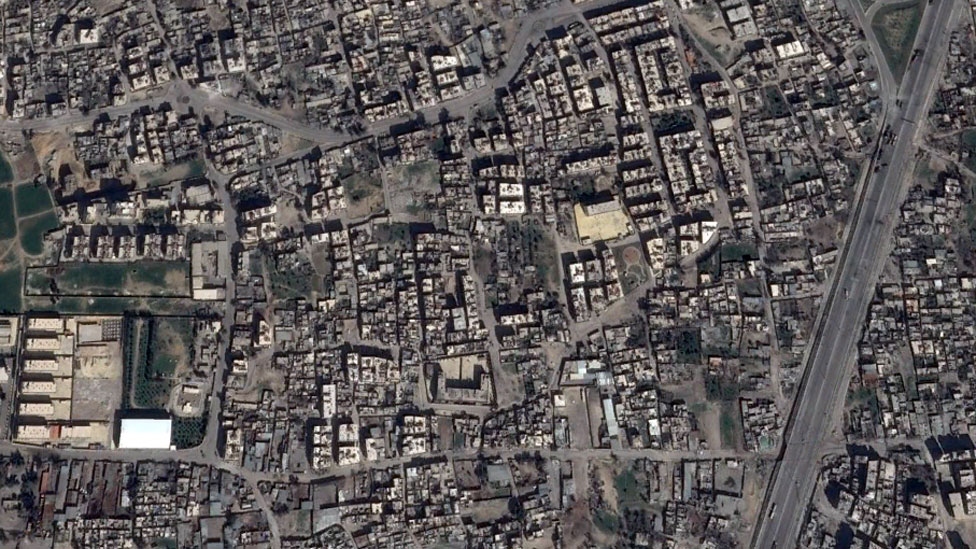 The most recent wave of bombings has been among the fiercest of the Syrian war, now entering its eighth year. The UN says more than 580 people are reported to have been killed since 18 February.
Essential civilian infrastructure and services have been hit. Satellite imagery analysis by McKenzie Intelligence Services suggests a water tower in the Harasta neighbourhood was among the sites targeted.
Damage to water tower, Harasta, Eastern Ghouta

Both sides have accused each other of continuing attacks during the five-hour "pauses" that began on 27 February.
So far, no civilians have used the "humanitarian corridor" designated by Russia to leave the Eastern Ghouta. UN agencies and their partners have meanwhile said it has been impossible to deliver urgently needed humanitarian supplies under the circumstances.
A doctor working in the area described the situation as "catastrophic", with civilians left with no food, no medicine and no shelter.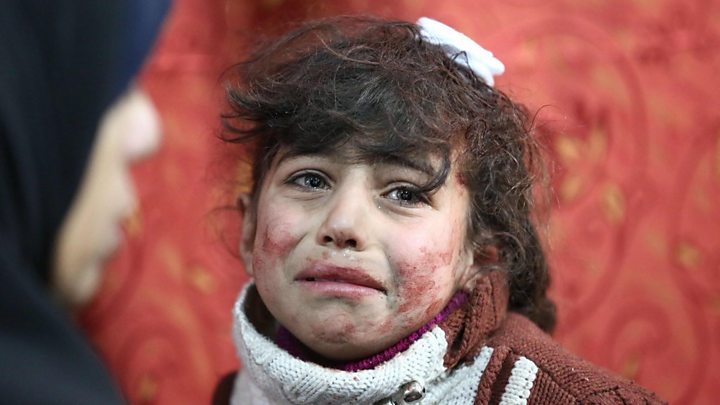 The UN says hospitals, clinics and ambulances have also come under attack.
In the more densely-populated western parts of the Eastern Ghouta, analysis carried out by the UN in December had already identified approximately 3,853 destroyed buildings, 5,141 severely damaged buildings and 3,547 moderately damaged buildings.
Jobar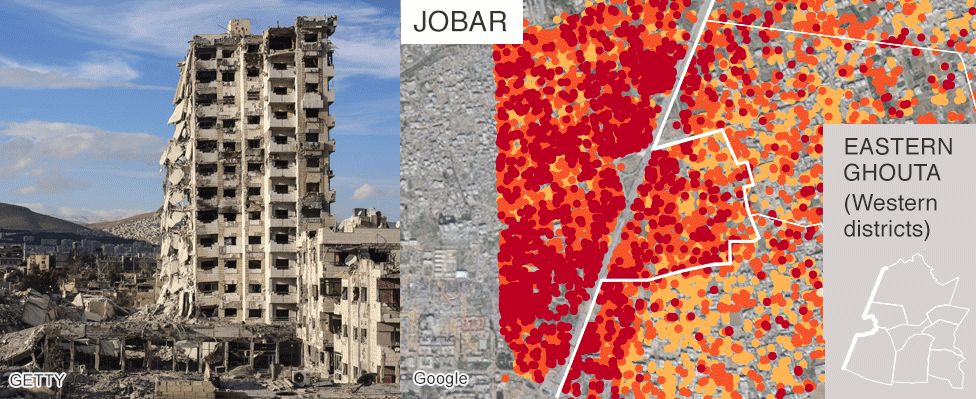 Jobar has suffered the worst damage in areas so far assessed. Some 93% of the buildings had been damaged or destroyed by December.
It was an active frontline for many months and the civilian population has fled. Only armed groups remain.
Neighbouring Ein Tarma, which became home to many of those who fled Jobar, was the focus of a government offensive in June 2017.
A sharp increase in shelling and air strikes forced Ein Tarma's residents and displaced families to flee to other areas of the Eastern Ghouta.
A total of 71% of the area's buildings had been damaged or destroyed by December. More than 75% of the pre-conflict civilian population has fled.
Zamalka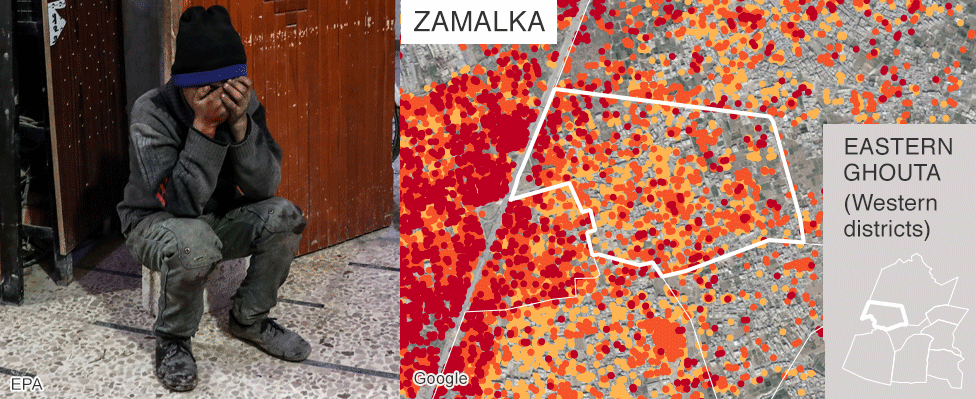 Zamalka has the third highest rate of damage in the Eastern Ghouta area assessed by the UN. Some 59% of buildings had been damaged or destroyed by December.
There has been no water or electricity supply for at least two years, and more than 75% of the pre-conflict civilian population has fled.
The intensified bombardment in February saw the area suffer further loss of life and damage levels are certain to have risen beyond those of December.
Hamouria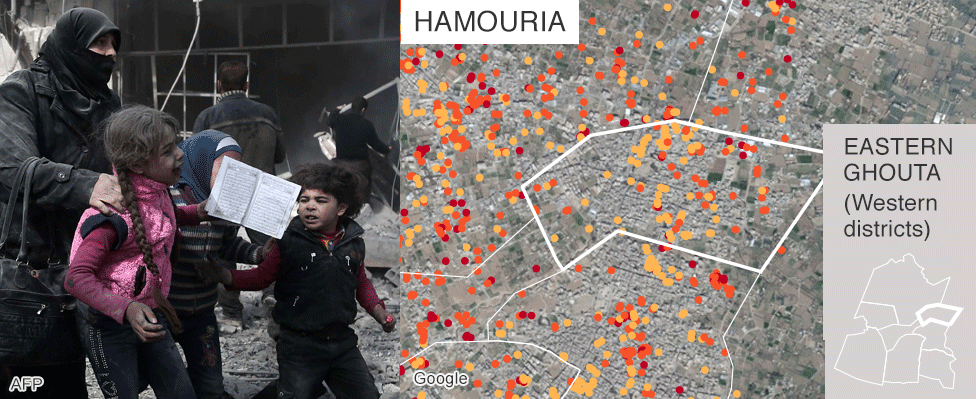 Due to Hamouria's more central location within the Eastern Ghouta, the amount of damage assessed in December was lower than other areas. Some 11% of buildings had been damaged or destroyed.
However, the area has come under repeated attack during the latest round of bombardment.
Video footage obtained by Reuters showed wreckage at the Al-Shifa hospital, which staff said had been hit by air and artillery strikes.
"The clinics department is out of service, the clinical care unit is out, the surgery unit is out, the incubator unit is out, the paediatric section is out, all of the departments of the hospital are completely out of service," a man identified as a medical worker said.
Much of Hamouria's population has fled and and almost half of the current residents are from elsewhere. Water and electricity have been unavailable since June 2016.
Saqba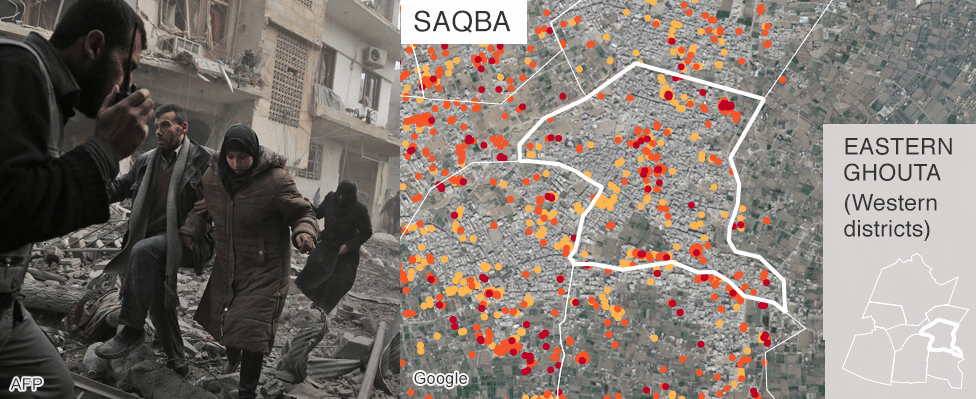 Saqba, which has avoided the high levels of destruction suffered by neighbouring areas, has also come under sustained attack in February and March.
By December, 27% of its buildings had been either damaged or destroyed. That figure is likely to have increased.
More than half the population is made up of people who have fled other areas.
Water and electricity are unavailable.
Kafr Batna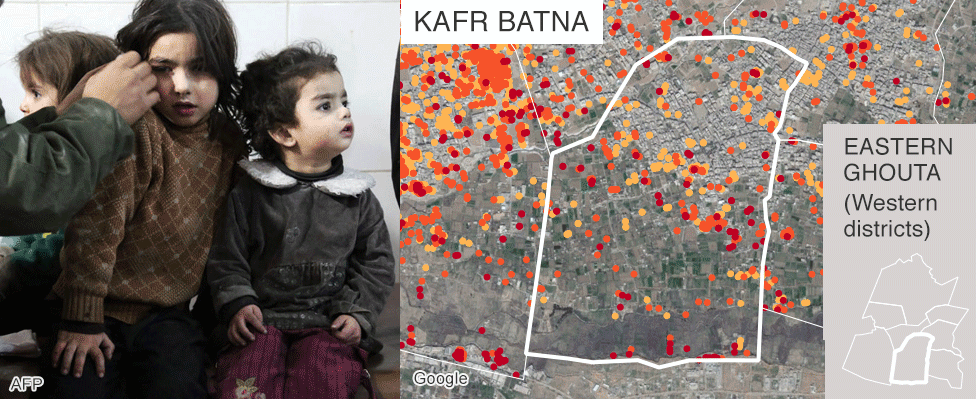 Kafr Batna, where 21% of buildings had been damaged or destroyed by December, has been attacked again by government warplanes in the latest round of bombings.
A number of people have been killed.
Douma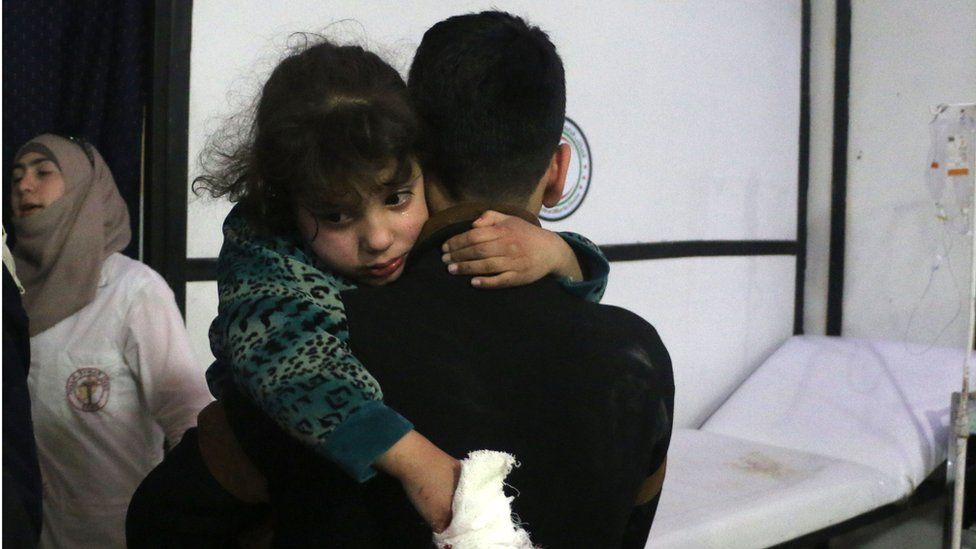 Image copyright
AFP
Douma - the biggest town in the district - was not included in the UN's damage assessments in December. However, it has been hit badly in the latest round of air and artillery strikes.
Basema Abdullah, a widow huddled in a basement with her four children, told Reuters: "We are in desperate need for your prayers."
Douma is the largest town in Eastern Ghouta



Satellite imagery of Al-Biruni University Hospital, near Douma, appears to show a roadblock on a nearby highway.
McKenzie Intelligence Services analysts say it suggests the hospital is only accessible by areas still loyal to the government.
Roadblock at Al-Biruni University Hospital, near Douma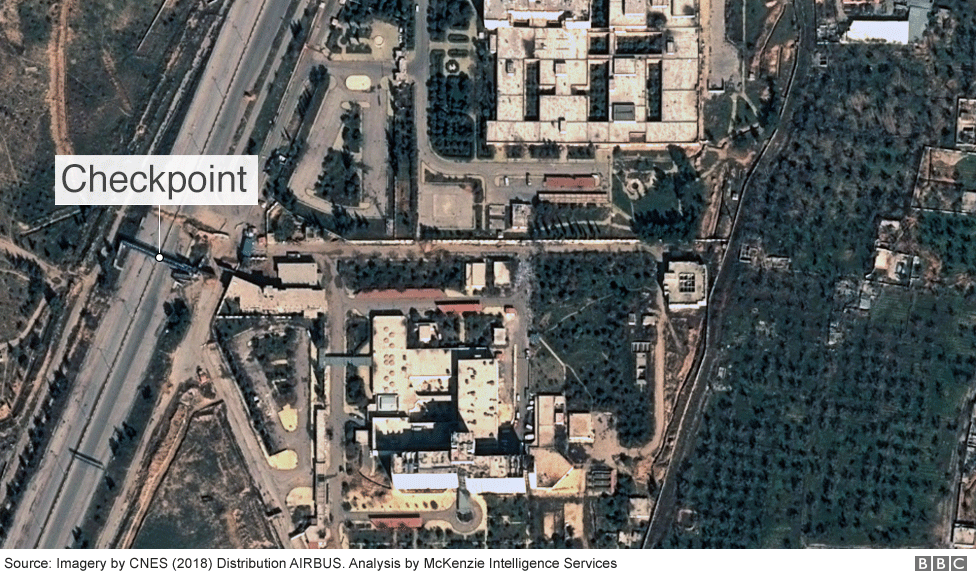 Satellite images also show a trench network has been constructed in Harasta, south-west of Douma, next to a military barracks.
Analysts say the trenches are likely occupied by rebel fighters, given their location, and would allow them to move around the area without being hit by shrapnel and out of the sight of observers who could call in artillery or air strikes.
Networks of trenches can be seen in residential areas


February 2018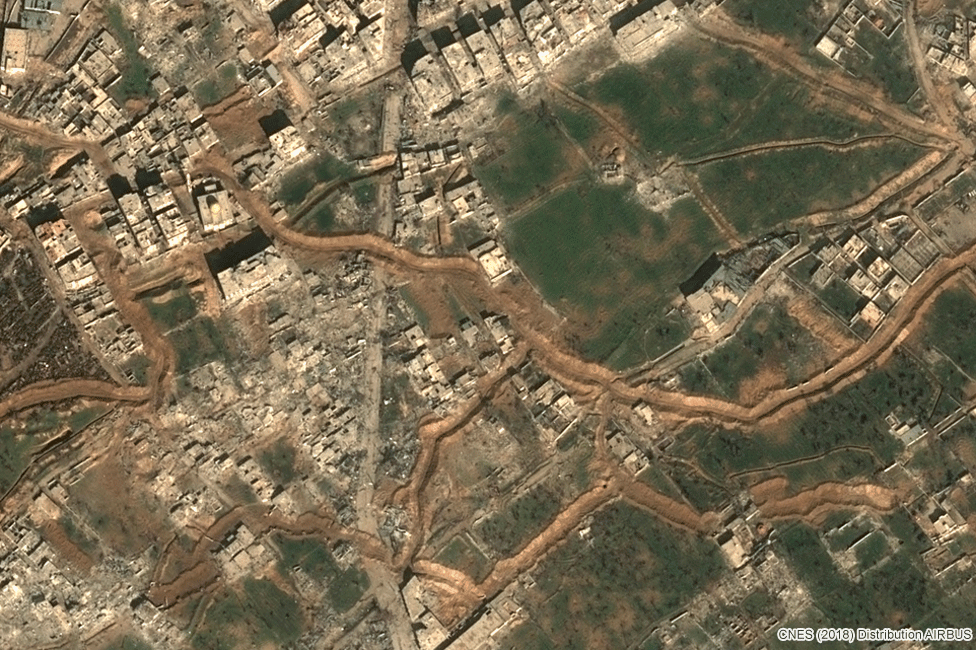 December 2014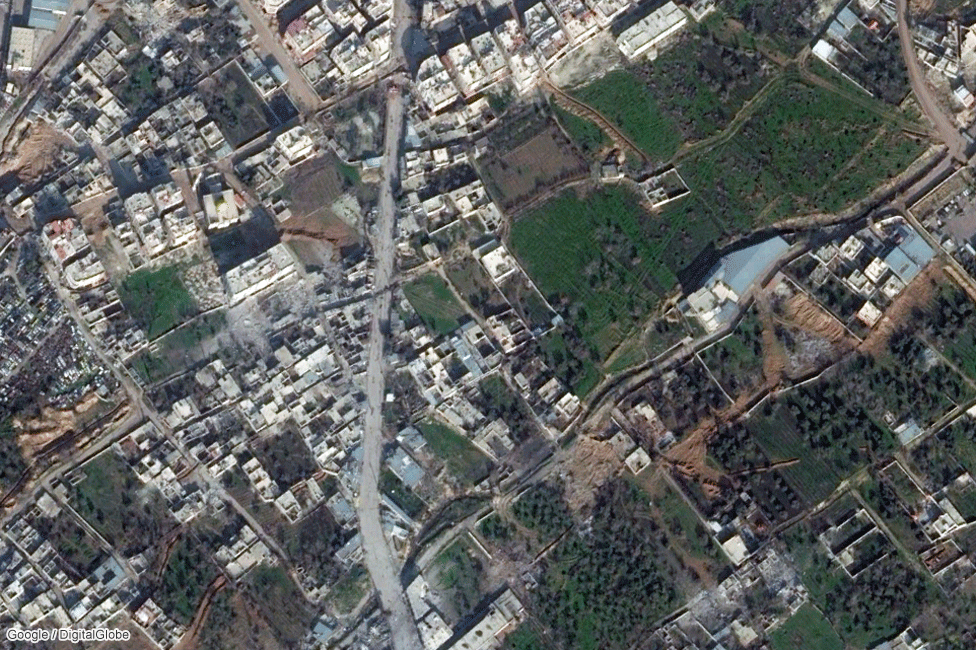 Humanitarian crisis


Aid workers have described how thousands of families are now living in underground basements and shelters - many without water, sanitation or ventilation systems, making children vulnerable to the spread of disease.
The government has allowed one humanitarian convoy into the Eastern Ghouta since late November, and there are severe shortages of food and extremely inflated prices.
A bundle of bread cost close to 22 times the national average, and 11.9% of children under five years old are acutely malnourished - the highest rate recorded in Syria since the beginning of the war.
Residents have described going days without eating, consuming non-edible plants, or reducing the size of their meals due to a lack of access to food.
The Syrian government has denied targeting civilians and insisted it is trying to liberate the Eastern Ghouta from "terrorists" - a term it has used to describe both jihadist militants and the mainstream rebel groups that dominate the enclave. 
[This report was originally published on the BBC.]