We know that if a Palestinian political prisoner contracts the coronavirus, Israel will not remove a respirator from an Israeli mouth and put it in our mouth, it will not remove an Israeli out of a bed to provide it to us. It will not provide the required medical care as it does not provide it under normal circumstances, and we know they will not deal with us as a second or third class but as the last class.
— Mahmoud, a twenty-five-year-old Palestinian from Nablus now confined to Israel's Nafha Prison.
The Israeli Prison System (IPS) recently released 500 of its citizens from prisons in an effort to curb the spread of the novel coronavirus—and that number was expected to increase to about 400. Yet at the same time, Israeli authorities are imprisoning nearly 5,000 Palestinians in harsh and unsanitary conditions—including 43 women, 183 minors (20 under the age of 16) and 700 with pre-existing medical conditions. (In fact, that number has continued to grow, even after the pandemic became apparent. Since March, Israeli forces have arrested 357 Palestinians, including 48 children and four women). 
The IPS has made no move to do the same for Palestinian prisoners in Israeli jails, however. This, despite the call of  UN High Commissioner for Human Rights Michelle Bachelet to release "every person detained without sufficient legal basis, including political prisoners, and those detained for critical, dissenting views." All of the Palestinian prisoners were arrested for committing acts in the course of resisting the Israeli occupation, and currently 432 of them are being held without charge.
Infection of Palestinian Prisoners

Palestinian prisoners are far more likely to contract COVID-19 than the general Palestinian population, even those living in dense refugee camps. They live with pervasive medical negligence, overcrowding, improper ventilation, lack of access to sanitation supplies, and poor nutrition. These conditions compound the dangers posed by the prisoners' high rates of untreated chronic disease, making Israeli prisons breeding grounds for COVID-19.
"Over the past month, Israel has released hundreds of Israeli prisoners as a preventive and protective step. It has not applied similar measures to Palestinian prisoners. This indicates discriminatory treatment towards Palestinians prisoners—which would be a violation of international law," say a group of UN human rights experts.
In contrast, Defense for Children International reports that the number of Palestinian children detained in Israeli prisons and detention centers has increased six percent since January, despite the coronavirus pandemic and widespread calls to decrease the number of people in detention. 
"Israeli authorities must release all Palestinian child prisoners immediately," said Ayed Abu Eqtaish, accountability program director at DCIP. "The fact that Israeli forces continue to detain Palestinian children and hold the overwhelming majority in pretrial detention is unconscionable given the increased risk presented by COVID-19 to people deprived of their liberty."
Instead, opposite practices are reported: Since March, 357 Palestinians from various cities and villages in the West Bank, including Bethlehem—the epicenter of COVID-19 in the Palestinian territories—were arrested. Among them was Nour al-Din Sarsour, who was interrogated in the Ma'bar Ofer center, then released 31 March. The next day, he tested positive for the coronavirus, triggering raised fear and confusion among the families of the prisoners. The prisoners demanded that the investigators and others with whom they had been in contact be tested, and that their contact with staff be reduced—such as by conducting resident counts via camera. However, the IPS merely isolated several prisoners who had been in contact with Sarsour and restricted their movement between prison facilities—thus preventing visits to medical clinics and hospitals that had been scheduled long ago extended waits. Although the prison administration did promise to test the prisoners, they only conducted temperature checks.
Another case in point: The arbitrary detention of Mohamed Hasan, twenty-one, a student from Birzeit University, was extended by eight days even after he was diagnosed with COVID-19. He is being held by the Israelis at a detention center in Jerusalem. Palestinian officials warn that Hasan may put hundreds of other Palestinian prisoners in Israeli jails at risk of contracting the virus.

Likewise, The Palestinian Prisoners' Society (PPS), an organisation advocating for Palestinians imprisoned by Israel, said on Thursday that four Palestinian prisoners in Megiddo Sections 5, 6, and 10 were confirmed to have contracted the virus through one Israeli investigator.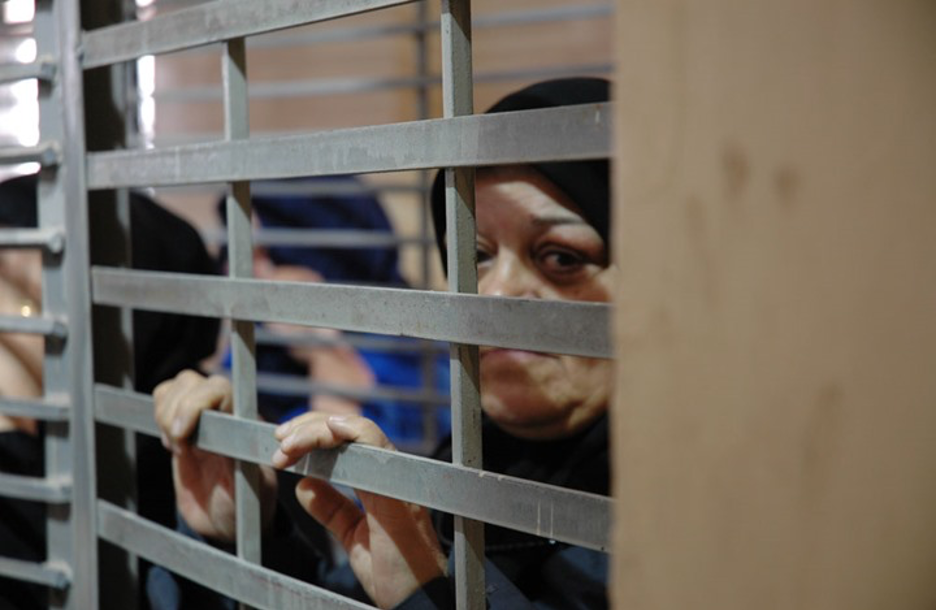 Prison Conditions

The Israeli Prison Service recently removed 140 essential items, including food, cleaning products, and sterilization supplies from the canteen from which Palestinian prisoners must purchase basic items. What remains are expensive products that cost far more than they would on the "outside." Meanwhile, the IPS also put a stop to the money paid by the Palestinian National Authority for the prisoners, making it more difficult for them to afford even essential supplies. Contrast this with the way Israelis treat their own prisoners: The IPS has added hundreds of shekels to the accounts of Israeli prisoners and gave them an additional payment of two hundred shekels during the Jewish Passover holiday.
Medical clinics in Israeli prisons and detention centers offer only minimal health services; reports from inside indicate that the ill are given only the painkiller paracetamol, no matter what the disease. When detainees' illness becomes severe enough to force transfer to a hospital, their hands and feet are shackled.
Consider this personal testimony from a twenty-five-year-old prisoner named Mahmoud, collected by the Palestine Liberation Organization, which has been edited for brevity:
In this notoriously old section [of the Nafha Prison] where I stay, there more than seven sick and elderly prisoners. We manage our daily life with great care after the prison authority stopped supplying over 140 items of basic foodstuffs and cleaning supplies that we desperately need. They first withdrew the chlorine [sanitizer], but they returned it when we protested. The prices of these items in the cantina are double the market prices, and we know that the prison authority and the Dadash company [that markets the items] are stealing our money by raising the prices and profiting from our presence in prison.
The [prison staff] take safety precautions to protect themselves by using sterilizers and wearing face masks and gloves without providing any of that to us. We are aware that we might sooner or later contract the virus, especially after we heard that the deputy director of Ofer Prison has been infected with the virus. Therefore, we depend on ourselves and have taken protective measures by using hot water, soap, and chlorine, to sterilize the rooms, sections, and even the food that we get from the cantina.
We know that if a Palestinian political prisoner contracts the virus, Israel will not remove a respirator from an Israeli mouth and put it in our mouth, it will not remove an Israeli out of a bed to provide it to us. It will not provide the required medical care as it does not provide it under normal circumstances, and we know that they will not deal with us as a second or third class but as the last class.
Connections to the Outside

Since the initial spread of the virus in Bethlehem last month, Israel has cancelled all family visits, along with restricting those by lawyers. Most trials have been adjourned. No alternative means, such as video calls, for staying connected to loved ones are possible—making it difficult for those on the outside to monitor violations. The only lifeline is mobile phones occasionally smuggled in.
Mahmoud, the prisoner quoted above, says: "For the first time since our arrest, we feel that we are the ones who need to check on our family and friends, and not the other way around. Under such conditions, it is the most basic human right to check on how they are doing given the limitations in movement and the infection of many citizens [in the West Bank, where he lives]. It is also their right to make sure we are fine."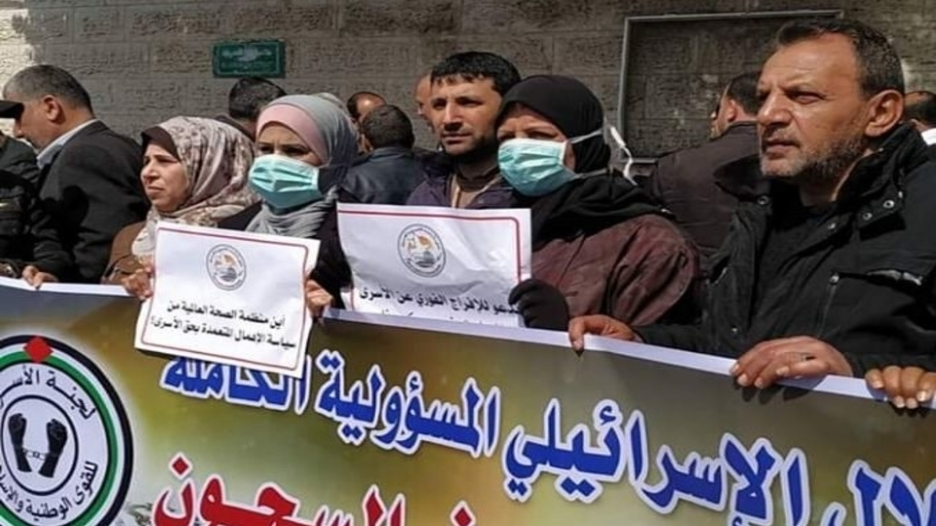 How to Protest?

There are no legal ways for these prisoners and their families to protest. In desperation, Ayman Al-Sharabati set fire to an observation rooms in Nafha Prison. In the Negev prison, detainees refused meals. The response is more abuse and isolation. However, a week later, the IPS approved some of the prisoners' demands for preventive measures. However, their greatest hope is a prisoner exchange with Israel, which is anxious to retrieve four of its soldiers taken captive by the Palestinian resistance. Every one of the nearly five thousand Palestinians held behind Israeli bars is now thinking every night of the list of names being put together: "Will my name be on it?" 
What's Next?
The Israeli government clearly operates according to a double standard: one for its own Jewish citizens, which respects international human rights standards and civil freedoms, and another for the Palestinians it imprisons and occupies. This fact is not new; it has been evident since 1948, when Israel was created on Palestinian land without our participation. Today, as then, Palestinians are criminalized and dehumanized, even blamed for being "antagonistic" when we try every means at our disposal to restore our fundamental human rights. In contrast, Israel is slapped on the wrist and protected by the US government from anything more punitive.
This, then, is the question: What remains for Palestinians to do? How will we ever win some relief for our people imprisoned for resisting? It seems that the only way to force the Israeli government to the negotiating table is to capture Israeli soldiers, either when they invade or when we can manage to steal across the border. If the so-called "international community" (read: the United States, since it controls the UN Security Council) does not want us to resort to such tactics, it must, for once, compel Israeli authorities to respect their obligations under international human rights and humanitarian law. That means, at the very least, bringing all available pressure to bear to end the blockade of Gaza and block Israel's announced intention to annex most of the West Bank. Governments and international bodies must endorse a full investigation of Israel's violations of human rights by the International Criminal Court.
Meanwhile, Palestinians also must look inward at our own tactics. If the people cannot force their political leaders to unify, what can civil society do on its own? Nonviolent resistance, particularly the international movement calling for boycotts, divestments and sanctions (BDS), was one of the most prominent tactics that helped bring an end to the apartheid regime in South Africa. And BDS is gaining steam for the Palestinian cause as well. However, we need to do more. One avenue we have not yet fully exploited is mobilizing with other movements of peoples who are similarly oppressed—the populations, for example, of Western Sahara and Kashmir. And the blacks and natives of America, Uighurs of China and Rohingya in Myanmar. After all, what Palestinians want is universal.
[This article is part of a collaborative initiative between We Are Not Numbers and Jadaliyya and may appear on both websites.]