The Arab Studies Institute is pleased to showcase the below selection of panels, roundtables, and presentations from the 2023 Annual Meeting of the Middle East Studies Association (MESA), being held from 2-5 November. The list contains panels organized by, or those featuring as presenters, discussants, and chairs, members of the Arab Studies Institute and its various projects.
Please note that as per MESA rules, audience members must be registered for the conference. This year, MESA has a sliding scale for conference registration for existing MESA members (which they can self-select options).
Join us for our reception on Thursday (4 November) at 6:30 PM. Under the current circumstances the reception will also be a space to converse and be in solidarity.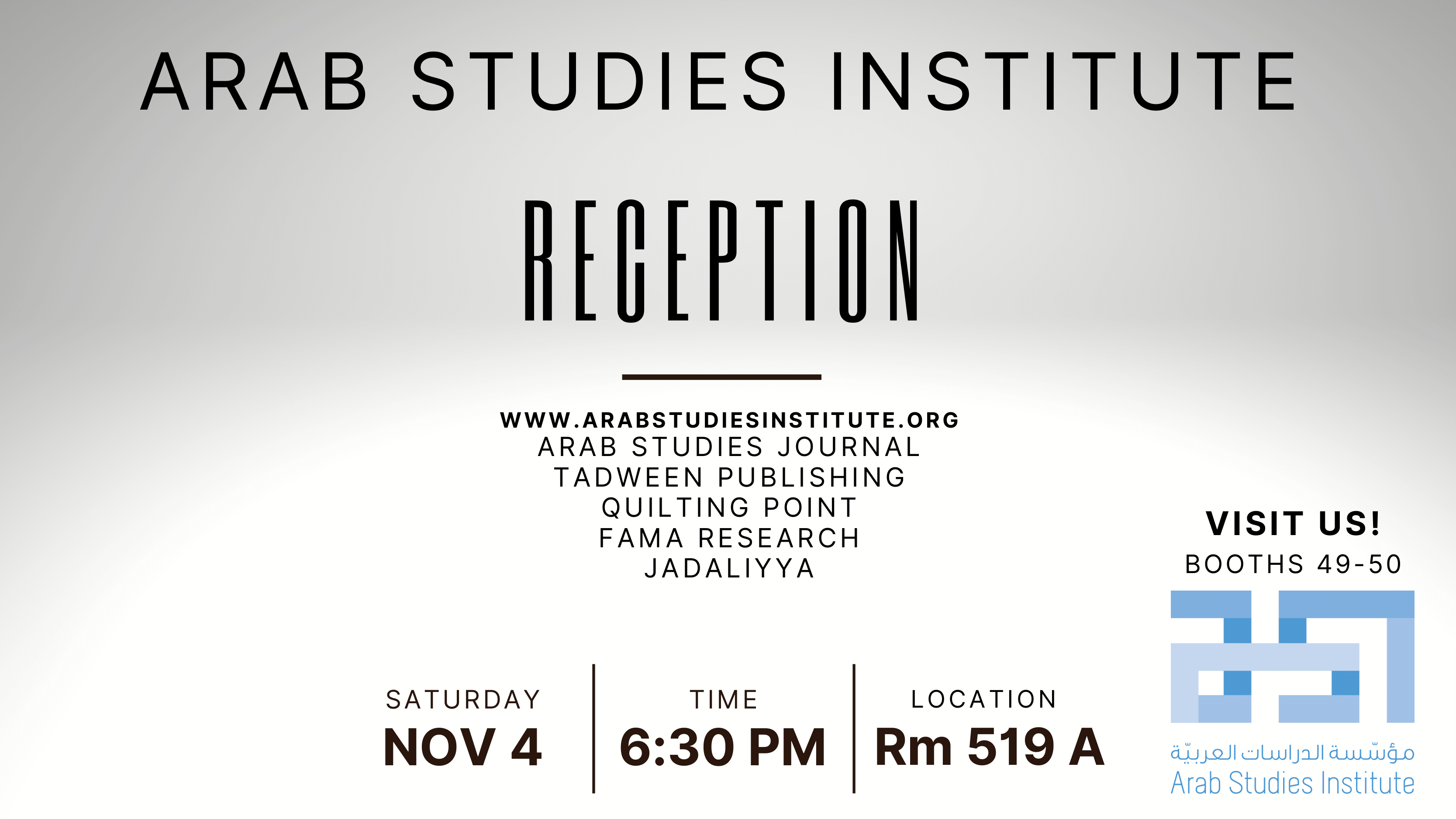 The Sisi Regime and the Limits of Authoritarian Upgrading in Egypt
Thursday, 2 November at 3:00 PM 

Prof. Joel Beinin -- Discussant, Chair
Dr. Dina Shehata -- Organizer, Presenter
Dr. Erin Snider -- Presenter
Dr. Hesham Sallam -- Organizer, Presenter
Dr. Adel Iskandar -- Presenter
Alternative Sovereignties
Friday, 3 November at 8:30 AM

Dr. Asli Bali -- Presenter, Discussant
Mr. Omar Shehabi -- Organizer, Presenter
Lily Hindy -- Presenter
Kian Tajbakhsh -- Presenter
Lebanese Studies: Current Stakes, Future Possibilities, and Ethical Commitments
Friday, 3 November at 11:00 AM

Dr. Nadya J. Sbaiti -- Presenter
Dr. Ziad M. Abu-Rish -- Presenter
Dr. Andrew Arsan -- Organizer, Presenter, Chair
Dr. Owain Lawson -- Presenter
Dr. Diala Lteif -- Presenter
Munira Khayyat -- Presenter
Collaborative Field Building in Amazigh/Berber Studies: Academia and Community in North Africa
Friday, 3 November at 11:00 AM
Courts and Constitutional Law in MENA
Friday, 3 November at 11:00 am 
Unearthing Capitalism: Social-Environmental Histories of Resource Extraction and Resistance
Friday, 3 November at 1:30 PM

Dr. Brahim El Guabli -- Presenter
Dr. Rebecca Gruskin -- Organizer, Presenter
Dr. Mattin Biglari -- Discussant
Deren Ertas -- Organizer, Presenter, Chair
Mark Drury -- Presenter
Multi-Dimensional Threats to Academic Freedom
Friday, 3 November at 1:30 PM
Unwinding Empires: Crisis Management and Fantasies of Power in the Late Colonial Middle East
Friday, 3 November at 1:30 PM

Prof. Michael Provence -- Presenter
Elizabeth Williams -- Presenter
Dr. Sara Pursley -- Discussant, Chair
Dr. Aaron G. Jakes -- Presenter
Charles Anderson -- Organizer, Presenter
US-Gulf Cultures of Empire
Friday, 3 November at 1:30 PM
Rethinking Turkey: Politics of Method and Analysis of the Republic's First Century
Friday, 3 November at 1:30 PM

Dr. Asli Z. Igsiz -- Organizer, Presenter
Dr. Gunes Murat Tezcur -- Presenter, Co-Author
Ms. Evren Savcı -- Presenter
Dr. Banu Bargu -- Presenter
Dr. Nilay Ozok Gundogan -- Discussant, Chair
Serra Hakyemez -- Presenter
Roundtable on Gender, Nation, Emigration and the State: A Tribute to Laurie Brand
Friday, 3 November at 4:00 PM

Prof. Zachary Lockman -- Presenter
Dr. Mark A. Tessler -- Presenter
Dr. Beth Baron -- Presenter
Dr. Miriam R. Lowi -- Organizer, Chair
Dr. Asli Z. Igsiz -- Presenter
Dr. Nadejda Marinova -- Presenter
Dr. Hania Abou Al-Shamat -- Presenter
Youssef Chouhoud -- Presenter
Gender Studies and Feminism at MESA: Taking Stock of the Field
Friday, 3 November at 4:00 PM
New Directions in the History and Politics of Labor in Lebanon
Saturday, 4 November at 8:30 AM 

Dr. Ziad M. Abu-Rish -- Discussant, Chair
Mr. Zachary Cuyler -- Organizer, Presenter
Anna Reumert -- Presenter
Samuel Dinger -- Presenter
China Sajadian -- Presenter
Beyond Case Study and Exception: the Middle East and North Africa
Saturday, 4 November at 8:30 AM

Dr. Sherene Seikaly -- Organizer, Presenter
Ms. Muriam Haleh Davis -- Presenter
Tareq Radi -- Presenter
Julia Elyachar -- Presenter
The Law Is the Law, Sometimes: Interdisciplinary and Transnational Approaches to Legal Studies in and on the Middle East
Saturday, 4 November at 8:30 AM 

Dr. Lisa Hajjar -- Presenter
Dr. Asli Bali -- Organizer, Chair
Dr. Maya Mikdashi -- Organizer, Presenter
Ms. Noura Erakat -- Presenter
SWANA Contributions to Feminist Theory
Saturday, 4 November at 11:00 AM

Dr. Nadya J. Sbaiti -- Presenter
Dr. Maryam Griffin -- Presenter
Dr. Nova Robinson -- Organizer, Presenter
Dr. Susanna Ferguson -- Presenter
Dr. Sara Rahnama -- Discussant
Mr. Alborz Ghandehari -- Presenter
Dr. Kara A. Peruccio -- Presenter
Lila Sharif -- Presenter
Geographies of Domination and Dispossession in Palestine
Saturday, 4 November at 11:00 AM

Dr. Kimberly B. Katz -- Presenter
Dr. Jasmin Habib -- Chair
Mekarem Eljamal -- Presenter
Mr. Atwa Jaber -- Presenter
Yair Agmon -- Presenter
Chloé Chbat -- Presenter
Threats to Academic Freedom in the Middle East
Saturday, 4 November at 3:00 PM
Alt-Ac and Graduate School: A Conversation about Bringing Alt-Ac into the Graduate School Experience
Sunday, 5 November at 8:30 AM

Mekarem Eljamal -- Presenter
Ms. Kylie Broderick -- Organizer, Presenter
John Jamil Kallas -- Presenter
Janina Santer -- Organizer, Presenter
Specters of Economic Growth: Trade, Banking, and National Development
Sunday, 5 November at 8:30 AM

Mrs. Cihan Tekay Liu -- Presenter
Mr. Dimitrios Stergiopoulos -- Presenter
Mr. Sertac Sen -- Presenter
Prof. Bashar Malkawi -- Presenter, Chair
New Approaches to the Political Economy and Environmental History of Ottoman Greater Syria
Sunday, 5 November at 11:00 PM

Dr. Resat Kasaba -- Presenter
Dr. Sherene Seikaly -- Presenter
Elizabeth Williams -- Presenter
Dr. Samuel Dolbee -- Organizer, Presenter
Nora Barakat -- Presenter
Huricihan Islamoglu -- Presenter 
Sports, Resistance, and Inter-National Solidarity: The Case of Palestine
Sunday, 5 November at 11:00 PM

Dr. Abdullah Al-Arian -- Presenter
Ms. Kathryn Kalemkerian -- Organizer, Presenter
Ha Dong -- Presenter
Hillary Kipnis -- Presenter 
New Legal Histories of the Late Ottoman Empire
Sunday, 5 November at 1:30 PM

Nora Barakat -- Presenter
Lale Can -- Presenter
Dr. Aimee Genell -- Presenter
Dr. Camille Cole -- Organizer, Presenter
Dr. Youssef Ben Ismail -- Organizer, Presenter