Transnational Times Podcast
Episode 3
 
U.S. Militarism, Solidarity, and Resistance
A Conversation with Khury Petersen-Smith
Hosted by Noura Erakat

Monday, 10 April 2022
2:00 PM EST

Dr. Khury Petersen-Smith is the Michael Ratner Middle East Fellow at Institute for Policy Studies.
This conversation between Jadaliyya co-editor Noura Erakat and Dr. Khury Petersen-Smith will cover a broad range of topics beginning with how the Biden administration dramatically increased the US military budget and how US Congress exceeded the administration's request. What does this ballooning budget indicate about U.S. militarism abroad and what are its domestic implications? In this episode, Petersen-Smith will touch on protests in Iran, the war in Ukraine, Black Palestinian Solidarity, policy solutions for refugees seeking asylum, and what the progressive left must do in order to organize to win.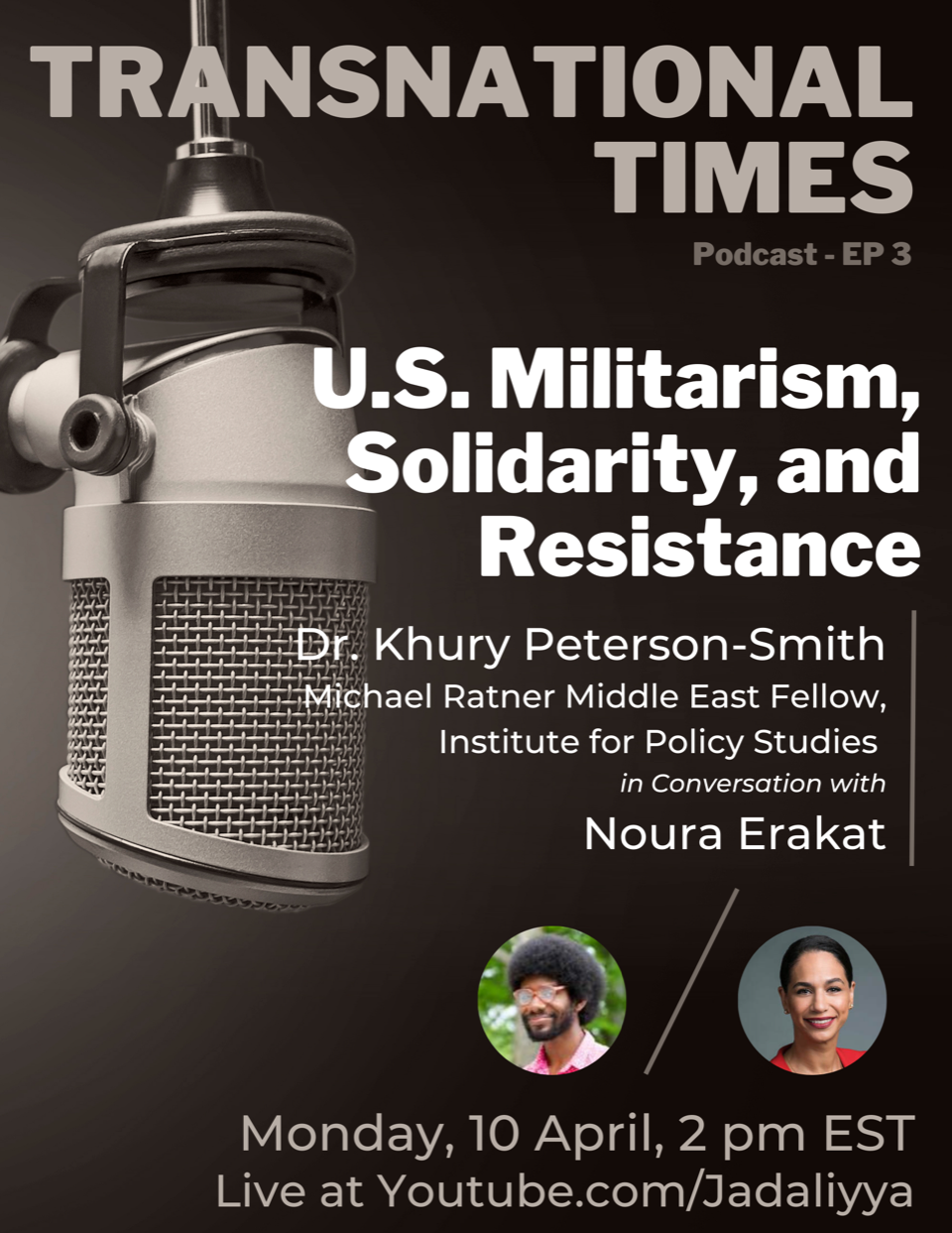 Guest

Dr. Khury Petersen-Smith is the Michael Ratner  Middle East Fellow at the Institute for Policy Studies.He researches U.S. empire, borders, and migration. Khury graduated from the Clark University Graduate School of Geography in Massachusetts, after completing a dissertation that focused on militarization and sovereignty. He is one of the co-authors and organizers of the 2015 Black Solidarity with Palestine statement, which was signed by over 1,100 Black activists, artists, and scholars. 
Host

Noura Erakat is a human rights attorney, Associate Professor of Africana Studies  and the Program of Criminal Justice at Rutgers University, New Brunswick. She recently completed non-resident fellowship of the Religious Literacy Project at Harvard Divinity School. Noura is the author of Justice for Some: Law and the Question of Palestine (Stanford University Press, 2019), which received the Palestine Book Award and the Bronze Medal for the Independent Publishers Book Award in Current Events/Foreign Affairs. She is co-founding editor of Jadaliyya and editorial board member of the Journal of Palestine Studies as well as Human Geography. She is a co-founding board member of the DC Palestinian Film and Arts Festival. She has served as Legal Counsel for a Congressional Subcommittee in the US House of Representatives, as Legal Advocate for the Badil Resource Center for Palestinian Refugee and Residency Rights, and as national organizer of the US Campaign to End the Israeli Occupation. Noura has also produced video documentaries, including "Gaza In Context" and "Black Palestinian Solidarity." Her writings have appeared in The Washington Post, The New York Times, the Los Angeles Review of Books, The Nation, and Al Jazeera. She is a frequent commentator on CBS News, CNN, MSNBC, CBS, Fox News, the BBC, and NPR, among others.