Today marks the two-year anniversary of "Bloody Thursday," as 17 February 2011 is now known in Bahrain. The previous day, two days after the uprising began, and two martyrs later, the King allowed protesters to assemble at the Pearl Roundabout. People felt safe and were eager to embrace this freedom, unaware of the fate that awaited them. At about 3 a.m. the next day, roughly one thousand police suddenly stormed the roundabout, firing shotguns, tear gas, rubber bullets, flashbang grenades, and wielding knives and clubs.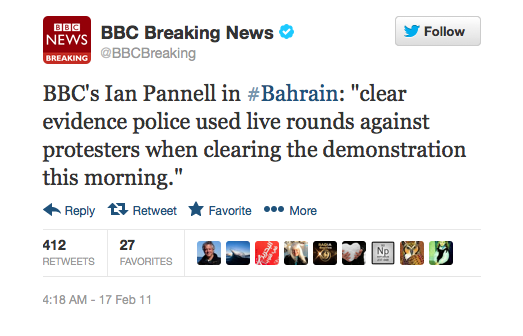 According to witnesses, police used knives to slice through tents, beating and firing birdshot at the occupants, some of whom were still asleep. They then pursued fleeing protesters into villages.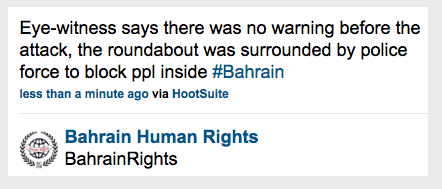 Police also stole property, including protesters' wallets and mobile phones and journalists` cameras, and proceeded to vandalize and destroy protesters` cars.

During the raid, police attacked ambulances and beat paramedics and doctors trying to attend to the wounded. One doctor had his nose broken and claimed he was threatened by police: "If you bleed in my chair with your dirty blood, I will beat you to death." Reporters also did not escape police abuse—ABC News' Miguel Marquez was beaten while on the phone. He described the people that attacked him as "a gang of thugs."
After state television crews photographed ambulances in the roundabout, Bahrain's Minister of Health reportedly issued an order banning ambulances from going to Pearl Roundabout for a period of eight hours after the raid. A paramedic at the roundabout also said he heard instructions over a policeman`s radio instructing police to "target, threaten, and delay" paramedics for as long as possible. Indignant protesters forced ambulances to drive to the roundabout and bring injured people to the hospital for treatment.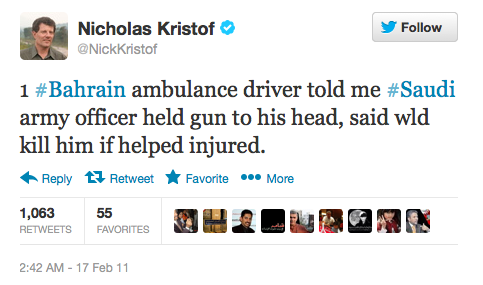 Three hundred individuals were said to be injured during the raid. Records for 17 February at Bahrain's main public hospital showed forty-one admissions to that hospital's emergency room related to the raid on the roundabout.

Nicholas Kristof of the New York Times described the scene from Salmaniya Hospital:

Four individuals died from injuries sustained in the raid, all as a result of birdshot fired by riot police. Ali Mansour Ahmed Khudair was a fifty-two-year-old fisherman from Sitra. Police shot him in his back and chest with birdshot. At least ninety-one pellets were extracted from his body. According to his son Jaffar, Ali was talking to security forces during the assault, asking them to stay away from women and children. He was shot at close range. Mahmoud Makki Abutaki was a twenty-two-year-old engineering student. Police shot him in the back, chest, and neck. Medics extracted around two hundred birdshot pellets from his body.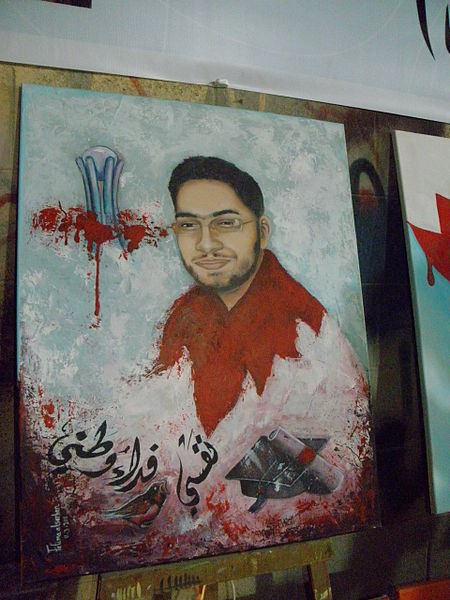 Picture of Ali Ahmed Moumen (Image from Wikepeida).
Perhaps the most shocking cases were those of Ali Ahmed Moumen and Isa Abdulhassan Ali Hussain. Ali was a senior at the University of Bahrain. He returned to the roundabout after the initial assault in an attempt to help women and children. It was then that police shot him four times–twice in each thigh–at point-blank range. He died of blood loss.
Isa was part of another group of protesters marching back towards Pearl Roundabout. Eyewitnesses say he approached security forces and asked them to allow aid to injured protesters. Then, a policeman lifted his shotgun up to Isa's head. "I saw the victim`s head explode and his body lay on the ground for 10 minutes near my car before I drove off." Police claimed the group attacked them with swords and Molotov cocktails. An unnamed policeman charged with his murder was acquitted on 27 September 2012. The Public Prosecutor announced that it would appeal the acquittal of the officer.

An image of a mangled plastic shotgun cartridge covered in blood and tissue extracted from Ali's legs, and a picture of Isa's hollowed-out skull quickly circulated, increasing public anger.

Despite the injuries and deaths, the Minister of Health claimed on state television that the raid resulted in only a few minor injuries. The government also said that protesters at the roundabout were armed and had attacked police. The Bahrain Independent Commission of Inquiry (BICI) found no evidence indicating that protesters were armed. Continuing to try to push its sectarian narrative, the regime also claimed it found Hezbollah flags at the roundabout.

Humvee, M113, and YPR-765 armored vehicles roll towards Pearl Roundabout

After the raid, the Bahrain Defense Force (BDF) deployed tanks and armored vehicles to seal off the Pearl Roundabout. They issued Statement One, warning that they were ready to take "punitive measures" to restore order. Meanwhile, several human rights organizations issued statements condemning the attack.
In the two years since Bloody Thursday, thousands of people have been arrested and sentenced to prison, including doctors, teachers, students, political figures, and human rights defenders. Today, thirteen political figures and seven medical staff are still behind bars, alongside hundreds of pro-democracy protesters. Human rights defenders and political activists continue to be targeted on a daily basis. Many of the medics who risked life and limb to rescue those who were injured have lost their livelihoods. As a new phase of the so-called national dialogue is underway, February 17 still weighs heavily on people's hearts. It was a turning point for the uprising. A chant, popularized after "Bloody Thursday" still echoes on the streets today: "After Thursday, we stopped the talking; the people want the fall of the regime."