At a press conference this afternoon, Professor Steven Salaita spoke publicly for the first time since the termination of his employment. Nearly one year ago, Professor Steven Salaita accepted an offer from the interim Dean of the College of Liberal Arts and Sciences to join the University of Illinois Urbana-Champaign as a professor with lifetime tenure. However, a number of wealthy donors pressured the UIUC Board of Trustees and chancellor to rescind Professor Salaita's offer of employment, citing the professor's controversial tweets about the most recent Israeli attack on Gaza. In early August of 2014, two weeks before Professor Salaita was scheduled to begin teaching courses, UIUC Chancellor Phyllis Wise sent Professor Salaita a letter informing him that his offer of employment had been terminated. A large public outcry ensued, with over 5000 scholars boycotting the University of Illinois until Professor Salaita is reinstated.
Today's press conference drew a sizeable crowd, with hundreds of people spilling out from the event hall and into the lobby. Speakers included a representative from the Graduate Employees' Organization, student organizers, American Indian Studies' director Robert Warrior, head of the English department Michael Rothberg, Professor Salaita's legal representative, Maria LaHood from the Center for Constitutional Rights and Professor Steven Salaita himself.
LaHood headed off the press conference by emphasizing that Dr. Salaita's case raised profoundly important questions about academic freedom and the first amendment. She lauded the academic boycott and the now eleven UIUC departments that have voted "no confidence" in Chancellor Wise. According to LaHood, what is happening to Professor Salaita is but one example of a common tactic used to silence critiques of Israel: to brand support for Palestinian rights and personhood as uncivil. "What is actually uncivil," LaHood insisted, "is the killing of more than 500 children, and the terminating of a tenured professor because he dared to speak out." LaHood, along with all other speakers at today's press conference, called upon the Board of Trustees and Chancellor Wise to uphold the principles of academic freedom and to reinstate Professor Salaita.
Dr. Salaita's focused and powerful address emphasized one clear message: the reaffirmation of his "commitment to teaching and to a position with the American Indian Studies program at UIUC." Salaita and his lawyers repeatedly insisted that their goal was not to pursue legal recourse against the university, but for the Chancellor and the Board of Trustees to reinstate his position. However, it was clear that he and his legal team are prepared to pursue legal avenues to force his reinstatement if necessary.
Dr. Salaita explained the profound impact the university's decision had on his personal and professional life. His family, he explained, now has no income or health insurance and great damage has been done to his reputation. Beyond the personal cost he has paid, Dr. Salaita deplored what he sees as the risk of creating a "Palestinian exception" to the first amendment and academic freedom. Salaita stressed the quality of his teaching record, insisting that he has always been a collegial and dedicated educator, and that he remains more dedicated than ever to challenging prevailing orthodoxies. "This is, as we say in my profession, a teaching moment," Salaita said.
Asked by a member of the press whether he supported the over 5000 scholars who have pledged to boycott the university until his reinstatement, Dr. Salaita paused. After a few moments of careful thought, Salaita responded with a confident, "I do." Boycott, he explained, is another form of speech and political expression and is within our right as Americans and as students and faculty.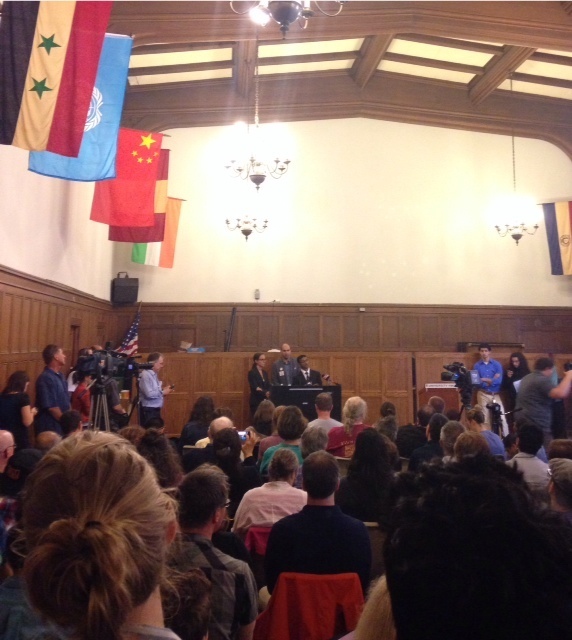 [The view from the back of the press conference room. Image by author.]
Dr. Salaita's appearance was met with a great deal of enthusiasm. Chanting, cheering and applause frequently interrupted his address and those of the other speakers. One member of the press asked Salaita why he would want to return to the UIUC despite all of the controversy and hardship. Salaita replied, "The answer is in this room." Calling today's press conference "one of the proudest moments of [his] life," Salaita extended his thanks to all of his supporters at UIUC and beyond.
Dr. Salaita, his legal team, and the student and faculty organizers remain committed Professor Salaita's reinstatement. All are hopeful that Thursday's meeting of the Board of Trustees will bring good news.