The murder of Khashoggi is likely to have a further chilling effect on already fearful critics of the Saudi regime. It has also exposed the extent of the online disinformation operation working to silence critics of the kingdom and Mohammed bin Salman. 
Offline, moderate critics of the regime like Khashoggi are now being targeted for assassination. Online, intimidation and misinformation by armies of trolls and bots are also driving critical voices from the platform altogether. In the wake of the online abuse following the Khashoggi murder, Manal al-Sharif, a Saudi activist,
deleted
her Twitter account onstage at the SuNordic summit, citing that "the very tools we use for our activism are being used to undermine us."
As critical voices abandon Twitter through fear or frustration, the vacuum left behind is being filled by an army of pro-regime trolls and propaganda-spreading bots. This information crisis is so severe that Twitter has now been called
a "direct partner"
in the oppression carried out by some Arab regimes. The killing of Khashoggi will only make this worse.
Khashoggi and Social Media Conspiracies
Although Khashoggi was a Saudi citizen, Twitter in Saudi was very quiet about his death–or at least the official trends section was. Khashoggi's name only trended six times in Saudi during October. In Qatar on the other hand, the home of Al Jazeera, his named trended 164 times. As the graph below shows, Saudi Arabia returned the lowest number of hits for the #Jamal_Khashoggi.*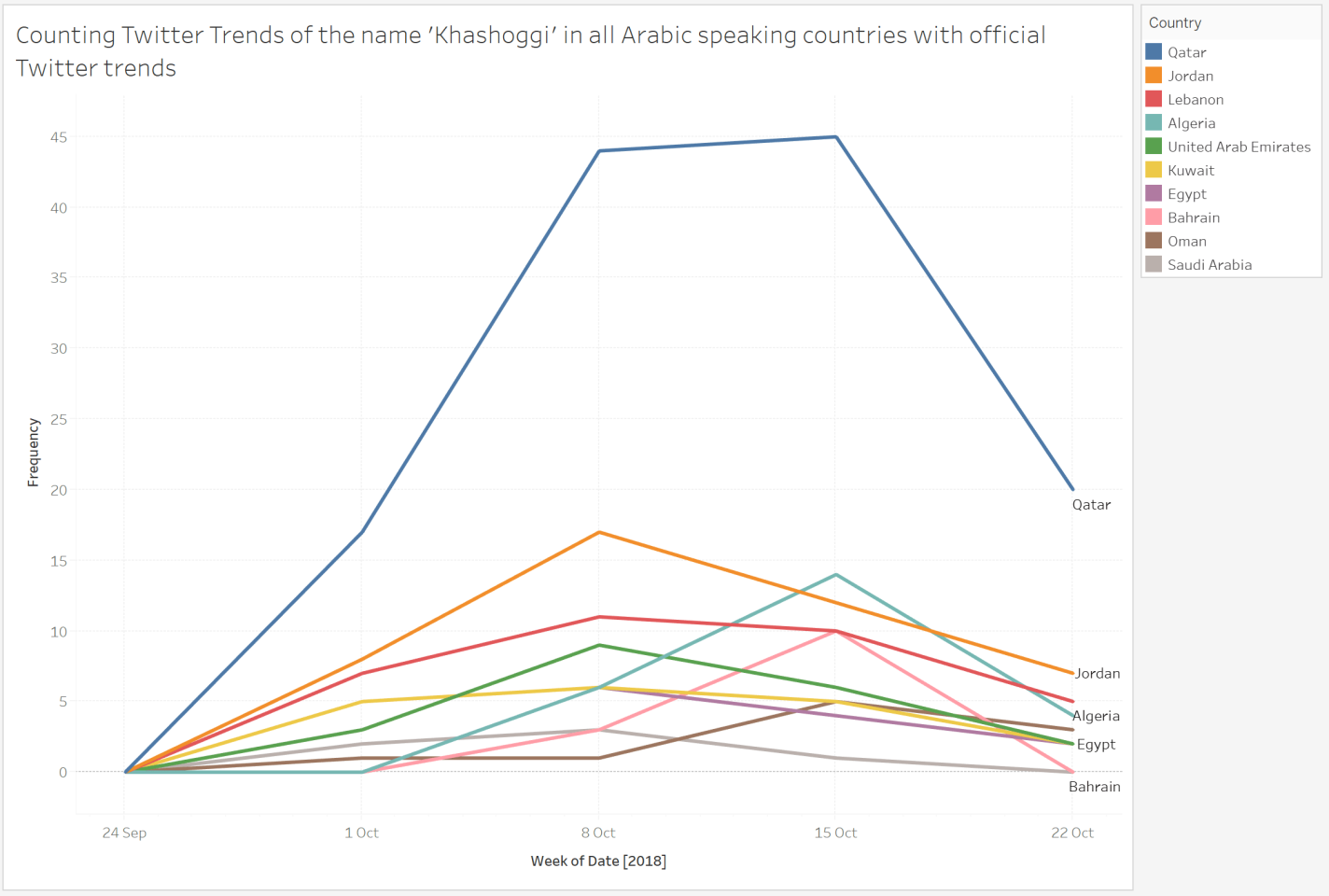 [Graphing showing country trends of hashtag #Jamal_Khashoggi (in Arabic)]
The
absence of trends
is in some ways perplexing, as the news dominated global headlines. How can an event that captured the attention of the whole world only have trended six times in the country of citizenship of Jamal Khashoggi? One reason is of course fear, at the outbreak of the Khashoggi scandal, Saudis were
reminded in
no uncertain terms that "rumour mongering" and "spreading fake news" was punishable by five years in prison.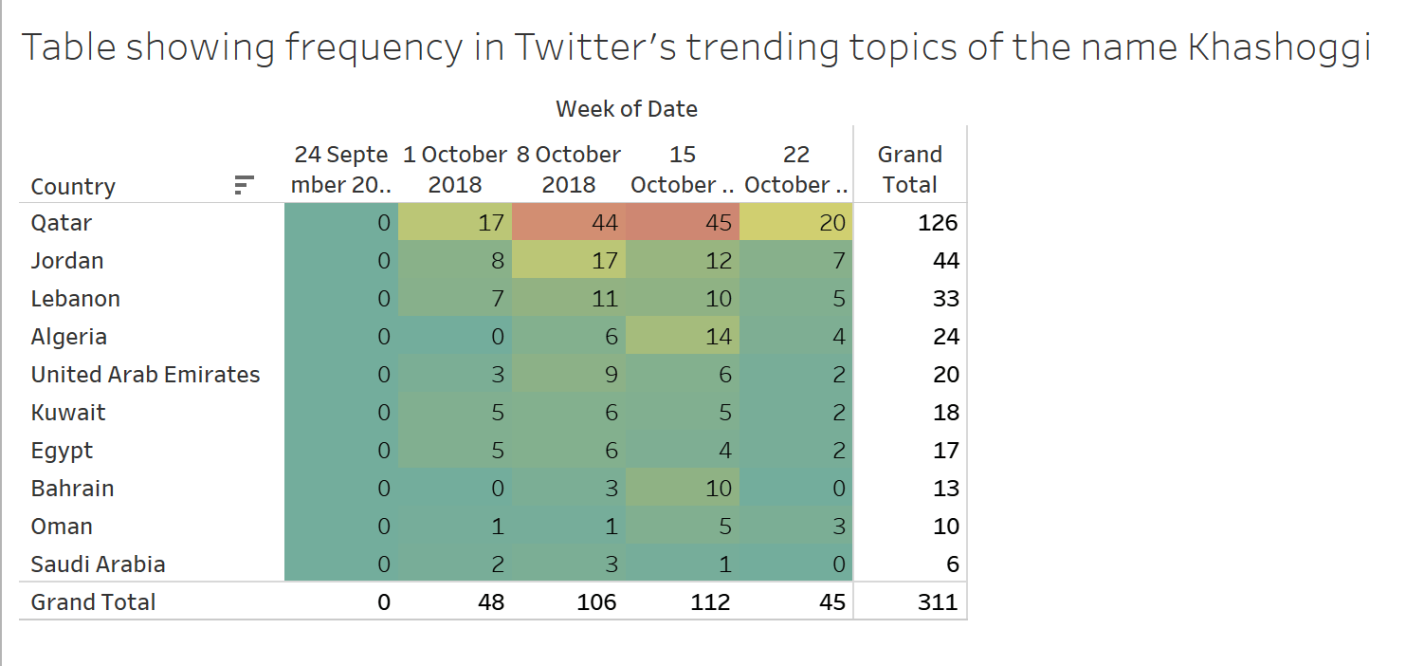 [Table showing how many times #Jamal_Khashoggi trended in Mid East countries]
Another reason is likely to be bots, trolls and sock-puppet accounts. This cyberarmy mobilises whenever there is bad news about the kingdom. Their role is to drown out legitimate debate and muddy the waters of conversation with spurious conspiracies. They often
target
influential journalists and opinion brokers with their propaganda tropes.
Yet while somehow Khashoggi's name mysteriously evaded Twitter's official trending topics in Saudi Arabia,  the most retweeted comments on the most popular hashtag #Jamal_Khashoggi (in Arabic) reflected the implausible and vacillating Saudi side of the story. Generally this discourse sought to portray Khashoggi's disappearance as either a Turkish "deep state" operation, a ploy to sully the reputation of Saudi, or a conspiracy perpetrated by the Muslim Brotherhood.
One hashtag
blamed
Qatari intelligence for killing Khashoggi, while one of the most popular tweets on the Jamal Khashoggi hashtag was one promoting American
Youtuber and conspiracy theorist Thomas Wictor
, who wears a sieve on his head. Wictor's video was translated into Arabic without a hint of irony, despite the absurdity of his account.
Like Trump's attacks on CNN and the fake news media, many of the top comments on the #Jamal_Khashoggi hashtag attacked news channels attempting to find answers about Khashoggi. Today, pro-Saudi accounts even are trolling Washington Post's owner Jeff Bezos, superficially for criticising Saudi, but in actuality for the paper's inexorable pursuit of justice in the Khashoggi case.
Rallying Around the Crown Prince
With many accusations that Mohammed bin Salman was the only one who could have ordered the killing of Khashoggi, (
including by the CIA
) there are daily hashtags countering this criticism with messages of love and support for the crown prince. Thousands of accounts with images of MBS as their profiles pictures extol his virtues. These trends have the purpose of both defending MBS while demoting the salience of trends about Khashoggi.
There are a tiny percentage of genuine and verified accounts also promoting these hashtags. Yet these declarations of support for the leadership should not always be taken at face value. Among the trolls there are genuine citizens, yet increasingly there is pressure among influential Saudis to take to social media to praise the regime. Silence can now be construed as sedition. This pressure, combined with so much negative news about Saudi, whether it be the killing of Khashoggi or the tragic war in Yemen, creates an upsurge in activity by trolls, bots, and often times those fearful of being conspicuous in their silence.
Saudi's Lord of the Flies
Then there are the online overseers and enforcers. People like Saud al-Qahtani, a former advisor the royal court dismissed by MBS after Khashoggi's killing. Al-Qahtani,
a confidant of MBS
, allegedly oversaw the killing of Khashoggi via Skype. However, his reputation as a propagandist leading his army of "flies" (bots and trolls) was well established before the murder, where he used bot-manipulated trends to attempt to legitimise a coup in Qatar. In 2017 he initiated a viral witch hunt, designed to get Saudis to report anyone critical of Saudi's policy towards Qatar. He
also sent a seemingly innocuous direct message
to Manal al-Sharif, no doubt to remind her that whatever she had to say about the Saudi government was on his radar.
Like Khashoggi's columns in the Washington Post, social media represents a potential threat to the authoritarian Saudi regime. It is a vehicle for criticism of the state, and as such, must be neutralised or, ideally, co-opted as an instrument of rule. The
recent news
that a Saudi mole had infiltrated Twitter is perhaps unsurprising.
Twitter as Tyranny
Al-Qahtani's past as a puppet master raises further questions about the complicity of
silicon valley in abetting
Saudi authoritarianism. Anand Giridharadas writes, "As Saudi Arabia establishes its new role as one of Silicon Valley's most prominent investors, the risk grows that its investments will purchase silence." Despite Giridharadas's concern about what is to come, the future is now, and it has been for some time in the Persian Gulf.  
Indeed, it
was revealed a
Saudi mole had been sacked from Twitter for using his position to reveal sensitive information to the Saudi government about Saudi activists. While Twitter may have fallen victim to state espionage, their approach to propaganda and fake news seems far from apolitical. Twitter are more vociferous of action against accounts run by ISIS, or Iranian and Russian trolls, most likely because of the focus of US foreign policy demands it.
However, Twitter continues to operate in Saudi Arabia, a US ally, where MBS the reformer continues to oversee a regime that imprisons activists and cracks down on free speech. With moderate opposition in prison, any critical void is filled by a plethora army of pro-regime trolls and propaganda-spreading bots. It is specious, bordering on disingenuous, to argue that censuring such accounts is an affront to free speech. The real damage to free speech is for social media companies to provide tools for authoritarian regimes to extend their repressive apparatus while denying those platforms to opposition voices. 
A better verification could help combat this problem, yet somewhat paradoxically, Twitter
say
they are halting their verification process to focus on countering disinformation, bots, and fake news. With so much Gulf investment, and a Saudi prince being one of Twitter's largest individual investors, it is hard to imagine that the Middle East lingers on the margins of Silicon Valley consciousness. One has to wonder whether companies like Twitter view the Middle East like arms companies do, a place on the periphery of public opinion where conflict provides opportunities to market their wares without much pushback from US foreign policy objectives.
Under certain conditions, social media ceases to be a useful tool that allows for civil discussion and free debate, and instead becomes a platform for fake news, propaganda, and censorship. The Khashoggi affair has simply highlighted that these conditions have been met, and not just recently. Such accounts have been active for years–manipulating trends,
calling for war in Iran
,
spreading sectarian hate speech
, and even retweeting Donald Trump's praise of MBS.
Khashoggi was a real voice, a corporeal being amidst a sea of unverified bots and trolls. Twitter's deleting of
some of these accounts' bots
after the Khashoggi affair is a mere drop in the ocean. With a critic like Khashoggi dead, and the trolls and puppet thriving, the online public sphere in the Gulf continues its precipitous decline.
[This article was originally published on MarcOwenJones.Wordpress.com on 17 November 2018, with special thanks to his research assistant Iman who worked hard compiling the data on country trends.]