With the passing of Mohammad Reza Shajarian Iran lost one of its most beloved cultural and public figures and the world, one of the greatest voices of our time. Reports and obituaries from around the world have focused on his deep solidarity with the Iranian people and his courageous political resistance in the face of ruthless repression. And rightly so, but this remarkable achievement was only made possible because of his voice, his music. His musical gifts, work ethic and intelligence led him from the very closed environment of a conservative, religious family in Mashhad to the fast lane of Tehran's music industry and beyond—to global stages and prestigious international awards. It was an unlikely, epic journey, unprecedented in Persian music history, that opened doors for many Iranian musicians to follow. The voyage traces the probing quest of a roaming, open soul.
Millions love Shajarian for the powerful songs (known as tasnifs) he released at key moments in contemporary Iranian history. The songs would become emblematic of watershed events: Iran Ey Saraye Omid/Iran, a House of Hope, Sepideh/Dawn, Zaban-e Atesh/The Language of Fire, and most famously, Morghe Sahar/Bird of Dawn. He became the highest-profile singer of Persian art music in Iranian national media beginning in the 1970s. If this somehow escaped an Iranian's attention at the time, they would still recognize his voice from Shajarian's soaring recitation of the Rabanna, Qur'anic verses recorded in 1979 and broadcast nationally for decades to signal the daily breaking of fast during Ramadan. These rousing works, interwoven with his unwavering expressions of solidarity for the longings of the Iranian people and his extended tactical resistance to the government of the Islamic Republic, drove the massive outpouring of collective grief following his death. 
Musicians share these deep sentiments. But above all we lament the loss of an unprecedented musical master, a gold-standard, an inspiring model of artistry and learning. Shajarian was a "musician's musician" and his passing marks the end of a musical era. He was an unparalleled master of singing Persian poetry in an improvised style outside of the recurring beat, repeated melody, and verse-chorus format that characterized his iconic tasnifs. He perfected this more elaborate, free floating, and demanding style of singing classical poetry, known as āvāz.
The Musical Formation of the Master


While a strict conceptual separation between Qur'anic recitation and music is maintained in Muslim culture, there is in fact a close structural connection to the sung poetry of art music. Many of the most influential singers in Iran—Iqbal Sultan, Adib Khansari, Seyyed Ali-Asghar Kordestani, and Qamar—began their vocal training with the Qurʿan and other sacred genres. The same holds true in neighbouring traditions. Consider Umm Kulthum, Sayed Darwish, and Sabri Moudalal, among others. The relationship is more than coincidental.
Shajarian was a child prodigy of Qurʿan recitation. His father Mehdi was a fine reciter in the ornate style and put the younger Shajarian through a rigorous training that shaped his cutting, laser-beam vocal tone and instilled essential musical sensibilities of accurate tuning, modal structure, and melodic contour. The main task of a reciter is to maintain strict rules of pronunciation, rhythm, and pacing but also to match the meaning and "feel" of the verse with an appropriate "musical" setting—to x-ray the passage for its inner message and make it beautiful and moving through a melodic rhetoric. Above all it is improvised and infinite, ideally unrepeatable. Musicians highly value and draw lessons from the discipline and skill required to render Qur'anic verses as powerful sonic statements within the constraints of these strict rules.
Shajarian increasingly distanced himself from this early training in interviews over the years. Nevertheless, his mature work upheld the primacy of the text first and foremost, maintaining that everything in his music was in service to the poem. Persian singing is practically synonymous with poetry. Singing reanimates the poem, vividly launching it off the page. Knowledge and selection of poetry is a musical skill. The poem itself contains an intrinsic musicality that an attuned musician can read as suggestions for an appropriate musical setting. Shajarian commanded a powerful literary prowess, honed through intense independent study, that revealed a clear preference for Sa'di and especially Hafez.
His encyclopedic knowledge of poetry allowed him to tune into the musical messages latent in verse. It also provided resources to identify poems written by medieval sages—trusted souls in moments of history when few could be trusted—that resonated with contemporary events. This was to become a trademark technique of dissent. Shajarian spoke to his people, reflecting their sentiments and confronting their oppressors, through the mask of these revered poets. He channelled the poets' wisdom and advice to remind Iranians that dark storms had been weathered before. Mastery, in turn, gave him license. Like the great modernist poets among his contemporaries, Shajarian took great liberties in the ordering of lines, shifting between poems to say what he wanted to say. When preparing for and performing āvāz, he felt that "the poem is mine."
While blessed with considerable natural gifts, Shajarian also worked hard and maintained extremely high standards in everything he did. He studied exhaustively, gathered widely from tradition, mastered technical challenges, and then renovated those materials to create a unique voice both literally and figuratively. Since the latenineteenth century Persian classical music has been based on a complex repertoire of unmetered melodies organized in a specific way, known as the radif ("row, series") and transmitted in varied versions by different lineages of masters. Students memorize this complex collection of melodies, which provide a stage for personal creative play once mastered. It is daunting and time consuming to memorize even a portion of any given collection. Shajarian studied and absorbed multiple versions. All the while, he flatly rejected the common view that this repertoire was sacrosanct, closed to innovation and updating. The repertoire was instead, for him, a springboard for personal creativity. Musicians and students sat in anticipation of the possibility that he would record and publish his own radif given his vast knowledge. In the late 2000s he declared that he had no interest in such a project and that his radif already existed in his recordings. (This practical approach reminds one of Bach, another master of his craft not interested in theory whose radiant music abounds with pedagogical treasures on all levels for both performers and composers.)
Striking out on his own and moving to Tehran in 1966, Shajarian industriously pursued instruction from prominent vocalists and instrumentalists in radif, metrical songs, personal styles, and instrumental technique. This formative work continued well after he established a successful professional career. His main vocal mentors included Ishmael Mehrtash, Abdollah Davami, and Gholam Reza Dadbeh, along with the instrumentalists Ahmad Ebadi (setar), Farmarz Payvar (santur) and Nur Ali Boroumand (a tar player through whom Shajarian studied the vocal style of Taherzadeh). Ahmad Ebadi's mentorship deserves special mention. The senior, well-connected artist recognized Shajarian's talent, guided him musically, and acted as a father figure when his career gained traction. Their recordings together evoke a close bond.
Shajarian combined this vigorous study regime with details absorbed from the styles of a wide range of traditional masters culled through memorizing their recorded performances. Much in the way jazz musicians, he learned and constructed his musical identity by copying his favorite artists note for note by ear. His influences include a vast spectrum of vocalists whose recorded legacies form the basis of twentieth-century Persian singing: Seyyed Rahim, Taherzadeh, Taj Esfahan, Iqbal Sultan, Zeli, Adib Khansari, Banan, Hossein Qavami, and Qamar. His knowledge and ability to replicate the very different personal styles of these masters made him a musical authority of immense stature. When you listen to Shajarian, all of these signals are present. As jazz players might say, "there is a lot of history in his playing" and yet he had his own story to tell. He absorbed the tradition like a sponge and then channeled this great diversity like a funnel, distilled into his own personal stamp, at once transcending and including the best of his artistic ancestry.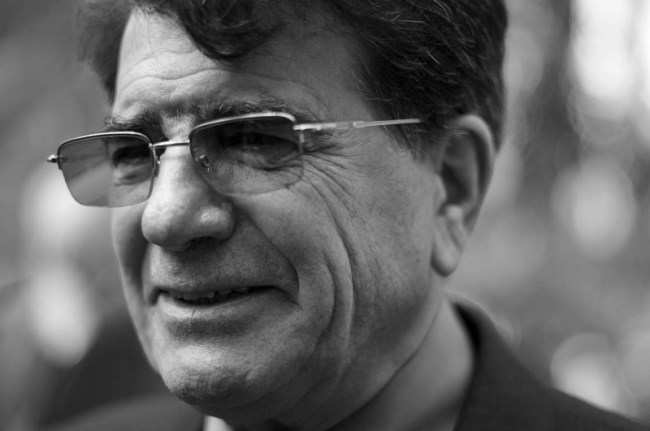 Photograph by Arash Saedinia.
Shajarian and Āvāz


Shajarian introduced an innovation to āvāz, integrating instrumental idioms in his singing. He was an ardent lifelong fan of the tar master Jalil Shahnaz, after whom he named his last touring ensemble (which consisted of talented young musicians, including many women). His instrumental integration is most apparent in his mastery of the vocal flourishes that typically conclude or frame the singing of a verse of poetry.
Like a calligraphic flourish, these sinuous lines are sung to a vowel or a stock stand-in word. They function somewhat like scat singing syllables, underscoring but also going beyond the words of the verse to express pure emotion. Shajarian improvised with endless variety, much like the proverbial nightingale who, according to Persian musicians, sings prolifically and never repeats itself. While arrestingly virtuosic, their placement and shape, he claimed in an interview for our books, was always meant to enhance the meaning of the poem.
One of the most characteristic features of the āvāz style is its "free," unmetered rhythm. You can't tap your toe to āvāz. Paradoxically, the ability to create a sense of freedom and openness demands a great control of rhythm: when and how long to hold a note; when to move, speed up, or slow down the delivery. It ultimately cannot be taught; it must be intuitively felt. Shajarian was a master here too, his rhythmic sensibilities bringing a natural floating, often soaring quality to his singing. Free rhythm is also influenced by the poetic meter or prosody of the poem being sung. Shajarian, however, frequently broke from these strictures and went against its grain, always toward the end of evoking a specific meaning or emphasis of the text.
His knowledge of repertoire, singing styles, musical form and literature coupled with a glorious vocal tone and astounding control of technique was channeled toward intensity of expression rather than flashy, athletic display. Connoisseurs note that his nuanced singing can elicit new insights of meaning into poetry they know very well but had never perceived in the same light before. As with many performance arts, it was his fine combination of technical control and emotional abandon that moved us. The primary aesthetic quality of Persian music is hāl: reaching a temporary state of grace, a glimpse of transcendence. This too cannot be taught, calculated or even adequately described in language. It is a gift that arises briefly and then vanishes, a magic that Shajarian regularly accessed.
Āvāz is a collaborative art, a dialogue with instrumentalists. Following his mentorship with Ebadi, Shajarian teamed with Farmarz Payvar, Mohammad Reza Lotfi, Parviz Meshkatian, Dariush Pirnikan, Hossein Alizadeh, Kayhan Kalhor, and Majid Derakhshani. He recorded and performed with each for sustained periods of time. These artists provided stimulating improvised conversations for his āvāz and composed instrumental pieces and the metrical tasnifs to complement Shajarian's vocals on a concert program or album. Lotfi and Meshkatian prominent among them, they wrote the tasnifs that garnered Shajarian fame among the majority of his fans. Along with poetry, they provided the vehicle, framework, and feedback for Shajarian's singing. The collaborations left a significant imprint on his art, marking the different stylistic periods of his oeuvre.
While he definitely did his homework and respected tradition, Shajarian had very open views about the authority of the radif, the legitimacy of various kinds of music to meet social needs, and various other musical issues that often elicit conservative responses from Persian musicians. He rejected the commonly held notion of regional schools of āvāz and insisted on the central role of the individual and the responsibility of an artist to be creative and move the tradition forward. Ironically, his huge influence among singers resulted in a stylistic school of his own. While successfully pushing forward the musical DNA he inherited, Shajarian's vocal style is widely copied by younger musicians, not to mention his many students. Like artists following Beethoven, Coltrane, or Paco de Lucia in their respective traditions, it is now difficult for Iranian singers to not sound like Shajarian in some way. His son Homayoun diligently and skillfully received the fullest transmission of his vocal secrets on the basis of which he is now following his own artistic path.
A Final Testament


Shajarian filmed a series of extended interviews about his life, art, philosophy, Iranian culture, and history in 2014 and 2015. They form the basis of a feature-length documentary entitled The Voice of Dust and Ash, set to be released next year. Shot in California, the interviews occurred shortly before he announced his cancer diagnosis and the rapid deterioration of his health. They now constitute his last public testament.
Shajarian traces the tension between musical cultivation and restriction, and the political cooptation of his voice that marked his career, back to his childhood. He was practiced and exceptionally good at navigating these obstacles in pursuit of his musical goals. Shajarian accompanied his prodigious gifts with resolute determination, courage, tough street smarts, and a keen tactical eye for loopholes and end-arounds when confronted with restrictions, honed over a lifetime. These tactics vexed the Islamic Republic for decades, consistently outmanoeuvering their draconian (and potentially fatal) measures and publicly confronting ruthless abuses.
Unfortunately, brilliant musical talent alone does not ensure success in the music business. Many outstanding artists go without recognition. Despite its mystical poetry, delicate sound, and refined aesthetics, the business of Persian art music is as rough and tumble as any other. Shajarian was rejected for his audition with the national radio after arriving in Tehran. He made a cold call directly to the producer of the venerable Golha radio program Davud Pirnia in response, armed with a cassette (cutting edge technology at the time) of his singing. This momentous historical juncture happily fell in the world's favor, resulting in approximately one hundred recorded broadcasts in which Shajarian collaborated with the top masters of the tradition and gained entry in their milieu. Today musicians and connoisseurs alike unanimously regard the massive Golha series of broadcast recordings from 1956 to 1979 as a "golden age" of Persian art music. Shajarian was the "young guy" among this illustrious roster of senior artists and later the last sustaining exponent of this remarkable period. Through strategic intelligence and a good measure of luck, he managed to carry the standard into the post-Revolutionary period as other great masters were unceremoniously dumped into obscurity and neglect.
While rugged, practical traits ensured his survival in an often-ugly world, Shajarian was at core a sensitive soul. Jean During, the most authoritative and prolific Western scholar of Persian music, rightly noted that Shajarian "dedicated his life to the cult of beauty." Alongside his peerless musical achievements and command of poetry, Shajarian was a master calligrapher and an avid, talented gardener—all sophisticated expressions of beauty highly prized by many Iranians. In the 2000s he channelled his energy with characteristic, obsessive rigour toward designing and crafting an entire orchestra of new string instruments, filling in sonic deficiencies that he felt limited the conventional art music ensemble.
We lament the loss and honor the legacy of a cultural icon, a national hero, a musician's musician. His passing signifies the passing of an era. Above all, Shajarian was a "humanist." As his recordings and concert tours expanded to a global level, many non-Iranians in Europe and North America also came to love his voice in spite of an at times wide cultural and linguistic gap. He enjoyed this new audience, regarding "the whole planet as a big family." Of course we understood him, he noted, through the unique power and language of music.
Shajarian's most important, indeed life-changing influence was that of the singer and mystical philosopher Ostad Dadbeh, whose oral teachings he received between the late 1970s until Dadbeh's death in 2002. Dadbeh's vision focused Shajarian's energy and underlies his greatest achievements. These teachings centered on the intrinsic divinity of humans and harkened back to the pre-Islamic concept of mehr, a densely loaded archetype that at once connotes the Zoroastrian deity Mithra, the sun, kindness, mercy, compassion, service, responsibility and commitment. Shajarian's resting place beside Ferdowsi, who preserved Persia's language and its pre-Islamic epic is both a rare honour and a profound message as the Islamic Republic teeters into its fifth decade. A unique, rare and powerful presence, Mohammad Reza Shajarian, self-described "son of Iran, voice among the ancient voices of Iran," both entered and departed this world in the Persian month of Mehr.
With Ostad Shajarian's passing his deeper message poses a challenge to proceed from "What happened?" to "Now what?"  He always responded with: "This." He consistently stood up, acted and brought forth something substantial to both confront and soothe. And so can we all. Within our means and station in life, we too can shine light in the darkness.
Boundless gratitude, Ostad.