Thanks to the generous deal given to us by ReadSpeaker, you can now listen to Jadaliyya and download our content in MP3 format to listen to on your iPod or any MP3 player. Granted, it will not be as exciting as David Guetta, Kanye West, Muhammad Munir, or `Amr Diab (or even Majida al-Roumi), but it will keep you up-to-date (if not in shape). Best of all, this function also applies to posts in Arabic! 
Note that this feature is now on ALL Jadaliyya content, starting July 3rd, 2010, if you feel nostalgic . . .
All you have to do is click on "Listen" atop any article, and you`ll have the post read to you. If you`d like to download the article in MP3 format, just right-click on "No Sound" and then "Download Linked File."

When the function box pops up, you can control the speed and other aspects of the audio by clicking on "Settings."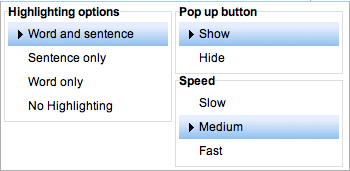 We will be experimenting further to bring you a comfortable and clear listening experience. Note that the readers is not perfect. This is not intended to provide the listener with an accurate reading of all text (some words will be mispronounced as this is a computer). But those who must listen instead of read for whatever reason, will find it useful and efficient, despite some imperfections. More to come. Hang tight!