["A Profile from the Archives" is a series published by Jadaliyya in both Arabic and English in cooperation with the Lebanese newspaper, Assafir. These profiles will feature iconic figures who left indelible marks in the politics and culture of the Middle East and North Africa. This profile was originally published in Arabic and was translated by Mazen Hakeem.]
Name: Khalil
Last Name: Al-Sakakini
Father's Name: Qostandi
Date of Birth: 1878
Date of Death: 1953
Place of Birth: Jerusalem
Nationality: Palestinian
Category: Author
Profession: Writer and journalist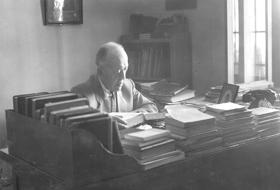 Khalil Al-Sakakini

Palestinian national.

Born on 23 January 1878 in Jerusalem. He was named after his brother who died while still at a young age.

In his diaries Oh Life, This is How I Am, he described himself as a child saying: The earliest recollection of my childhood is that we used to live in our home inside the city. My hair was red just like Sirri`s (his son) and Sultana's (his wife). It was long and could be braided like girls braid their hair. I used to be fat and with me being short, I used to roll like a ball. I used to play with my siblings and cousins in the house yard and fill the air with our screams. We used to live one year in our house inside the city and then the year after that in our house outside the city."
His father Qostandi worked in trade and carpentry.

Finished his studies at the English College in 1893 and worked as a teacher in his hometown.

Affiliated with Zahert Al-Adab Association,

'flower of literature'

, in 1898.

Intended to study medicine in Russia but changed his mind at the last moment due to his father's illness. After his father's death, he left for Britain to study education and later traveled to the United States in 1907.

Lived in America for one year, however, he soon returned to Palestine to practice journalism and to teach Arabic to foreigners.

His first job after he returned from abroad was to revise the drafts of

Al-Asma'i

magazine, which was owned by Hanna Al-Issa, as well as the drafts of

Al-Quds

newspaper, which was owned by George Habib Hananya.

Collided with the Orthodox clergy because of his call to localize (translate into Arabic) the church. This led to their abstention from overseeing his marriage ceremony in Jerusalem, which prompted him to go to Jaffa where his marriage took place at his friend Yousef Al-Issa's house on 14 January 1912. This collision led to his denial from entering the church and church followers were warned against talking to him or listening to his opinions and thoughts. He used to say: "I am no longer an Orthodox after today."

Affiliated with Union and Progress Association.
In 1909, he decided to establish a patriotic school which he called the Constitution School. He was joined by Ali Jar Allah and Jamil Al-Khaldi. The school adopted a pioneer curriculum that did not rely on the grades system or on punishments and rewards, but rather focused on education, music, and physical education.

Chosen in 1914 to be a member of the Education Administration in Jerusalem province. He put all his efforts in improving the school curriculum and staff teachers. He paid special attention to improving curricula for girls.

Appointed by Ahmed Jamal Basha to work in Al-Salahiah school as an Arabic teacher. Some of his colleagues there were: Sheikh Abdul Aziz Shawish, Muhammad Issa'f, and Sheikh Abdul Rahman Salam. When the Ottoman government sensed the nationalist spirit he was planting in students, it banished him from Jerusalem and imprisoned him in Damascus; it later released him on bail.

In August 1918, he joined Prince Faisal along with a group of patriotic youths, members of al-arabia al-fatat. Prince Faisal had reached Abo Al-Loson from Hejaz heading the Northern Army to liberate Syria. In this campaign there was: Dr. Ahmed Qadri, his brother Tahseen Qadri, Rostom Haidar, Rafiq Al-Tamimi, Saleem Abdul Rahman, Mahmood Al-Maghribi, Said Al-Bani, and Lotfi Al-Aslee with his two brothers. At that time he wrote his famous poem "Oh, Great God praising Faisal:"
Pride of all Arabs …………………………... Oh, great God
A king, your grandfather is the Prophet…….. a splendid king of kings
Before it's too late …………………………… march towards this king
To save this country …………………………. and raid on the enemy

Did not enter Damascus with Faisal's army, but rather travelled to Egypt and lived there until early 1919.
Went back to Jerusalem and headed the teachers' syndicate. However, he resigned from his post after appointing Herbert Samuel as the British High Commissioner in Palestine.
In 1920, he left Jerusalem for Cairo to head the Arabic department in Al-A'bidiah school.
In 1922, he went back to Jerusalem and worked as a reporter for the most prestigious Egyptian magazines and periodicals like Al-Moqtaf, Al-Hilal, and Al-Siyasah Al-Isbo'yah.
In 1926, he was appointed as the General Inspector for Arabic at the Education Department. He was then chosen as a member of the Arab Scientific Convention in Damascus.
Invited by the American University in Beirut to give lectures in pedagogy in the summer of 1932.
Retired in 1938 and that same year he established the Renaissance College in Jerusalem with Ibrahim Shahadah Al-Khouri and Labib Ghalmieh.
In late April 1948, he deserted his house in Al-Qatmoun district in Jerusalem to seek refuge in Cairo where he permanently lived after that. In that same year, he was elected as a member of the Arabic Language Convention in Cairo upon a recommendation from Dr. Taha Hussein.
Had to leave his library at his house in Al-Qatmoun as he couldn't save it from the Zionist occupation and displacement. He wrote wondering about the fate of his library: "Farwell my library! I don't know what happened to you after we left the country. Were you plundered? Were you burned?" Later on, many of his books, which contained his marginal notes and comments, were found in the National Israeli Library, which seized many of the Palestinian libraries that were confiscated by the occupation army after the Palestinian Nakba.
Died on 13 August 1953 in Cairo.
Publications:
Wearing Someone Else's Shoes, al-ihtithaa bi hithaa al-ghair, 1896.
The Orthodox Renaissance in Palestine, al-nahda al-orthodoxiah fi falesteen, 1913 (a research of Orthodox affairs).
Readings in Language and Literature, motala'at fi al-logha wa al-adab, 1920.
Palestine After the Great War, filasteen ba'd al-harb al-kobra, 1925.
My Secret is Jerusalem, sirri al-quds, 1934.
Principles and Fundamentals of Teaching Arabic, mabadi' wa osool fi ta'leem al-logha al-arabiya, 1936.
A Footnote on the Report of the Committee for the Revision of Simplifying Arabic Grammar, hashiah a'la taqreer lajnet al-nathar fi tayseer qawa'id al-logha al-arabiya, 1938.
The First and Second Guide for Teaching Arabic, al-daleel al-awal wa al-thani fi ta'leem al-logha al-arabiya, 1934 and 1946.
To Your Remembrance, li thikraki, (an elegy for his wife Sultana).
Milestones of Ancient History, ma'alim al-tareekh al-qadeem, (translated in cooperation with Wasfi Anbatawi and Ahmed Khalifa), 1942.
By the Same Token, a'leeh qis, 1943.
What is Available, ma tayassar, first and second volumes, 1943 – 1946, (literary research).

The New,

al-jadeed,

four volumes.

Fundamentals of Teaching Arabic,

al-osool fi ta'leem al-logha al-arabiya

, 1952.

Oh Life, This is How I am,

katha ana ya dounia

, 1955.

My Dears,

aa'za'i

, 1978.

Khalil Al-Sakakini's Diaries,

yawmiat khalil al-sakakini

, eight volumes. Printed in Palestine in the first decade of the twenty-first century.

Wrote in various Arabic newspapers and magazines: Southern Syrian,

souria al-janoobiya

, The Invaluable,

al-nafa'is

, Palestine, Al-Asma'i, The Defense, The Flower, The Kurd's Sock,

jarab al-kurdi

, The Forum,

al-montada

, The Convoy,

al-qafilah

, Al-Shura, The Weekly Politics,

al-siyasah al-isboo'iah

, Al-Ahram, Al-Hilal, Al-Jamiaa, The Linguistic Complex Magazine,

mijallet al-mojamma' al-loghawi

, and Cairo. In addition to radio interviews on the radio station in Jerusalem.
Documentary "Khalil Al-Sakakini – Diaries of a Human"